This post may contain affiliate links. Please see my full Disclosure Policy for details.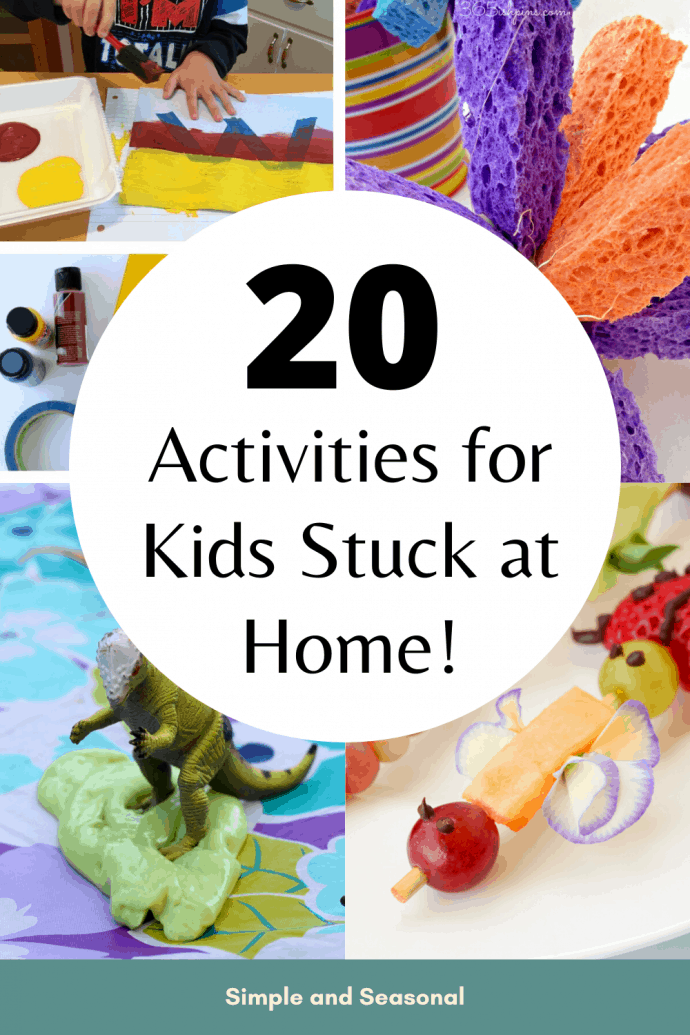 Looking for more ideas to keep the kids busy? All of these activities for kids require minimal prep time, supplies and effort. Plus, they are super fun!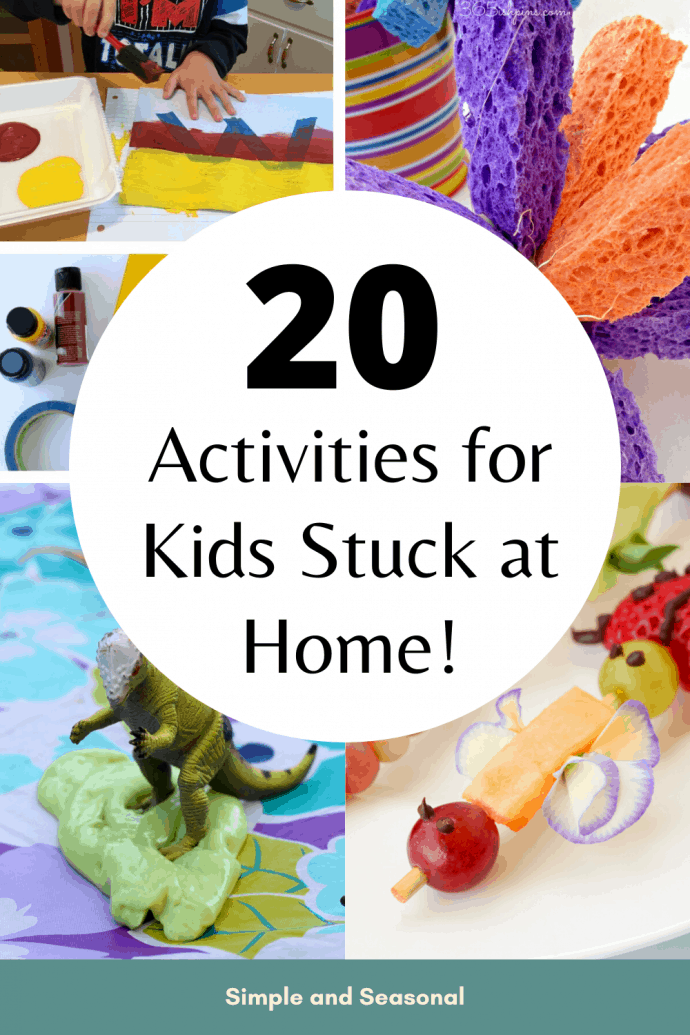 It's the end of Week 2 of California's "Stay at Home" order and there are many other states that have followed suit already. That means that there are a LOT of us searching for ideas to fill the time with our kids. I went looking back through my archives to see what activities for kids I have posted over the years.
First, I got all misty-eyed at the pictures of my babies (it's been a few years since I've posted kids content.) Then, I organized the list into indoor and outdoor ideas. All the outdoor ideas can be done in your own yard or neighborhood.
Most of these activities are for toddlers and preschool aged kids. There are several, however, that work great for older kids, too! Besides, we're all so bored right now, anything sounds good, right? 😉
Scroll down past the list to get details on each activity!
Indoor Activities for Kids
Sand writing
Toddler play-wipes box game
Felt boards
Fizzy fun Science activity
Painter's tape fun
Pizza box tic-tac-toe
Winnie the Pooh paper plate craft
Coffee filter art
Pom pom painting
Pouch cap bugs
Dinosaur day activities
Slime
Letter Soccer
Letter Art
Bird feeder "upcycle"
Fruit kabobs
Outdoor Activities for Kids
Nature walk scavenger hunt
Letter walk
Letter soccer
Sidewalk chalk activities
Dino day activities
Sponge bombs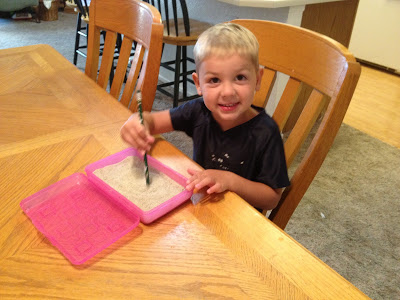 Sand writing is a great way to practice letters, numbers or shapes. To contain the mess, just fill up a pencil box with play sand (colored sand is even better, if you can find it.) Then use a pencil to "write" shapes in the sand. If you use your fingers instead, it's a fun sensory activity, too!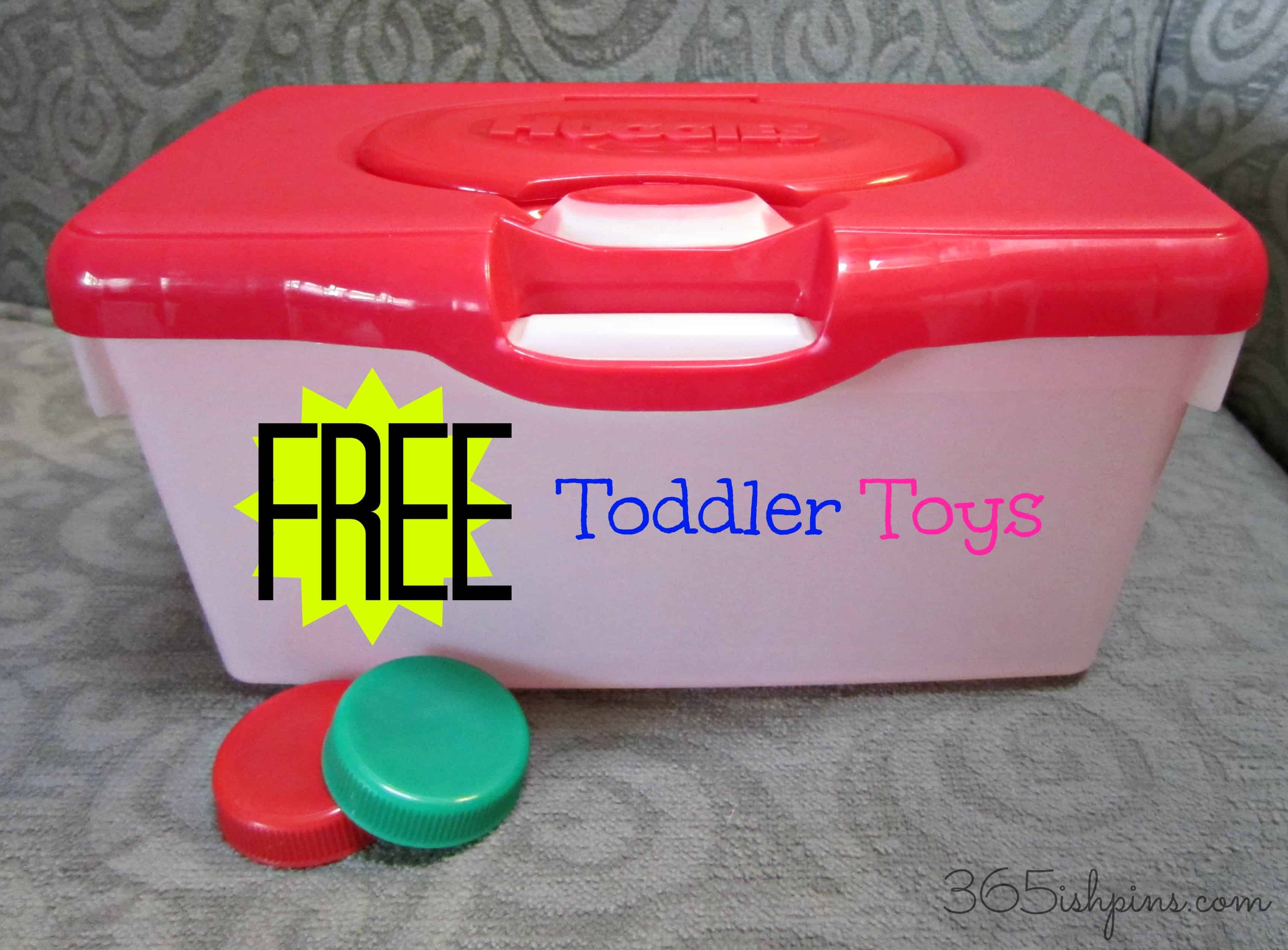 A wipes box can be used for a lot of things, but one of our favorites was this game. All you need is a baby wipes box (I used Huggies brand because the flap is soft and gentle on little fingers) and some milk jug caps! You can see a few pictures of this toddler toy in action here.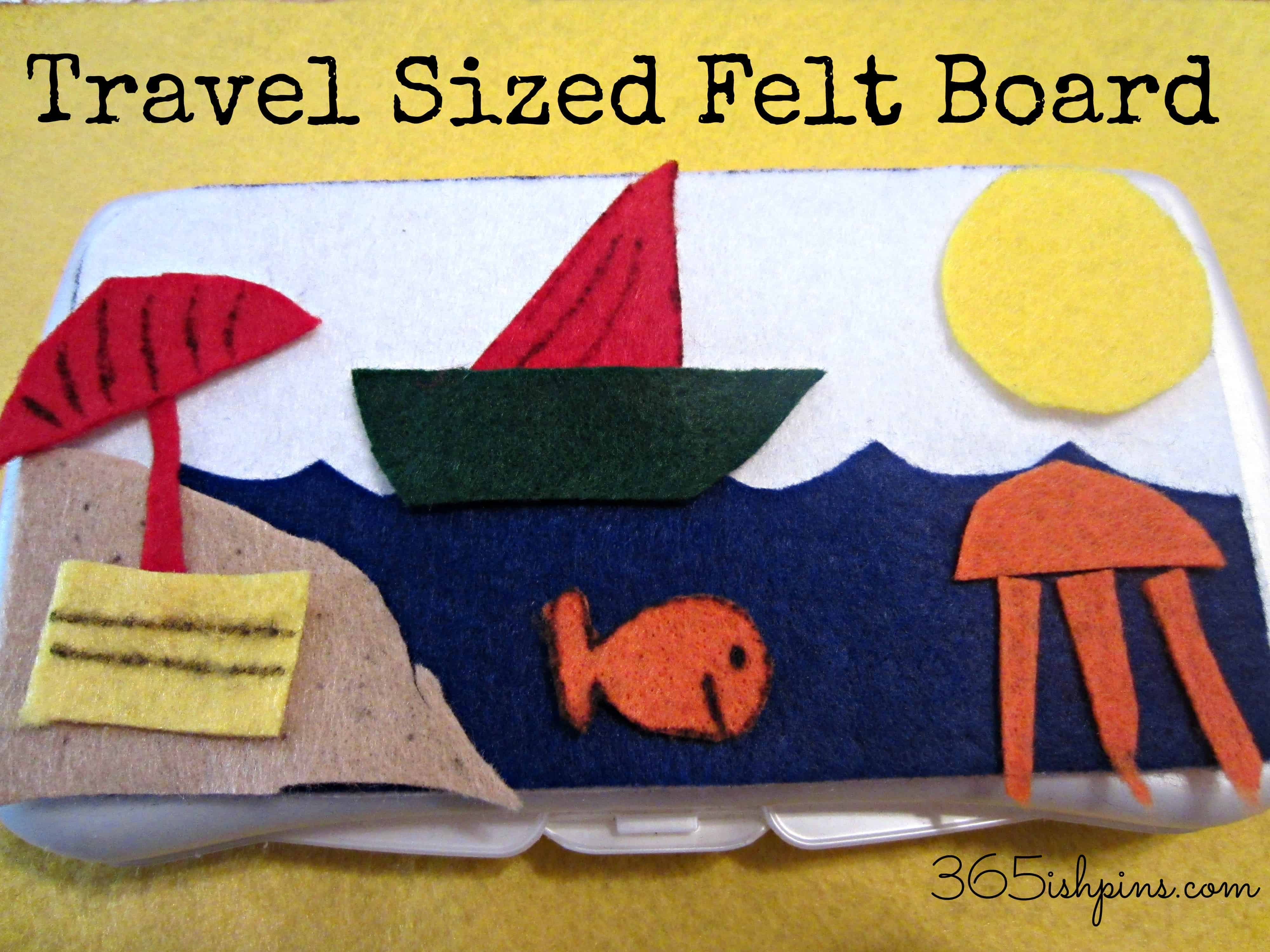 Felt play is a very inexpensive activity that's only limited by your imagination! For this travel version, I made a "board" out of a travel wipes case by attaching a piece of peel and stick felt to the back. Then I cut out several different shapes from felt pieces to create scenes. All the pieces fit inside the wipes case, making it great for the car! Read my post on Baby Wipes Felt Board to see the supplies list and more pictures/ideas!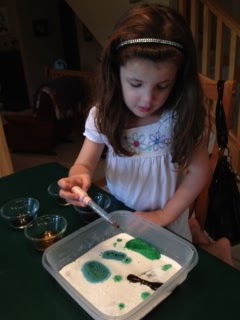 Fizzy Fun is what you get when you add baking soda, vinegar and food coloring together! For older kids, you can talk about the reaction created by vinegar and baking soda and what new molecules are formed during this activity. For younger kids, just let them enjoy the colors and the fizzy reaction that comes when you drop colored vinegar into a tray of baking soda! Read my post about Fizzy Fun for more details.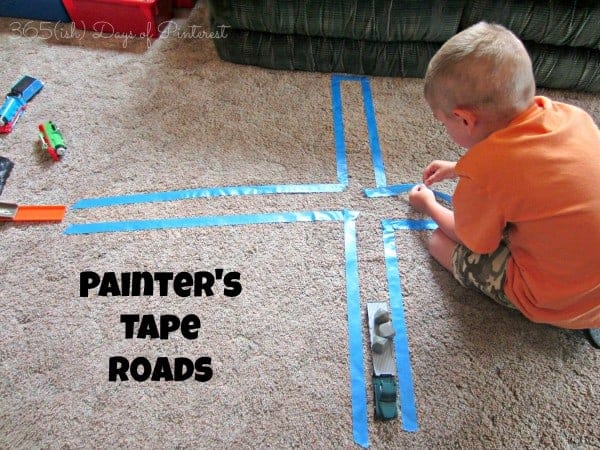 Painter's Tape Fun is one of my favorite kids activities. There are just so many things you can do with it, and the tape peels up easily without leaving behind any residue. My sons made roads all the over living room and then taped off sections to create "Tape Town" complete with a zoo, Target and even a train station! 🙂 You can see more pictures and get some ideas in my post about Painter's Tape Roads here.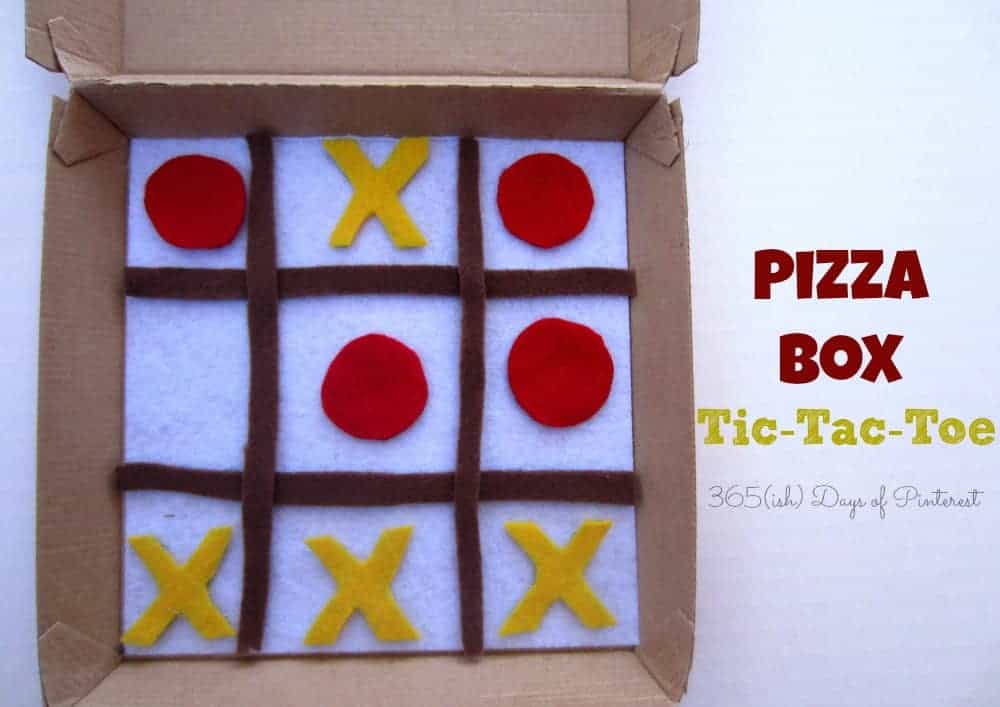 Pizza Box Tic-Tac-Toe is a fun twist on a classic game. With lots of us ordering take out or delivery, pizza boxes shouldn't be too hard to come by right now. Use peel and stick felt for the background and cut felt shapes for the lines and playing pieces. You don't need glue, and if you already have felt this is a totally free craft!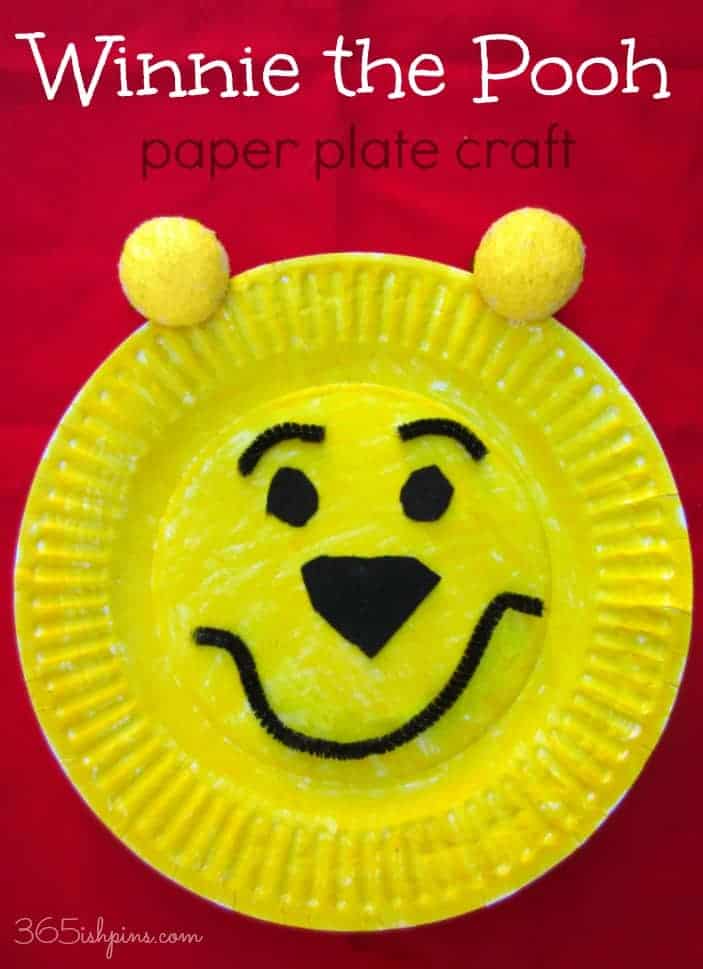 Paper plate crafts can be found everywhere online. Most people have them on hand and they are great for painting, cutting and getting creative! This little craft only takes a few supplies and is done quickly, before little bodies get too antsy. Try reading a favorite Winnie the Pooh book to your kids and then sit down together to make your own Pooh. You can see the supplies list and how we put ours together in my post about this Winnie the Pooh Paper Plate Craft.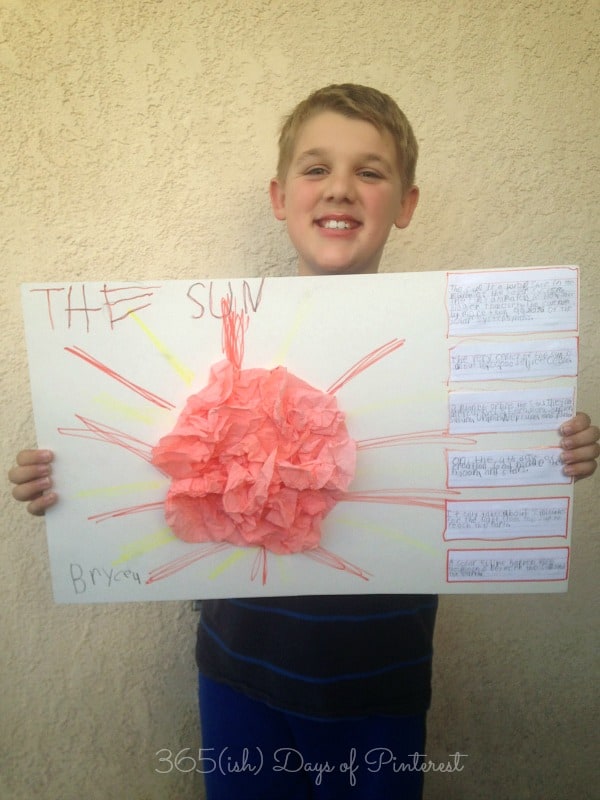 Coffee filter art is a fun way to use a new medium. We used it for a school project about the sun (that little boy is a strapping 15 year old now!) Learn how to dye coffee filters with food coloring in this post. Then get creative with your own art projects and crafts!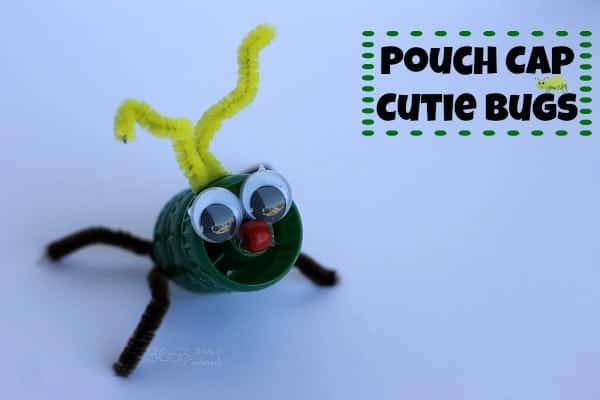 Do your kids go through those pouches of applesauce and fruit like crazy? Start saving the caps to make your own collection of bugs! You just need some pipe cleaners, googly eyes, beads and pouch caps to get started. See how to make Pouch Cap Cutie Bugs here!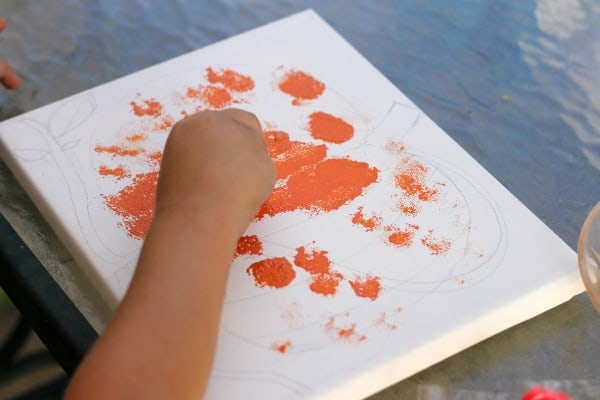 Pom pom painting teaches the concept of pointillism, a style of art created by painting dots instead of brush strokes. We did this project after watching an episode of Creative Galaxy on Amazon Prime. The show is still available, and from what I read, Amazon recently made all their kids shows free for anyone! Each episode has a craft or activity connected with it, which brings the learning to life! It's something I'd recommend for all of us homeschooling right now. 🙂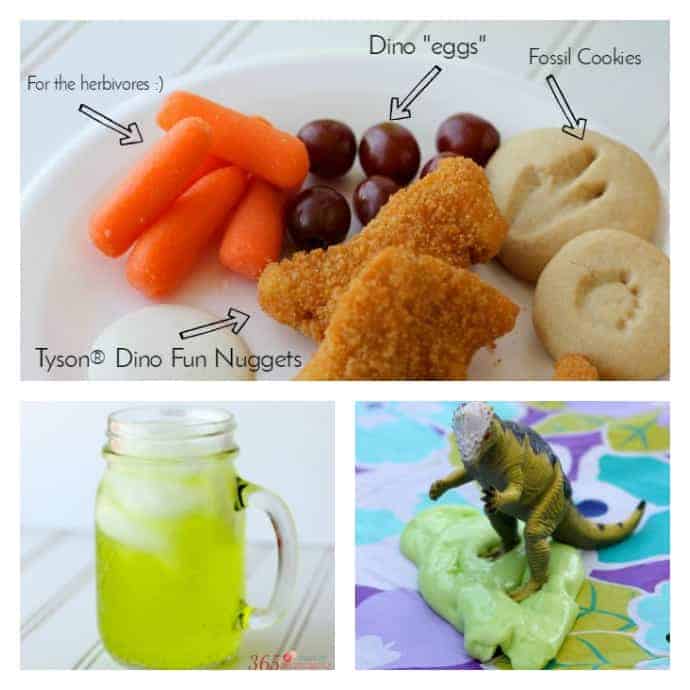 Dinosaur Day was a fun "theme" day that I did with the kids. We made fossil cookies, drank "swamp juice" and made slime "tar pits" to trap the dinosaurs. We also excavated fossils from ice! (Which would qualify as an outdoor activity.) 🙂 Having a focus for the day makes it special, and you can fold it into your learning as well! Read books about dinosaurs, watch online videos and then try some of these Dino Day Activities (click to see the details and recipes.)
Slime was a HUGE trend for a while, and my kids were no exception. There are lots of recipes available online. We've always made ours with Borax and glue, but if you don't want to do that you can find other alternatives on Pinterest. This is the recipe we use for Easy Homemade Slime.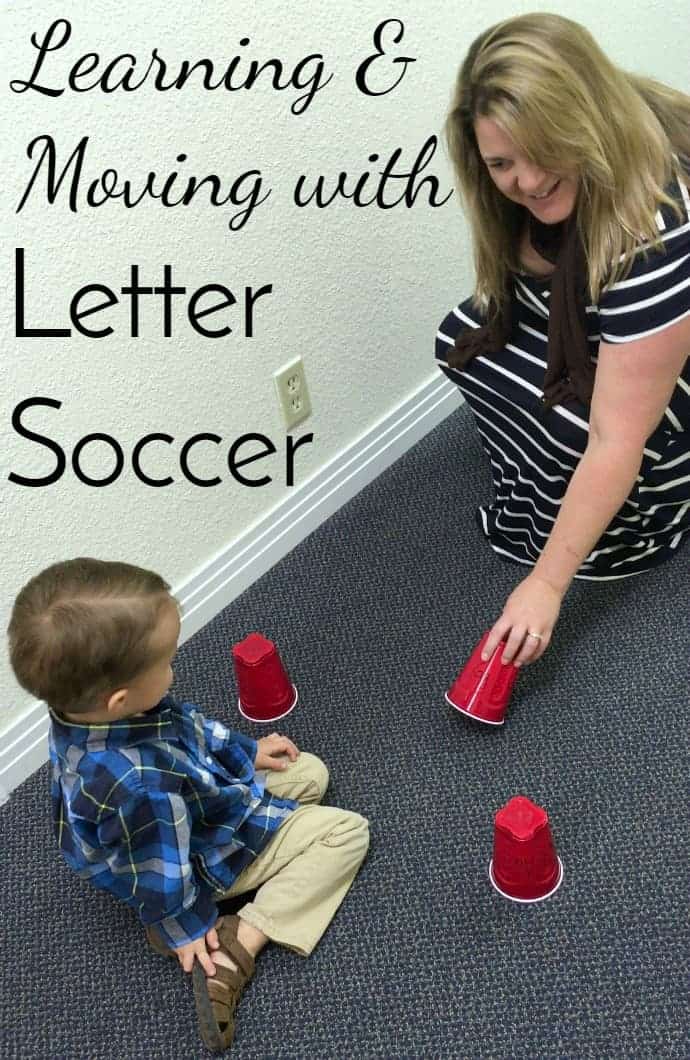 Letter soccer was something we used inside for preschool co-op, but it can also be moved outdoors for some fresh air and sunshine. It's a fun way to practice letter recognition, but if your kids are older, you can use it for sight words, multiplication facts, or anything else that requires rote practice. See the "rules" and how to play in my post about our co-op Letter Soccer.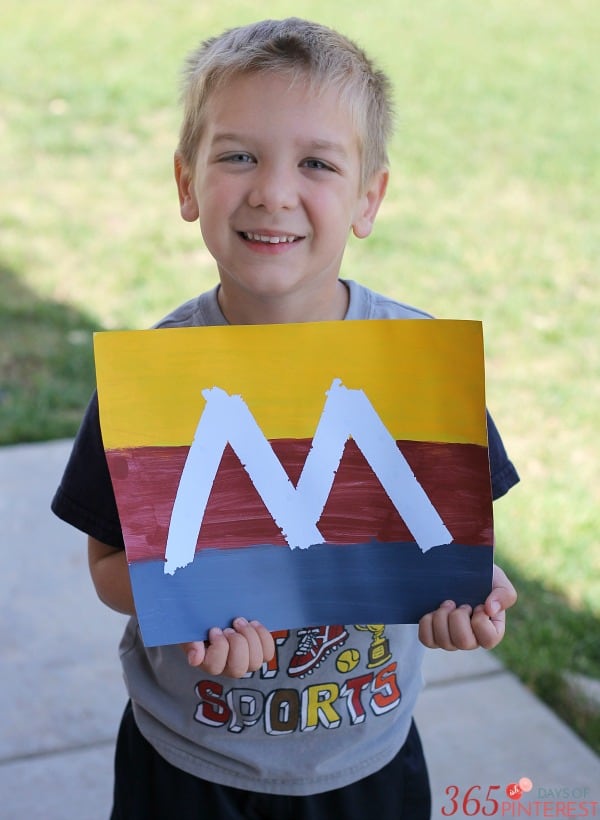 Letter art was another activity we did in preschool co-op. I think the official name for this is tape resist art. Start by adding painters tape to a piece of card stock (this holds up better to the paint) in whatever shape you want. You can do cool mosaic looking strips or create letters like we did here.
After taping, add the paint. We used bold colors and a basic block style to keep it very simple and clean. Once the paint is dry, carefully peel away the paint to reveal your finished project! You can see more photos and get a supply list on This Grandma is Fun (I shared a guest post there years ago.)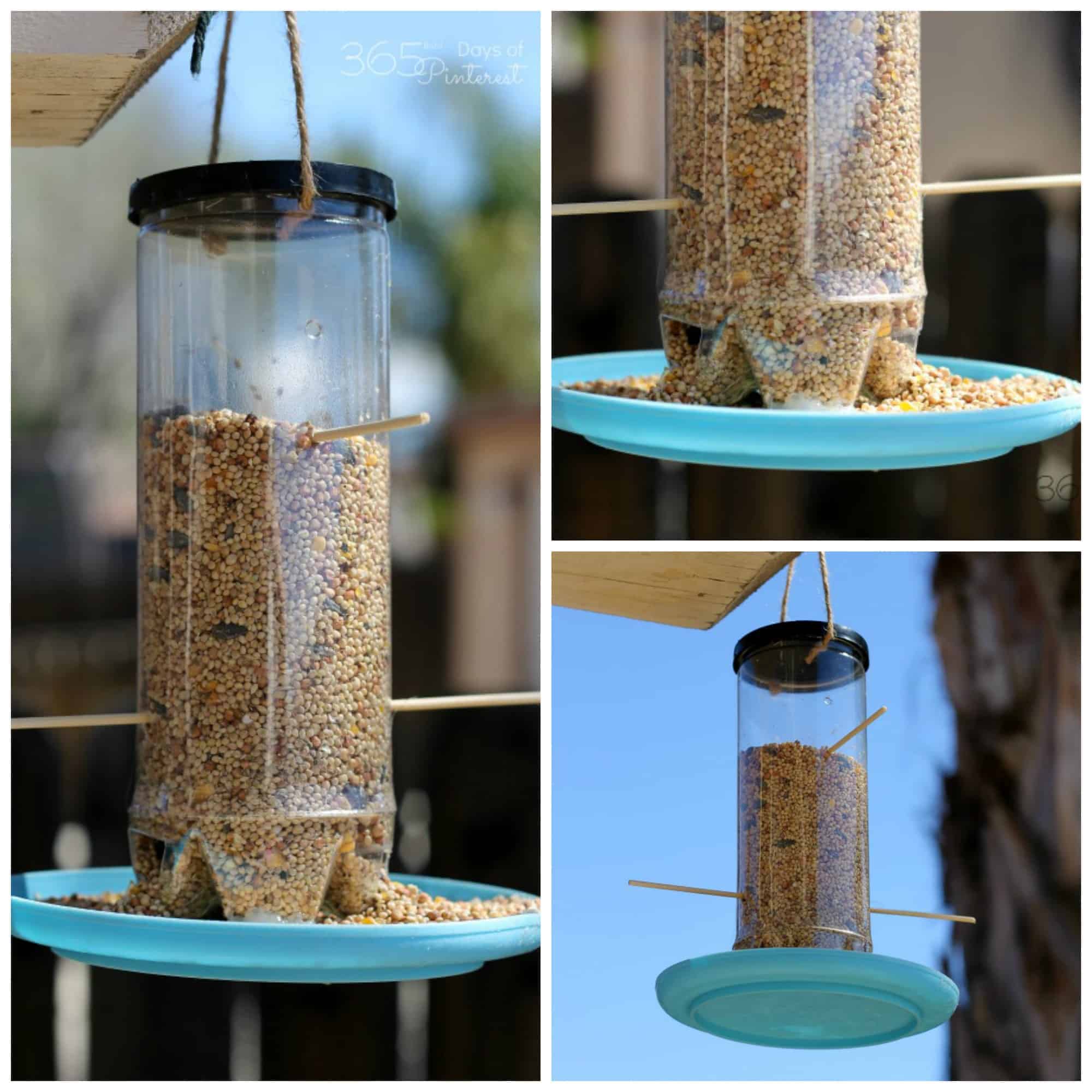 You can make your own bird feeder with things you already have around the house. If you're like us, you spend a lot of time looking out the window. This way you can have some pretty birds to look at while you stare longingly at the outside world. 😉 Read my post about this Bird Feeder Upcycle to see how to put it together!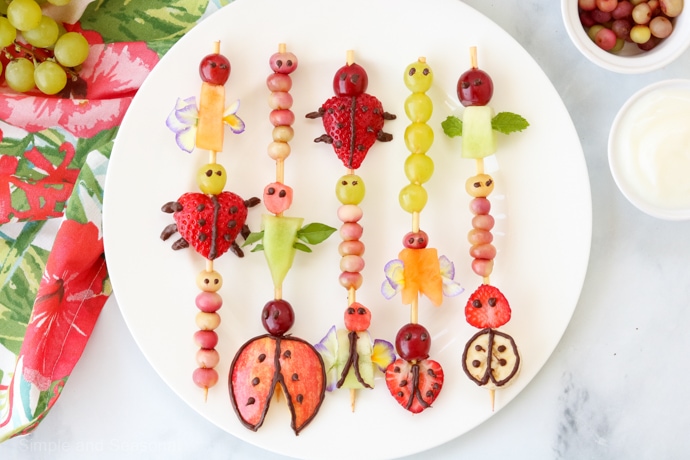 Cute Critter Fruit Kabobs are a great way to make snack time more fun. Adding a little chocolate doesn't hurt, either. 😉 You can use whatever fresh fruit you have on hand and get creative, or follow my easy directions for Fruit Kabobs found here.
I have several fun "food ideas" for kids we've done over the years. Click on any of these below to be taken to the recipes for each one:
Now we'll move on to the outdoor activities for kids (and grownups, too!) These can all be done in your yard or neighborhood. There are only so many hours and days you can spend inside, so choose one or two of these and plan to get active this week!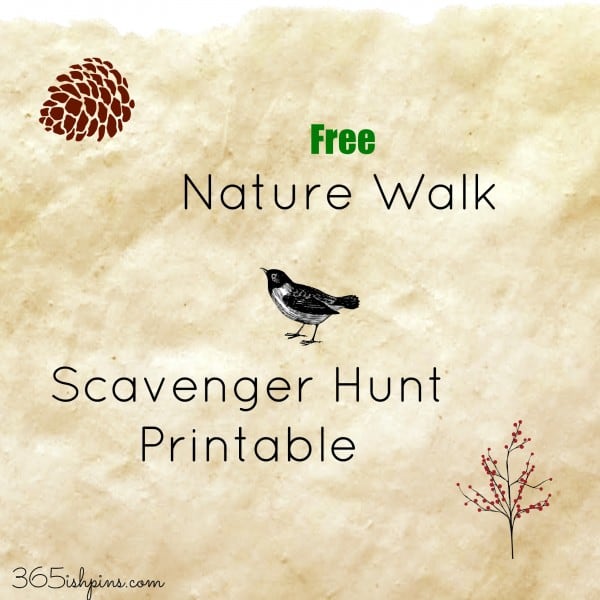 Nature Walks are something we're all trying to do these days, so keep it fresh by turning it into a scavenger hunt! I created a simple Nature Walk Scavenger Hunt that you can download and print out here, or make up your own instead! Having a goal while you're walking together can take it from a chore to a game.
Letter walk-another way to break up the monotony of schoolwork around the table is to get outside. Go for a walk around the neighborhood and look for things begin with different letters of the alphabet. When you find it, fold back that letter. For example, if you see a basketball hoop, fold the letter B back and then look for another letter. This works well with a paper plate, but if you don't have one, plain old paper will do just fine. 🙂
Letter Soccer (seen above) can also be done outside instead of down the hallway. The same rules apply, but you may want to use a larger ball and start from farther away.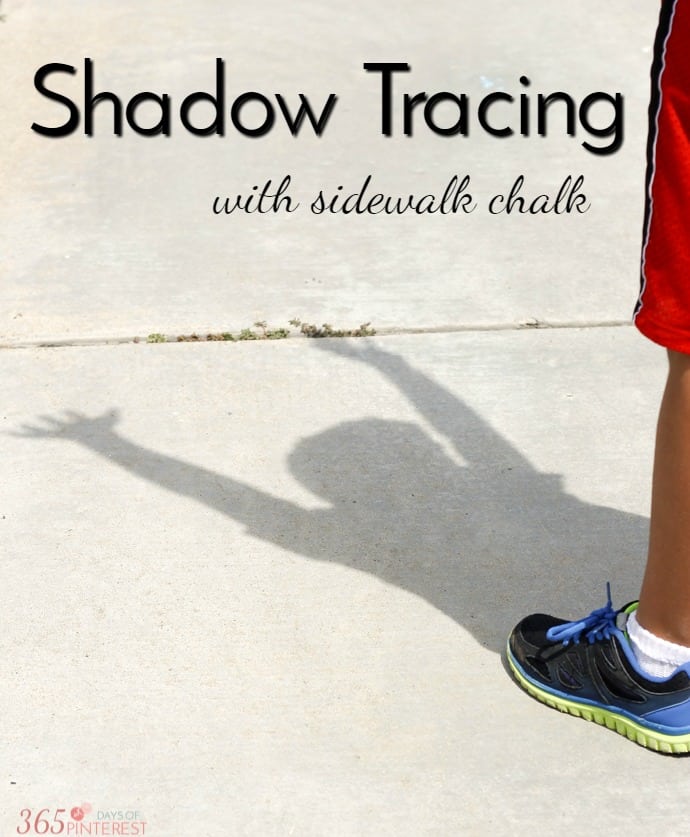 Sidewalk chalk activities and ideas are all over the internet. We did a fun bulls-eye game, shadow tracing and a few other things. If you can't find chalk on Amazon right now, try ordering from Target or Wal-mart instead. Read about our Bubble Bullseye and Sponge Toss games here!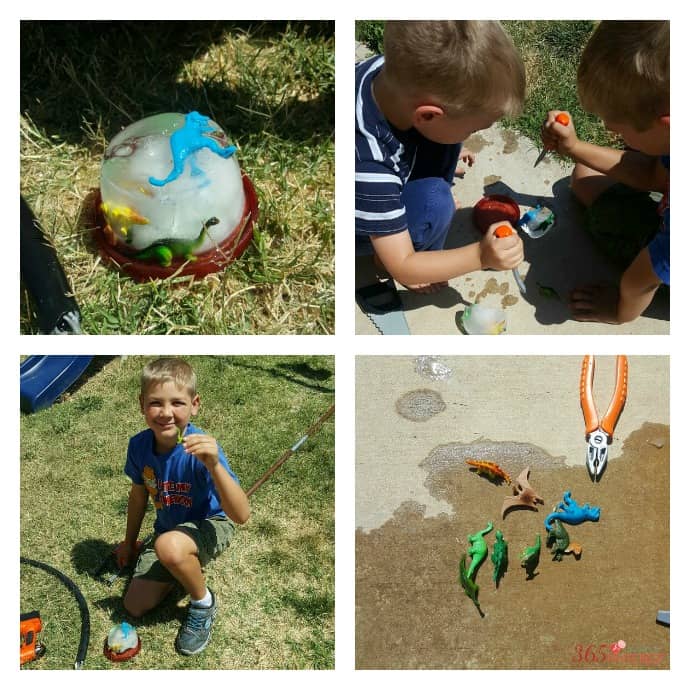 Fossil Excavation-one of our Dino Day activities (listed above) was excavating plastic dinosaurs from a chunk of ice. Boys in particular are fans of banging on things and breaking them apart, so this was a hit with us.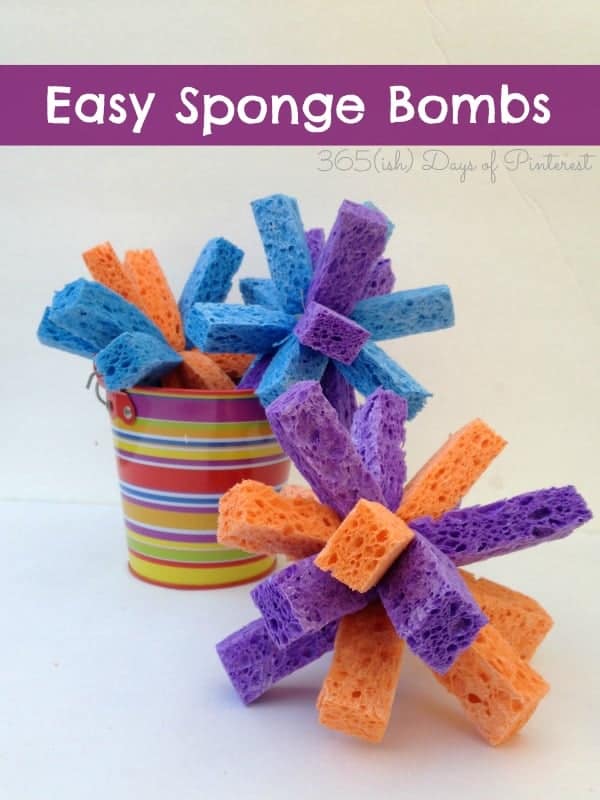 Sponge bombs are a fun to make, and then even more fun to take outside and throw at each other. 🙂 If it's a warm day, send the kids outside with a bucket of water and several of these sponge bombs. They can toss them in a game like hot potato, throw them at each other for fun, or create targets with sidewalk chalk and try to hit the bulls-eye. See the supply list (it's short and you probably have everything you need already) and how to make sponge bombs here.
I know we're all a little overwhelmed right now with the drastic changes to our every day lives, but this can be a great time to reconnect as a family. I hope some of these ideas are useful to you and help to pass the time at home.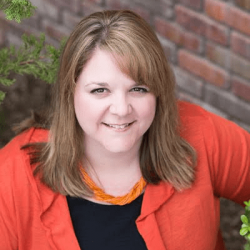 Latest posts by Nicole Burkholder
(see all)