This post may contain affiliate links. Please see my full Disclosure Policy for details.
I'm currently on the road heading back home after a quick weekend trip up to visit the in-laws. So helping me out today is Meredith Kult. Oops. I've know Mer since she was a little girl and I keep forgetting she's a married lady now. Man, I'm getting old. Anyway, Meredith King is posting today. She's a SoCal girl who's been transplanted to Minnesota, where I'm sure she's forgotten what the sun looks like by now 😉 Thanks for filling in, Mer- I love you!
Hey there – Meredith here! I'm guest posting for Nicole while she's on vacation. I'm currently a nanny for 3 kids, ages 9, 8, and 5, so I'm constantly on Pinterest trying to find ideas that will entertain all three of them at the same time! (Not always an easy feat.) Well I stumbled across this beauty a couple weeks ago, and thought I would give it a try. It's a simple science project (shh! Don't tell the kids!) dropping vinegar into baking soda and watching the reaction!
Here's what you need:
A baking dish or Tupperware container
Baking Soda
Vinegar
Food coloring (optional)
Medicine dropper, syringe, or turkey baster (we used a medicine dropper)
We started out by making the vinegar colorful. This was really fun for the 5 year old as we experimented what happens when you combine certain colors to make new colors.
Then I just poured a layer of baking soda in each person's container, handed them a medicine dropper and let them have at it! They were all enraptured with the colored fizziness for a good amount of time! (Translate into: a little bit of peace and quiet for me)
After they ran out of vinegar, they tried sucking the used vinegar up again into their dropping and seeing if it would work a second time, which wasn't very successful. Then they did a reverse experiment by dropping the baking soda into the vinegar, which was successful, but not near as exciting.
After they exhausted their options of making more fizz, they decided to get their hands dirty by trying to make sculptures out of their colorful, fizzy, gooey mess.
I'm happy to report that this was such a successful pin – the kids have asked to do it again 3 times in the past couple weeks. The best part about it is that it is cheap, easy, not too messy, and of course – fun!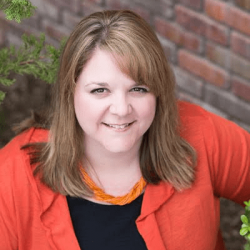 Latest posts by Nicole Burkholder
(see all)