This post may contain affiliate links. Please see my full Disclosure Policy for details.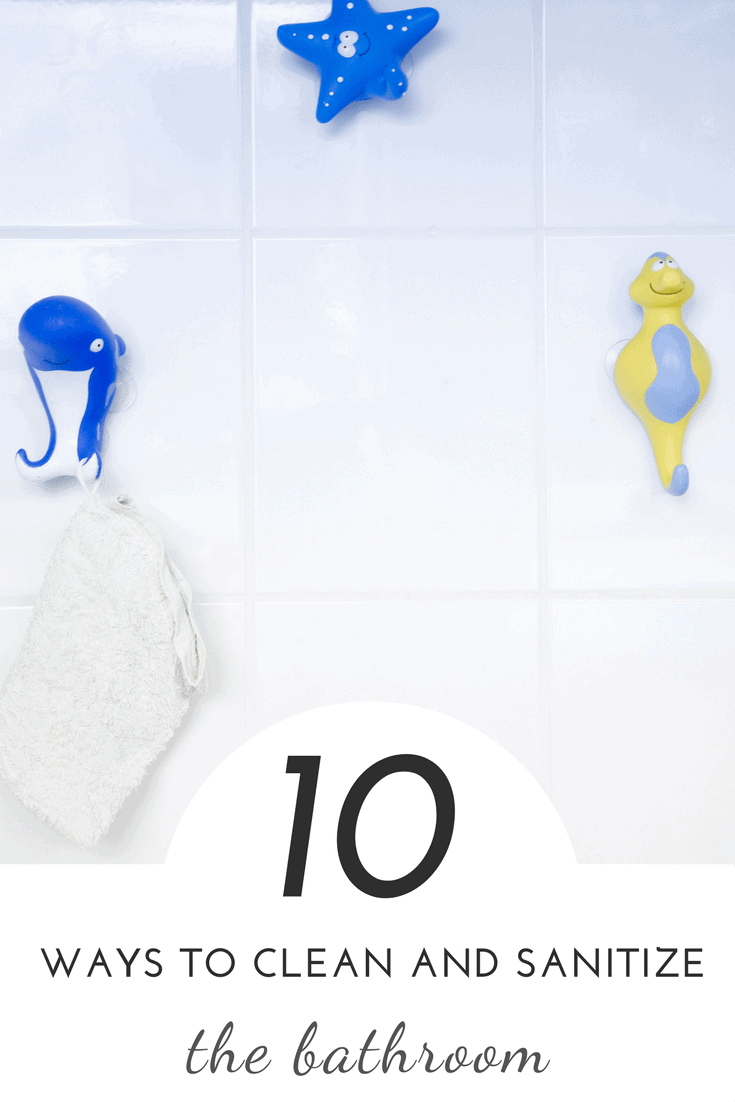 Getting ready for guests to arrive? These 10 simple tips will help you have a clean bathroom that sanitized from top to bottom!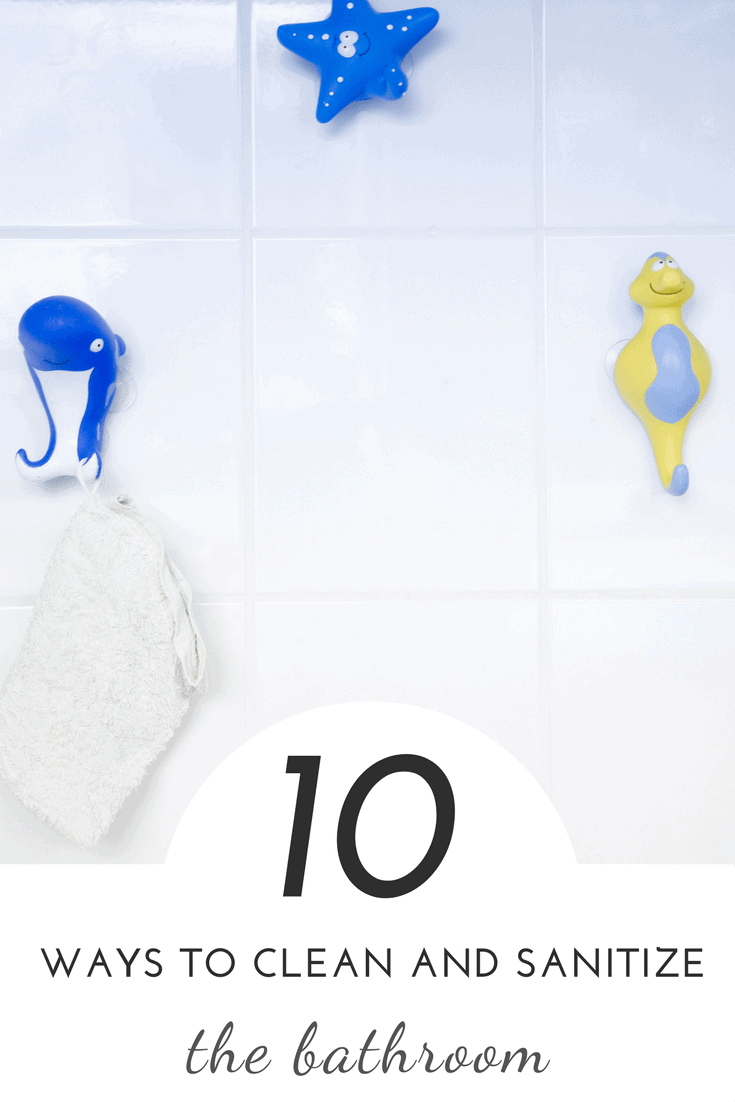 In "real life" I am a piano teacher. Well, I'm a lot of things, including a mom and a blogger, but ever since I was in high school I've been a piano teacher. I love to play and I enjoy teaching others to do so as well. However, teaching out of my home means I have a steady stream of people coming in and out of my living room all week. And nine times out of ten, someone asks to use the restroom. So, even though I hate to clean, I have to keep a clean bathroom all the time. Being the mom of three boys who also use that bathroom, it sometimes takes more than a simple wipe-down to get it ready for guests.
These simple tips will help you not only clean, but also sanitize your bathroom from top to bottom. The last thing you want is to embarrass yourself or spread germs to your family and friends! I can't be scaring off students and parents with my nasty bathroom. 🙂
Vacuum and dust
It may seem odd to use a vacuum cleaner and dusting rag in the bathroom, but you should. Run the dusting rag up the walls, or vacuum them with an attachment. It amazes me how dirty the walls get! Even way up high where the grimy hand prints can't reach. While you're at it, run a cloth over the light bulbs and fixtures. It's going to get much brighter in there after you clean off that layer of dust! The last thing to vacuum or wipe down will be the exhaust fan. It's often overlooked, but it will run more efficiently if it's clean.
Wash towels, bath mats and the shower curtain in the washing machine with white vinegar
Funky smelling linens can make the whole bathroom feel dirty. So how do you get them fresh and smelling clean again? You can wash them in hot water and bleach, but I have pretty purple towels. I don't want to fade them in hot water and I certainly can't bleach them. White vinegar to the rescue! It cleans and sanitizes, and it's safe for colors.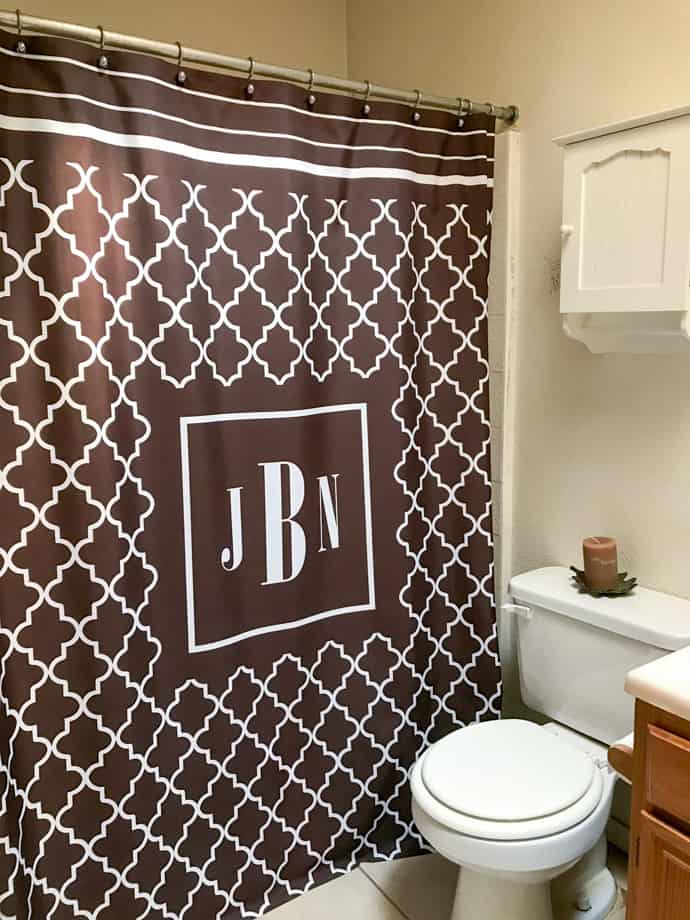 Did you know you can simply wash your shower curtain in the washing machine? Even vinyl curtains can be washed if you throw them in with towels! See how close mine is to the toilet? Let's just say I have to wash mine more often than you would typically need to wash a shower curtain. Detergent alone does not kill all bacteria, so add a cup of white vinegar to the rinse cycle for an extra dose of clean!
Use hot water to increase effectiveness of alkaline cleaners
Hotel cleaning crews and professional cleaning services will fill the tub a few inches with the hottest water coming from the tap. Supposedly, raising the temperature in the room helps make the cleaning agents more effective. At the very least, you have hot water handy to wipe down surfaces. So start with a quick rinse of hot water, add your cleaner, let it sit for a few minutes for best results, then rinse and dry. Don't skip that last step! Leaving any soapy residue will just attract dirt and create a bigger mess down the road.
Remove the toilet seat and lid to clean all the crevices
This is far from a "quick tip" and it's kind of a pain, but if you have boys, you have to do this once in a while. There's only so much you can reach when cleaning. Most toilet seats will come off with a screwdriver and then you can really get into the crevices to clean.
Clean rust stains clean with cream of tartar
Do you ever take out a bobby pin, set it next to the sink and then forget about it for a couple days? Or maybe leave it on a shelf in the shower? The next time you go pick it up, there's a little rust stain where a bobby pin used to be. Oops. To get rid of the rust stain quickly, just make a little paste with cream of tartar and water, and rub it over the mark. Scrub it, rinse it and wipe it away!
Clean nasty buildup around the faucet with vinegar soaked paper towels
I'm a little embarrassed to show that before picture! Yikes! All the way around the faucet and the handles, hard water and soap scum build up to create a nasty gunk. It's too hard to get at with a rag, and regular cleaners don't seem to work anyway. The acidity in vinegar is the trick for this!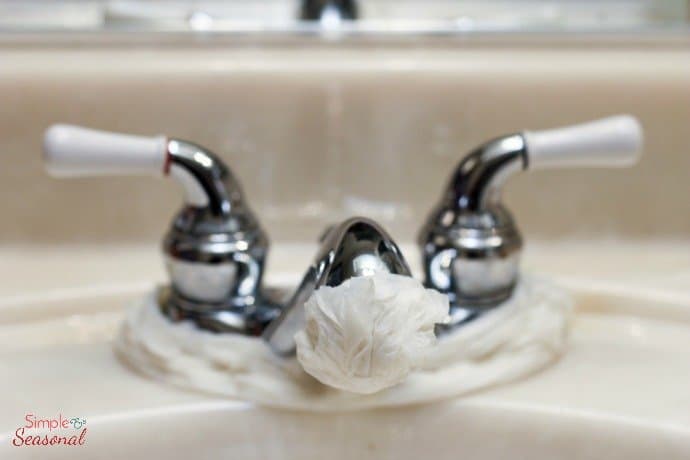 Simply soak a few paper towels in vinegar and wrap them around whatever needs to be cleaned. Let it sit for a while (to be honest, I forgot about mine and it was probably an hour before I went back to remove the towels.) Then just take an old toothbrush and brush away all that gunk! Mine still has a couple marks, but those are scratches where the finish is gone. I was amazed at how much cleaner the whole faucet looked.
Rub faucet with wax paper to repel water
To help keep the water stains under control, rub the faucet with a sheet of wax paper. This is also great for the chrome in shower doors and other shiny surfaces that get wet.
Get mold and mildew out of caulking with bleach-soaked cotton
Personally, I would rather just strip the old caulking and buy new stuff, but in a pinch this will do. It's easiest with those long cotton strips they use at beauty salons, but I've used cotton balls and they were just fine. Soak the cotton in bleach, then push it into the corners where the dark mildew stains like to live. Make sure to ventilate the room well while the bleach does its work.
Soak the shower head in vinegar to remove hard water buildup
You can either completely remove the shower head to do this, or put vinegar in a gallon-sized bag and secure it around the neck of the shower head with rubber bands. Let it soak and then use a brush to clear away the bits of lime scale and grodiness that was living there.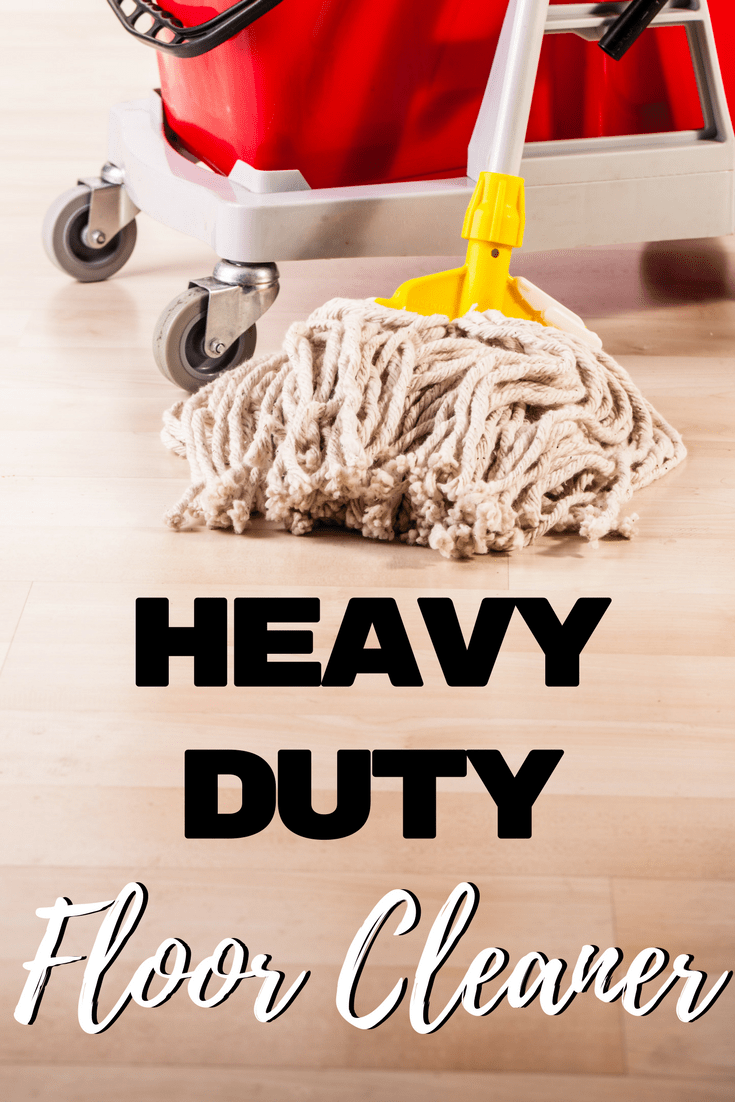 Use a heavy duty floor cleaner
I hate cleaning floors. They are my nemesis. I will make do with a rag and whatever cleaner I've got handy, but for the big jobs, I use this DIY Floor Cleaning Solution. It's only for tile floors, though. If you have linoleum flooring, the trick to getting it really clean is to use a brush. Any floor cleaner will do, but you need a stiff brush for getting all those teeny little crevices and dimples clean. For tile, I mop with my solution and then wipe it dry with a towel. If I'm really getting it done, I scrub the grout with vinegar and a brush or use toilet bowl cleaner.
There! The bathroom is now clean and sanitized from top to bottom! Do you have a favorite cleaner or cleaning tip? Feel free to share in the comments. 🙂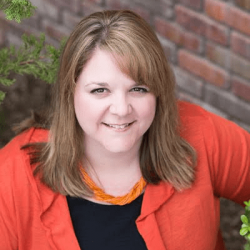 Latest posts by Nicole Burkholder
(see all)