This post may contain affiliate links. Please see my full Disclosure Policy for details.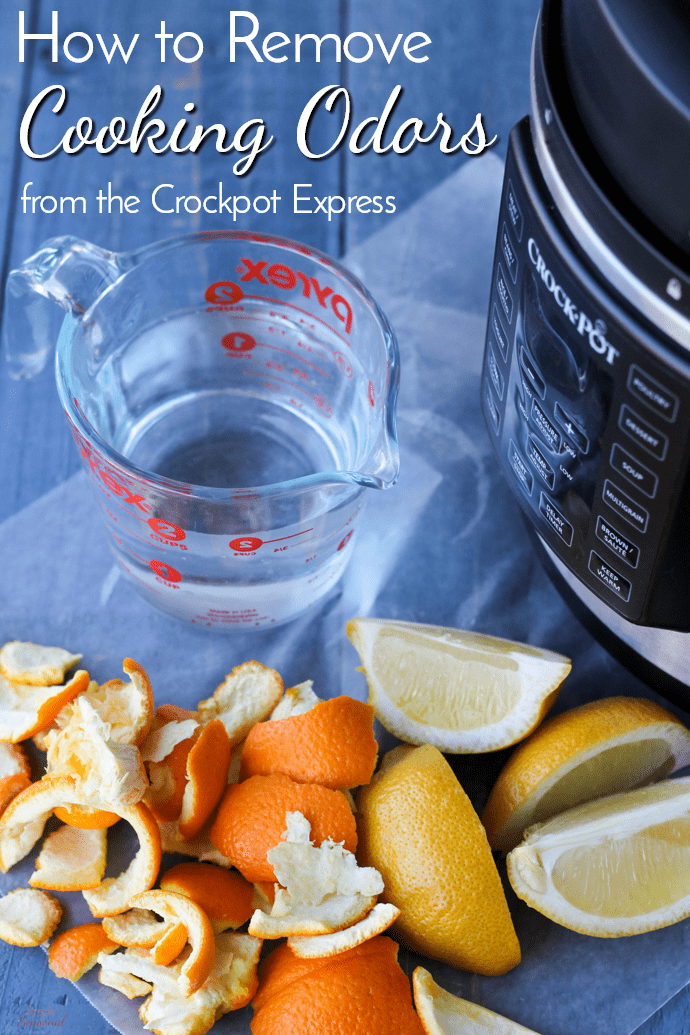 This all-natural cleaner will deodorize and sanitize your pressure cooker so your monkey bread doesn't take like chili. Learn how to remove cooking odors from the Crockpot Express (or other pressure cooker) and keep food tasting great!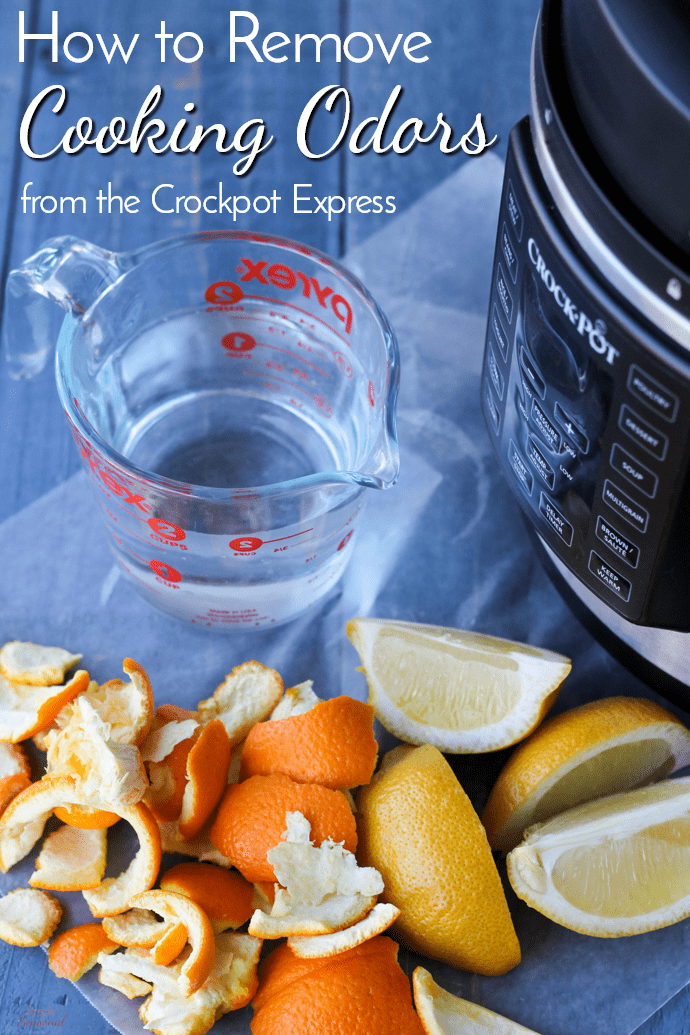 I love my Crockpot Express. Which means I use my Crockpot Express. I love Mexican food. Which means I cook a lot of it…in my Crockpot Express. But things like pepper, cumin, and chili leave strong odors behind after cooking! If you're cooking similar recipes it's no big deal, but if you want to make a dessert, for example, you're going to want to know how to remove cooking odors from the Crockpot Express.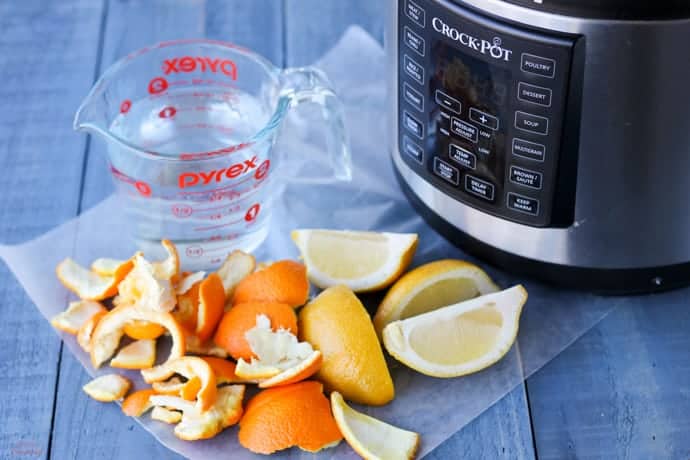 There are several different ways to combat those cooking odors. The silicone sealing ring inside the lid is where a lot of the odors hide, so try cleaning it first. There are a few ways to do that:
wash it in the dishwasher
boil it in a saucepan with 1-2 tbsp baking soda
store the lid upside down to keep the cooking odors from getting trapped
buy several replacement gaskets here to allow them to be cleaned and air out between uses
If you've tried cleaning the gasket and you're still stuck with cooking odors, this is a quick and natural way to clean the whole Crockpot Express. It will help clear out any debris and lingering smell in the steam release valve, too.
How to Remove Cooking Odors from the Crockpot Express
What you'll need:
1 cup water
1 cup white vinegar
orange rinds (from 1-2 oranges)
1 large lemon, sliced
What to do:
Pour the water and white vinegar into the cooking pot. Add the orange and lemon.
Cover, lock the lid and close the steam valve. Press "steam" and set for 5 minutes.
Allow to naturally release pressure for 3-5 minutes after the cook time is over. Open the steam release valve (careful!) and do a quick release for the rest of the pressure. There will be a little spluttering, but you want to force that water and air through there to get the valve clean as well.
Rinse out the cooking pot (pour the contents down the garbage disposal to clean and deodorize it, too!) dry, and store with the lid upside down.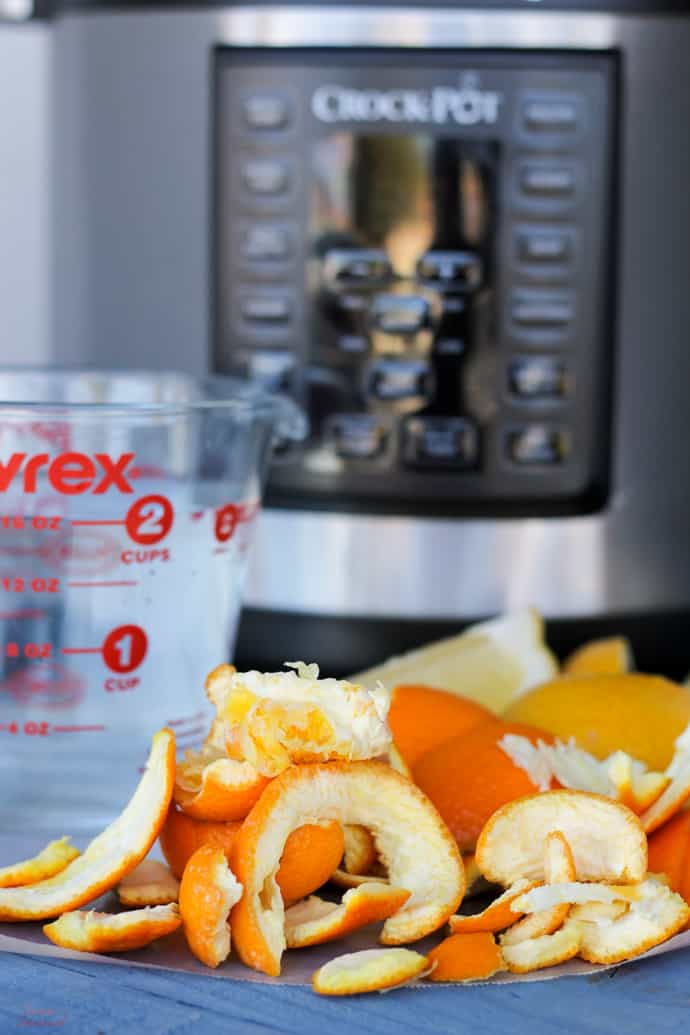 Looking for more tips and recipes for the Crockpot Express? Join our Crockpot Express Community Facebook group here! In the meantime, check out this Crockpot Express Cooking Guide and FAQ's.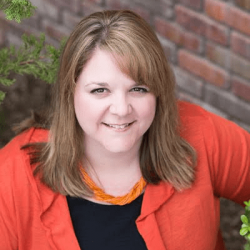 Latest posts by Nicole Burkholder
(see all)