This post may contain affiliate links. Please see my full Disclosure Policy for details.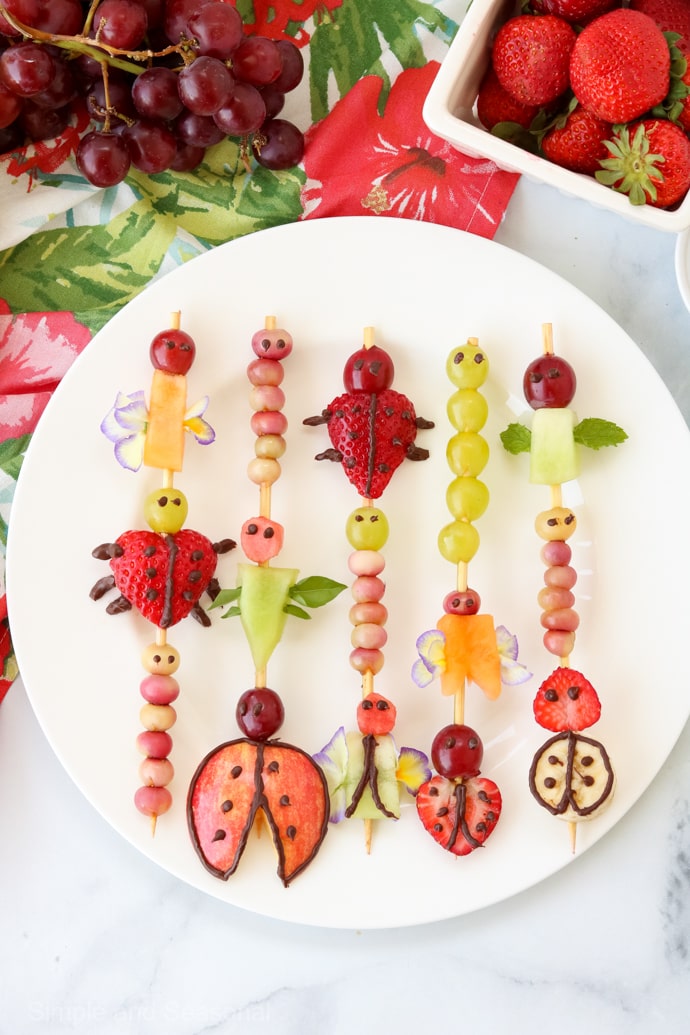 Serve a fun after school snack or impress party guests with these yummy and cute Critter Fruit Kabobs!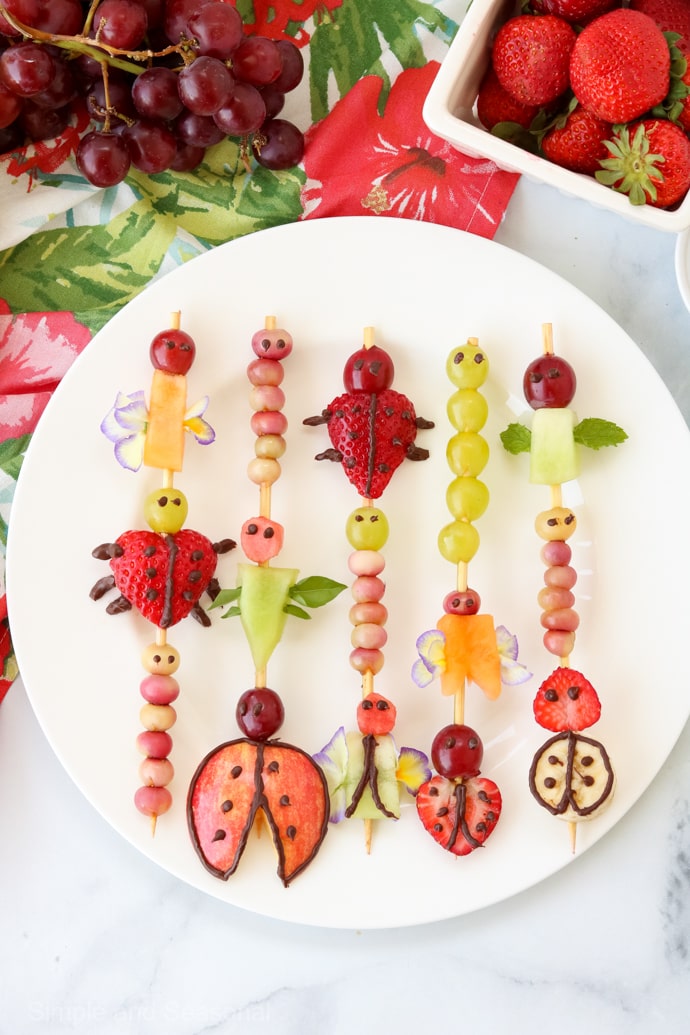 How cute are these little Critter Fruit Kabobs?!? They are perfect for an after school snack (although it does set the bar pretty high.) Maybe use them as a snack for an outdoor or camping themed birthday party. I was also thinking they would be fun for a Lion King party-Timon and Pumbaa snacks!
Really, it's just fun to play with your food, and doing it together with your kids encourages them to try new things. (The chocolate doesn't hurt, either.)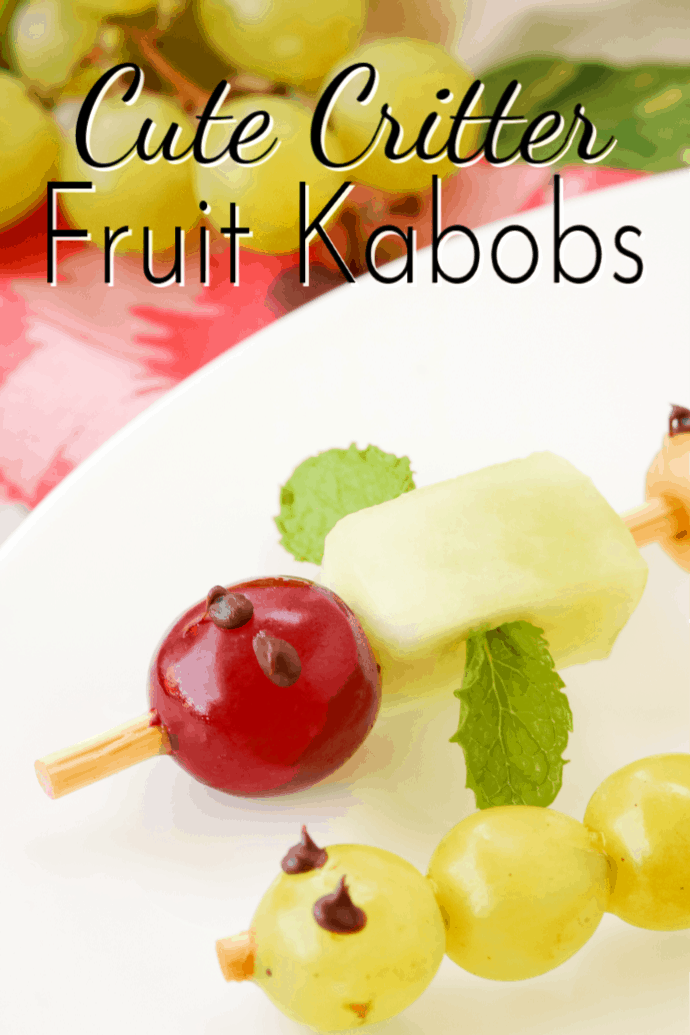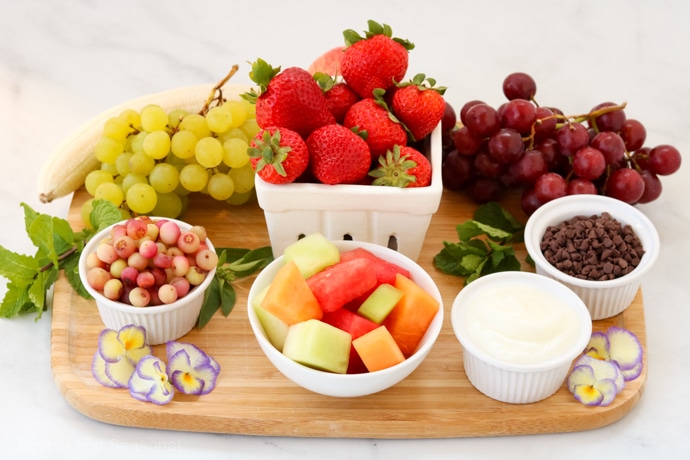 Supplies needed for making Cute Critter Fruit Kabobs
Chocolate Chips
Edible Flowers (I used Viola's)
Mint
Blueberries (I used Pink Lemonade Blueberries but regular ones work, too!)
Strawberries
Honeydew Melon
Cantaloupe
Banana
Apple
Watermelon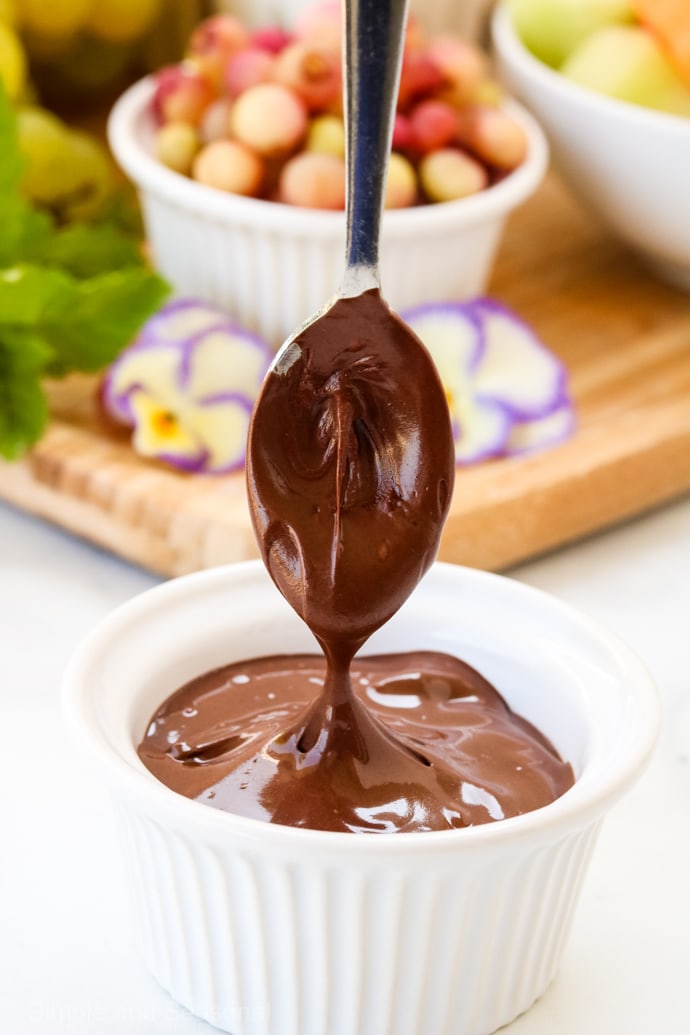 Preparation Instructions:
Melt the chocolate in the microwave on medium power in 15 second intervals until melted. Stir between each interval to prevent the chocolate from getting too hot.

Place the melted chocolate in a ziplock bag and cut a tiny piece off the corner. You will be using this to make the eyes, spots, wings and insect legs, so make sure you only snip off a tiny corner.

Cut the fruit and create desired bugs, using the instructions below.
Grape/Blueberry Caterpillars
Place grapes or blueberries on the skewers in groups of five. Use the chocolate to make eyes.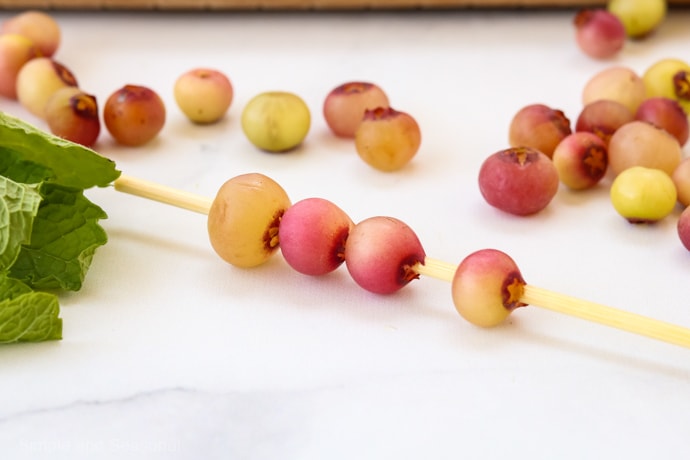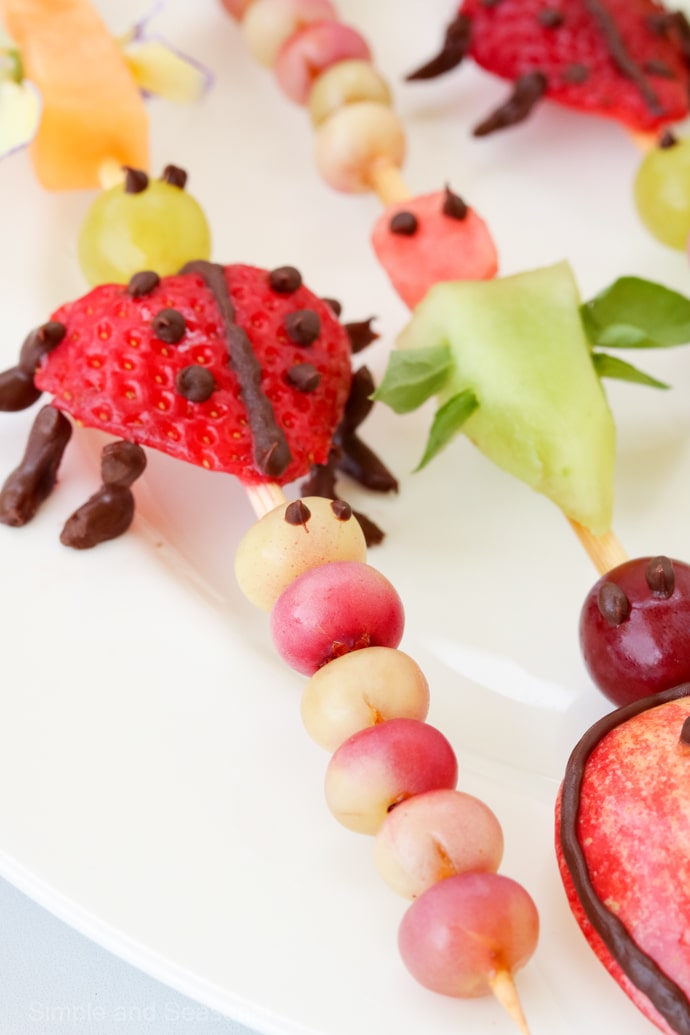 Strawberry Banana Beetles
Cut a strawberry in half for the body and use a grape as the head. Use the chocolate to place eyes on the head and spots on the body. To place the legs, place wax paper on a small plate and squeeze some chocolate onto the strawberry, continuing off the berry and slightly onto the wax paper. Be sure to make a nice, thick layer and don't make them too long. Short is easier to manage!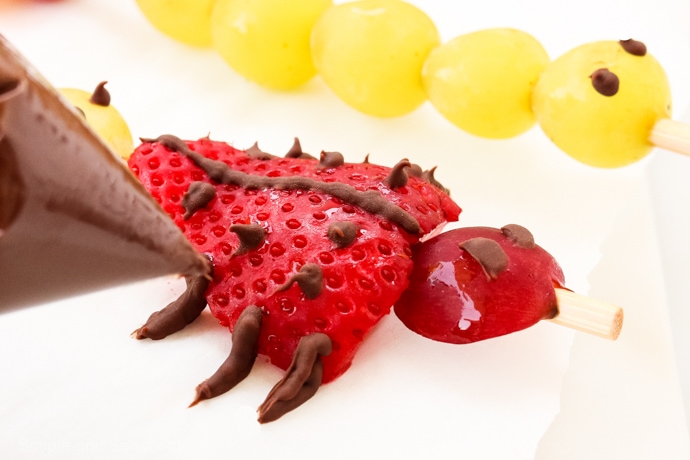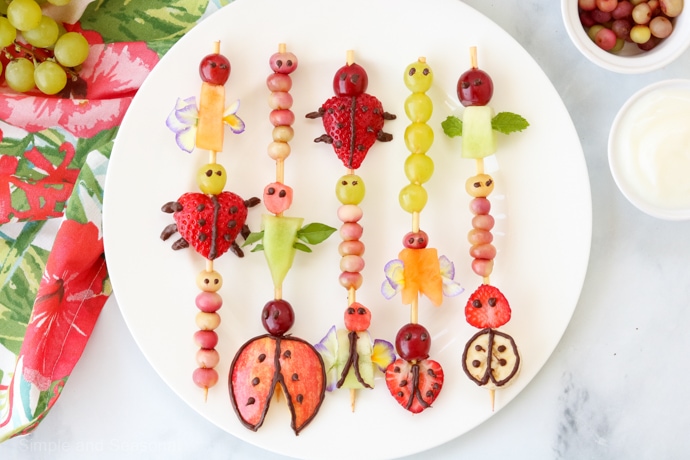 Flying Insects
Use melons cut in a rectangular shape for the body. For the head, use a grape, blueberry or melon cut in a small circle. To insert the flower/mint wings, use the blunt end of the skewer to pierce a hole in the side of the melon. Place the flower or mint in the hole, and use the sharp side to secure it into place.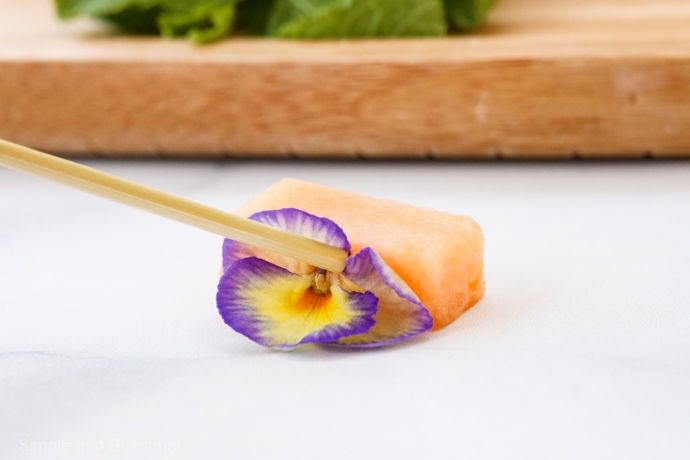 Apple Crawlers
Slice an apple and cut a small v shape out of the bottom center of the fruit. Use a grape or blueberry for a head, and accent the body with chocolate.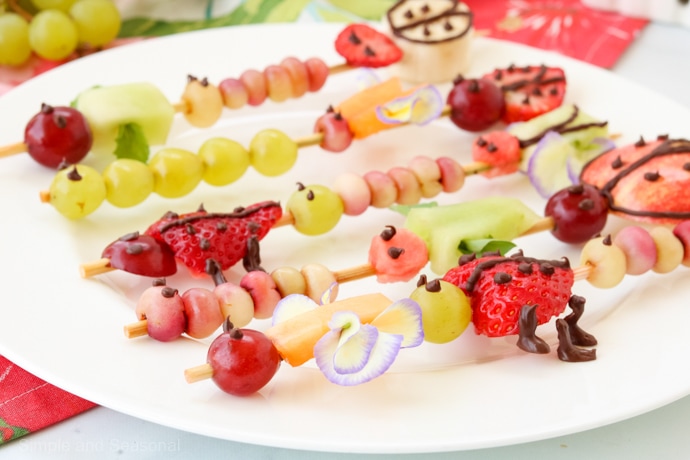 These cute little bugs are all very open to your own interpretation, so just pull out the supplies and get creative with it. Serve them alone, with yogurt or a yummy dipping sauce like this easy Toffee Dip!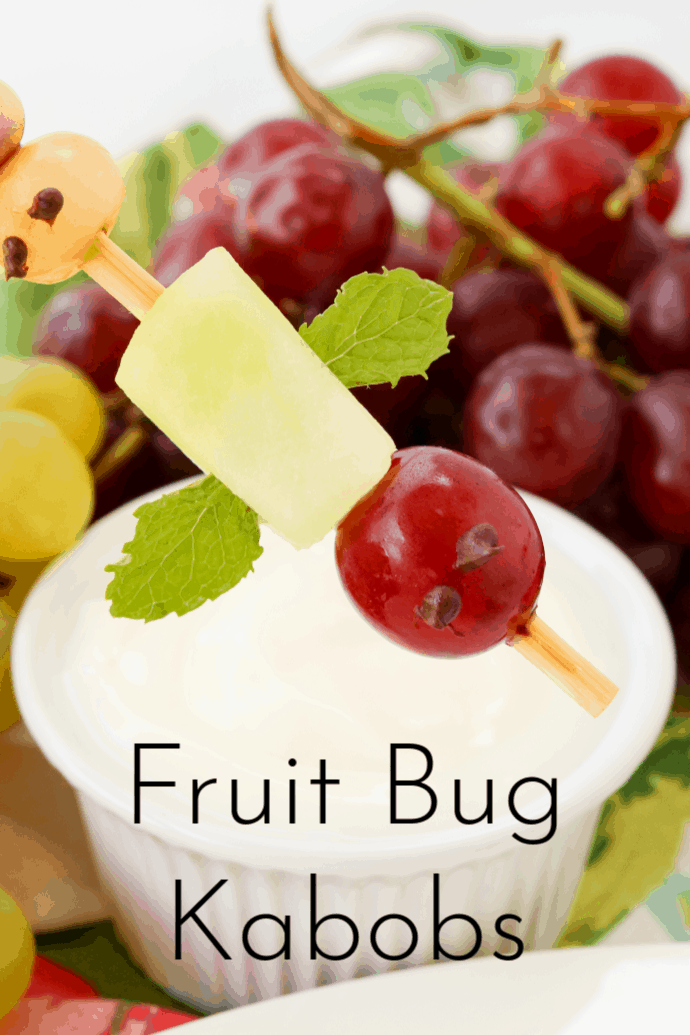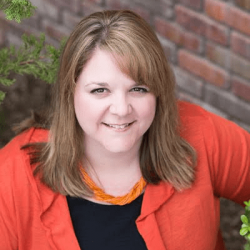 Latest posts by Nicole Burkholder
(see all)