This post may contain affiliate links. Please see my full Disclosure Policy for details.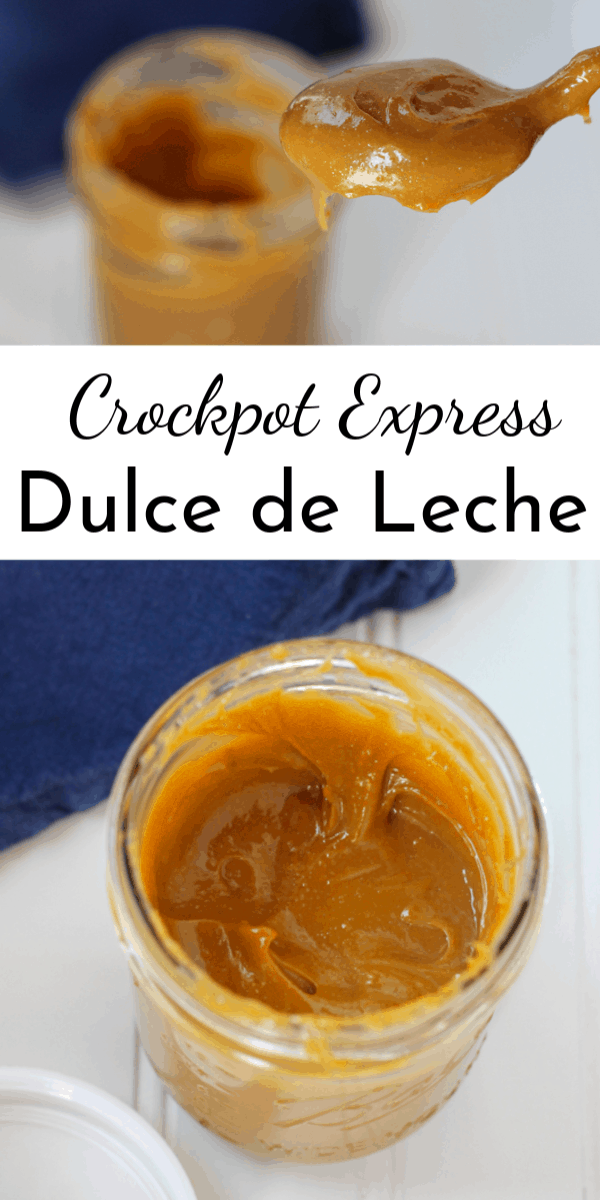 Crockpot Express Dulce de Leche is perfect for topping cheesecakes, using as a fruit dip or just spreading on toast! There's no need to get store-bought sauce when it's this easy to make your own!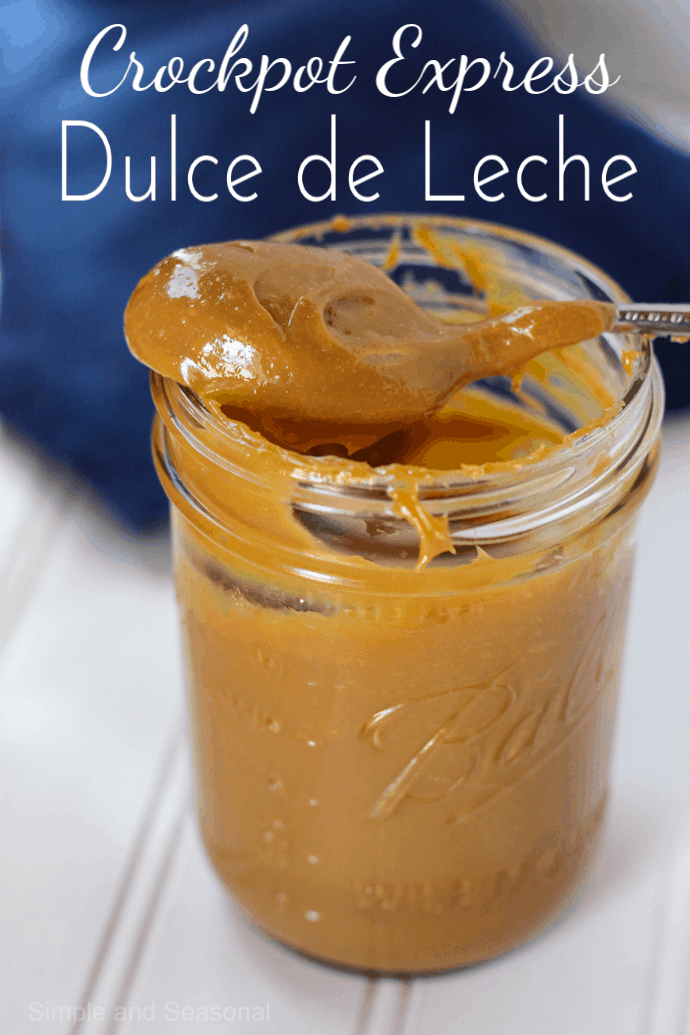 "Dude. Duuuuuuude." When I get that reaction from someone tasting my food, I know it's a winner. 🙂 But to be totally honest, I can't exactly claim genius food blogger status with this recipe. Crockpot Express Dulce de Leche is just a method for making the delicious caramel-like sauce that's been around for ages. But I made it and shared it with others, so I'm taking whatever credit they're willing to hand out. 😉
Dulce de Leche is from Latin America (it's origin is hotly contested, so we'll just keep it general) and comes from cooking down sweetened condensed milk. It's NOT caramel, which is from cooking down sugar alone (or sometimes with a little water.) Butterscotch comes from cooking down sugar and butter together. No wonder I love them all!
It is, however, very caramel-like in flavor and texture. It's just not as cloyingly sweet as caramel can tend to be. I ate it right off the spoon until I felt bad about it and started dipping apple slices in it instead. There. Now it's a healthy snack. 😉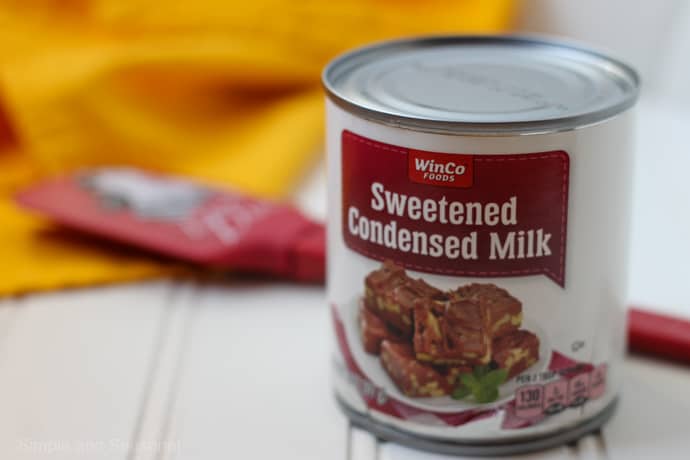 Crockpot Dulce de Leche takes this traditional sweet treat and makes it much easier and faster! Instead of boiling it on the stove for a few hours (watching the water level carefully) and then waiting ages for the can to cool down, you can be enjoying it on top of your cheesecake or spread on toast in about an hour!
For generations, people have cooked dulce de leche directly in the can (after removing the label.) However, all the labels now have warnings stating it's not safe to heat the milk in the can. It's true that pressure cooking doesn't take as long so you're not exposing it to heat for hours, but I'd rather be safe than sorry. I don't want to risk leaching chemicals into my food.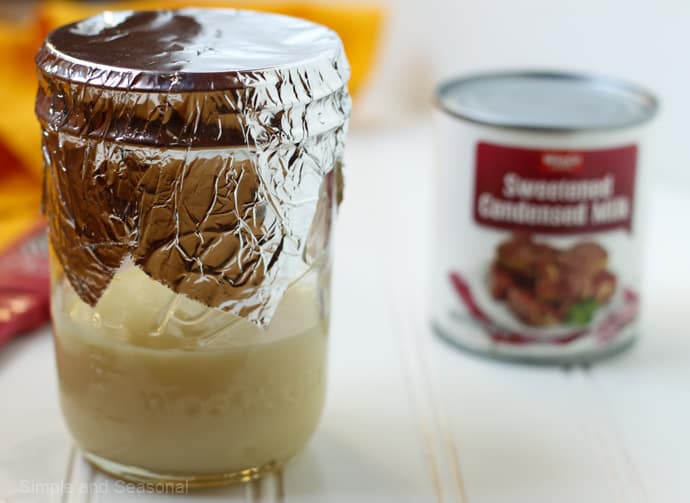 Simply open the can and pour the contents into two jars. I decided to use two canning jars because it would be easier to stir and get creamy afterwards. You can certainly use one jar and just work a bit harder to stir when it's done. Then I covered them tightly in foil and put them on the trivet in my Crockpot Express and added the water.
For storage later, you can use these handy reusable plastic lids. They fit perfectly on canning jars and I use them for yogurt, jam or just storing leftovers! (Just make sure you get the right size-wide mouth vs. standard.)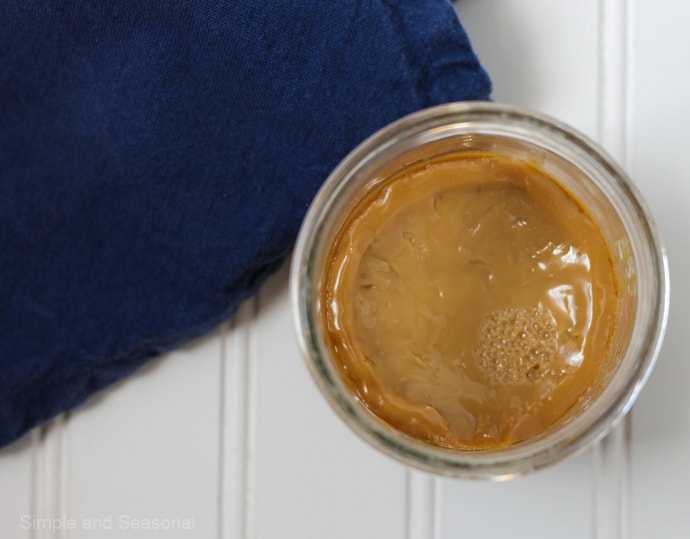 When it was done, this is what it looked like. It's stiff to the touch on the top and you can see a few bubbles. It's a lovely dark color as well. A longer cook time will result in a darker color.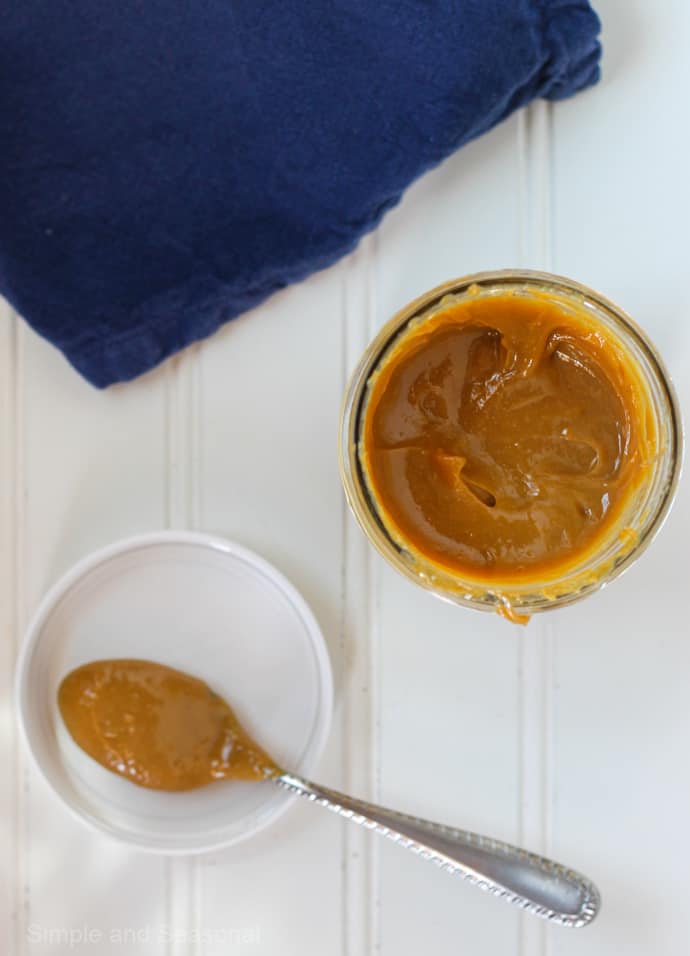 After letting the jars cool enough to be able to touch them, it's time to stir. As you stir, you start to get a smooth and creamy dulce de leche. As it cools, it will thicken, but it doesn't get hard. If you want to pour it over something (like your own Crockpot Express Cheesecake) just heat it up again to thin it out.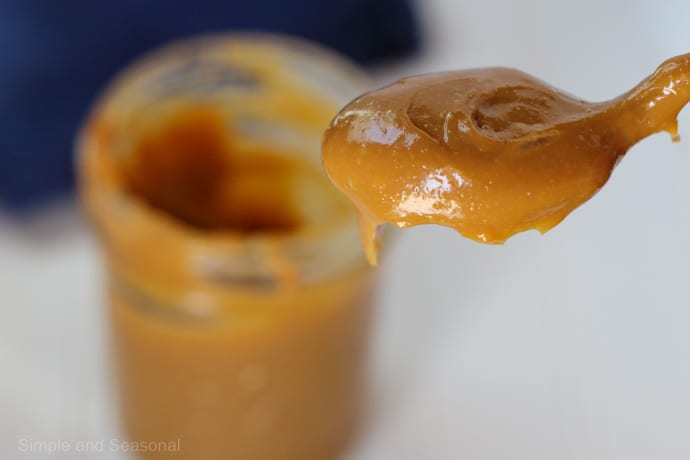 Just look at that spoonful of goodness. It's perfect for things like Chocolate Dulce de Leche Cake (hello, gorgeous!) or Dulce de Leche Chocolate Chip Ice Cream!
Crockpot Express Dulce de Leche
Crockpot Dulce de Leche is perfect for topping cheesecakes, using as a fruit dip or just spreading on toast!
Ingredients
1

can (14 oz)

sweetened condensed milk

6-8

cups

water

(depending on the size of the pot and height of the trivet)
Instructions
Open the can of sweetened condensed milk and pour it into one or two canning jars. Cover tightly with foil.

Place the trivet inside the pot and put the jars on top, making sure they aren't touching each other.

Fill the pot with water until the jars are submerged halfway.

Close and lock the lid, turning the steam release valve to closed. Press Meat and adjust the time up to 40 minutes. Press Start/Stop.

When cooking cycle has ended, allow a natural pressure release for 15 minutes. Open the steam release valve to vent any remaining steam and then open the lid and carefully remove the jars.

When they are cool enough to touch, briskly stir with a spoon or wire whisk until the sauce has reached a smooth consistency.

Cover and store in the refrigerator.
Nutrition
Serving:
2
tbsp
|
Calories:
127
kcal
|
Carbohydrates:
22
g
|
Protein:
3
g
|
Fat:
3
g
|
Saturated Fat:
2
g
|
Cholesterol:
13
mg
|
Sodium:
58
mg
|
Potassium:
147
mg
|
Sugar:
22
g
|
Vitamin A:
105
IU
|
Vitamin C:
1.1
mg
|
Calcium:
117
mg
|
Iron:
0.1
mg
Now that I know how easy this Crockpot Express Dulce de Leche is to make, I'm putting Banoffee Pie on my "must try soon" list! I already tried dipping banana slices in it and was blown away by the flavor combination, so I know I'll love the pie!
Don't forget to pin this recipe for later!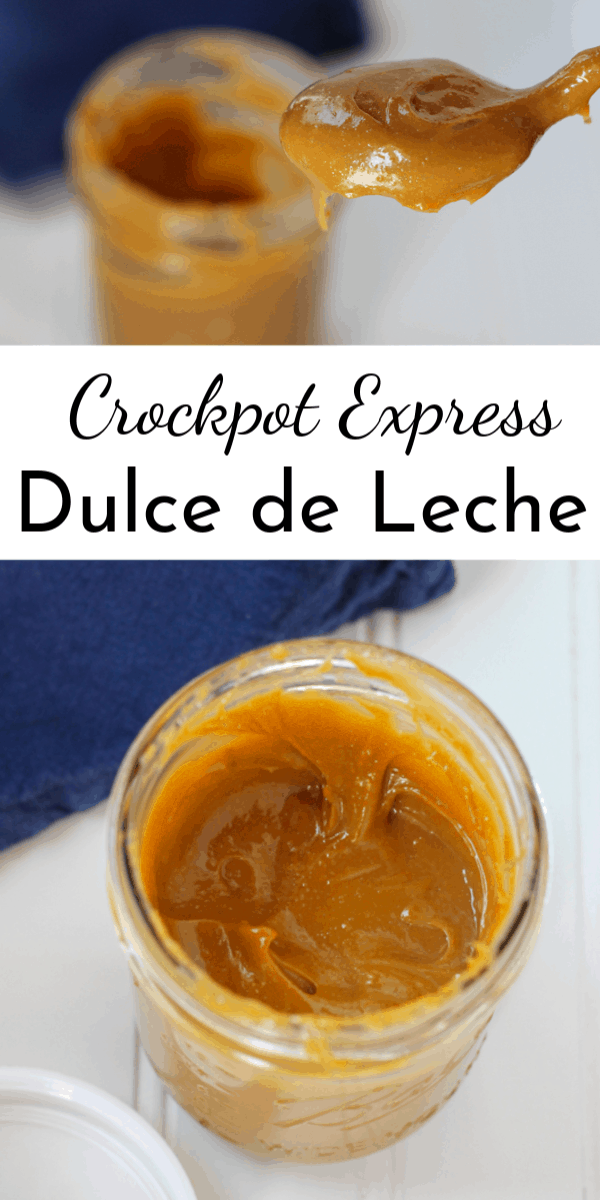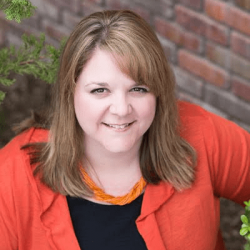 Latest posts by Nicole Burkholder
(see all)