This post may contain affiliate links. Please see my full Disclosure Policy for details.
A buttery crust, velvety smooth filling and tart berry topping make this Crockpot Express Cheesecake worthy of any celebration!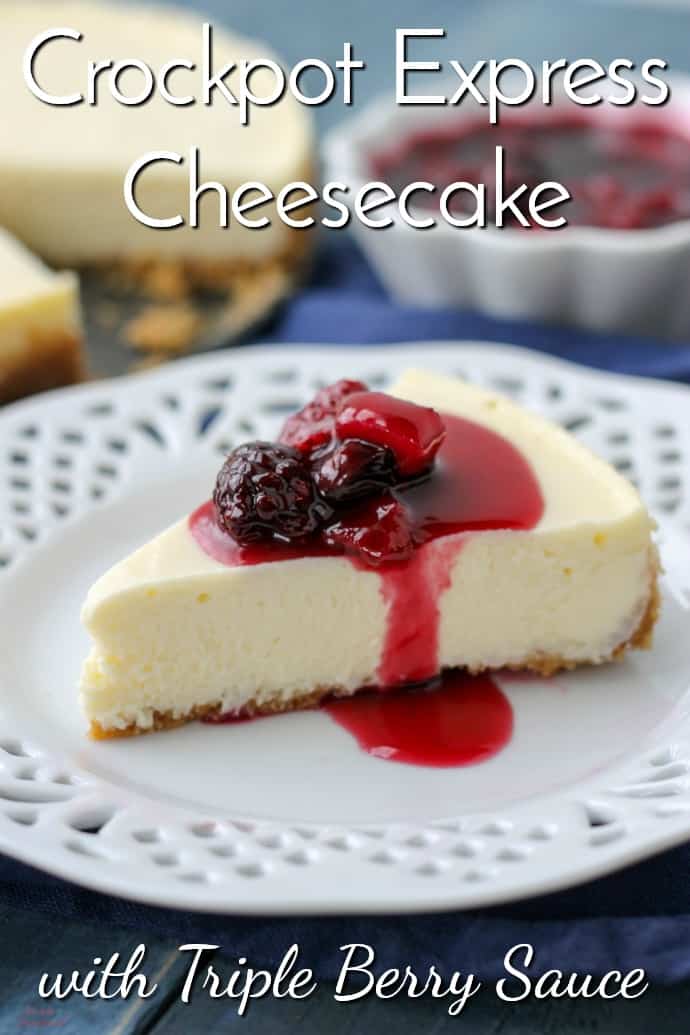 Never in my life have I had a slice of cheesecake this creamy and delicious. I've never actually made a cheesecake because they seem like such a pain. You have to do the whole water bath thing to keep them from cracking, and they still can get dry and gross if you do anything wrong. I think that's why it's such a splurge to go to Cheesecake Factory! I had read that pressure cooker cheesecake was amazing, so I was excited to try making my own Crockpot Express Cheesecake.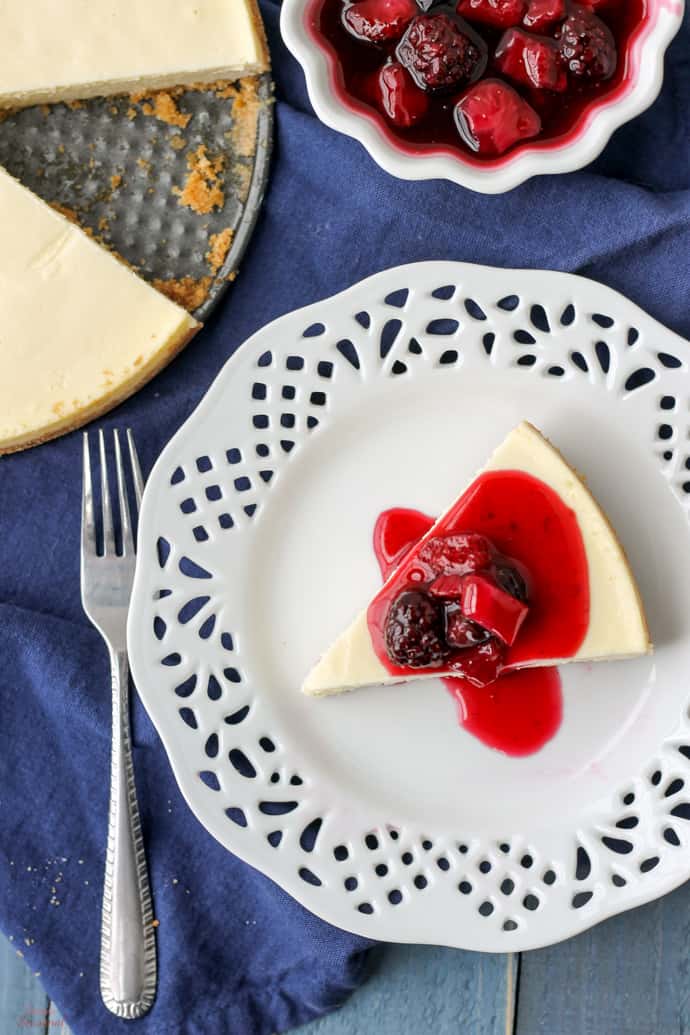 Let me tell you-this does NOT disappoint. The texture is velvety smooth, the flavor is simple and clean and with the Triple Berry Sauce on top, it's heaven on a plate. Seriously. It's going on my list of favorite Crockpot Express Recipes.
I started with a basic cheesecake recipe that I got from The Electric Pressure Cooker Cookbook. I'll be sharing a full review of the cookbook next month. So far, it's been an excellent resource for Crockpot Express cooking! After the cheesecake was done (which, be warned, requires some patience) I made a delicious Triple Berry Sauce for topping.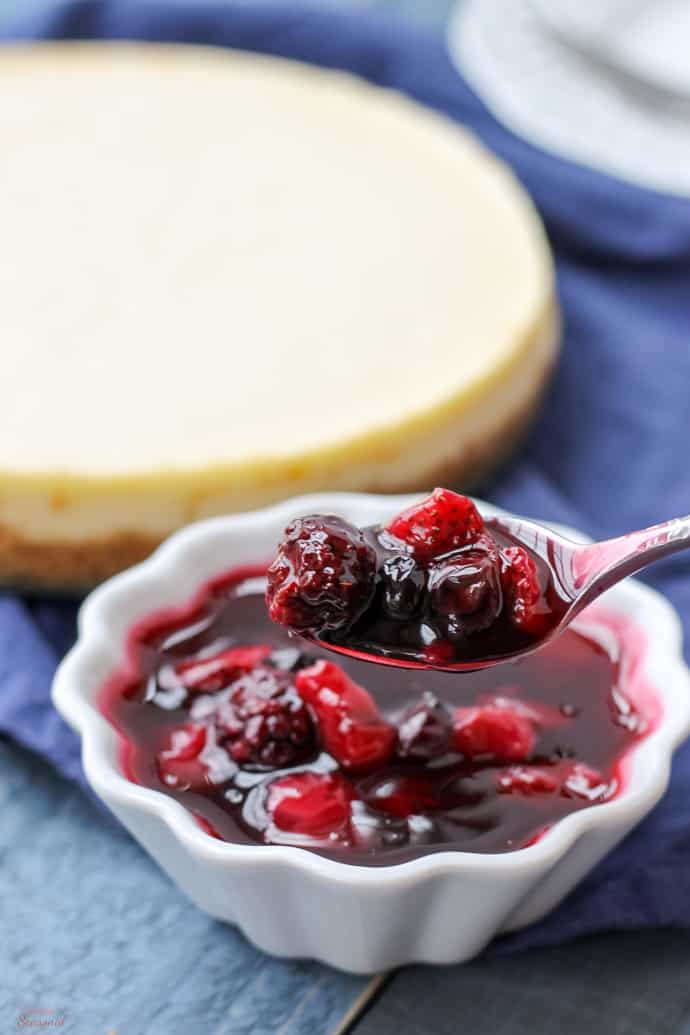 At first glance, the cheesecake looks small, but it's so rich and satisfying, I found the slices to be just the right size. Go ahead and pat yourself on the back when you unlatch the spring form pan and out slides the most beautiful, crack-free Crockpot Express Cheesecake. Go ahead. You've earned it.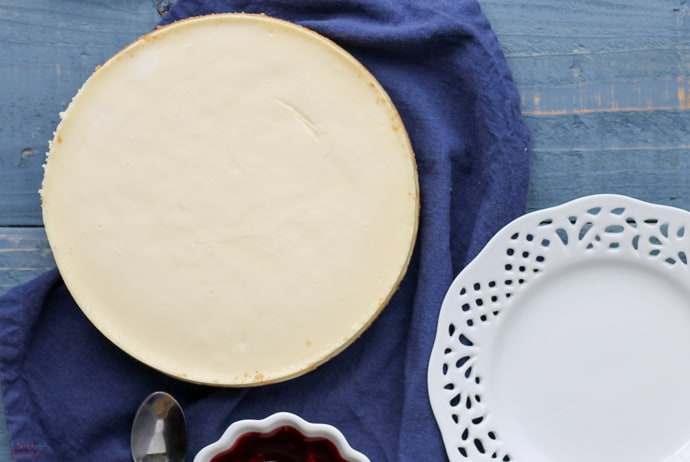 Tips for smooth and creamy Crockpot Express Cheesecake
PATIENCE. The cream cheese and eggs must be at room temperature. And no, pulling them out of the fridge for 15 minutes will not cut it. The cream cheese needs to be out of the refrigerator for several hours!
Don't press the crumb crust too high up the sides-you don't want extra moisture in the crust.
The longer the cook time, the more dense the cheesecake (think New York style.) This recipe is written for a creamier cheesecake and made in a 7″ springform pan.
Crockpot Express Cheesecake with Triple Berry Sauce
Smooth and creamy cheesecake on a buttery graham cracker crust and topped with a tart berry sauce
Ingredients
For crust:
3/4

cup

graham cracker crumbs

(about 6 crackers)

2

tbsp

sugar

2

tbsp

butter, melted
For cheesecake filling:
2

pkg (8 oz each)

cream cheese

room temperature

3/4

cup

sugar

2

tbsp

sour cream

1

tbsp

flour

1

tsp

vanilla extract

1

pinch

salt

2

large

eggs

room teperature
For triple berry sauce
1

tbsp

corn starch

1/4

cup

water

1/2

cup

sugar

1/2

cup

blueberries

1/2

cup

blackberries

2

cups

strawberries

chopped
Instructions
For crust
Spray a 7" springform pan with nonstick spray. In a small bowl, combine the graham cracker crumbs, sugar and butter. Spread evenly in the bottom of the pan and about 1" up the sides (at the most.) Freeze for 10 minutes.
For cheesecake filling
In a large bowl, mix the cream cheese, and sugar at medium speed until smooth. Mix in sour cream, flour, vanilla and salt until just blended. Add the eggs and mix again until just blended. Do not over mix! Pour batter into the crust.

Gently tap the pan on the counter to bring air bubbles to the surface. Pop these with a toothpick or fork and then smooth out the top with a spatula. Cover with foil. (This is not required, but I prefer to keep as much water off the top of the batter as possible, and for this size batter/pan it did not affect cooking time.)

Pour 1 cup water into the cooking pot and place the trivet in the bottom. Center the springform pan on a sling and carefully lower it into the cooking pot. Close and lock the lid, turning the steam release valve to closed. Select Beans/Chili and press Start/Stop. (High pressure, 20 minutes)

When the cook time ends, release pressure naturally for 10 minutes and finish with a quick pressure release. Carefully remove the pan with the sling and cool on a wire rack to room temperature. Recover with foil and place in the refrigerator for at least 4 hours (overnight is better.)
For Triple Berry Sauce
In a medium sauce pan, mix cornstarch and cold water. DO NOT HEAT until the corn starch has dissolved. Add the sugar and turn on the heat to medium/high.

After one minute, add the fruit and stir to combine. Bring to a boil, then lower the heat to low and simmer for about 10 minutes. Remove from heat and cool to thicken.
Notes
Take your time getting the air bubbles to come to the surface
Dab away any condensation with a paper towel
Use a hand mixer, rather than a stand mixer to avoid over beating 
Nutrition
Serving:
1
slice
|
Calories:
245
kcal
|
Carbohydrates:
47
g
|
Protein:
2
g
|
Fat:
5
g
|
Saturated Fat:
2
g
|
Cholesterol:
55
mg
|
Sodium:
104
mg
|
Potassium:
107
mg
|
Fiber:
1
g
|
Sugar:
39
g
|
Vitamin A:
195
IU
|
Vitamin C:
23.9
mg
|
Calcium:
25
mg
|
Iron:
0.8
mg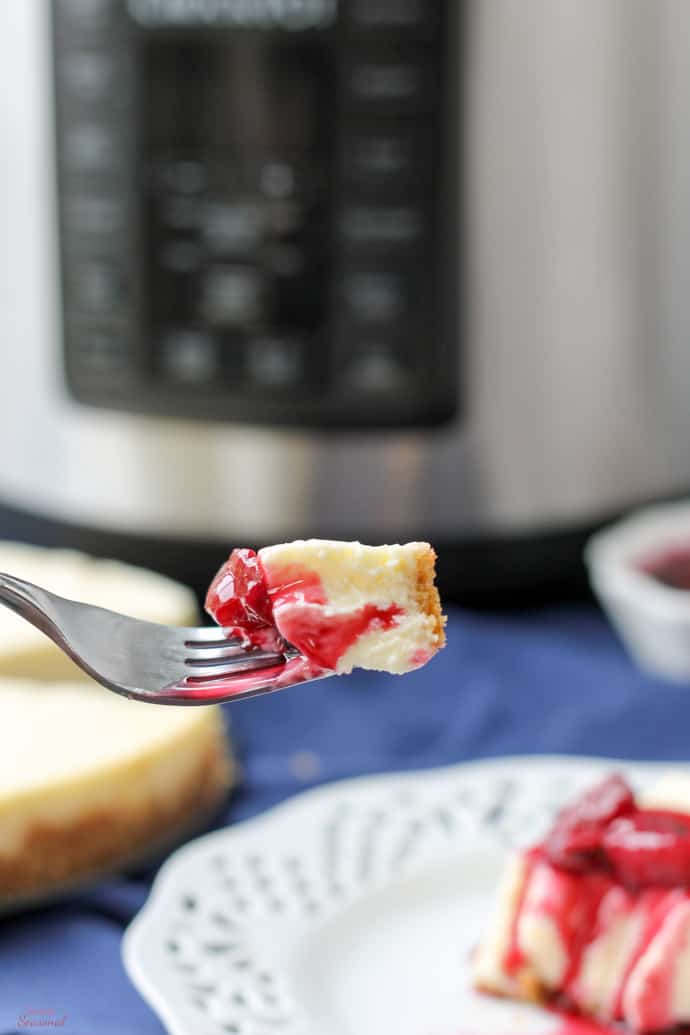 At first glance, this may seem long and complicated, but I assure it's not too bad, and it's completely worth it. One bite of that creamy deliciousness and you'll be a fan of Crockpot Express Cheesecake! You can use any leftover Triple Berry Sauce for pancakes, ice cream topping or crepe filling!
Don't forget to check out all my other great Crockpot Express Recipes!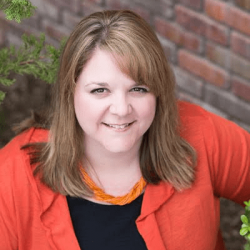 Latest posts by Nicole Burkholder
(see all)