Oh man, I've been looking forward to this one since I pinned it. My absolute favorite candy in the whole world is Ferrero Rocher. The thin wafer outside crunches and you get that delicious gooey chocolate inside. Mmmm, they are SO good. When I saw a brownie recipe using these as a scrumptious center, I was hooked. I made Ferrero Rocher Brownie Bites for our little Super Bowl celebration tomorrow. GO NINERS!!!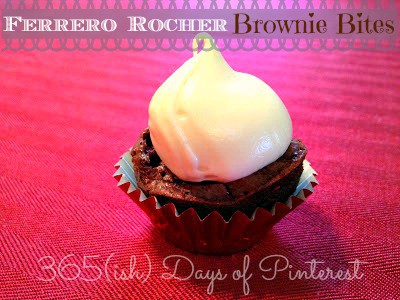 The recipe calls for a brownie box mix, specifically the 18.5 ounce family size. I'm not sure why, because you're only making 24 mini muffin sized brownies, so there's tons of batter left if you go with the family size. I had enough to make a mini loaf pan of brownies for us to have for dessert tonight. So not a total loss 😉
I also only bought 12 Ferrero Rocher candies to use and bought a couple rolls of Rolos for the rest. The only problem with the FR candy is that you must mortgage your house and auction off a small child to pay for them. I coughed up $4.50 for a dozen of these babies and that was at the height of "candy sale" prices around Valentine's day.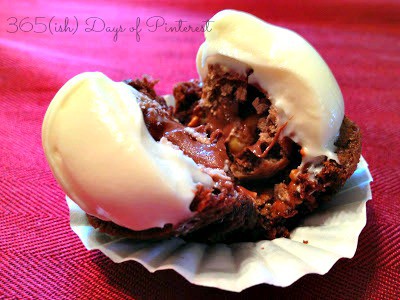 Of course, because I was going to serve these to other people and it was a new recipe, I HAD to test one of them tonight. There was just no other way. So I sacrificed and forced one down. OH. MY. GOODNESS. I'm pretty sure these will be in Heaven. They are super rich and decadent, so being a "brownie bite" is just perfect. The caramel flavored icing goes perfectly with the chocolate. And I found the recipe given to be just enough for the 24 minis with a tiny bit left over. I don't own a piping bag or fancy tips, so I just used a quart sized baggie and cut the tip off. I squeezed just enough frosting over each one to cover up the candy. YUM.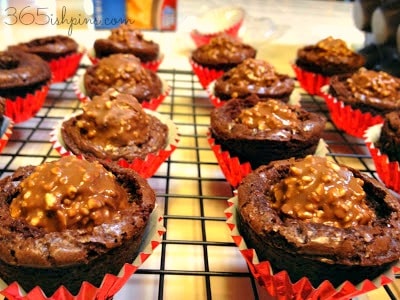 I placed them in the cupcake liners after removing them from the tin- I didn't cook them in the liner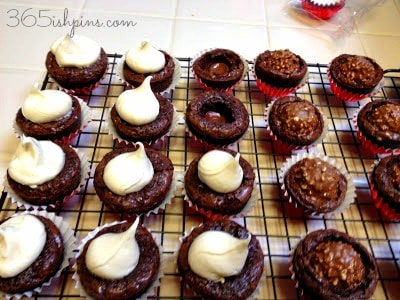 You can see the Rolos fit inside the brownie and leave an indentation to fill with icing.
The FR stick up and have to be covered with icing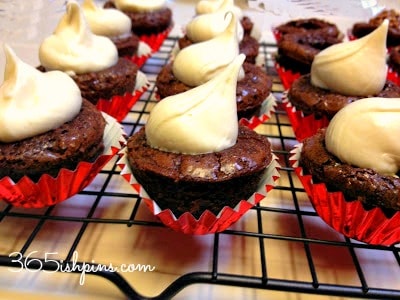 You know you want to lick your computer screen right now!
Go ahead- no one's watching 🙂
Ferrero Rocher Brownie Bites with Caramel Icing
from Tastebook.com
INGREDIENTS
1 (18.5 oz. box) brownie mix (plus necessary eggs, oil & water per package instructions – or your favorite homemade recipe) Again, this makes more than you'll need. Use a smaller package.
24 Ferrero Rocher candies (or Rolo candies) I used one dozen of each
4 tablespoons butter, softened
4 oz. cream cheese, softened
2-3 tablespoons caramel "sauce" I used Hershey's caramel syrup
1 cup confectioners sugar
DIRECTIONS:
1. Remove all wrappers from the candies.
2. Pre-heat oven to 325°.
3. Prepare brownies according to package directions. Grease a mini-muffin tin with cooking spray and fill each cup approximately 3/4 full with batter. Bake for 12-15 minutes until a toothpick inserted comes out clean. Remove from oven and immediately press a candy into the center of each brownie bite. (The top of the candy will protrude a bit from the brownie…it's OK…you'll cover it with icing.) Cool for a couple of minutes in the tin then carefully remove the brownie bites from the pan to a cooking rack. Allow to cool completely.
4. To make the frosting, use the paddle attachment on a stand mixer and beat the butter and cream cheese together until smooth. (I do own a stand mixer now, but it doesn't have a paddle attachment. The regular mixing beaters worked just fine-so would a hand mixer) Add the caramel sauce and blend. Add the confectioners sugar and whip until creamy and smooth. Using a pastry or plastic bag with a piping tip, pipe the frosting onto the top of each brownie bite. Chill in the refrigerator to set the frosting a bit before serving.
Optional: To make homemade caramel sauce, simple empty the contents of a small can of sweetened condensed milk into a saucepan. Stir constantly for 10 to 12 minutes over medium heat. (Do not let it scorch.) The milk will begin to deepen in color and thicken. Remove from heat when the caramel will thickly adhere to the back of your mixing spoon. The longer you cook it, the harder it will become when it cools until it is difficult to work with. To thin it, add a small splash of milk and mix well.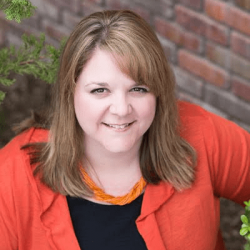 Latest posts by Nicole Burkholder
(see all)