This post may contain affiliate links. Please see my full Disclosure Policy for details.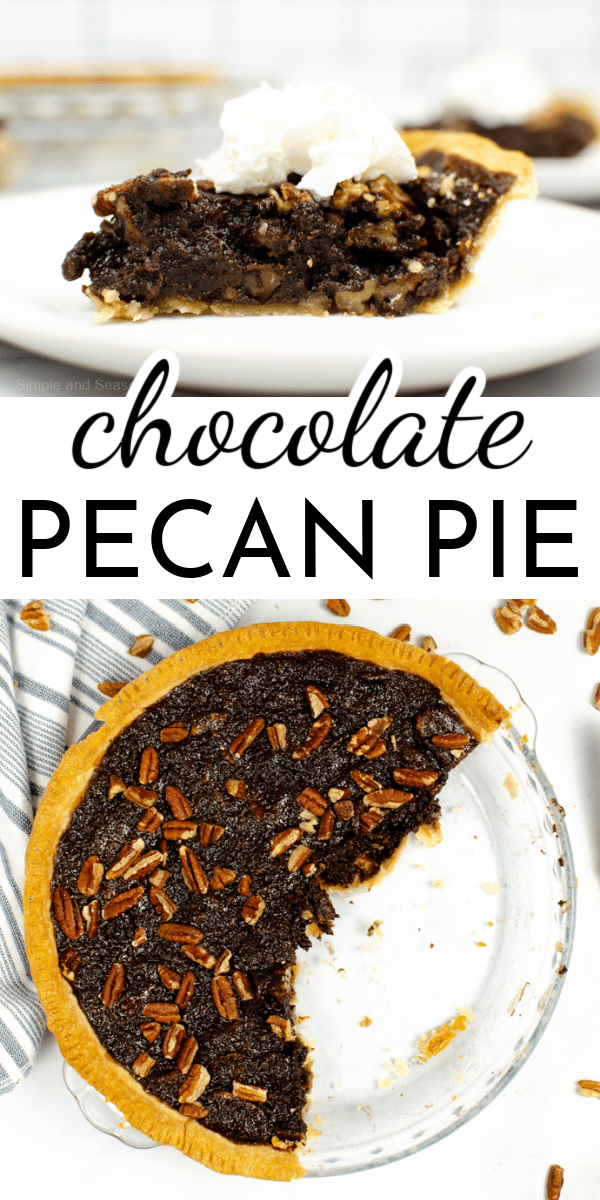 You'll love this Chocolate Pecan Pie with a rich nutty filling baked into a flaky crust. For a special occasion or any night of the week, you can't beat a Texas style Pecan Pie!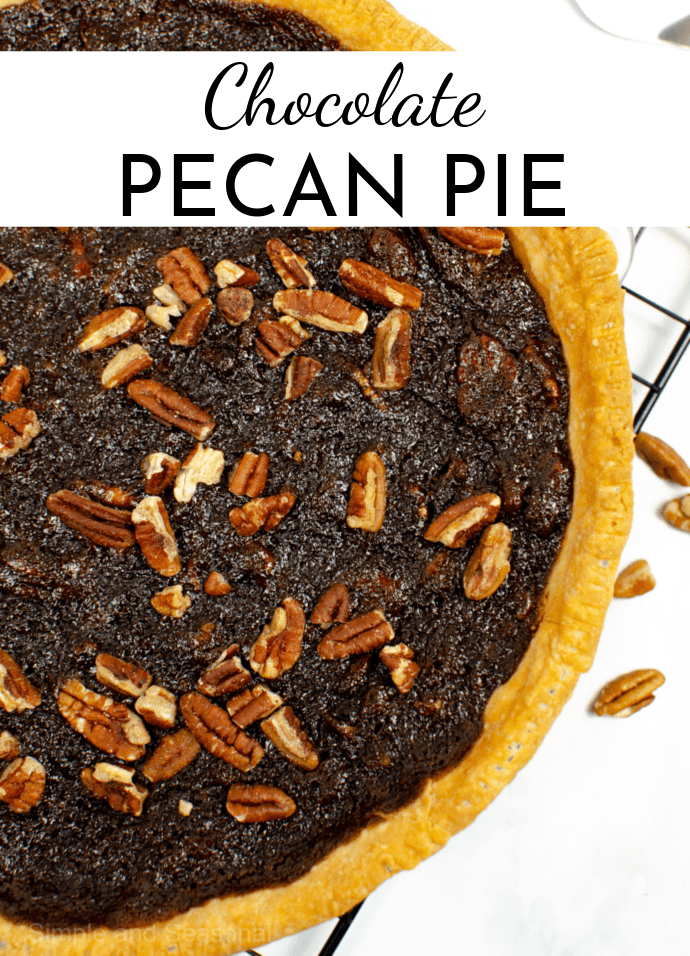 Growing up, pies were firmly a "holiday" food. We hardly ever had them any other time of year but they were MUST staple at Thanksgiving and Christmas.
The best part of becoming an adult was realizing that I could have pie whenever I wanted! Of course I make pies most often in that November – December stretch, but I've learned that more pie in my life is never a bad thing. Plus, with Valentine's Day around the corner, chocolate takes center stage!
This Chocolate Pecan Pie is a pie you can make for a big celebration or just because it's Monday!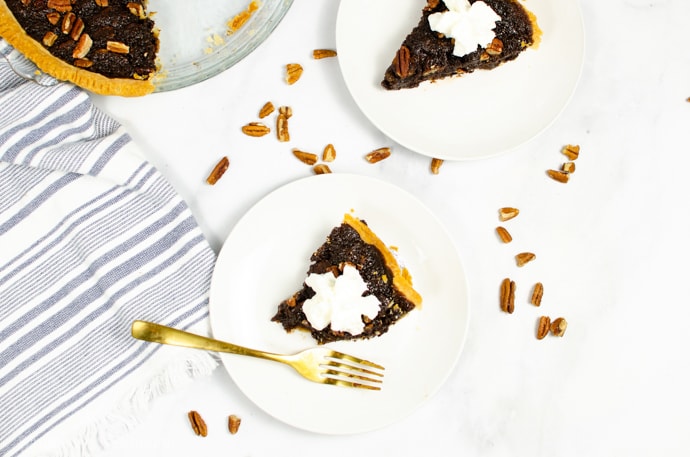 Texas Pecan Pie
Do you say "pe-KAHHN" or "pe-CAN"? I think it depends where you're from, but THIS pie is from Texas–at least that's its origin story–so feel free to say "Pe-CAIIN PAH" with a drawl while you're baking this.
Texas pecan pie is characterized by its sweet and dense nutty filling made from pecans tossed in a syrupy concoction. This recipe is close to a traditional Texas Pecan Pie but with one important addition: chocolate.
Chocolate makes everything better. If you like pecan pie, I think you'll find the cocoa flavor in this recipe is a marvelous addition to the classic!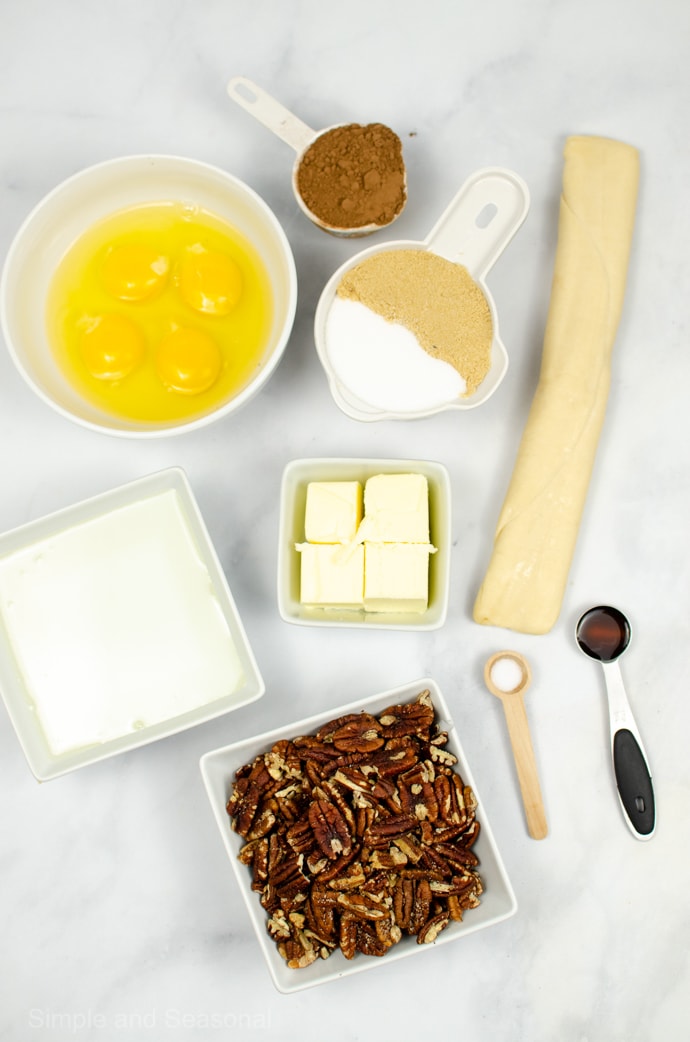 How to make Chocolate Pecan Pie
Start with a pie crust. You can go all out and make a Homemade Pie Crust or do what I often do and grab a ready made crust from the grocery store.
For the filling, whisk together melted butter with corn syrup, vanilla, brown sugar, cocoa powder and salt. Heat this mixture up while whisking until it comes to a boil.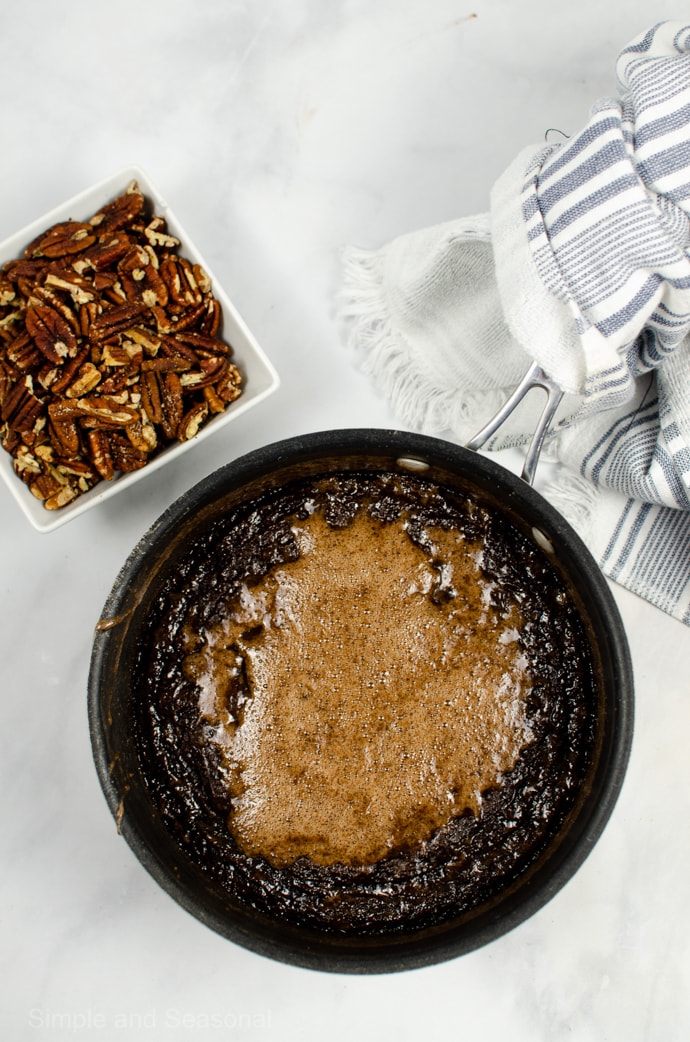 Now, add pecans. Let them simmer in their syrupy bath for a few minutes while you roll out the crust and lay it in a pie plate. Remove the pan from heat and whisk in the beaten eggs.
Cut off any extra edges that hang out over the pie plate, ensuring that edges are even. Use a fork to crimp the edges.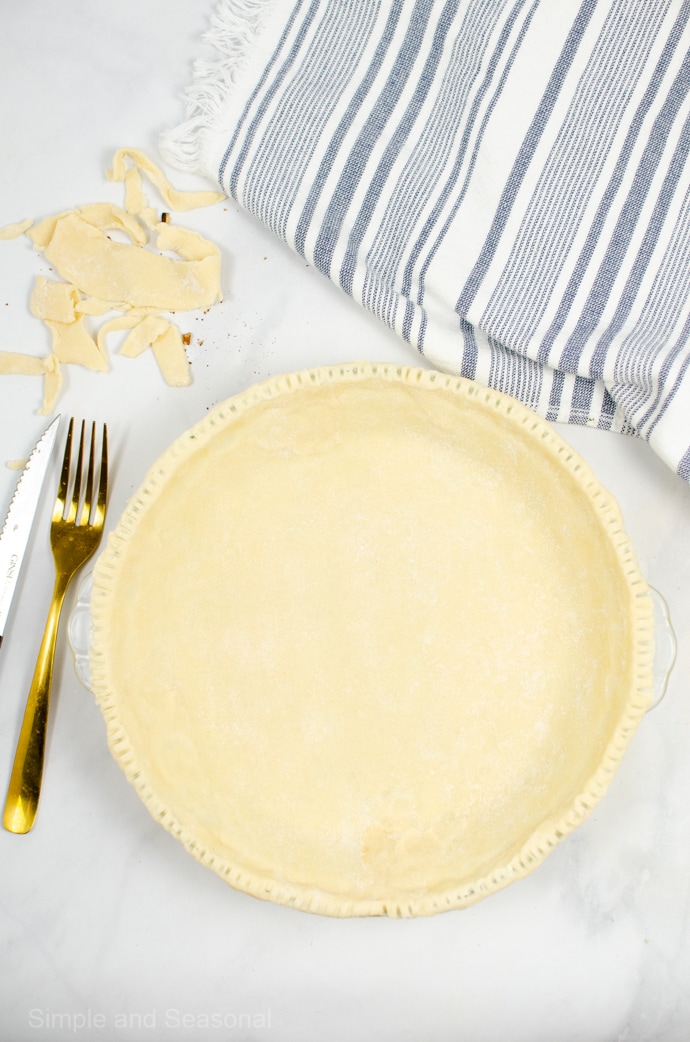 Pour the chocolate pecan filling into the pie crust and bake for 30 minutes.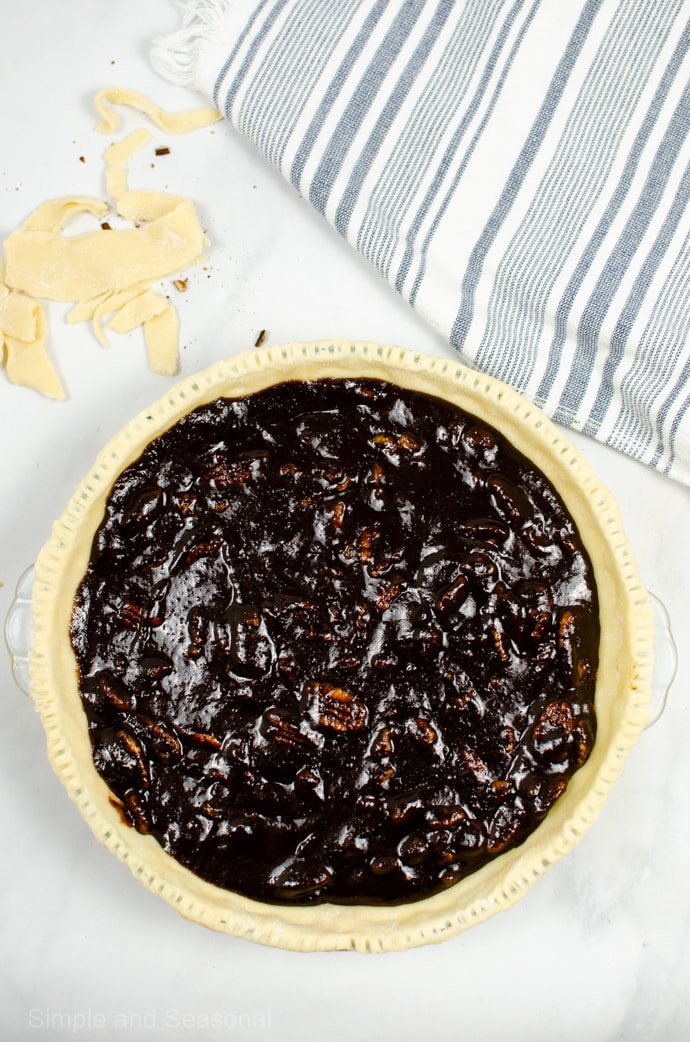 Here's where you need to check your crust. If it's browning, add a layer of foil over the edge of the baking dish. Leave the pie in the oven for another 10 minutes.
This pie fills your kitchen with the aroma of sweet pecans and cocoa so if you're anything like me you're going to be READY to dig in when it comes out of the oven.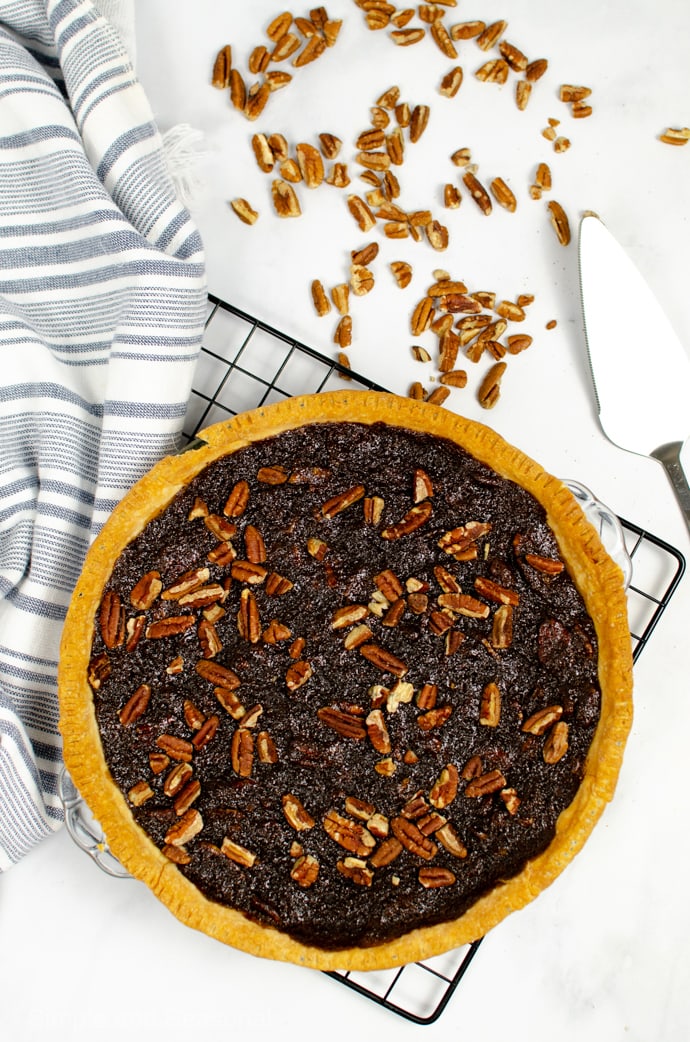 Summon all your will power, though, because Texas Pecan Pie needs to rest for a few hours to let the custard filling set. I leave mine on the counter for 4 – 5 hours before slicing and serving.
The wait is worth it! Velvety chocolate custard with chunky bites of pecan, all baked in a flaky crust–this is a dessert everyone will rave about long after the last piece is gone.
A piece of rich chocolate-y pecan pie is just begging to be served alongside a glass of cold milk or a cup of coffee.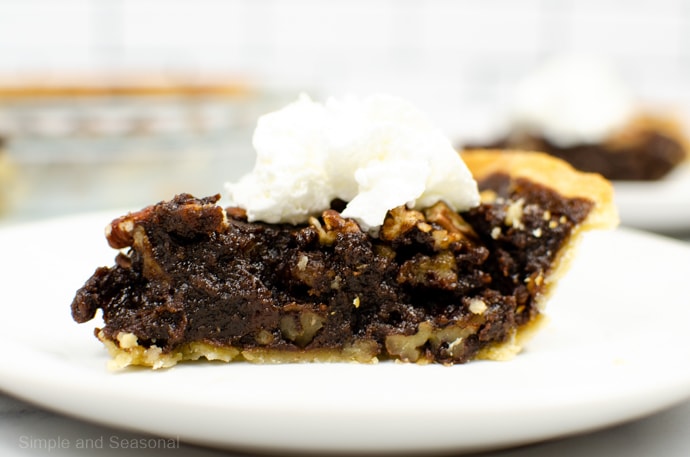 How to store
This pie is a great option for making the day before so it has time to set. Once cooled, cover tightly with foil or cling wrap and keep at room temperature. If you prefer, it also tastes good when it's been chilled in the fridge!
For grab-and-go single serving desserts, you can also store slices individually in airtight containers in the fridge. Yes, a slice of pie is a perfectly acceptable lunch box food. Don't listen to anyone who tells you otherwise!
More Tips and Tricks
What size pecans to use:

I like a combination of pecan halves and chopped pecans in this pie. It gives the filling a variety of textures and the finished pie a classic look.

What pie crust to use:

Like I mentioned earlier, I'm a huge proponent of using refrigerated pie crusts! You can't beat the convenience and the confidence you'll have in the results. That said, if you prefer to make your own from scratch, go ahead! Your favorite pie crust recipe will do just fine.

Slicing your pie:

Make sure the pie has fully cooled and the filling has set before you attempt to cut it. A cooled pie will cut easily without making a mess. Cut into desired sized triangles.

This recipe makes about 8 medium sized slices of pie or 6 big ones. I find it's pretty rich, so I will sometimes cut it into smaller pieces to serve 10 or 12.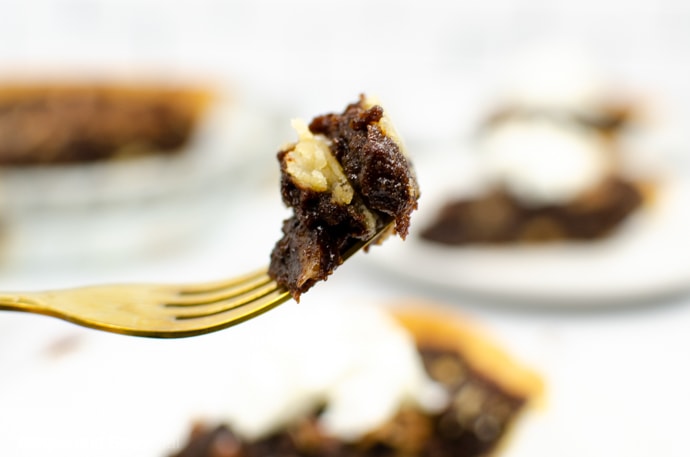 Chocolate Pecan Pie
No need to wait for Thanksgiving to get your pie fix! Grab your pecans and your pie crust and make this Texas Chocolate Pecan Pie for dessert any day of the week. 
Ingredients
1/2

cup

unsalted butter

melted

1

cup

light corn syrup

1

tsp

vanilla extract

1/2

cup

granulated sugar

1/2

cup

light brown sugar

packed

1/4

cup

unsweetened cocoa powder

1/4

teaspoon

salt

4

large eggs

beaten

1

cup

pecan halves

1

cup

chopped pecans

1

9 inch

pie crust
Instructions
Combine melted butter, corn syrup, and vanilla in large mixing bowl. Whisk until mixed.

Add in the granulated and brown sugars, cocoa powder, and salt. Whisk until fully mixed.

Pour mixture into sauce pot and heat until boiling. Whisk as it heats up. 10-15 minutes.

Add pecans to mixture. Cook for 5 more minutes on simmer, low heat.

Remove pan from heat and whisk in eggs. Set aside.

Preheat oven to 350° F. Lightly flour flat surface and roll crust out flat. Lightly flour the crust and flatten evenly with rolling pin.

Fold crust in half and transfer to pie pan or pie baking dish. Open crust to fill entire dish.  Mold pie crust to dish evenly.

Cut away excess crust from around outer edge.  Crimp crust edge with fork tines.

Pour pecan pie filling into pie crust.

Bake for 30 minutes. Check the crust at 30 minute mark. If crust is browning, cover edge of dish with aluminum foil for 10 more minutes (a total of 40 minute bake time).

When finished, remove pie from oven and leave resting at room temperature to allow custard to set. 4-6 hours.
Nutrition
Serving:
1
slice
|
Calories:
665
kcal
|
Carbohydrates:
76
g
|
Protein:
7
g
|
Fat:
40
g
|
Saturated Fat:
12
g
|
Trans Fat:
1
g
|
Cholesterol:
112
mg
|
Sodium:
239
mg
|
Potassium:
230
mg
|
Fiber:
4
g
|
Sugar:
60
g
|
Vitamin A:
489
IU
|
Vitamin C:
1
mg
|
Calcium:
60
mg
|
Iron:
2
mg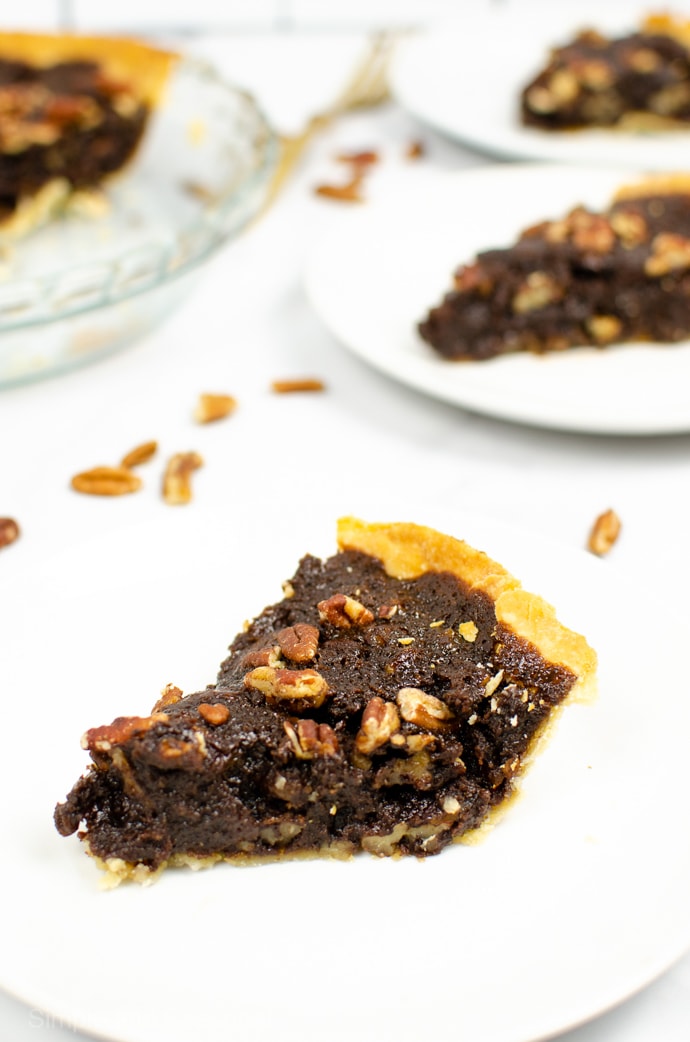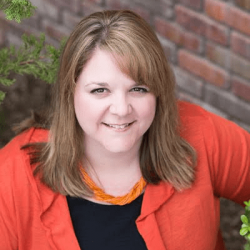 Latest posts by Nicole Burkholder
(see all)