This post may contain affiliate links. Please see my full Disclosure Policy for details.
Celebrate Winne the Pooh with this adorable and easy Winnie the Pooh Paper Plate Craft.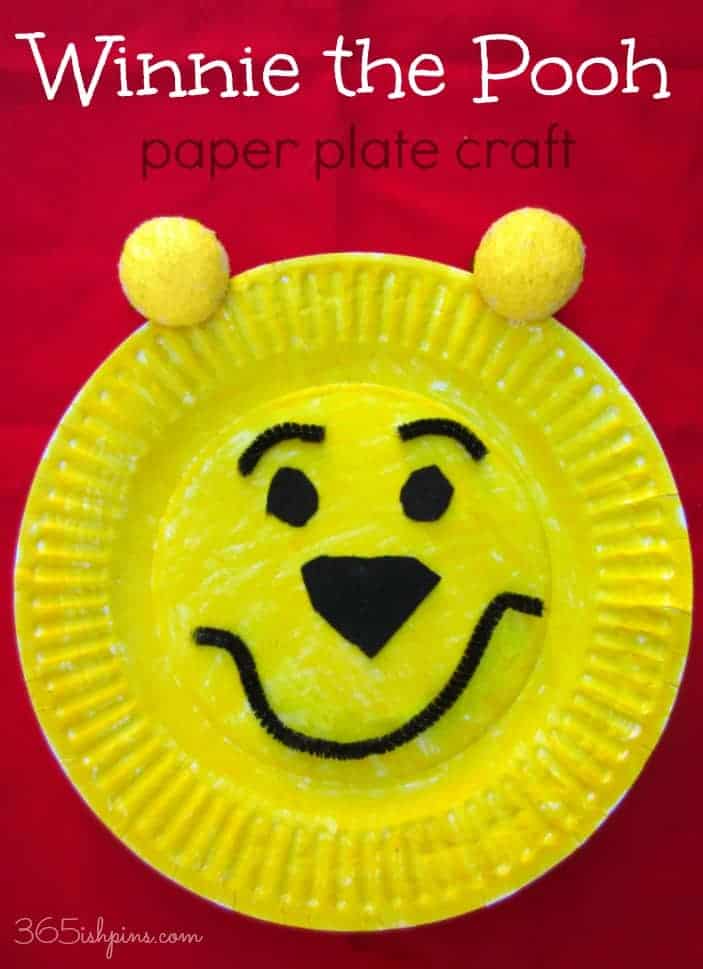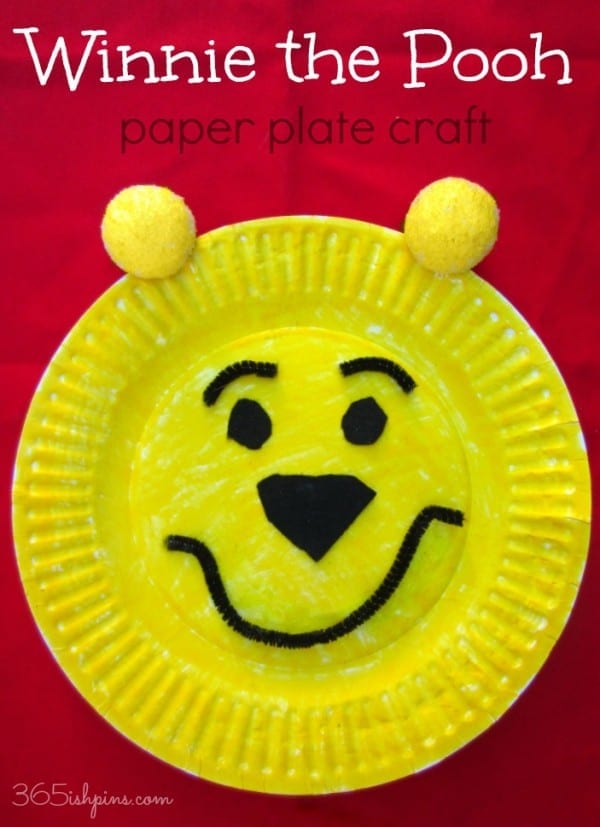 While trying to be more organized and planning my blog post schedule, I looked up some of the fun "National Day of _____" holidays. Did you know that today is National Winnie the Pooh Day?
Actually, it's A.A. Milne's birthday, and to honor him the day was designated as Winnie the Pooh day. So I went searching Pinterest for some fun Winnie the Pooh crafts to try with my kids.
I chose this one because it was easy and I already had all the supplies on hand. (Well, mostly. As usual, there were some substitutions here and there, making ours uniquely ours.)
I told Henry it was Winnie the Pooh's birthday so we were going to do a fun project in school today. He even made a little party hat for ours. 🙂
Winnie the Pooh Paper Plate Craft
What you'll need:
Paper plate
Yellow paint or marker (we used a marker to color ours since we were out of paint and I like less mess anyway.)
1 black pipe cleaner (chenille stem), cut into two 1″ pieces and one 6″ piece for eyebrows and mouth
Black felt for cutting out eyes and nose, or black pom poms
Two 1″ Styrofoam Balls for ears
Glue (we used Elmer's, but it's not really the best when you're dealing with felt and other soft materials)
What to do:
Paint or color the entire plate yellow. Let dry while you prepare the pieces.
Cut the pipe cleaner to correct lengths and bend to look like eyebrows and a smiling mouth.
Use a scissor edge to slice a small incision in the bottom of each Styrofoam ball- just enough to slide over the edge of the paper plate. Paint or color the balls yellow (we didn't have paint, but it would have been MUCH easier than trying to color those things!)
Use glue to attach eyes, nose, eyebrows, mouth and ears to paper plate. Ta Da! It's Winnie the Pooh!
I had to cringe and look away a few times as Henry did this project pretty much on his own, cutting and all. I kept reminding myself that this was supposed to be fun for him. And he loved it.
He made a party hat for Pooh and hung him up proudly on his bulletin board. And really, isn't that the whole point of doing kids' crafts anyway?
I just love this quote by A.A. Milne, via Winnie the Pooh: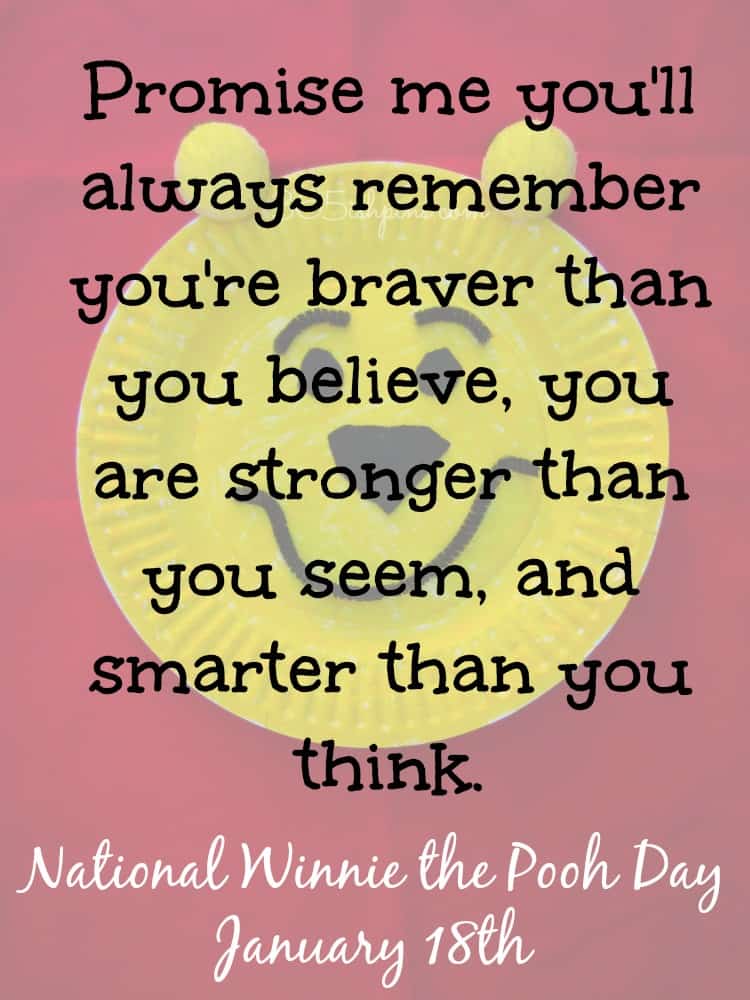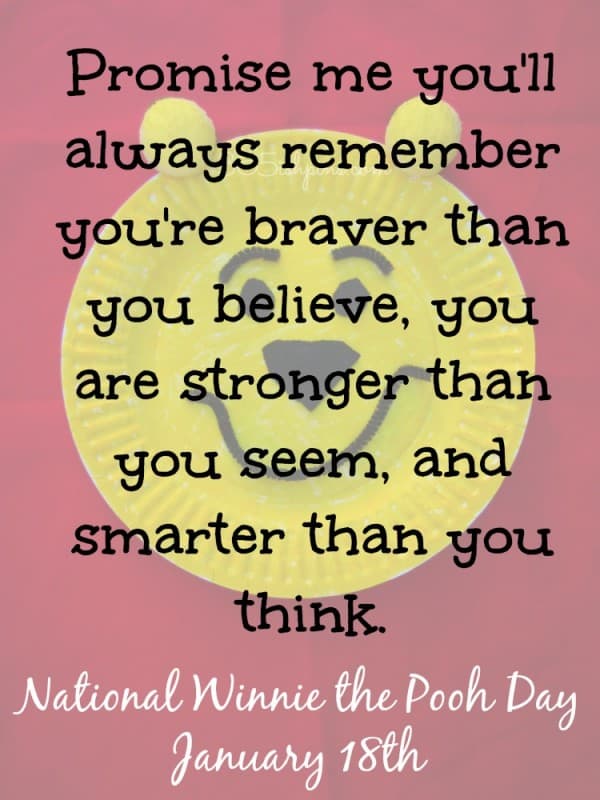 Happy Winnie the Pooh Day!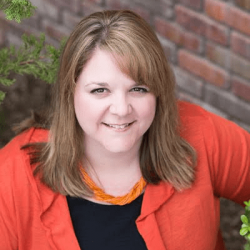 Latest posts by Nicole Burkholder
(see all)