This post may contain affiliate links. Please see my full Disclosure Policy for details.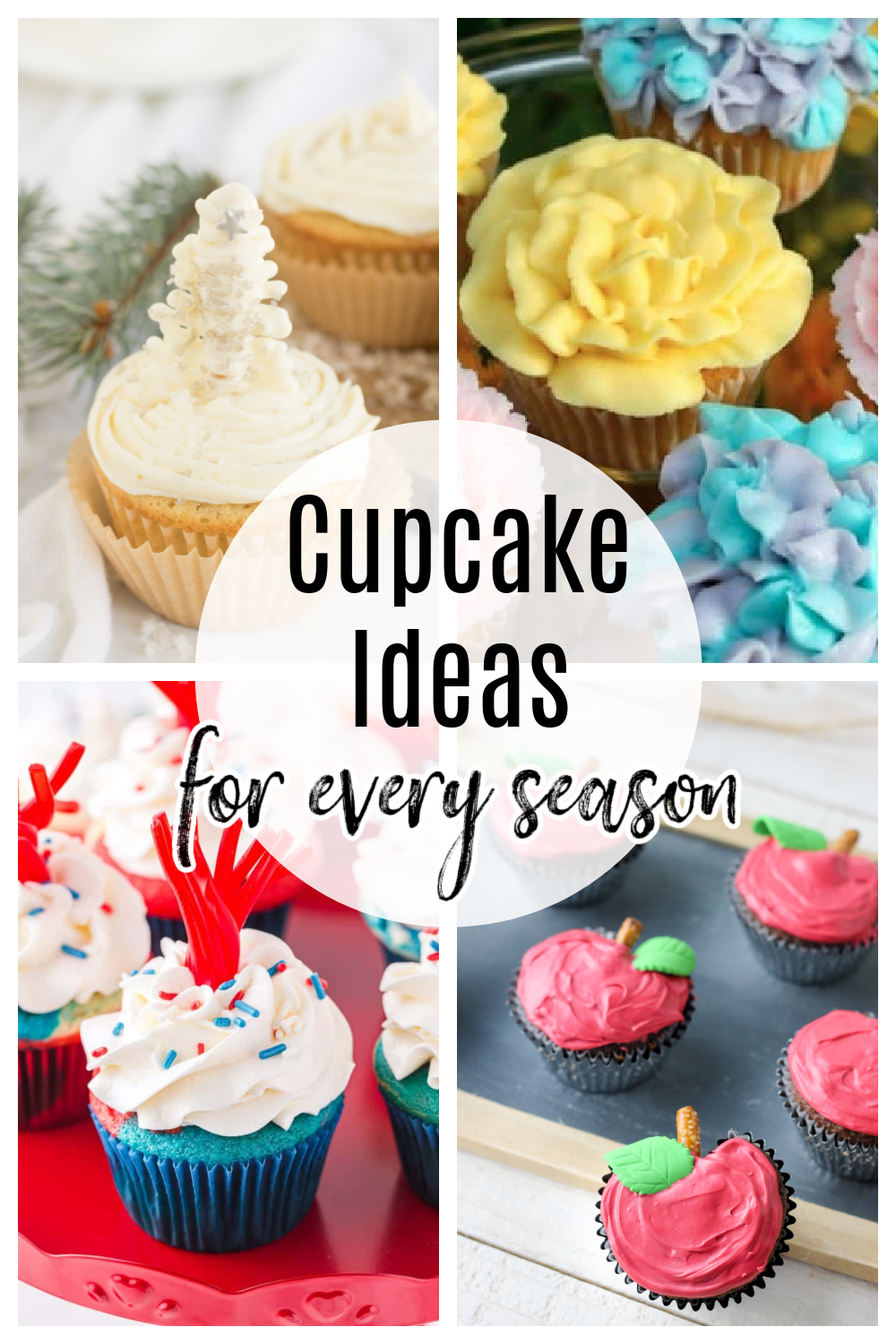 Celebrate every season of the year with these easy cupcake ideas. This cupcake collection includes recipes for every major (and some not-so-major) holiday and season from January to December!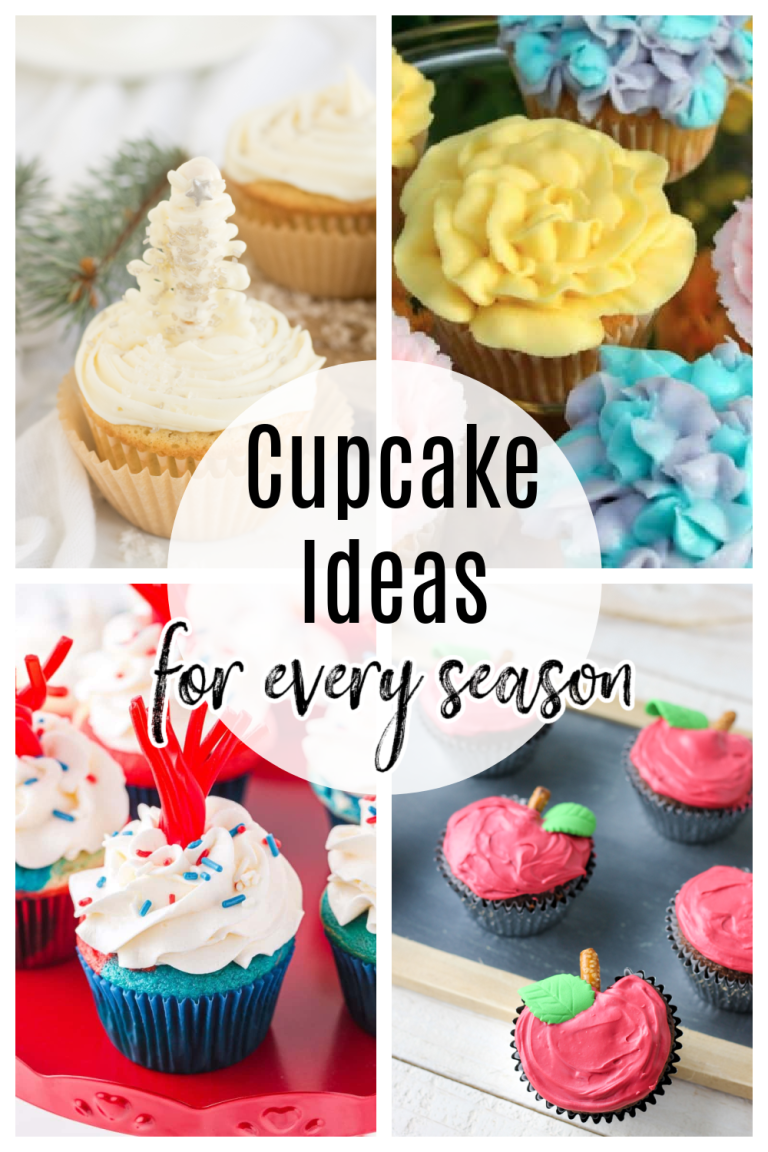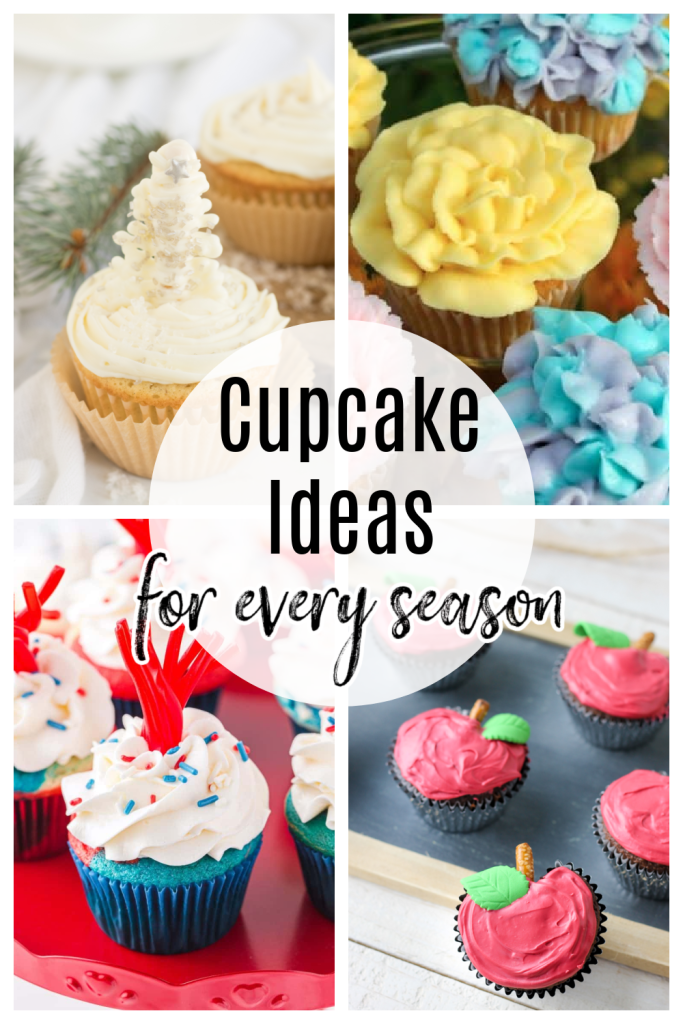 Cupcakes are the perfect party food. They don't require plates and silverware, you can get a couple dozen of out of a boxed cake mix, and the decorating possibilities are endless! Over the years I've made cupcakes for every occasion (well, lots of them, anyway). 🙂
I am not a professional baker or even a good amateur one. That means that all of my cupcake ideas are simple enough for those of us just aspiring to be fun and creative in the kitchen.
I'm also sharing some of my friend's cupcake recipes to help create an entire year's worth of cupcake ideas!
Easy Cupcakes for January
We start the year fresh in January with a big celebration for New Year's Day. Actually, most people spend New Year's Eve celebrating, but either way-it starts with a bang!
Some lesser-known but still fun holidays in January include Winnie the Pooh Day, National Peanut Butter Day and Hot Chocolate Day.
Cupcake Ideas for February
February brings Groundhog Day, the Super Bowl, and most notably-Valentine's Day. Valentine's Day cupcakes should be red or pink, covered in candy and definitely be heart shaped!
Cupcake Decorating Ideas for March
March is when we officially usher in the spring season with longer, brighter days. It also brings March Madness, Dr. Seuss Day, St. Patrick's Day and Easter (depending on the year.)
I made these cherry coke cupcakes for a March Madness party, and they are quite possibly the easiest cupcakes you'd ever make! Add a little "straw" and cherry on top for a fun touch!
Cupcake Ideas for April
I just love how sunny and bright the month of April is! Throw open the windows, enjoy the smell of freshly cut grass and watch the flowers burst to life. These cupcakes celebrating Earth Day and Easter are all bursting with the colors of spring.
Fun Cupcakes for May
In May, we say "thank you" to the teachers that have worked hard all school year. The Star Wars nerds (my son is included in that group) celebrate their fandom with greetings of "May the 4th be with you…" and mom get some much-deserved love and attention.
Cupcake Decorating Ideas for June
It's officially summer in June, and that means it's time to head to the beach, dust off the grill and celebrate dads. It's also the time to enjoy ripe, juicy strawberries!
Cupcakes to enjoy in July
July is the heart of summer. The sun is out, the beaches are full and homes are decked out in red, white and blue (at least in the US.) 🙂 These fun cupcakes are perfect for celebrating Independence Day (July 4th) and the long summer days.
August Cupcakes
While my kids are sad to see August come around (it's back to school season for us), I enjoy the final days of summer, the fresh start of a new school year and my personal favorite-National S'mores Day! I'll take S'mores in any way, shape or form!
Fall Cupcake Ideas for September
I love September. Well, the idea of September, at least. Where we live in southern California, it's usually the hottest month of the year. Everyone else, it seems, is enjoying the beginning of fall with back to school sales, apple picking trips and the turning of the leaves.
I might not get to enjoy those things until later (it's more like Thanksgiving before we get cooler fall weather) but a girl can dream. For more cupcake ideas, check out this collection of 15 Fall Cupcakes.
October Cupcakes are the best!
October ushers in the BEST time of the year! It's my birthday month, everything is decorated in beautiful fall colors, and the flavors of fall can be found everywhere.
Hello there, caramel apples, pumpkin and coffee! (National Coffee Day is in October, so it's GOT to be the best month of the year, right?) Plus, it's holiday season from here on out!
Cupcake Decorating Tips for November
In November, we celebrate veterans (scroll back up to July for some red, white and blue inspiration) and continue our obsession with fall. Turkeys make an appearance with Thanksgiving and then we look ahead to the Christmas season.
In this first post, I talk about an easy way to fill cupcakes. Adding a little something extra to the cupcake makes it that much more special! The second one shows a simple method for making colorful (and delicious) turkey tails using chocolate or melting candy.
Cupcakes to celebrate winter and Christmas in December
We made it to the end of another year. You deserve a cupcake! December brings magical things like Christmas lights, snow, and beautiful trees. We celebrate the winter solstice and the fact that we are once again "halfway out of the dark."
There's nothing I enjoy more during the winter months than baking. Spending time in the warm kitchen and making treats to celebrate the season is such a special family time. Let the kids come in and help to make these adorable little elves!
If you can't get enough of Christmas, be sure to check out this other collection of adorable and beautiful Christmas Cupcakes.