This post may contain affiliate links. Please see my full Disclosure Policy for details.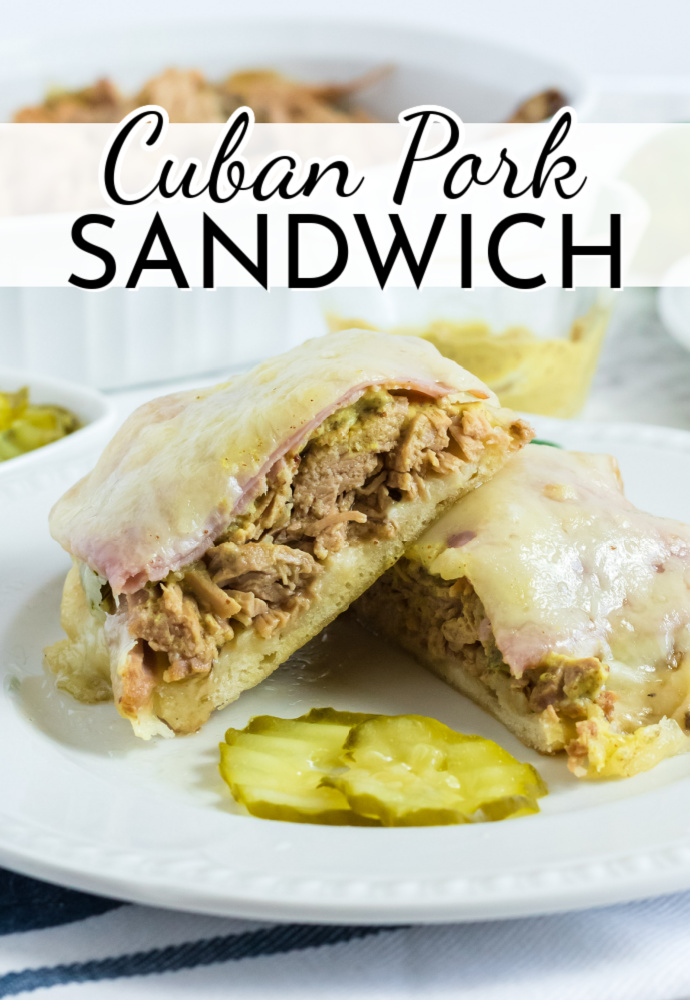 A Pork Cuban Sandwich is THE sandwich every pork lover must eat. It's so simple to make and packed with flavor it will leave you wanting more!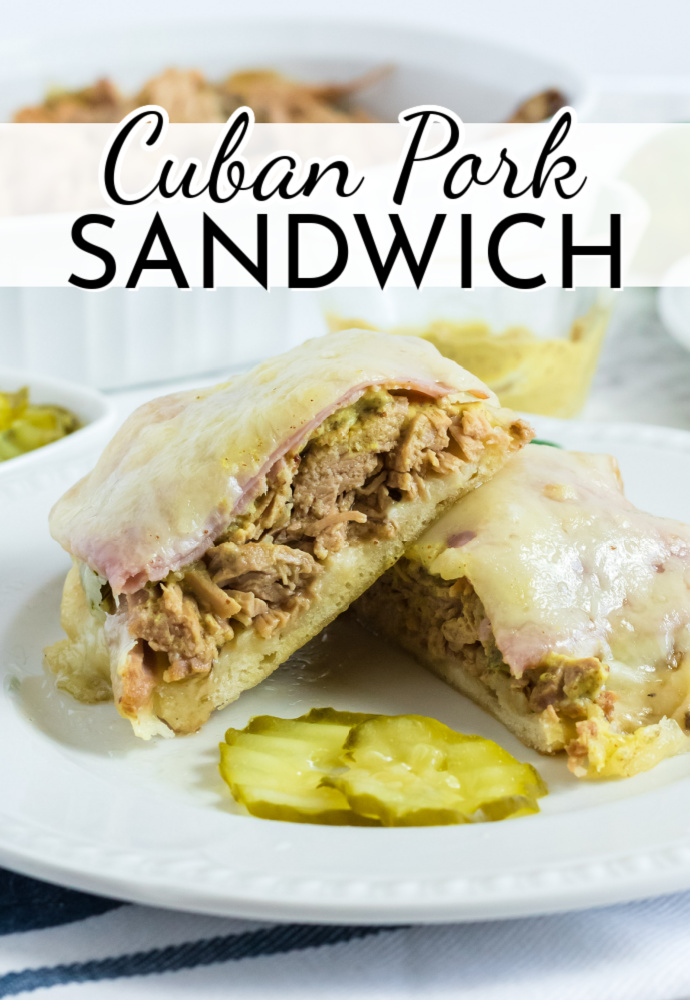 This beautiful sandwich is packed with pork and ham (2 kinds of meat!), Swiss cheese, mustard and pickles.
If you haven't tried it before, let me tell you, you are absolutely going to go crazy for it. You're going to love how easy this Cuban sandwich recipe is to make.
You'll be using a slow cooker to make your pulled pork which makes it a quick pull together meal at the end of a busy weeknight.
Plus a Cuban pork sandwich is REALLY delicious. So good, you're going to want leftovers so you can enjoy it again and again!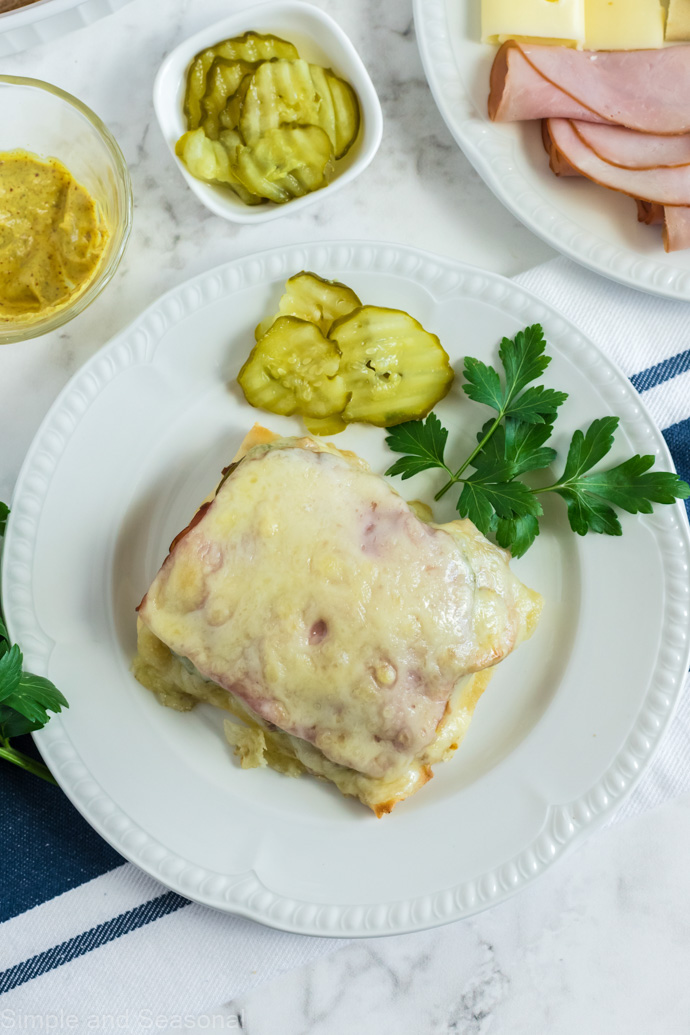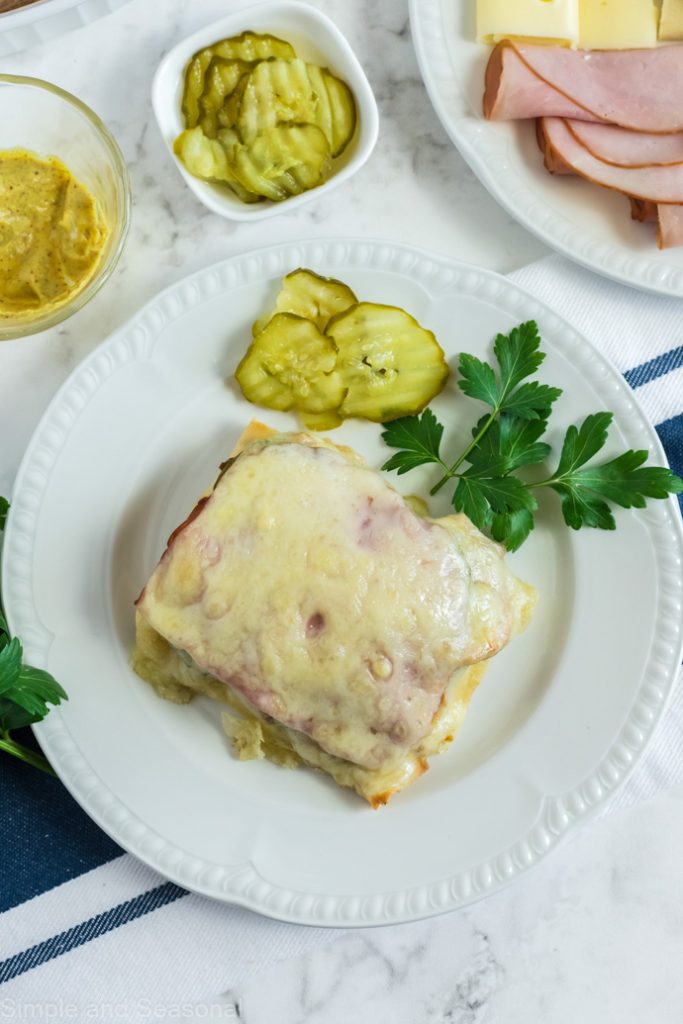 What is a Cuban Sandwich
If you've never had a pork Cuban sandwich, you are in for a real treat!
A Cuban sandwich is extremely popular in Florida, so chances are, if you haven't visited, you've missed this delicious meal.
It's an easy sandwich that has two kinds of pig (ham and pork). The ingredients almost never vary, with cheese, mustard, and pickles all rounding out the sandwich in a delicious sandwich.
It's also important to note that a Cuban sandwich recipe is almost always a hot sandwich and is meant to be eaten while on the go-wrapped up tightly and so warm you'll want to sink your teeth into it as soon as you get your hands on it.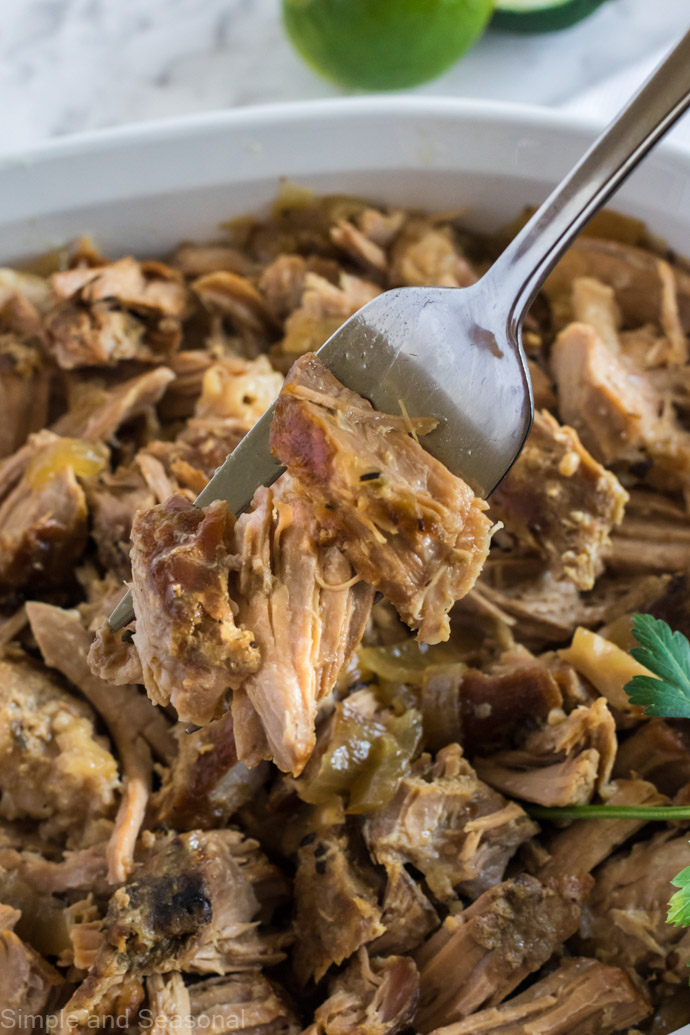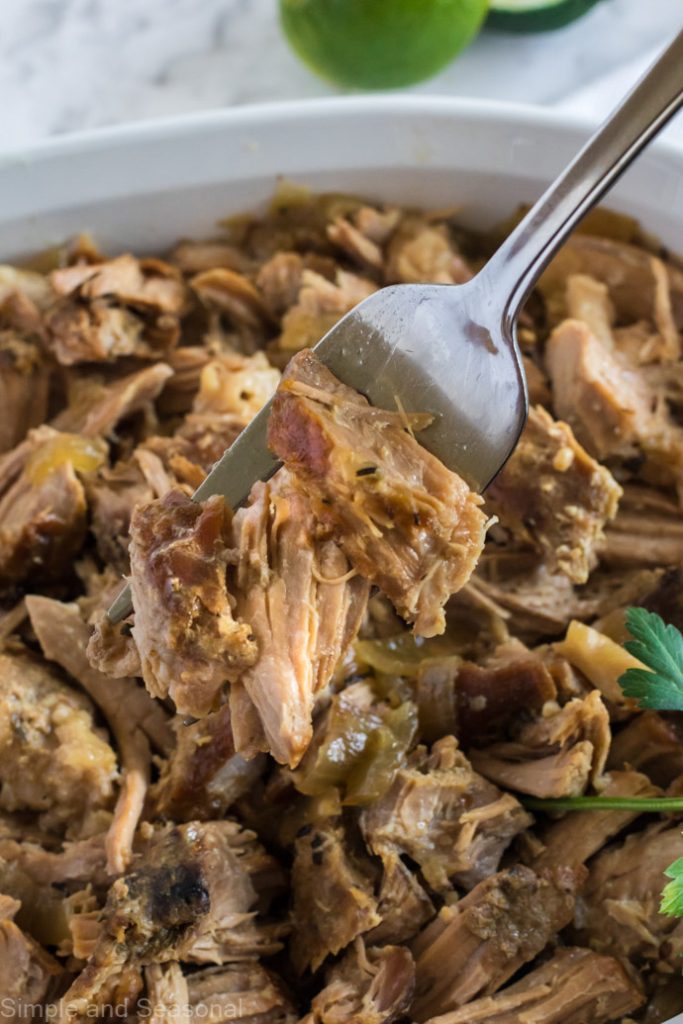 Can I Use Pulled Pork to Make Cuban Sandwiches?
Absolutely! While many original Cuban pork sandwich recipes call for sliced pork, there is no reason you can't use pulled. In fact, I actually think this is better with pulled pork.
Here's the thing, when you make pork, it begs to be made slow and low. The reason why is because pork shoulder is full of connective tissue.
That connective tissue makes the meat harder to chew and less desirable. The long and low cooking of the meat breaks up that connective tissue. Making the meat extra tender and soft.
Put that pulled mojo pork onto a warm and toasted sandwich? Yep! It's the best thing you're going to try this week.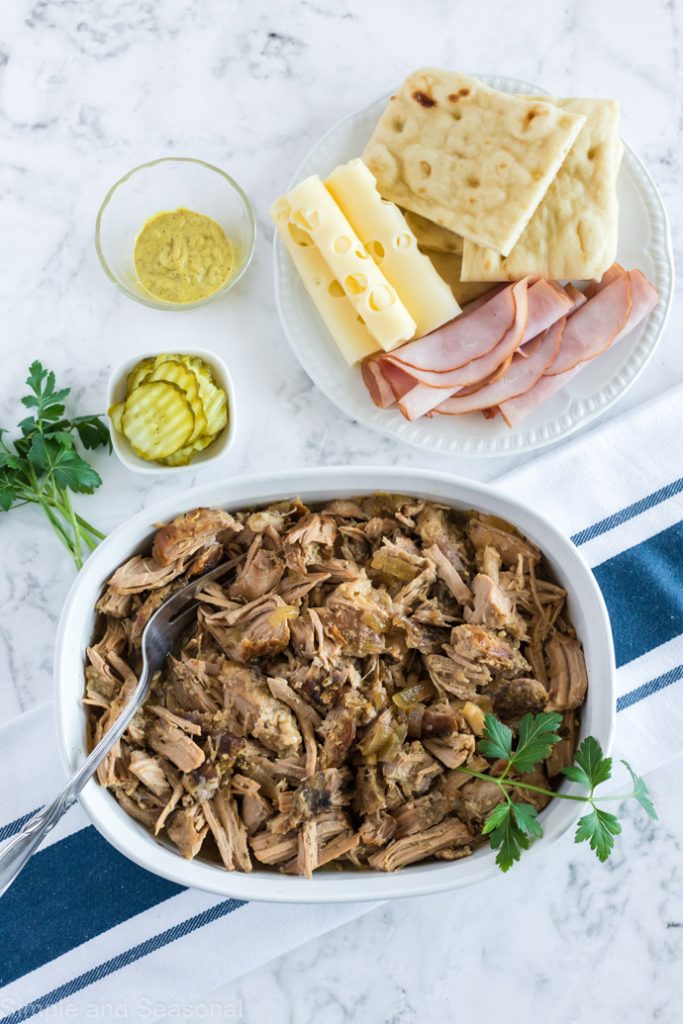 What is on a Pork Cuban Sandwich?
Here's the simple ingredients you'll need to get an excellent traditional Cuban sandwich.
Pork:

Follow this recipe for

Slow Cooker Cuban Pork

or use leftover pulled pork.

Bread:

I find sourdough bread pairs really well with the other ingredients in this recipe.

Ham:

Use black forest ham! It's smoked and moist, and just perfect on this sandwich.

Cheese:

Swiss Cheese! It's a classic on this sandwich.

Mustard Sauce:

use brown or grain mustard or Dijon mustard. They all have a really nice flavor. Yellow mustard tends to be stronger if you like that.

Pickles:

Pick your favorite pickle!
Pro Tips:
An authentic Cuban sandwich uses dill pickles, but bread and butter pickles are great too!

Dill pickle slices should be thin so you don't overwhelm the Cuban pork sandwiches recipe.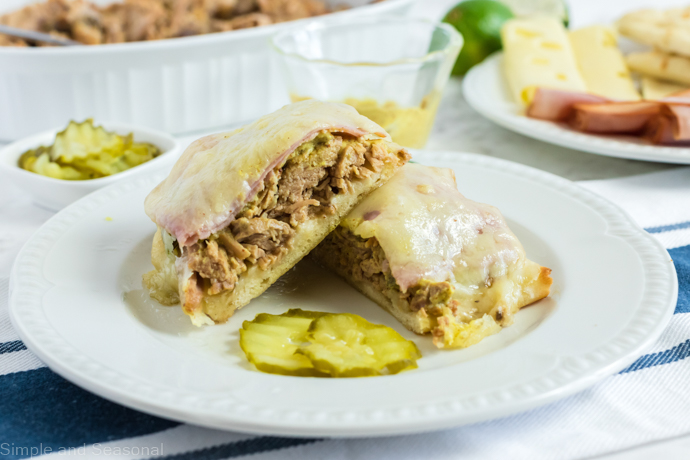 How to Make a Pork Cuban Sandwich
Follow these easy steps to get your juicy pork roast Cuban sandwich on the table. For a full ingredient list with directions please scroll down to the recipe card.
Heat:

You need your oven to be heated before you start the sandwich so start that now.

Layer:

There is a lot of debate over which ingredient goes where in the sandwich. I say keep the cheese on top for easy melting and then you decide the rest.

Broil: Using broil will cook your sandwich quickly. So once the cheese melts, pull it out.
Pro Tips:
Be sure to use an oven safe pan when assembling your sandwich. We prefer a cast iron skillet.

You can prepare as many sandwiches at a time as your pan will fit.

Layers of swiss cheese on the top and bottom can help hold everything together.

I don't use a panini press but if you have one you can use that instead of the cast iron pan. (Just be sure to use a top layer of bread, rather than serving the sandwich open faced.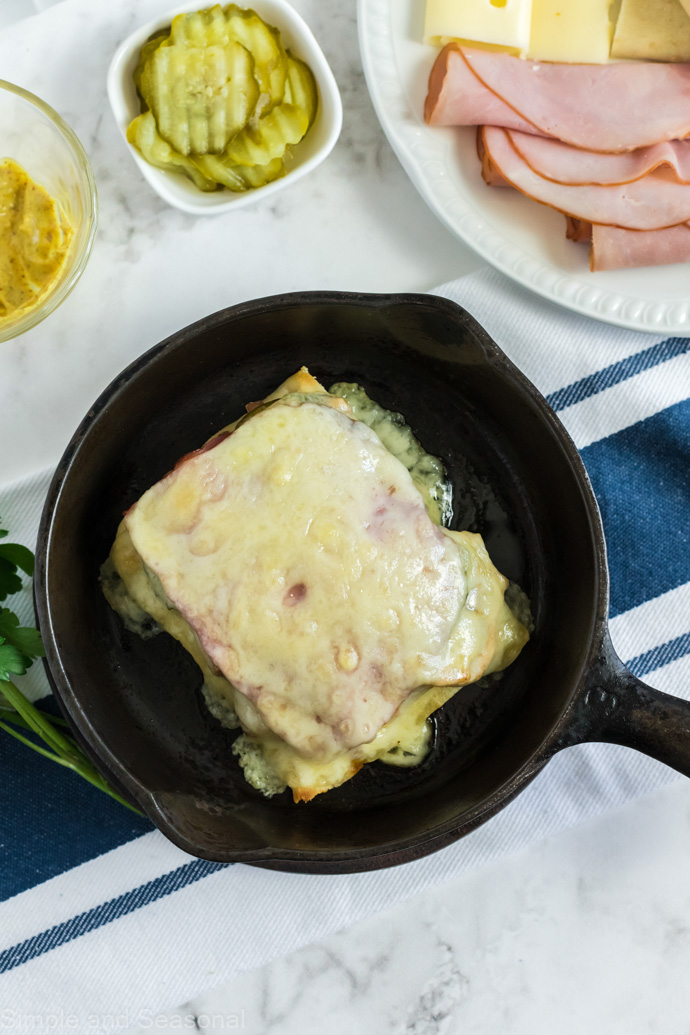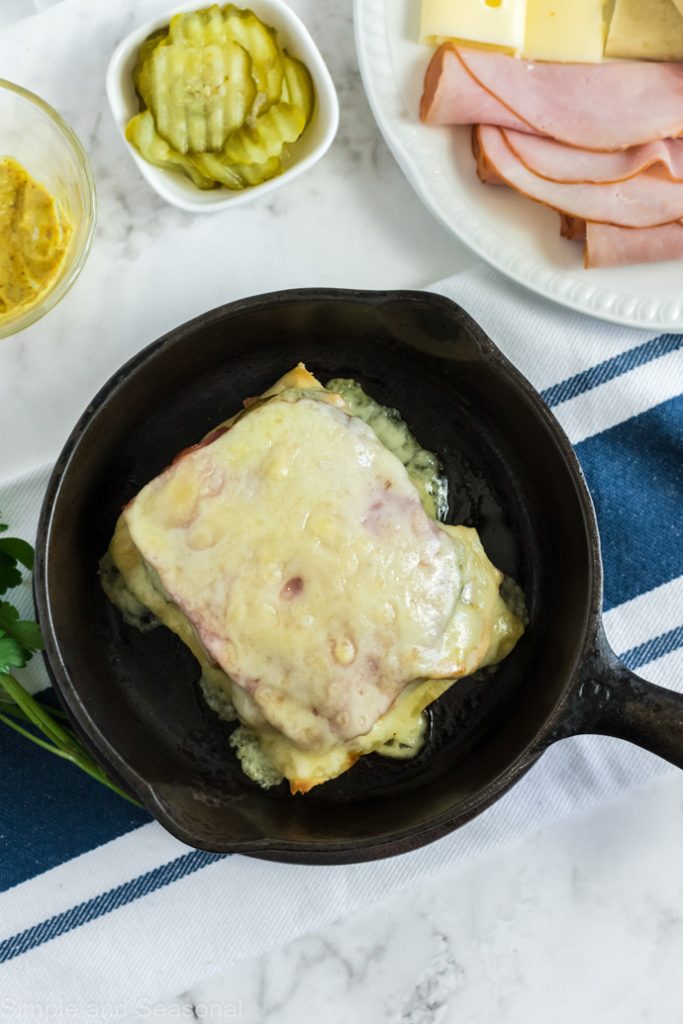 Where was the Cuban sandwich Invented?
Was it Cuba? Was it the United States? Maybe some combination of them both? No one is exactly sure where the best Cuban sandwich originated.
What we do know is that the sandwich is extremely popular with Cuban immigrant factory workers. It's a meal they can eat on the go, that keeps them full, and is super delicious.
Of course, there's also the Miami style Cuban sandwich vs Tampa style Cuban sandwich debate. When we went to Florida for a family vacation last year, one of our first stops was in Little Cuba (in Miami) to get authentic Cuban sandwiches!
The Miami style sandwich is served exactly as I've written it here. The Tampa style sandwich is served with Genoa-style Salami. Probably a product of the Italian immigrants that also lived in Tampa alongside the Cuban immigrants.
If you want you can try your Cuban sandwich with Genoa salami and tell us what you think! Wherever they originated, I'm just grateful they did.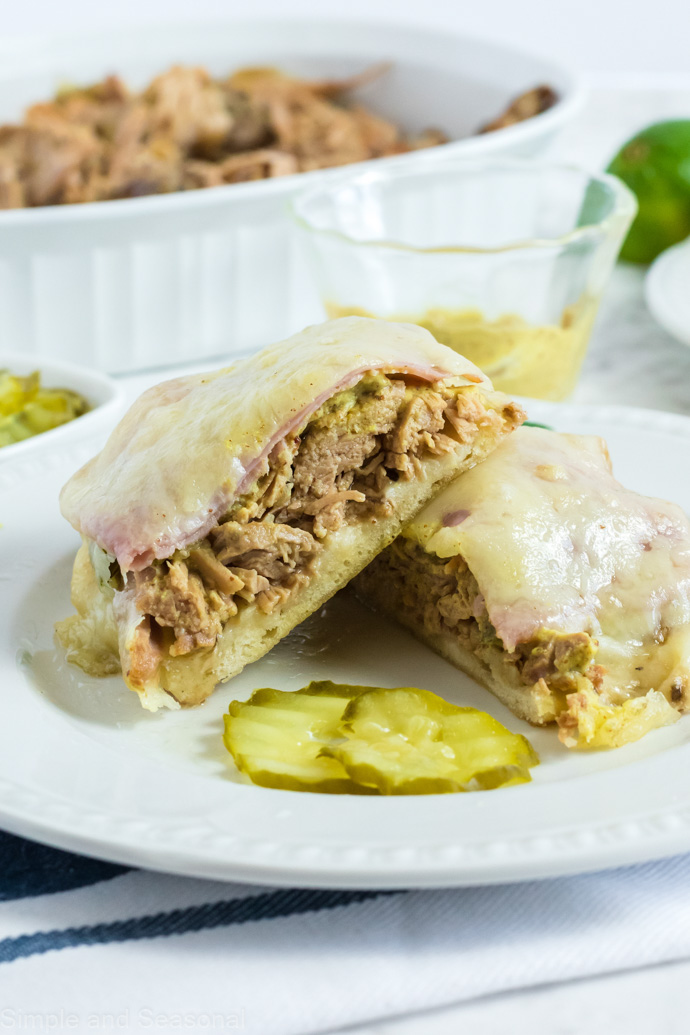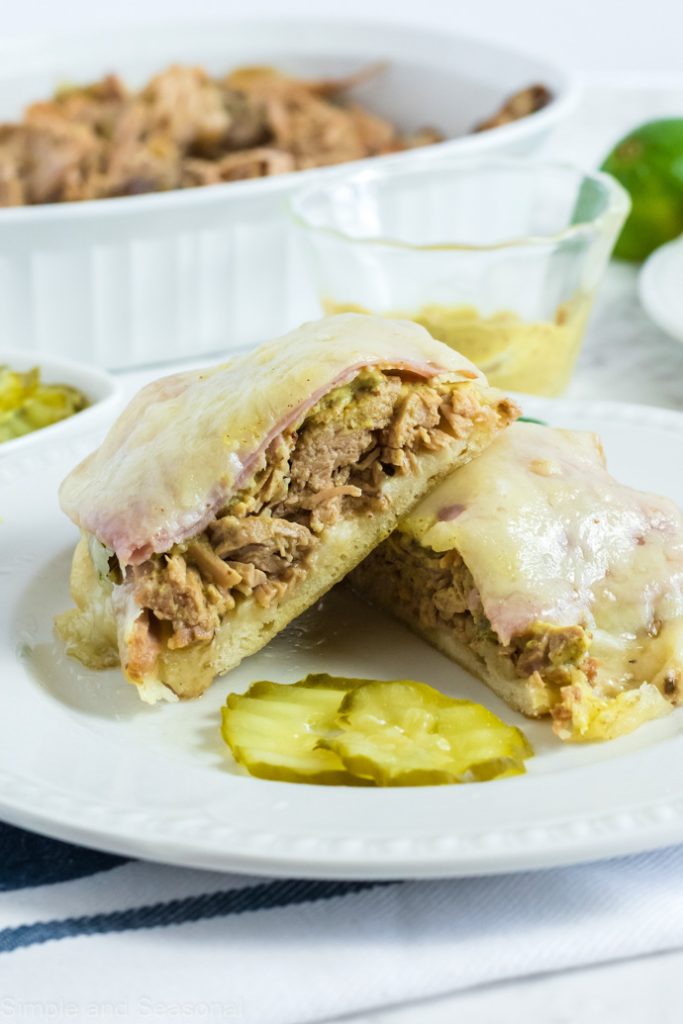 What to Serve with a Pork Cuban Sandwich?
Looking for some easy side dishes to serve alongside your pork Cuban sandwich? I've got you covered!
Don't forget, pork Cuban sandwiches were originally eaten alone as a complete meal. So if you don't have anything else on the table, don't feel bad!
These are super filling and side dishes to the sandwich aren't really required. If you're really busy but need to round it out, toss on a bag of potato chips, a bowl of carrots, and call it a day.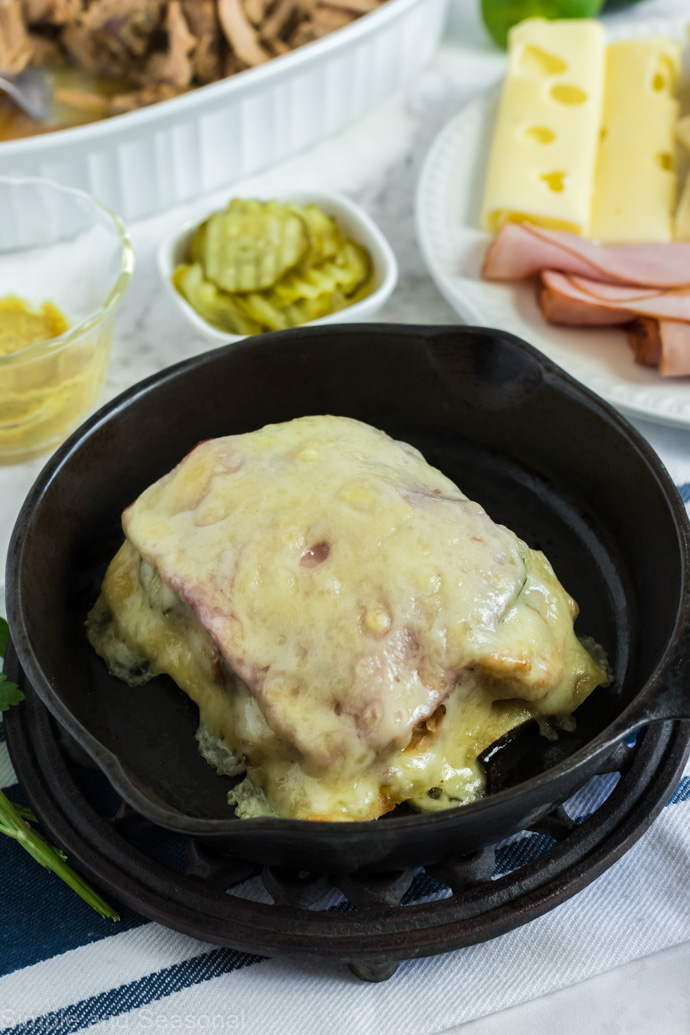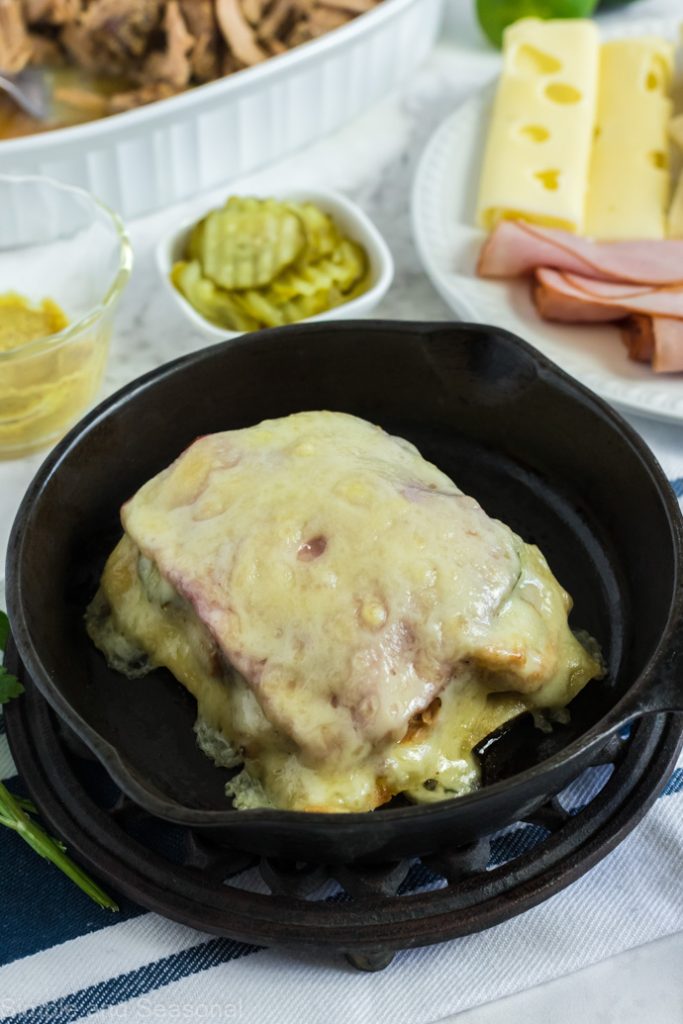 What Kind of Bread for a Pork Cuban sandwich?
Sweet Cuban bread is called Pan Cubano. It's similar to French bread and most often used in a pork cuban sandwich.
Of course, it can be difficult to come by traditional Cubano if you don't actually live in Florida. I've tested and found I really like the Cubano sandwiches with sourdough bread.
It's just the perfect combination of flavors and absolutely my favorite. If you don't like sourdough bread, you can always try a long, soft French or Italian bread instead.
I do not however recommend a baguette as it tends to be a very crusty bread. Your sandwich will become too crispy once broiled. Challah or Brioche will work in a pinch too but they are both pretty thick.
In fact, you could even make this with white bread! However you make it, just make it!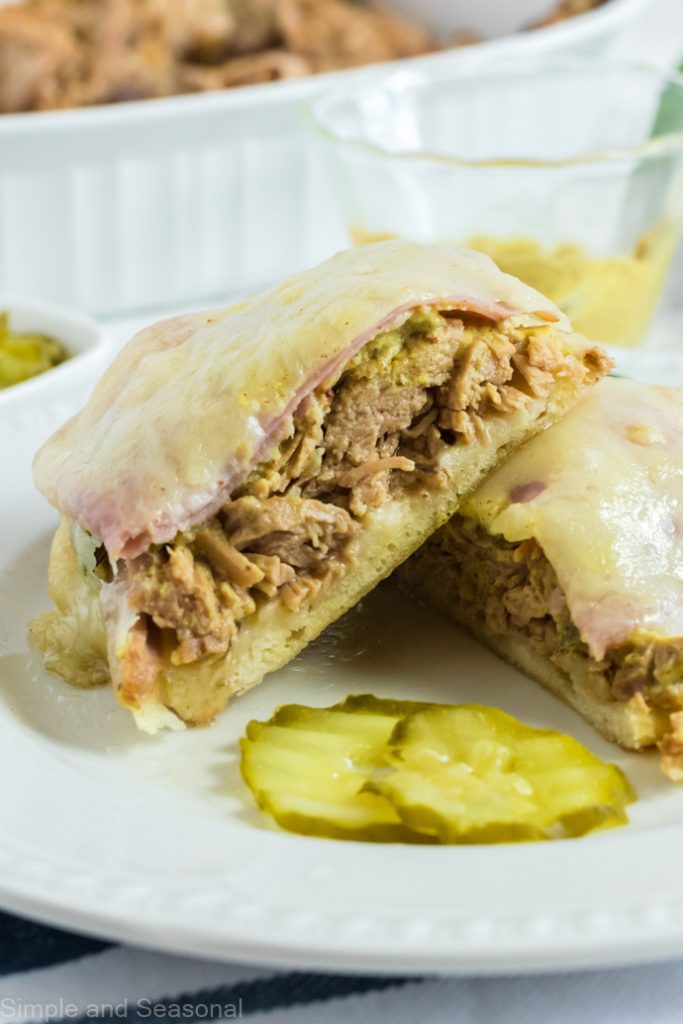 A Pork Cuban Sandwich is a little taste of south Florida at home. Easy to make, easy to eat, and everyone's favorite, I can't wait for you to try this ultimate sandwich!
Cuban Pork Sandwich
A Pork Cuban Sandwich is a little taste of south Florida at home.
Ingredients
½-1

cup

Cuban Pulled Pork

1

slice

sourdough bread

2

slices

Black Forest ham

2

slices

Swiss cheese

12

teaspoons

brown or grain mustard

(1/4 cup) Use more/less based on your taste preferences

4

pickle slices
Instructions
Preheat the oven broiler, low setting.

To build the sandwich, start by placing a piece of bread in an oven safe pan. We use a cast iron pan.

Add the pulled pork and top with a generous amount of mustard and the pickle slices.

Top with the black forest ham and swiss cheese.

Broil the sandwich in the oven on low broil for 3-5 minutes until the cheese melts.
Notes
Pick your favorite pickle! Traditionally, a Cuban sandwich uses dill pickles, however, bread and butter pickles are great too!
Alternate layering order: spread the mustard on the bread, then add one slice of the cheese. As it melts, it will help hold it all together. Then add the pulled pork. 
Layering the pickles in the middle helps hold them in place.
Top with a second slice of bread for a traditional sandwich, or leave it open-faced to enjoy this melty treat!
Nutrition
Calories:
626
kcal
|
Carbohydrates:
61
g
|
Protein:
44
g
|
Fat:
24
g
|
Saturated Fat:
9
g
|
Polyunsaturated Fat:
2
g
|
Monounsaturated Fat:
4
g
|
Trans Fat:
1
g
|
Cholesterol:
113
mg
|
Sodium:
2620
mg
|
Potassium:
380
mg
|
Fiber:
4
g
|
Sugar:
23
g
|
Vitamin A:
553
IU
|
Vitamin C:
3
mg
|
Calcium:
448
mg
|
Iron:
5
mg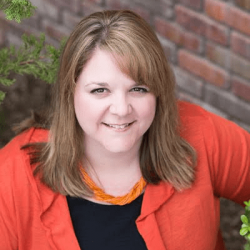 Latest posts by Nicole Burkholder
(see all)