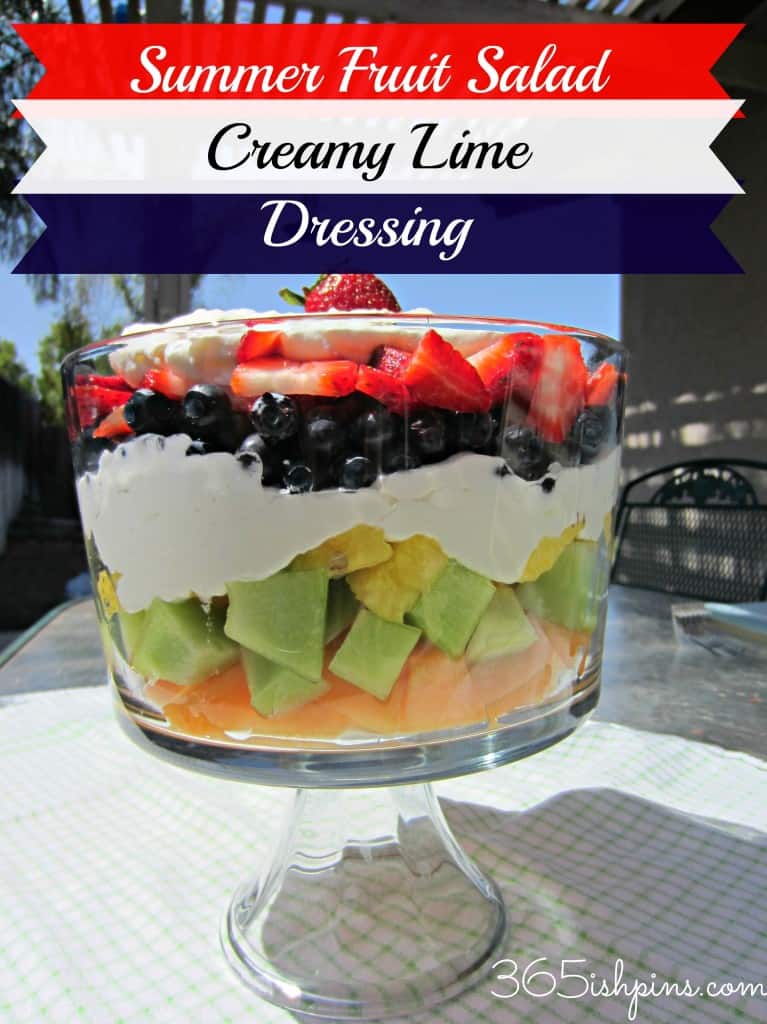 I pin at least one thing a week from Pillsbury.  I signed up to get their daily recipes via email a while ago, and I love how "normal" the ingredients usually are, and how easy they are to make.  This recipe for Summer Fruit Salad and Creamy Lime Dressing came a few days before Memorial Day, and I knew that I wanted to make it for our family meal together.
I used mango, cantaloupe, watermelon, strawberries and blackberries in my layers. (Update 5/2013: I'm making this again for Memorial Day this year 🙂  I used cantaloupe, honeydew, pineapple, blueberries and strawberries this time.)   But what I was really looking forward to trying was the lime dressing.  It did not disappoint!  The frozen limeade adds a real zing to the creamy dressing without overwhelming it. Layered in a trifle bowl, this "salad" is party-worthy! Make it your own by customizing with your favorite fruits and garnishes. Enjoy!
Creamy Lime Dressing
1 package (8 oz) cream cheese, softened
1/2 cup frozen limeade concentrate, thawed
1 cup whipping cream, whipped
Fruit
1 quart strawberries, quartered
2 cups cut-up honeydew melon
In medium bowl, beat cream cheese, limeade concentrate and powdered sugar with electric mixer on medium-high speed about 3 minutes or until smooth. Fold in whipped cream. Set aside.
In 3-quart trifle bowl, layer cantaloupe and strawberries. Spread half the cream cheese mixture over the strawberries. Layer mangoes, blueberries and honeydew over cream cheese mixture. Spread remaining cream cheese mixture on top. Garnish with mint leaves.
Serve immediately, or cover and refrigerate up to 2 hours before serving.