This post may contain affiliate links. Please see my full Disclosure Policy for details.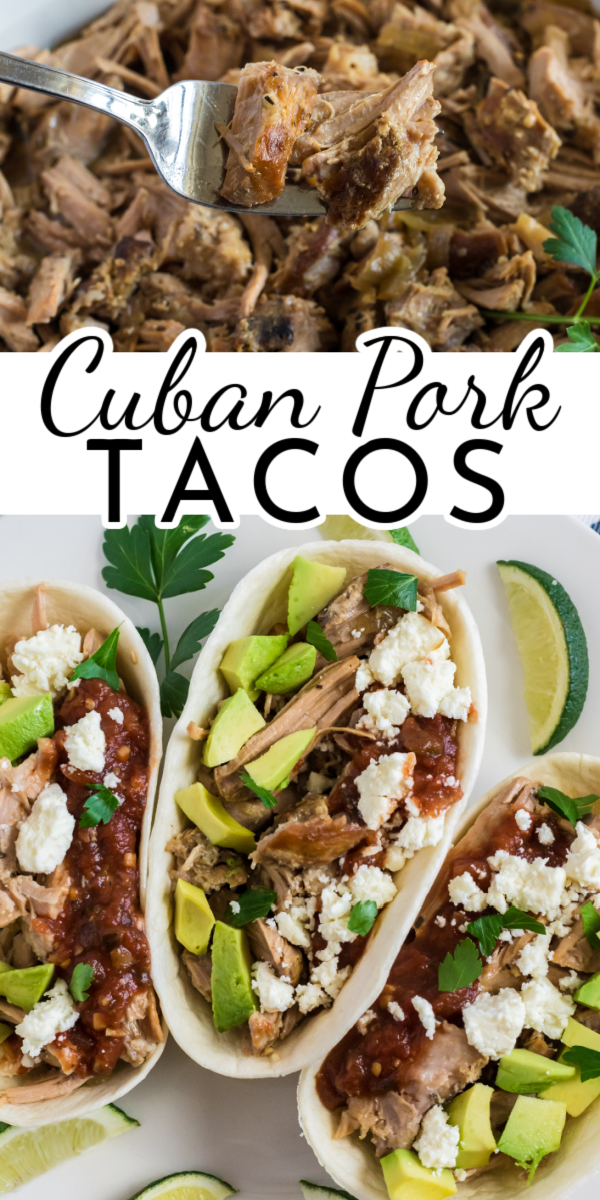 Cuban Tacos are an easy weeknight dinner! They are absolutely delicious, perfectly cooked, and a fun mix up for those regular Taco Tuesdays.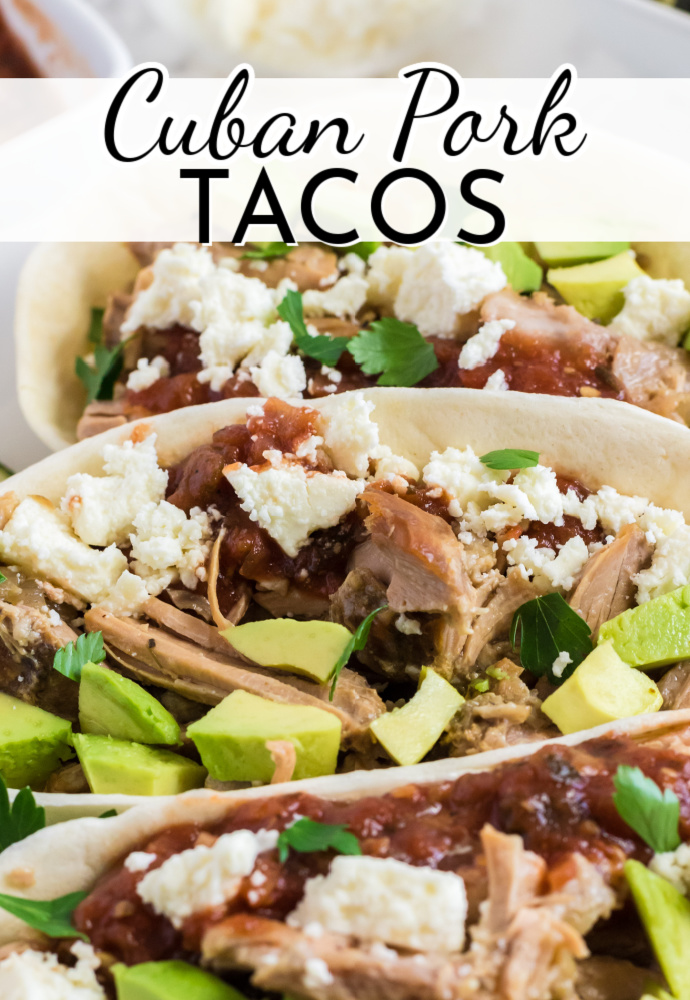 Perfectly cooked pulled pork is layered in your yummy taco for this recipe. Then you'll top it with salsa, cheese, avocado, lime, and a cilantro garnish.
To put it simply, it's delicious! You'll love that everyone can add their own favorite ingredients which makes this perfect for a taco bar or just for easy customizing.
This Cuban taco recipe is also quick to make! You'll be using leftover pulled pork that you've already made. There's very little prep time and you can feed your hungry hoard faster.
Pulled Pork Cuban Tacos are filling but not heavy, full of flavor and so light. It's perfect all year round.
You'll be using only 7 ingredients to make your yummy Cuban pork tacos. Skip trying to figure out what's for dinner, and make yourself a delicious plate of crock pot Cuban tacos.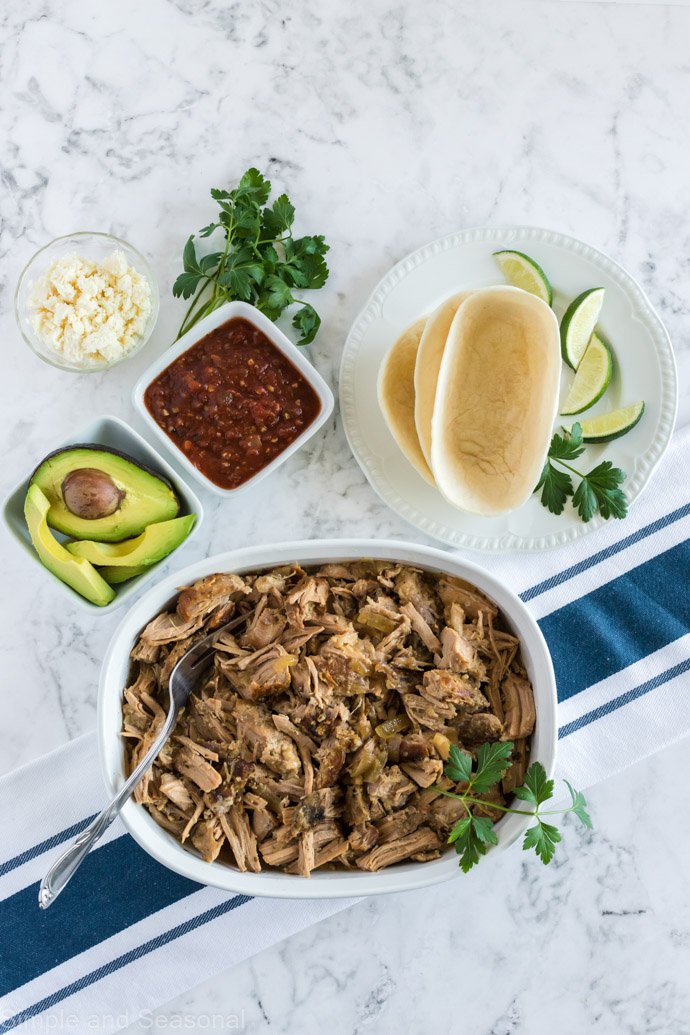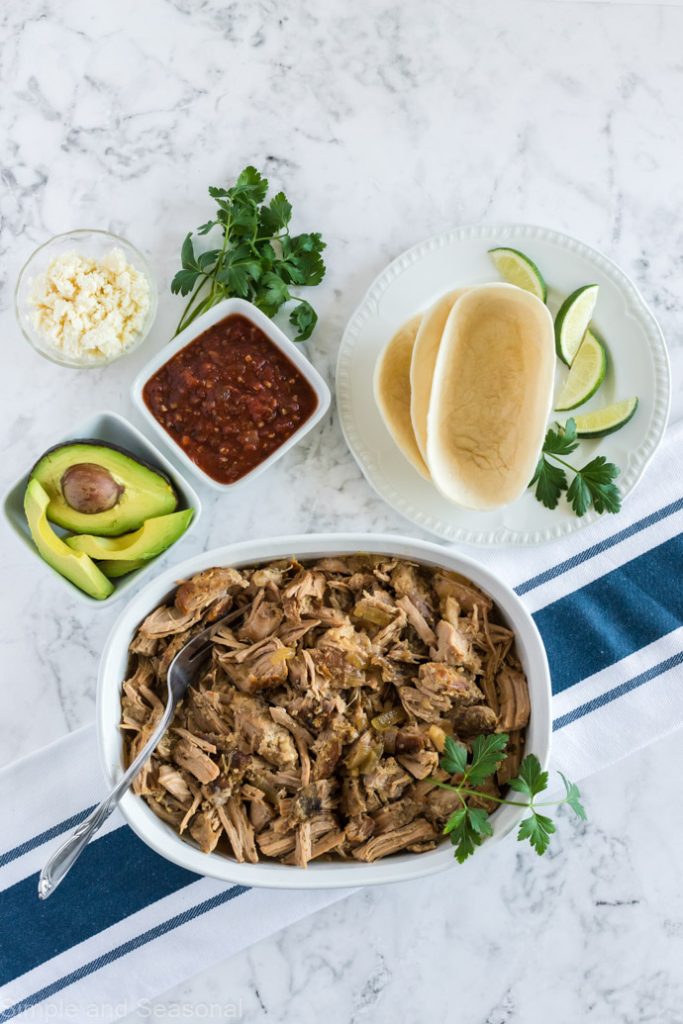 What Ingredients are in Cuban Tacos?
Here's the simple ingredients you'll need to make Cuban mojo pork Tacos.
Pulled Pork:

Follow this recipe to make

Slow Cooker Cuban Pork

or make your own. But mine's delicious. Just FYI.

Taco Boat or Taco Shell:

El Paso taco boats work great for these tacos, but traditional hard or soft taco shells work well too.

Salsa:

Plug for this

Mango Salsa

! Because it's heavenly. Though any other salsa you get from a jar works too.

Cotija Cheese:

The milky, salty flavor of cotija cheese is spot on. But any cheese will work so pick your favorite.

Avocado:

Tacos and avocados are meant to go together! Be sure to dice it up for easy eating.

Cilantro:

Fresh cilantro is divine in tacos! But if you're a cilantro hater, just leave it out.

Lime:

Fresh. Squeezed. Lime. A fresh lime wedge is much better than the stuff in the plastic jug.
Pro Tips:
Choose ripe avocados. They'll be slightly soft when squeezed.

Flour tortillas or small corn tortillas both taste great in Cuban street tacos.

Fresh pico de gallo is always a welcome salsa idea too!

Lemon juice can be substituted in a pinch.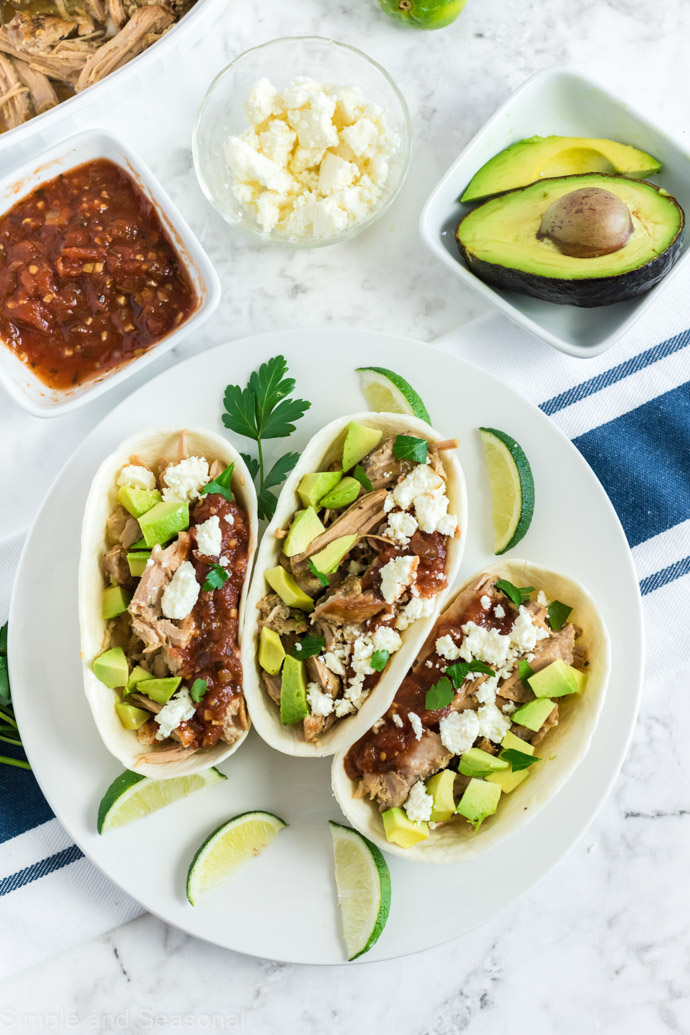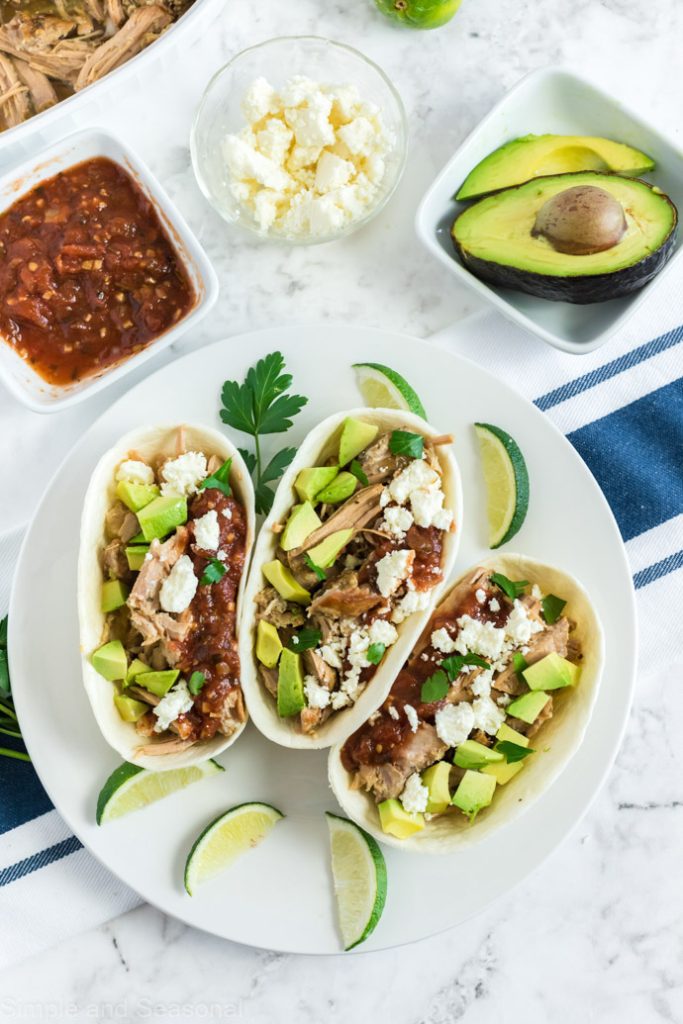 How to Make Cuban Tacos
Making Cuban tacos can be summed up in a few simple words: Assemble the taco.
No really! If you haven't thrown a taco together before, you'll want to know that the tortilla goes first and there is no wrong way to put things in a taco.
Place pork filling in the taco bowls and then fill to your heart's content. I've seen it done lots of ways, so put it all in there, take that bite, and enjoy it.
Pro Tips:
Customize with sour cream, black beans, small red onion, green onion, jack cheese or any other favorite taco topping.

Warm tortillas will take your pulled pork tacos up that extra step!

Lay some extra Cuban mojo sauce on top for extra yummy goodness.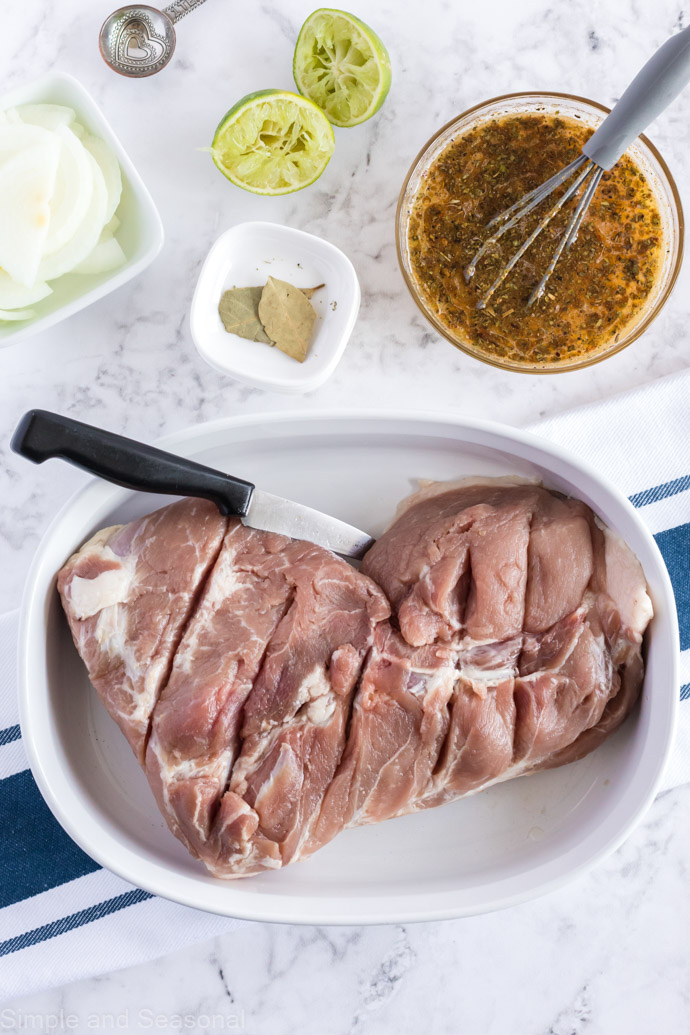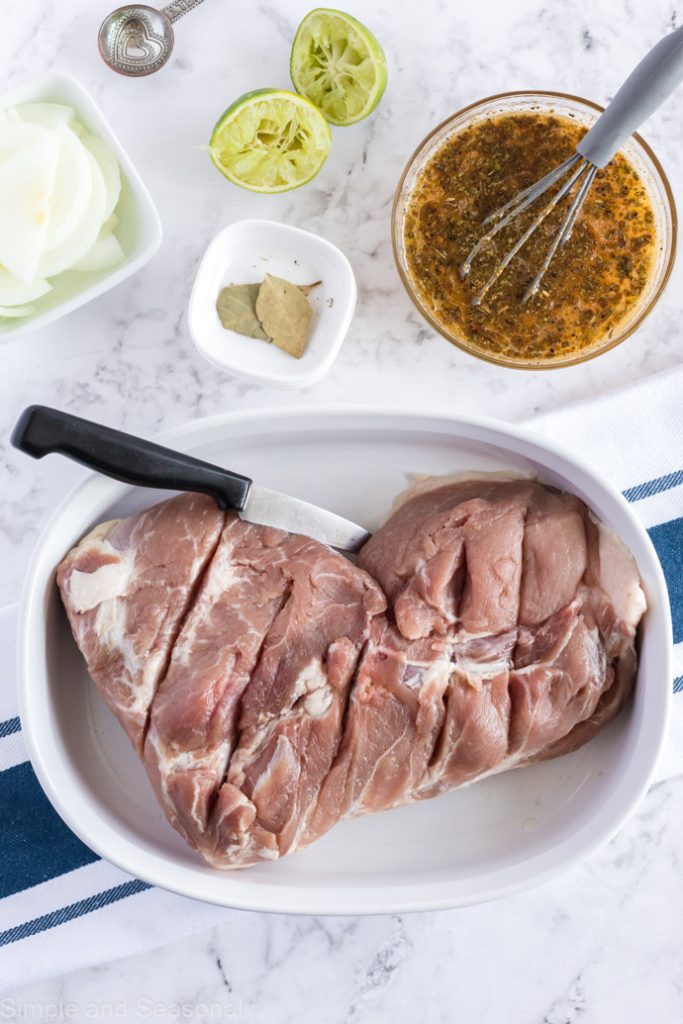 Best Pork Cut for Cuban Tacos
Pork shoulder roast, without a doubt, is the best choice for Cuban tacos. You want very soft meat when putting together tacos. Tough meats will throw the entire texture of the tacos off.
The shoulder starts as a very tough meat, but when it's cooked so long at a low heat, it softens. In fact, it gets much softer than soft meats that are cooked at a high heat.
The reason is that the slow, low temperature cooking breaks up any connective tissue in the meat. This leaves you with meat that just falls right off the fork and into your delicious Cuban cuisine.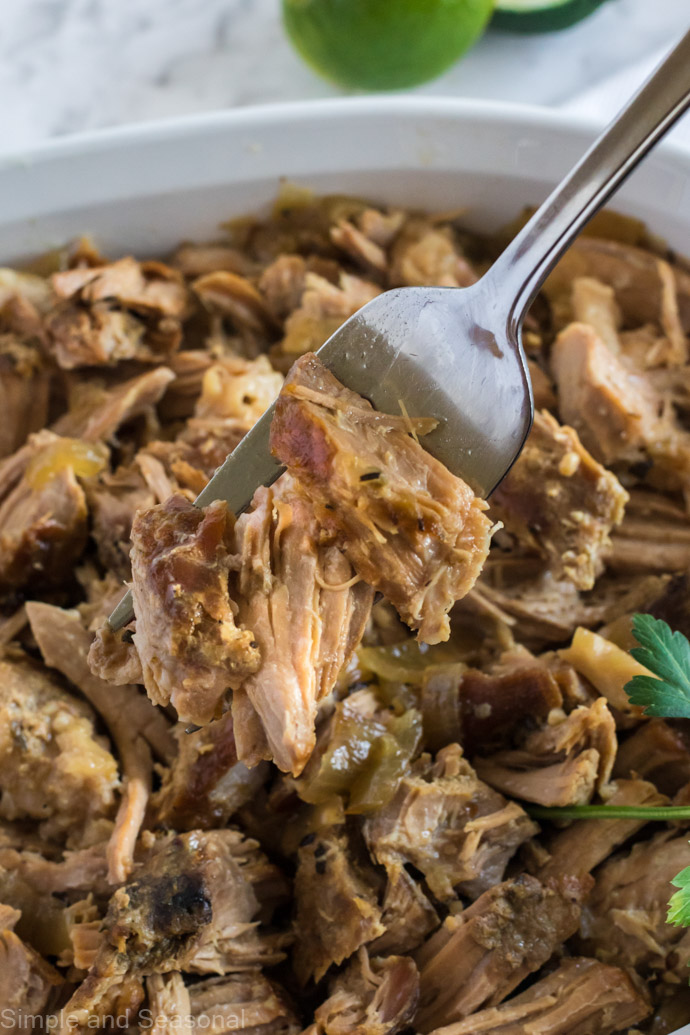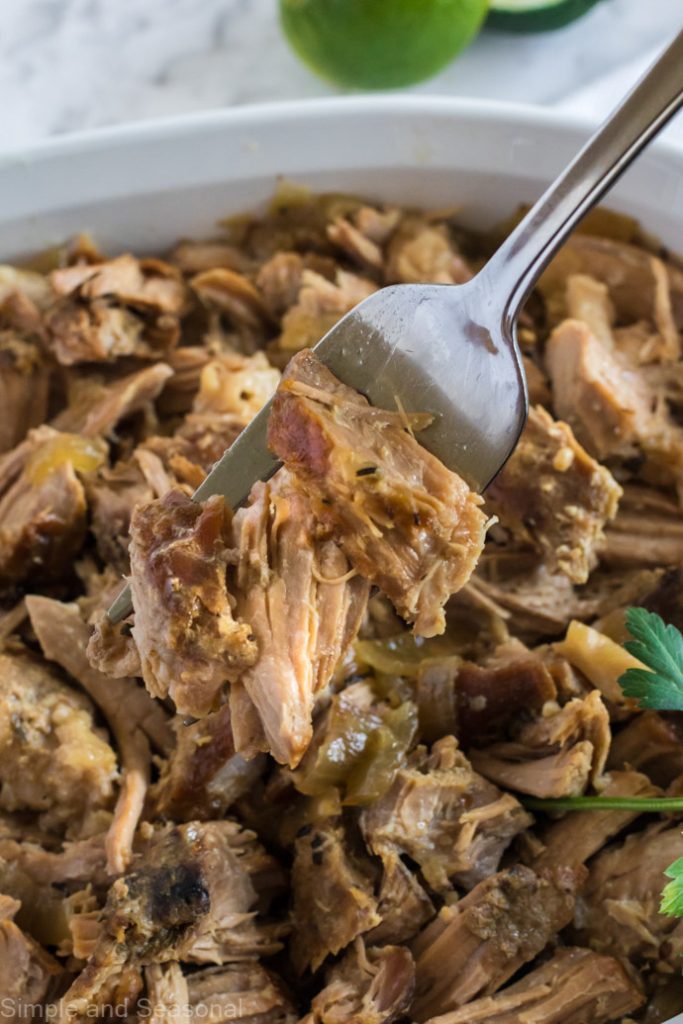 Are Tacos, Enchiladas, and Quesadillas Cuban Dishes?
We tend to think of tacos, enchiladas, and quesadillas as primarily Mexican dishes. But actually each of those dishes is popular over much of South America.
And it's not any different in Cuba. You can find Cuban tacos, Cuban enchiladas, and Cuban quesadillas. One of the big differences between Cuban food and Mexican food is their flavor profile.
When we think of Mexican flavors we tend to think of the heat. There's nothing like spicy salsa on a street taco! Cuban flavors tend to focus less on the heat and more on the flavor profiles.
You'll run into more citrus flavors in Cuban food (like this simple recipe). But don't forget the heat. You'll still find it, but it'll be a little more subtle. Whether you're eating a Mexican street taco or a Cuban street taco, you're gonna love it.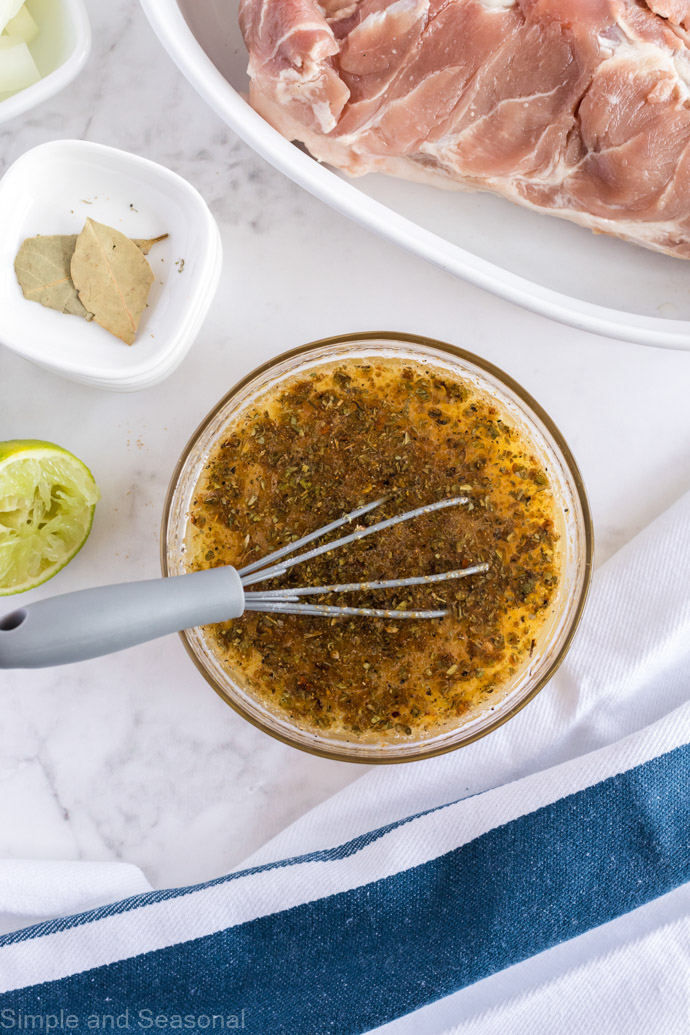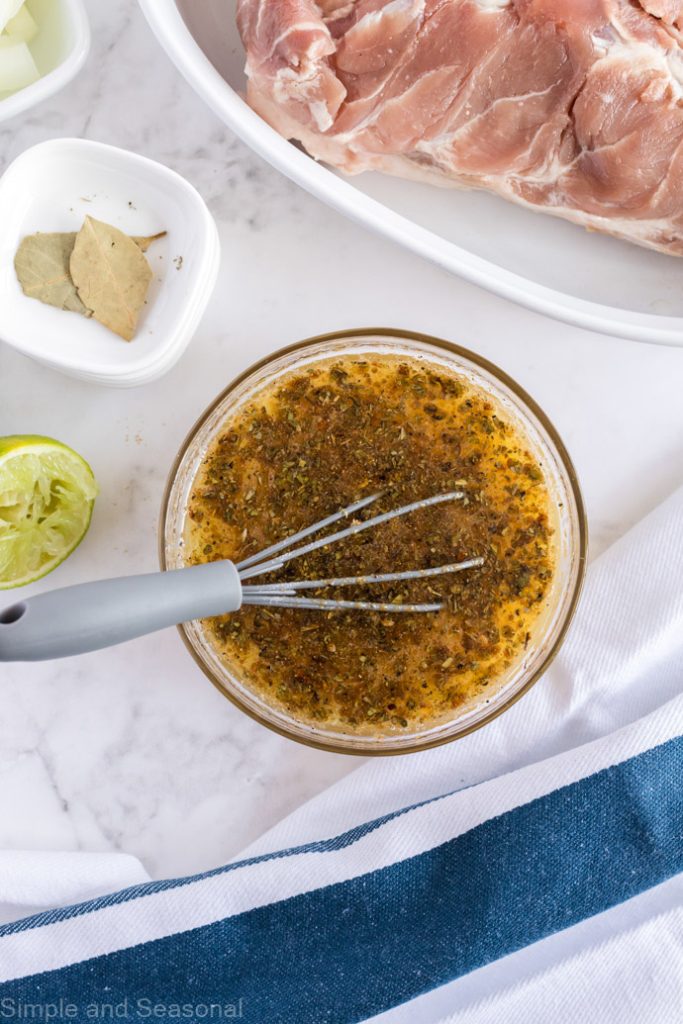 How to Store Leftover Pork Cuban Tacos
To prevent soggy tacos, only assemble the tacos you're actually going to eat. Then any leftover taco toppings should be stored separately in their own airtight container.
The pulled pieces of pork should be stored in its own juices to help it stay fresh. Then, whenever you're ready, just pull out the toppings and assemble another taco!
Can You Make Cuban Tacos Ahead of Time?
Yes! The meat for these Cuban tacos can be made up to three days in advance. Keep it in the fridge until you're ready to serve.
You can also prep the other toppings the night before and have them ready to pull out when you need them. The only ingredient I recommend waiting on is the avocado.
Once an avocado has been cut open, there isn't much you can do to keep it from turning brown. So slice into that avocado not more than an hour before you want to serve it.
If you know it'll be sitting for a while, squeeze some fresh lime juice on top to help it stay green. The tacos can be served at room temperature so if you get them ready a little early, that'll be fine.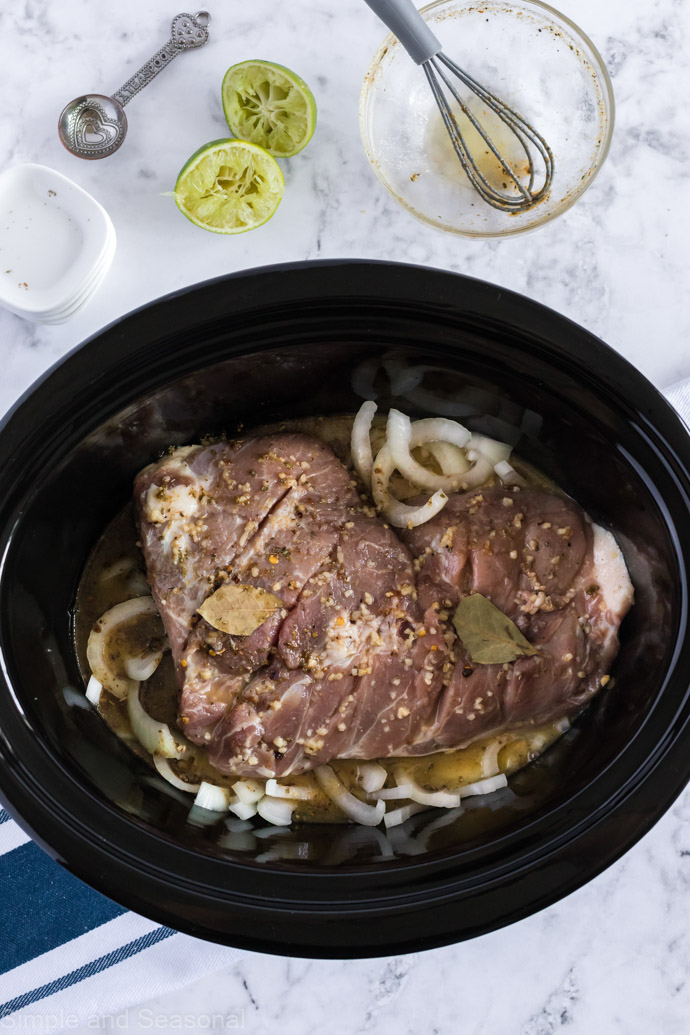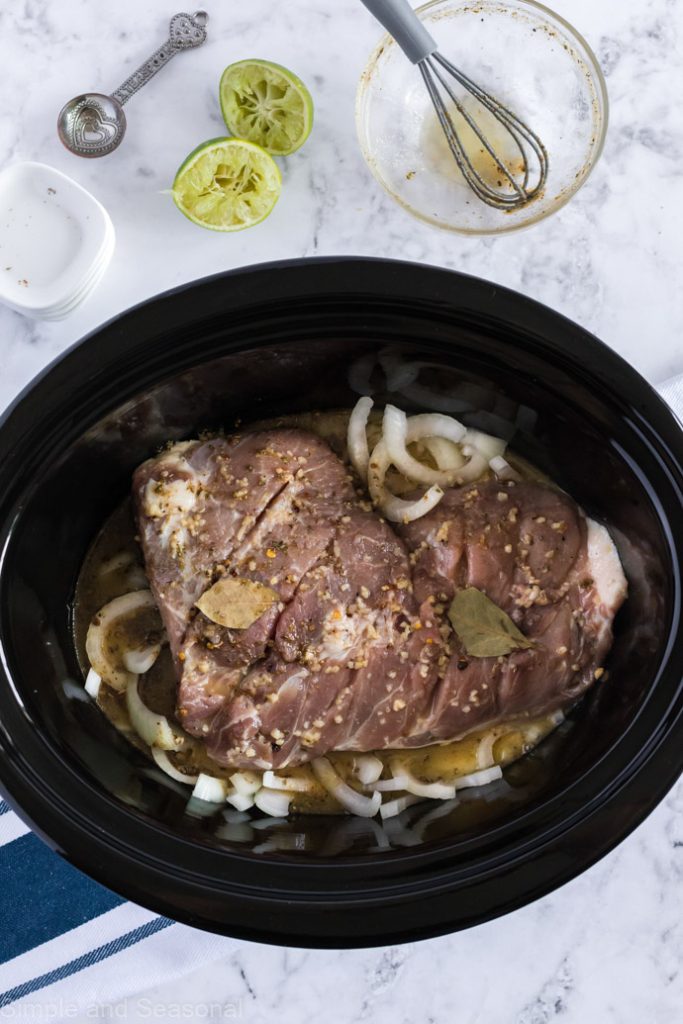 Can You Freeze Cuban Tacos?
Some of the ingredients for Cuban tacos can be frozen, while others cannot.
Here's the list of ingredients you can freeze:
Pulled Pork: Can be frozen for up to three months. Make sure to shred pork before freezing.

Taco Shells: Taco shells last a long time in the fridge but can also be preserved in your freezer.

Salsa: Surprise! Many salsas can be frozen for later use.

Cotija Cheese: Be sure the cheese is wrapped very tightly to prevent any freezer burn.

Limes: Limes can be frozen whole for later use.
Here's the list of ingredients you probably shouldn't freeze:
Avocados: I don't recommend freezing avocado as it changes color, texture, and flavor once thawed.

Cilantro: I also don't recommend freezing cilantro you'll use as a garnish because it'll look messy and wilted once thawed.
Be sure to freeze all the ingredients separately. Then pull them out when you're ready to make your Cuban tacos.
Pro Tip: Did you write the name on your freezer bag or covered container? That'll help you not lose the ingredients in your freezer.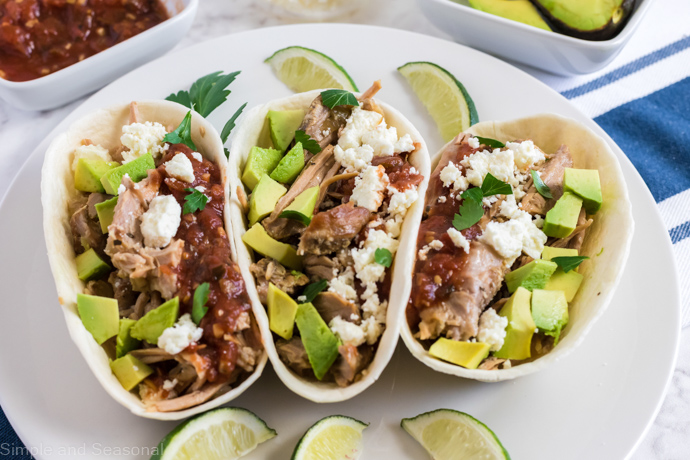 Cuban Tacos are what you should be eating for dinner! Fast, delicious, easy, they are perfect for a family dinner or a big party. Enjoy some seriously good food!
Cuban Pork Tacos
Cuban Pork Tacos are an easy weeknight dinner! They are absolutely delicious, perfectly cooked, and a fun mix up for those regular Taco Tuesdays.
Ingredients
½

cup

Cuban Pulled Pork

1

taco boat or taco shell

1

teaspoon

salsa

1

tablespoon

cotija Cheese

1

tablespoon

diced avocado

chopped cilantro for garnish

fresh lime slice

squeezed on top
Instructions
Add the pulled pork to your choice of taco shell.

Top with salsa, cotija cheese, avocado and chopped cilantro. Squeeze lime juice on top.
Notes
Old El Paso taco boats work great for these tacos, however, traditional hard or soft taco shells work well too!
Use any kind of leftover pulled pork-but Slow Cooker Cuban Pork is perfect for these!
Nutrition
Calories:
347
kcal
|
Carbohydrates:
31
g
|
Protein:
18
g
|
Fat:
17
g
|
Saturated Fat:
6
g
|
Polyunsaturated Fat:
1
g
|
Monounsaturated Fat:
3
g
|
Trans Fat:
1
g
|
Cholesterol:
66
mg
|
Sodium:
971
mg
|
Potassium:
126
mg
|
Fiber:
2
g
|
Sugar:
18
g
|
Vitamin A:
298
IU
|
Vitamin C:
4
mg
|
Calcium:
158
mg
|
Iron:
1
mg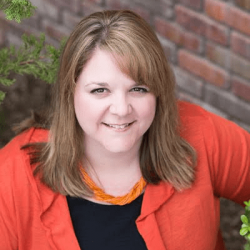 Latest posts by Nicole Burkholder
(see all)