This post may contain affiliate links. Please see my full Disclosure Policy for details.
Make your walk around the neighborhood with the kids less boring and more educational by practicing the ABC's 🙂
Long ago, when I first started using Pinterest, I saw this idea and thought it was great! Now that my middle son is old enough to recognize all his letters, this was a great addition to our walks around the neighborhood. All you need is a piece of construction paper or, even better, a paper plate like the one in this pin. Write the alphabet along the edge of the paper and then cut between each letter to make tabs. As you walk, find letters on signs or things that start with the letter "–". Just fold over the tab when you find each letter and try to get them all done (you may have to get creative with Q, X and Z. Remember the alphabet game we used to play on long car rides? 🙂 This is a great way to teach the concept of beginning sounds without sitting in the classroom. For older kids, you could have them look for things that end in each letter. Just get outside and sneak in some quality learning time 😉
You may also like my printable for a Nature Walk Scavenger Hunt.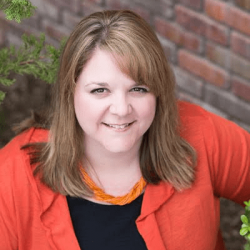 Latest posts by Nicole Burkholder
(see all)