This post may contain affiliate links. Please see my full Disclosure Policy for details.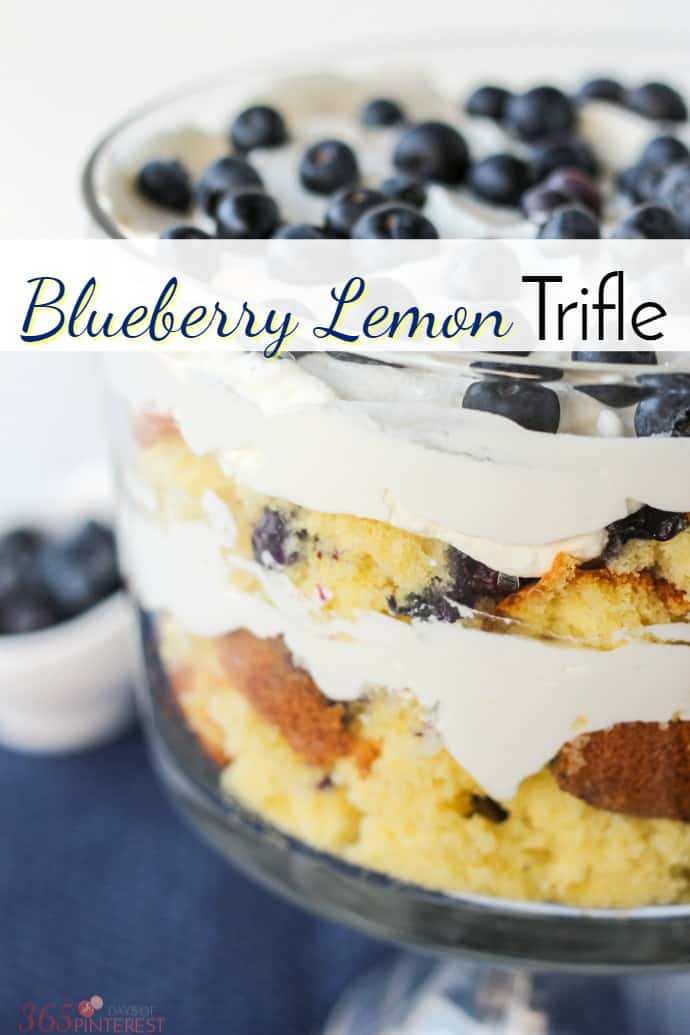 This pretty Blueberry Lemon Trifle was the result of a kitchen disaster, but you'd never know it! Rich, creamy and bursting with blueberries, it's a delicious and easy dessert!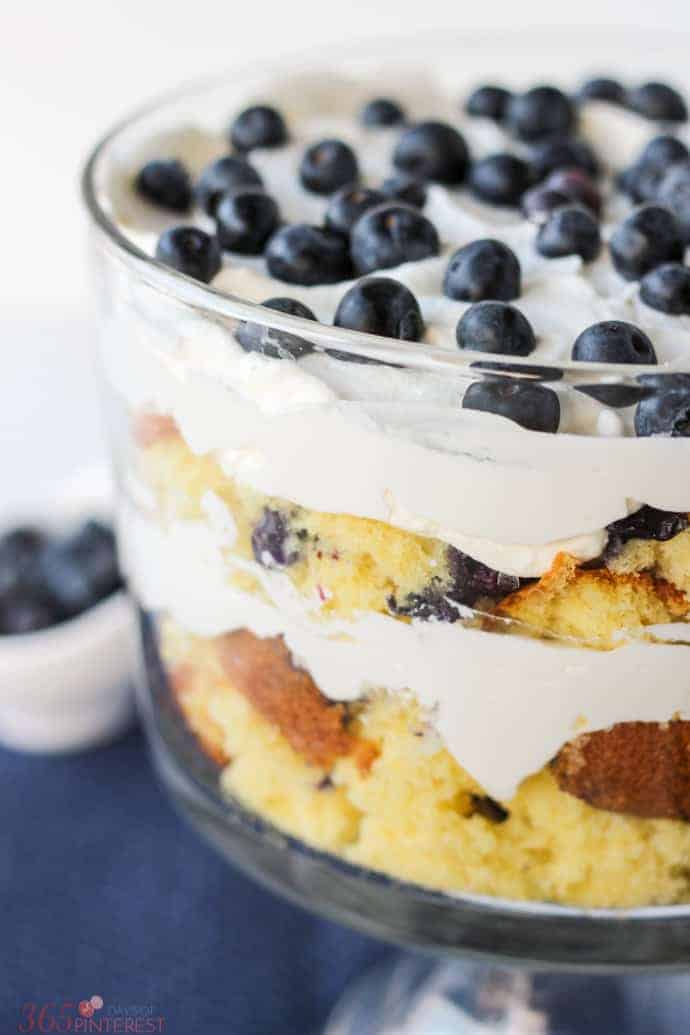 Last week, I posted this photo on my Facebook page of the mutilated remains of a beautiful and delicious cake. It just would NOT release from the pan. The worst thing about it was that I was planning on using this cake for a post and didn't have time to run to the store and buy all new ingredients before it was due.
I managed to salvage one slice by covering it with a dollop of fresh whipped cream, but the rest of the cake was a loss. Thankfully, one of my followers suggested making a trifle with it.
I already had a bowl of Citrus Whipped Cream from another post I was writing. That got my brain going, and I put together this happy accident called Blueberry Lemon Trifle.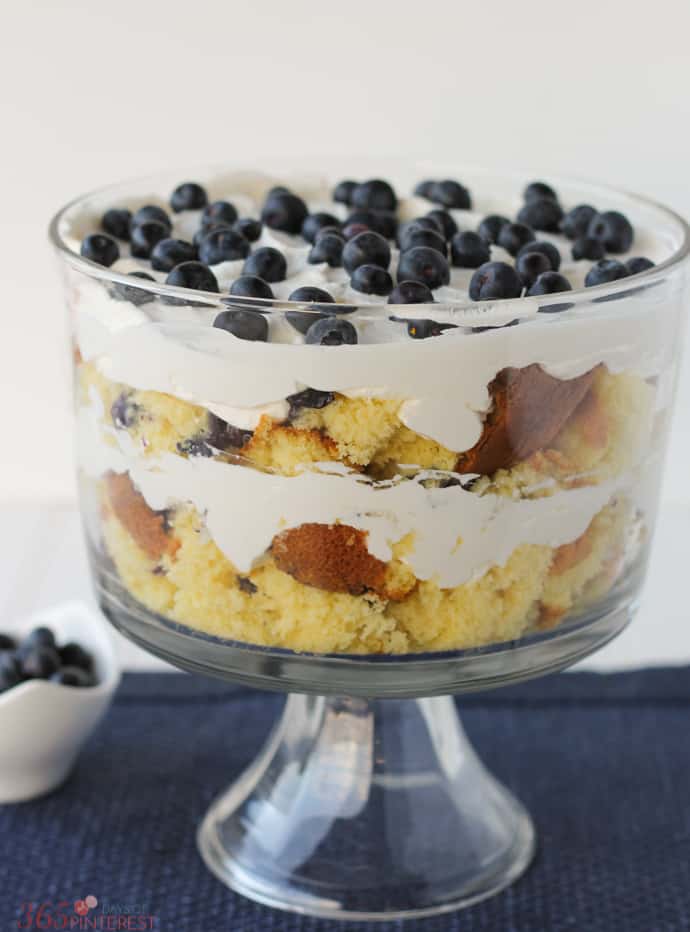 This isn't so much a recipe as it is a handy tip to have up your sleeve. You can make a trifle out of any kind of cake or even brownie. I think this might even be good with my favorite Lemon Bread. The key to a good one is the creamy layer.
What is a trifle?
Strictly speaking, a trifle is a British dessert of sponge cake and fruit covered with layers of custard, jelly, and cream. It's served cold and in a clear bowl so you can see all the layers. Blueberry Lemon Trifle probably wouldn't pass muster on the Great British Baking Show, but it's good enough for me. 😉
How do you stabilize whipped cream for use in a trifle?
Fresh whipped cream will not stand up at room temperature for any amount of time. Even in the refrigerator, whipped cream eventually gets a bit runny and will turn a good trifle into a soggy mess.
The solution to this is either to use Cool Whip or to stabilize your cream. Since I prefer freshly whipped cream, I went with the second option. Also, it's what I had already. Who wants to go running to the grocery store when you can make do with what's on hand? 🙂
To stabilize your whipped cream, simply add either unflavored gelatin or a small amount of instant pudding mix. The pudding mix contains gelatin, and it has a nice vanilla flavor as well.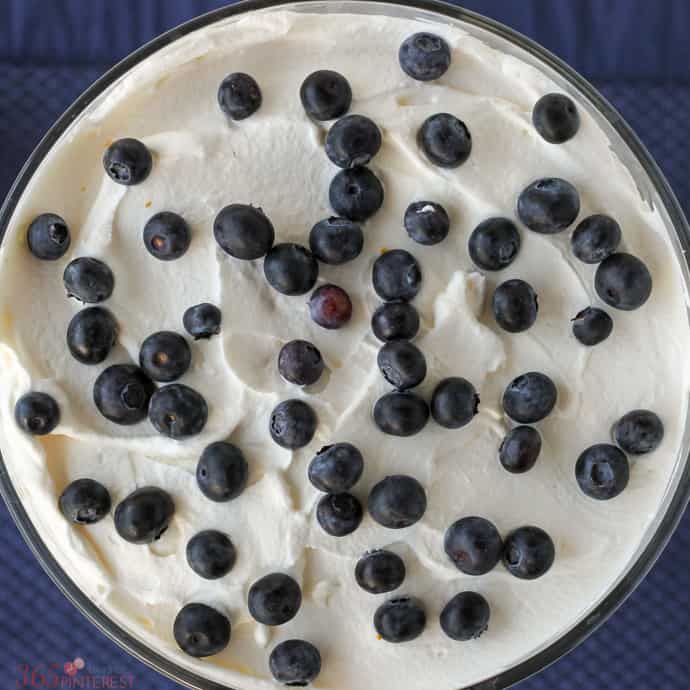 Disaster averted! I brought this to our Sunday School class the next day and the entire bowl was gobbled up, so I'd say it was a winner. 🙂 In the future, I will be sure to grease my pans more carefully.
I have a friend who swears by this Miracle Pan Release to help avoid baking disasters. But honestly, who could call a trifle a disaster? I think it was more of a happy accident.
Blueberry Lemon Trifle
This pretty Blueberry Lemon Trifle is rich, creamy and bursting with blueberries that make a delicious dessert.
Instructions
Bake the cake according to instructions and let cool. Crumble it up into bite-sized pieces for layering. Set aside.

In a chilled bowl, beat the whipping cream, powdered sugar and vanilla on high until gentle peaks start to form.

Before the whipped cream is completely done, add the vanilla pudding mix. This is going to stiffen it up pretty quickly, and will stabilize the cream so it stays that way.

Once cream has reached the desired consistency, layer it in a trifle bowl with the cake pieces, alternating layers until done. Finish with a layer of cream and top with fresh blueberries!

For best results, refrigerate at least 2 hours before serving. (But it can be served right away.)
Nutrition
Calories:
292
kcal
|
Carbohydrates:
5
g
|
Protein:
1
g
|
Fat:
11
g
|
Saturated Fat:
7
g
|
Cholesterol:
41
mg
|
Sodium:
17
mg
|
Potassium:
30
mg
|
Fiber:
1
g
|
Sugar:
4
g
|
Vitamin A:
442
IU
|
Vitamin C:
1
mg
|
Calcium:
20
mg
|
Iron:
1
mg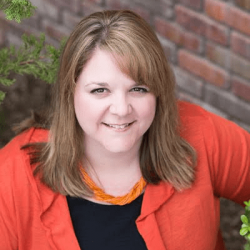 Latest posts by Nicole Burkholder
(see all)