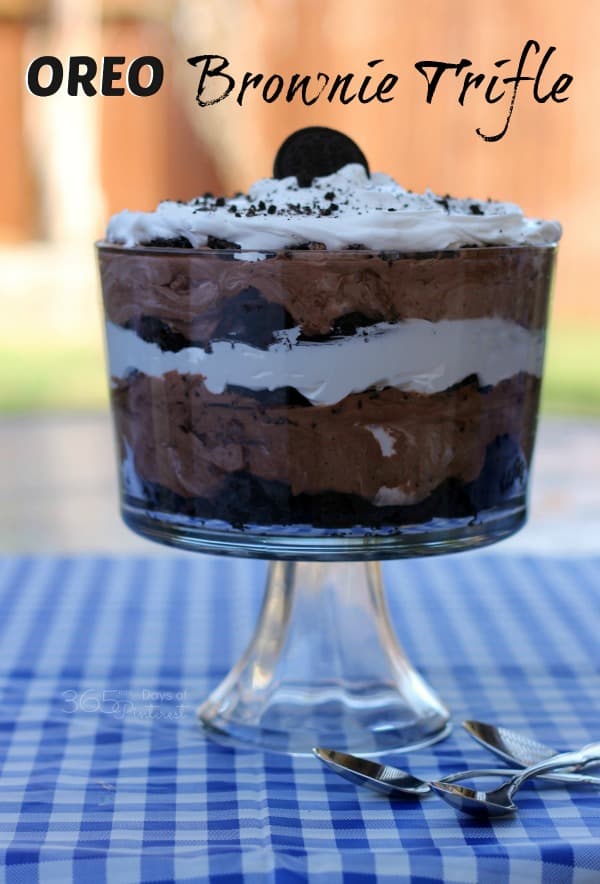 A couple of weeks ago we were invited to some friends' house for dinner (Hi, Judy!) and I volunteered to bring dessert.
I like dessert. Dessert is my favorite.
I asked Judy what they would like and she wanted something like the OREO Dirt Cake I've made in the past. I wanted to do something new, so I went to my Desserts board on Pinterest and found this OREO Brownie Trifle from Baker Homemaker that was perfect. Trifles are easy to put together, look pretty, and this one is extra kid-friendly!
If you don't want to heat up the house while baking brownies, you could always purchase them from your grocery store bakery. It would certainly make this a very quick dessert to put together. I baked the brownies for mine because I found a mocha fudge brownie mix that sounded like it would be great with the chocolate and OREOs (it was.)
OREO Brownie Trifle
Author:
Nicole Burkholder
Ingredients
1 box of brownie mix (you will need the additional ingredients listed on box) or a family-sized package of brownie bites purchased from your grocery store bakery
8 oz cream cheese, softened
1 cup powdered sugar
¼ cup of Butter, softened
3 cups milk
2 small packages of instant fudge chocolate pudding
12 oz tub Cool Whip
1 pkg of OREOs, crushed (save a couple whole ones for garnish)
8 oz tub Cool Whip
Instructions
Prepare and bake Brownies as instructed on box. Cool Brownies completely and set aside.
Blend together Cream Cheese, butter and powdered sugar until creamy.
In a separate bowl, mix milk and pudding until thick.
Add pudding to cream cheese mixture, then fold in 12 oz tub of Cool Whip.
Begin layering the trifle. Cut up the brownies into bite-sized squares and place one layer of brownies on the bottom of the trifle. Then put half of the pudding cream cheese mixture on top. Sprinkle ½ of the crushed OREOs for the third layer. On top of the OREOs, put half of the 8 oz tub of cool whip. Repeat layers. The top layer will be the last of the Cool Whip. Sprinkle with some OREO crumbs and garnish with one or two whole OREO cookies.
Keep refrigerated and serve with a tall glass of milk, because it's really rich and decadent!
 Want to be the hero of your next picnic or family gathering?
Bring this OREO Brownie Trifle for dessert.
Trust me. 😉
For all sorts of great dessert ideas, follow my Desserts board on Pinterest!
Follow 365(ish) Days of Pinterest 's board Food-Desserts on Pinterest.