This post may contain affiliate links. Please see my full Disclosure Policy for details.
Add a festive touch to your summer table with these Patriotic Pretzel Bites. Every bite is a combination of sweet and salty!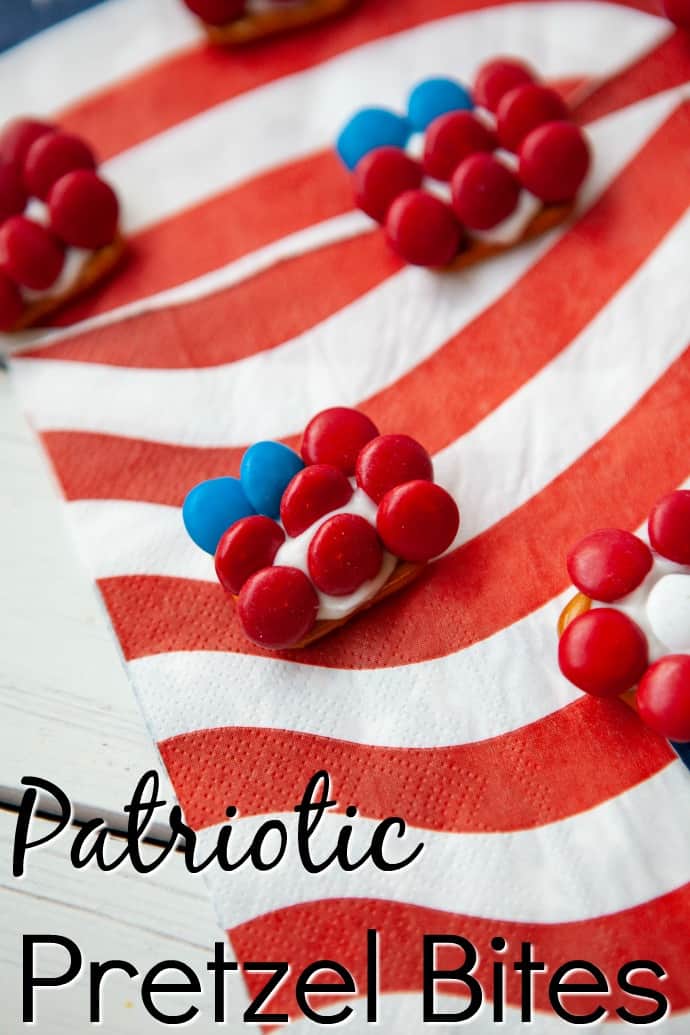 In one month, we will be celebrating our nation's birthday, and the table will be covered with red, white and blue treats of all kinds. While I'm not a fan of the heat, I do love summer! There's just something about the freedom from regular schedules, the sound of kids splashing in the pool and the long evenings-it makes me smile. Try a quick batch of Patriotic Pretzel Bites for your summer BBQ's and pool parties!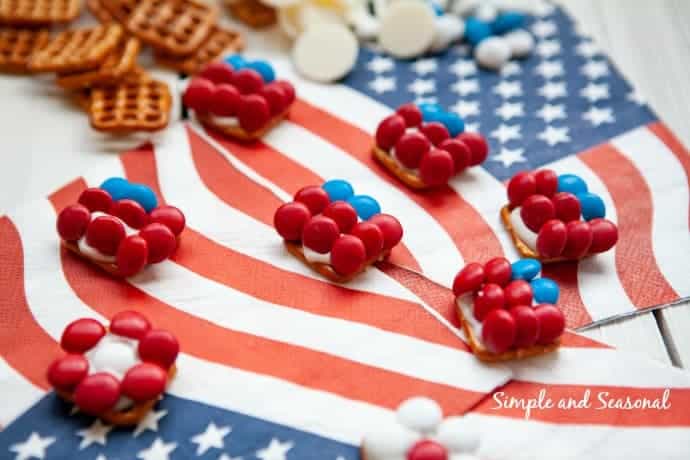 You only need three ingredients to make these 4th of July treats! I like them because they are sweet and salty all rolled up into one bite. Our family likes to have trays of easy treats like this when we get together. A platter of fresh fruit, a bowl of chips and a plate of patriotic pretzel bites-BAM! I just planned your next BBQ. Just tell everyone to bring their own meat and you're done. 🙂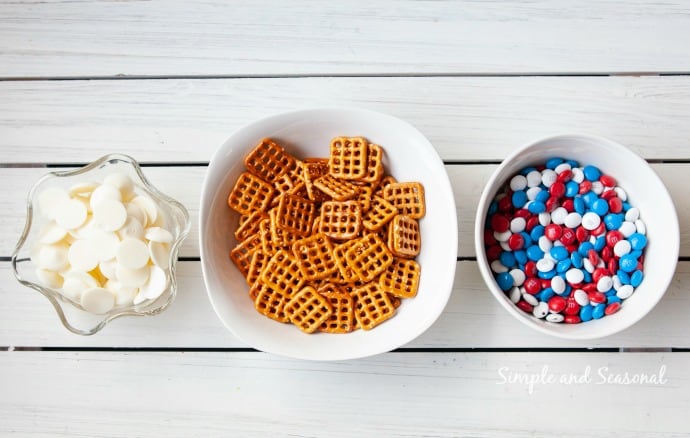 You'll need square pretzel bites, white candy melts and red, white and blue "chocolate candies." Hahaha. We all know what they are, but hey, nobody gets free advertisement around here. 😉 I crack myself up. OK, moving on…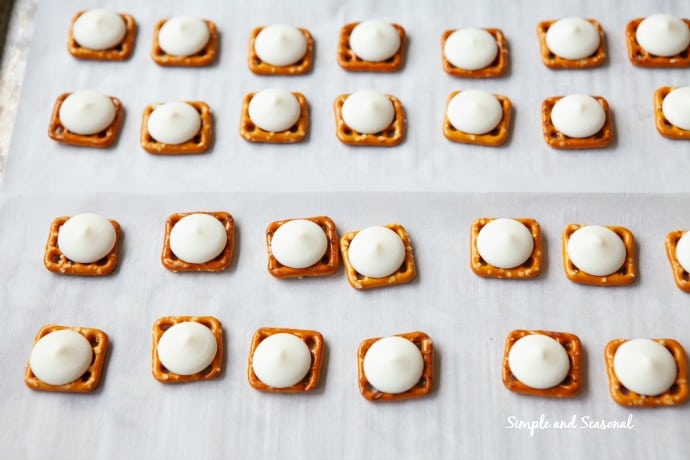 Start with placing the candy melts on top of the pretzels and placing them in the oven for a couple minutes to soften.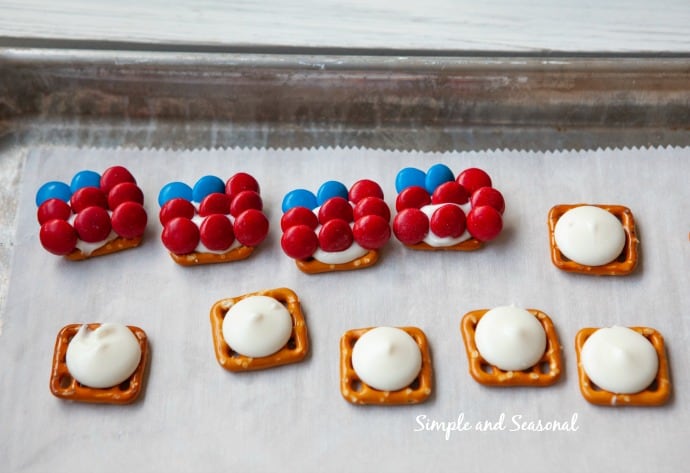 Then it's just a matter of arranging the candies until they are in the shapes that you want (either flags or flowers.)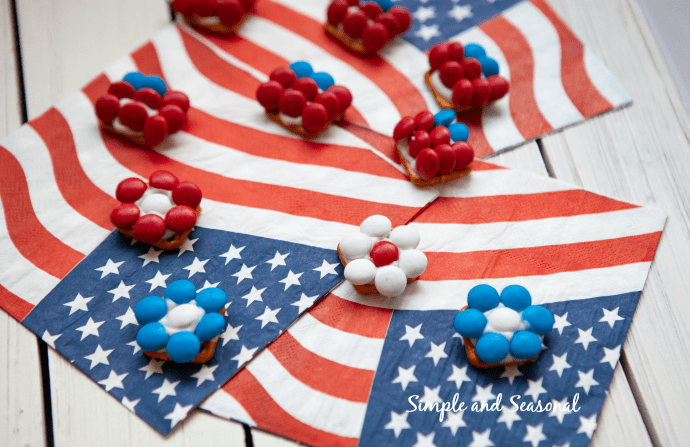 Then all you have to do is let them sit for a few minutes to cool and harden. Ta Da! Patriotic Pretzel Bites! You might remember seeing the Candy Cane Pretzel Bites I made for Christmas as well. I think I might just start making these for every holiday!
Patriotic Pretzel Bites
Add a festive touch to your summer table with these Patriotic Pretzel Bites. Every bite is a combination of sweet and salty!
Ingredients
square pretzels

red, white and blue chocolate candies

white candy melts
Instructions
Preheat oven to 200 degrees.

Line a baking sheet with parchment paper.

Place pretzels on the baking sheet to form rows. Put a white candy melt in the center of each pretzel. Place the tray in the oven for about 2 mins, or until the candy melts are soft. Watch carefully.

Arrange candies to look like a flag by placing them at a 45 degree angle. Arrange the candies to look like a flower by placing them flat down starting with the center and then going around.

Let sit for about ten minutes to harden. Enjoy!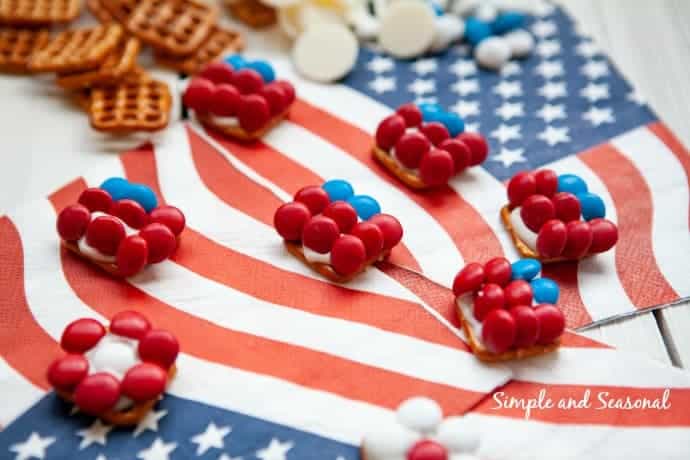 Aren't they cute? This is a great recipe to let the kids get involved in as well. Use their little fingers to get those tiny candies in place. It's also a great opportunity to talk about the flag, our nation's history and why we celebrate Independence Day.
Don't forget to pin these Patriotic Pretzel Bites for later!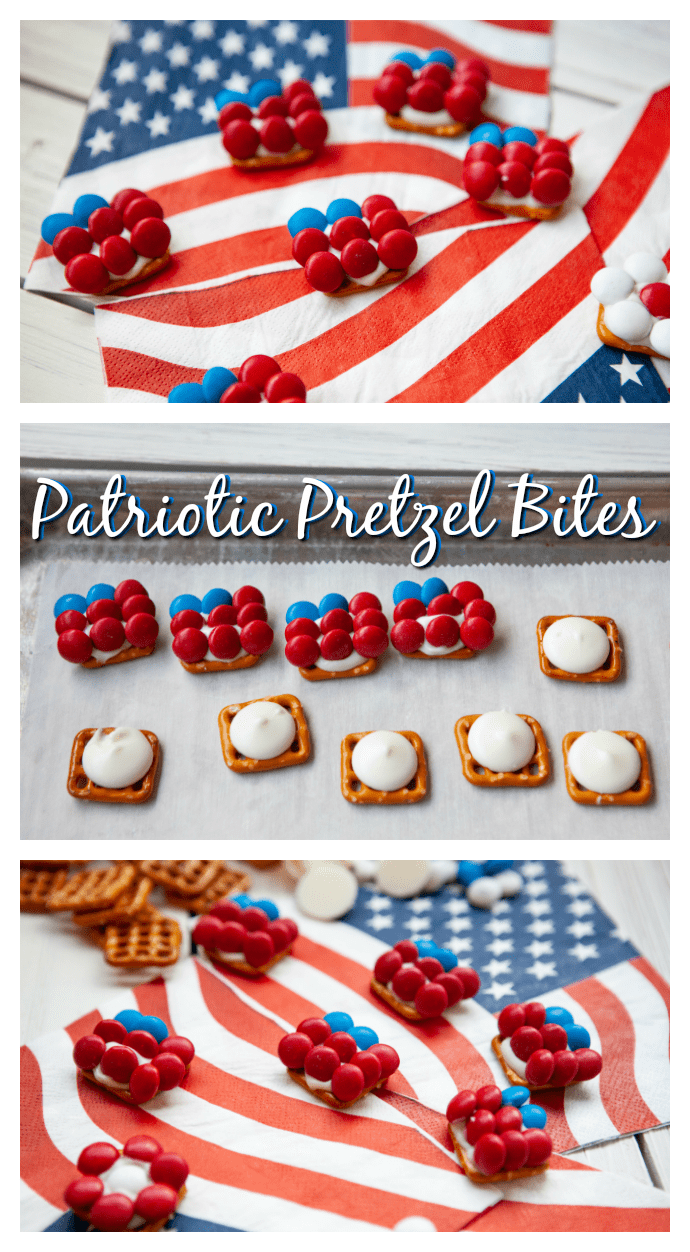 Click here for more great ideas for 4th of July and other patriotic holidays!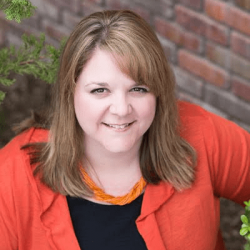 Latest posts by Nicole Burkholder
(see all)