This post may contain affiliate links. Please see my full Disclosure Policy for details.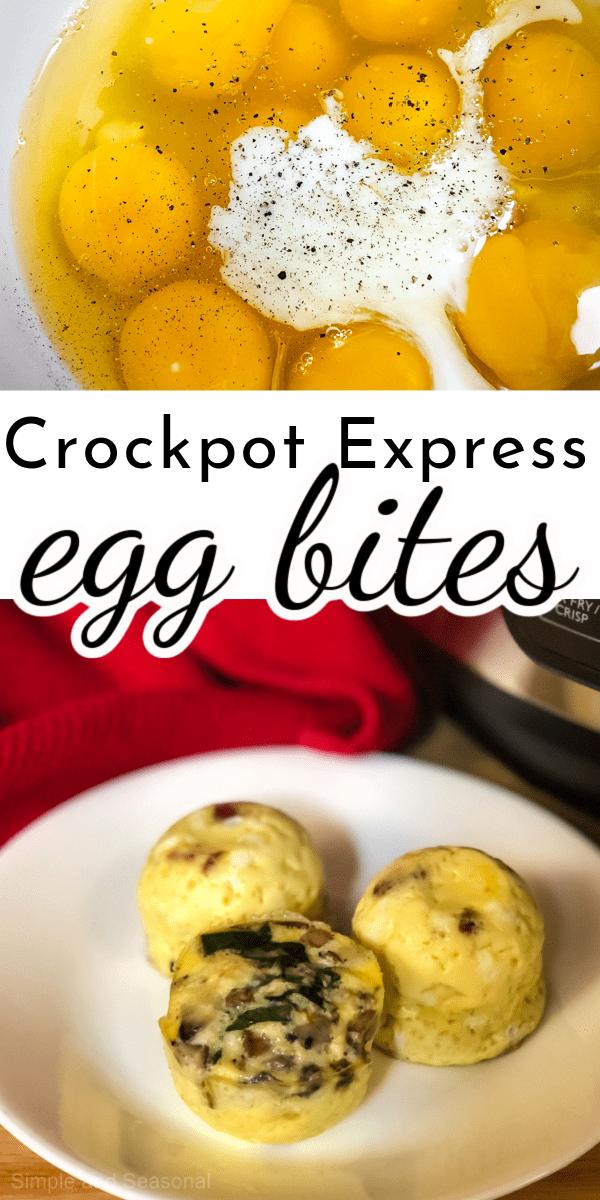 Crockpot Express Egg Bites are a healthy and satisfying breakfast! Customize with your favorite breakfast flavors.
OK, so I'm posting these Crockpot Express Egg Bites with a caveat: they aren't my best work. 😉 The egg bites themselves are great, don't get me wrong! But my decision to post was a last minute thing and I really didn't feel like pulling out my camera and setting up my little "studio" in the garage.
So please forgive the less-than-stellar photography here. I literally just pulled my phone out of my pocket and snapped a few quick pictures as I completed each step. I figured they were better than nothing, right? 🙂
I haven't posted egg bites, even though I've been using my Crockpot Express for over 3 years and posted probably 100 recipes for it. I guess it's time to add these to my list of Crockpot Express Recipes!
Here's what I do every week for my husband's breakfast. You can use the recipe as a general guide and then adjust to your tastes!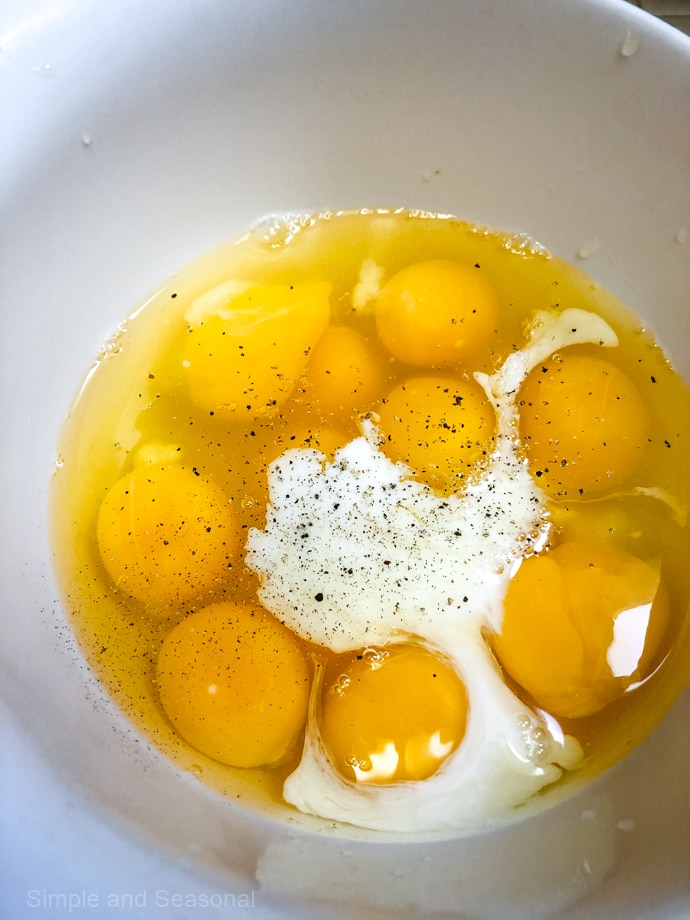 Crack a dozen eggs into a bowl and add a splash of heavy cream and salt and pepper to taste. It helps if you have a mixing bowl with a pouring spout like this one! I love my OXO bowls!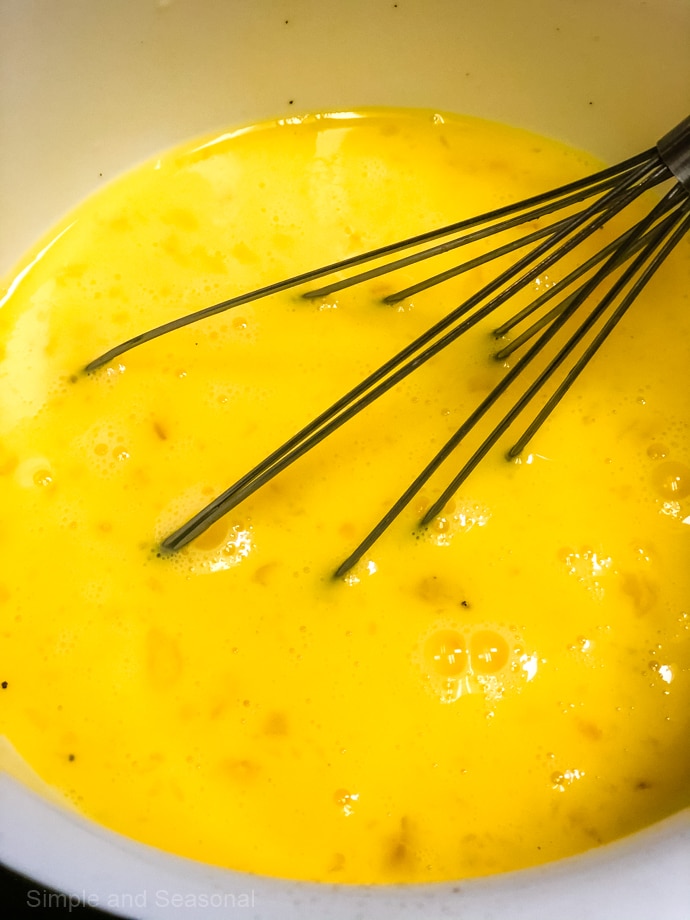 Whisk to mix thoroughly and break up the yolks. You want it as smooth as possible so it's easy to pour evenly into the egg bites mold.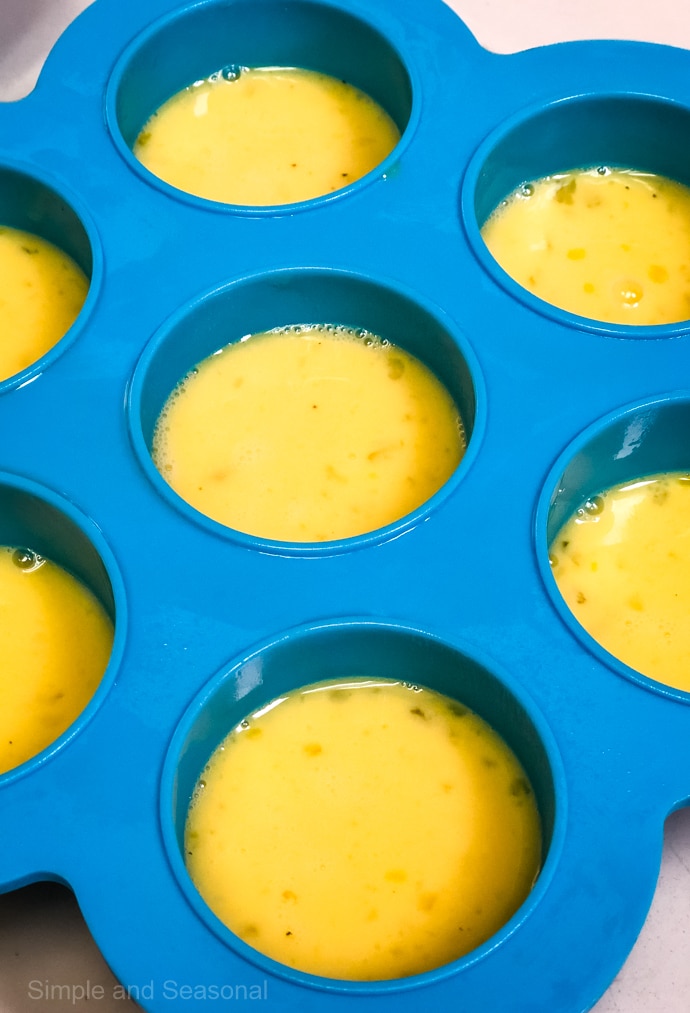 Spray 2 silicone egg bite molds with nonstick cooking spray (make sure you do a good job of this!) As evenly as possible, pour the egg mixture into the molds until each one is about 2/3 full. You can cook one batch at a time if you only have one silicone mold, but it's so much faster and more convenient to get them all done at once!
More ways to use an egg bite mold (see, you need to get some!)
Baby food purees, brownie bites, cake bites…the list goes on and on!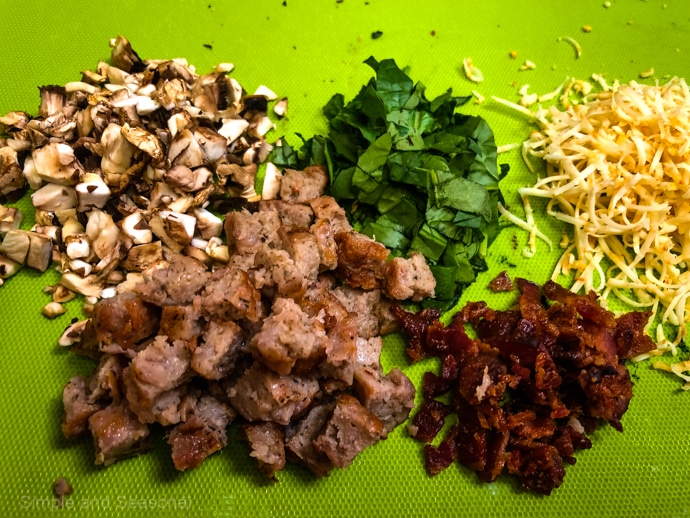 Now add your fillings! I used to stir the fillings directly into the mixture, but it was impossible to get it divided between the egg bites. The first few would be almost all egg, and the last several would be all filling. Now I pour the egg mixture first, and then work around the mold, adding a little of each item to each cup.
I like to use different veggies, but my husband's favorite are mushrooms and spinach. You can skip the meat and egg bites are still great, but they are much more satisfying with a bit more protein. This time I used a couple sausage links and one strip of bacon. (You don't need much at all!) Lastly, top with cheese.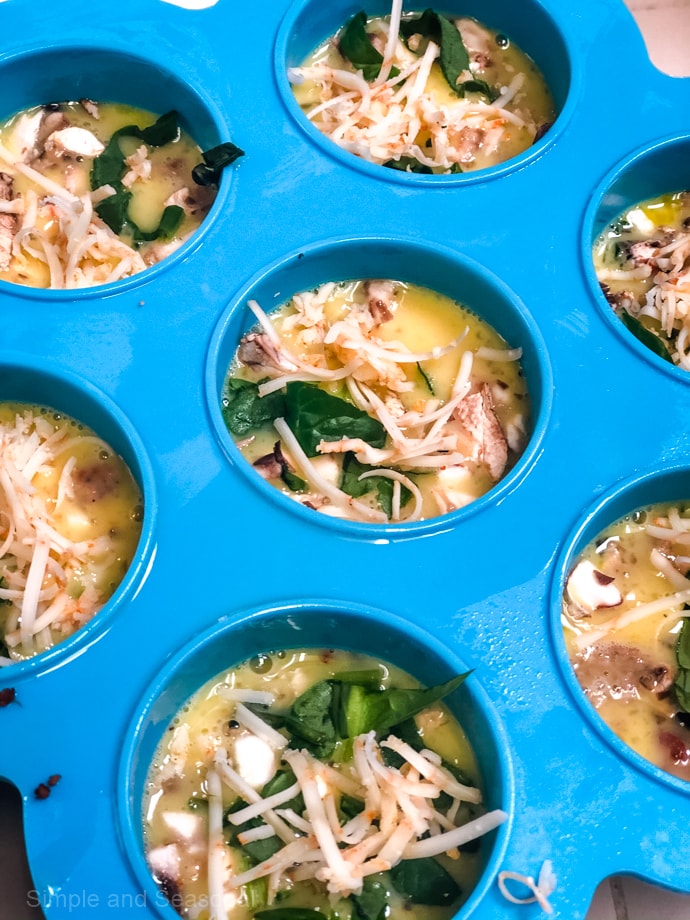 Once you've added all your fillings, gently press down with a fork or spoon to get the filling into the egg mixture. Most of it is going to float at the top, no matter what, but this does help integrate them a bit.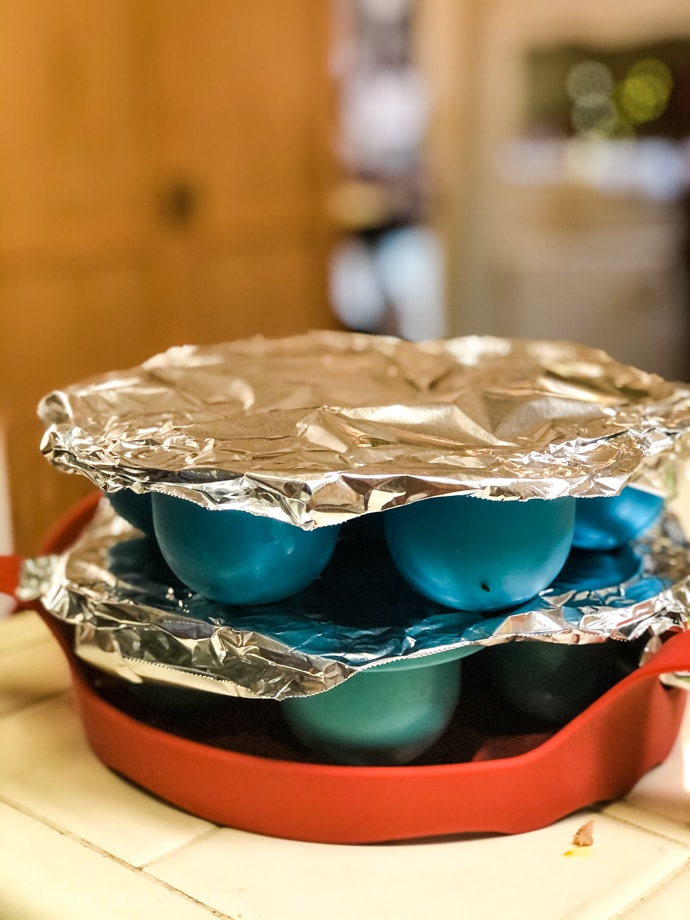 Now it's time to cook! Cover each mold with foil (don't use the lid that comes with the mold unless it's listed as a food-safe silicone lid) and then stack on top of each other. Turn the top mold just a bit so the cups aren't lining up. Stack on top of a trivet with handles for easy removal after cooking.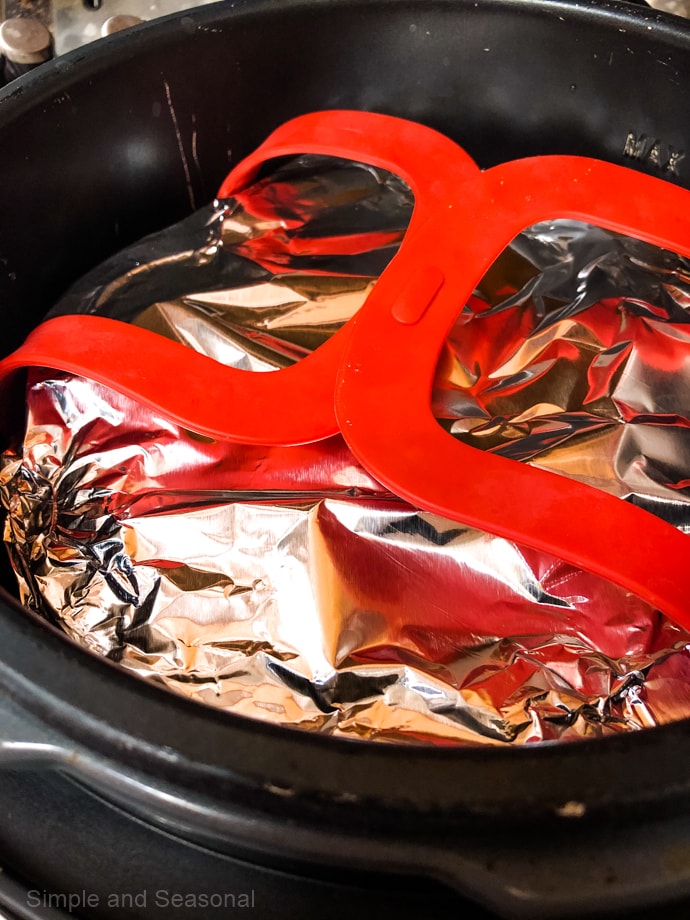 Add 1 cup of water to the Crockpot Express and then lower the trivet into the pot. Close and lock the lid, and set the time to whatever you prefer for eggs. My husband prefers them to be as soft/undercooked as possible because it keeps them from getting too dry when you reheat them in the microwave.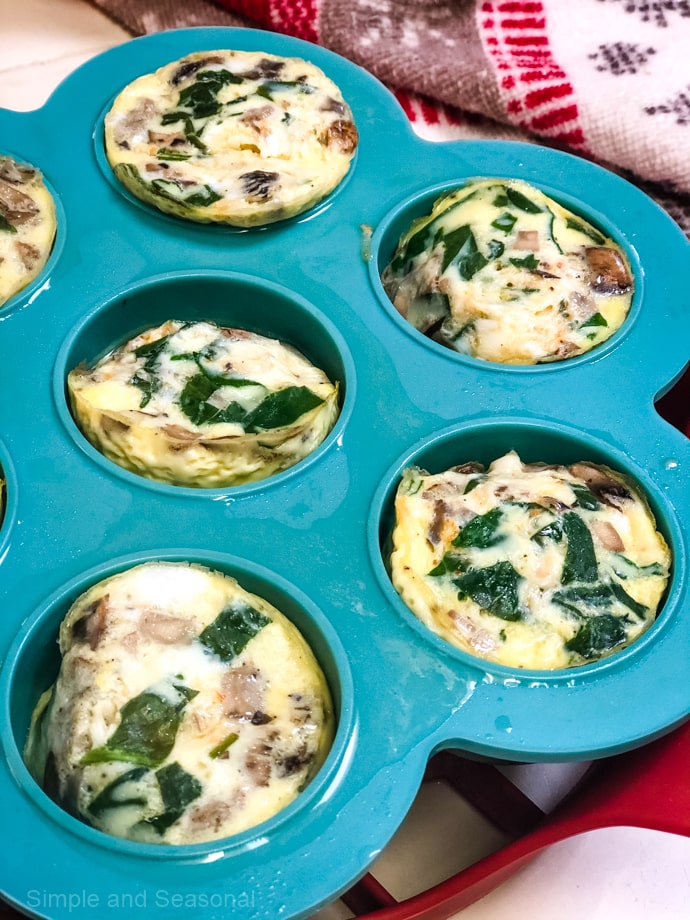 When they first come out of the pot, the eggs will be puffy and several may have risen above the edge of the cups. Just uncover and allow them to cool for a bit in the cup. They will sink back down.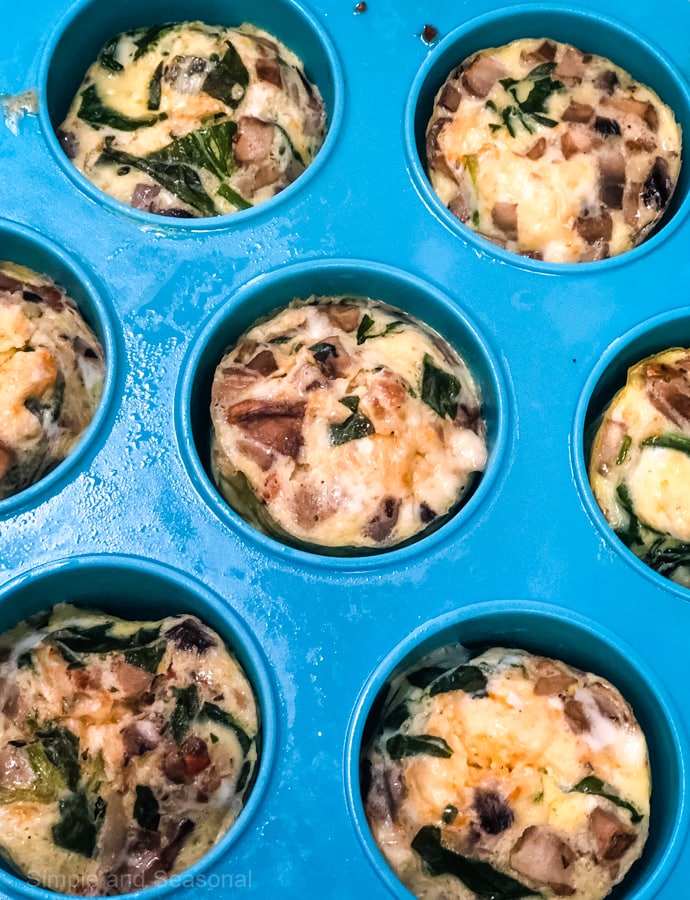 See? They shrink back down and pull away from the sides for easy removal. Most of the silicon molds from Amazon also come with a handy tool for removing things. This is the one that I have from Amazon. If you don't have the little spoon, just a regular one will work fine.
Lastly, just pop on the plastic cover that came with the mold and store the Crockpot Express Egg Bites in the refrigerator for up to a week! Reheat in the microwave for 30-60 seconds.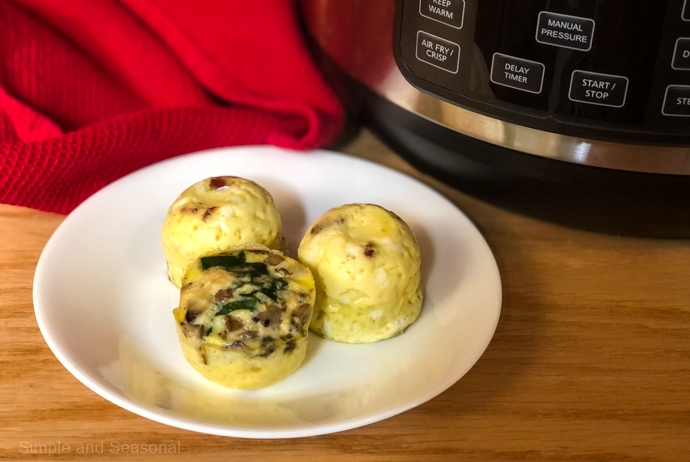 My husband likes to eat two bites with a slice of toast every morning for breakfast. It's a healthy meal that's low in calories and high in protein. And the best part is I only have to work once a week and his breakfasts are done!
Crockpot Express Egg Bites
Make your mornings easier with these healthy and satisfying Crockpot Express Egg Bites!
Ingredients
12

eggs

1

tbsp

heavy cream

or milk

salt and pepper

to taste

2

breakfast sausage links

cooked and chopped

1

slice

bacon

cooked and chopped

2

tbsp

chopped mushrooms

1

tbsp

chopped spinach

fresh

1/4

cup

shredded cheese
Instructions
Prepare the egg bites molds by spraying each cup with nonstick cooking spray

In a small mixing bowl, whisk together the eggs, cream, salt and pepper

Pour the egg mixture into the prepared molds

Evenly divide the meats and vegetables between all 14 cups. Use a spoon to press the fillings down into the mixture

Cover each mold with foil and stack them on a trivet with handles.

Add one cup of water to the inner pot and lower the trivet with the molds down into the pot.

Close and lock the lid, turning the steam release valve to closed. Press Steam (or manual/high pressure) and adjust the time down to 6 minutes. Press Start/Stop.

When the time is up, do a quick release and remove the molds right away. Uncover and allow the egg bites to cool and sink back down into the molds. After 10 minutes or so, cover and place in the refrigerator.

To reheat, remove the egg bites from the mold and place on a plate. Microwave for 30-60 seconds. Store egg bites in the refrigerator for up to a week.
Notes
For a more even distribution of fillings, do not stir them into the egg mixture first. Pour out the eggs and then add the filling
Do NOT use the plastic lid on the egg bites for cooking. Use only for storage. 
If you only have one mold, cook one batch, remove the bites after cooling and then cook the next. However, if the pot is still warm, it will preheat more quickly so cook time may need to be increased by a minute or two.
Nutrition
Calories:
80
kcal
|
Carbohydrates:
1
g
|
Protein:
6
g
|
Fat:
6
g
|
Saturated Fat:
2
g
|
Cholesterol:
146
mg
|
Sodium:
96
mg
|
Potassium:
75
mg
|
Fiber:
1
g
|
Sugar:
1
g
|
Vitamin A:
332
IU
|
Vitamin C:
1
mg
|
Calcium:
32
mg
|
Iron:
1
mg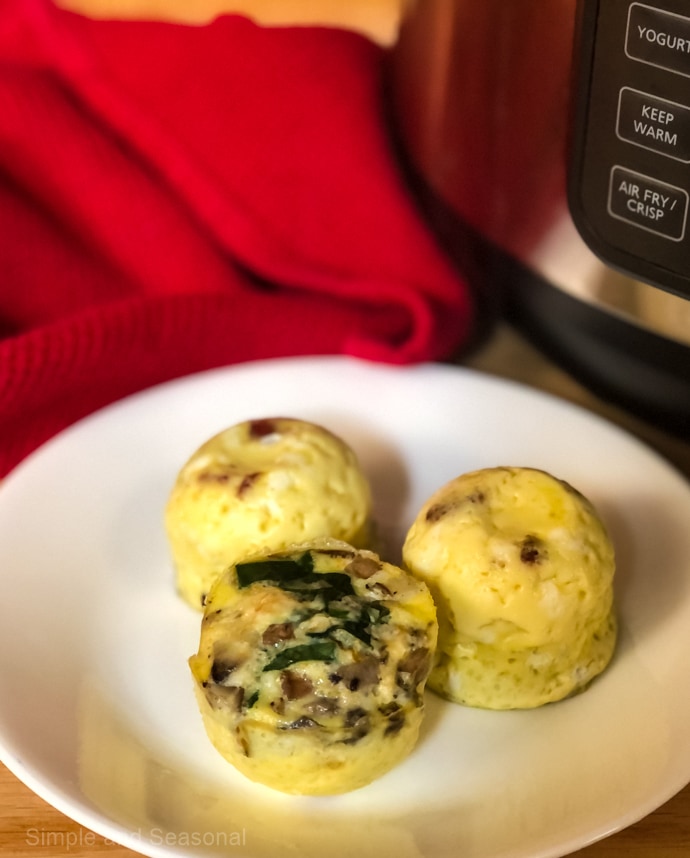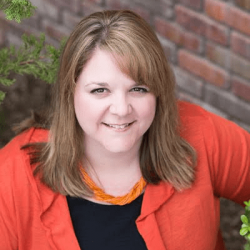 Latest posts by Nicole Burkholder
(see all)