This post may contain affiliate links. Please see my full Disclosure Policy for details.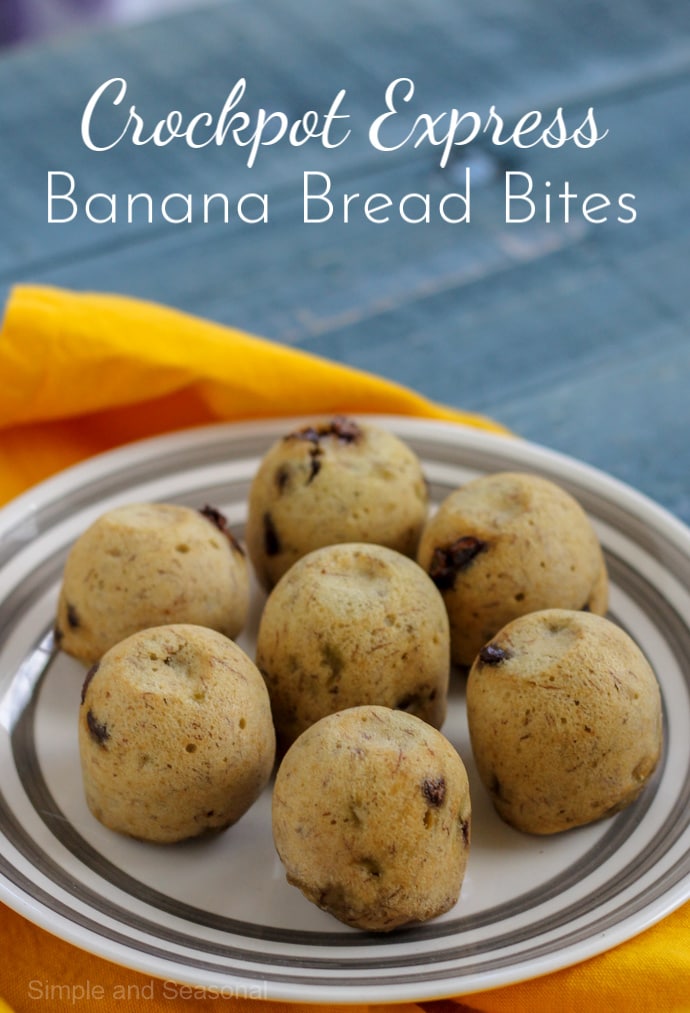 Crockpot Express Banana Bread Bites are an "on the go" breakfast made right in the pressure cooker! It's a perfect 1 banana bread recipe.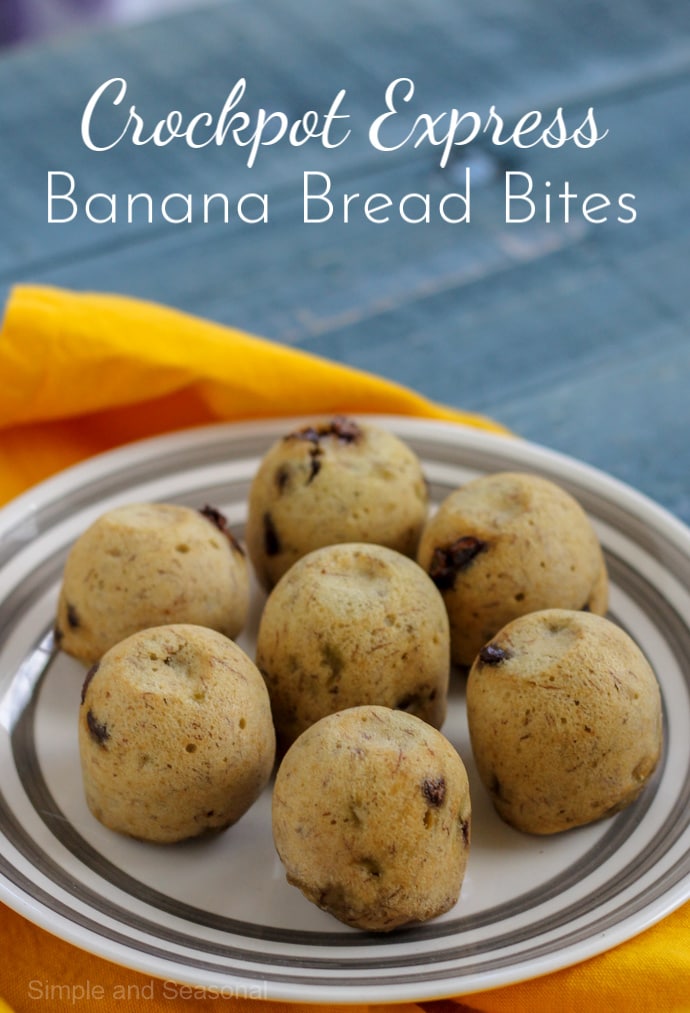 The other day I was making banana bread the old fashioned way (you know, in the actual oven) 😉 but I had one overripe banana left. Don't you hate that?
We either have NO bananas, green bananas, or a few lonely, overripe and neglected bananas. Since I recently purchased a silicone egg bites mold, I figured I would try my luck at Crockpot Express Banana Bread Bites!
They went straight to the list of successful and delicious Crockpot Express Recipes.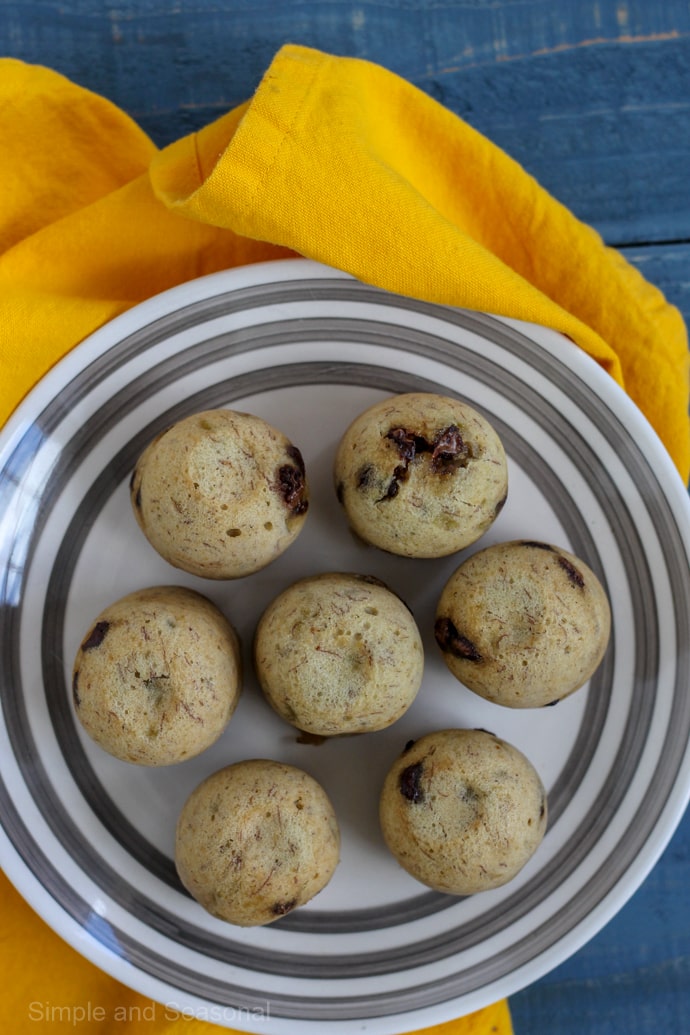 I started with my recipe for Crockpot Express Banana Bread and then cut it down to fit the smaller size of the egg bites mold. It was the perfect way to use up that last banana and make a little muffin-sized treat for breakfast.
It would be fine to bake it the traditional way, too. Just consider this a 1 banana bread recipe. It's possible to make banana bread with one banana. It's just a smaller loaf, so use a smaller loaf pan.
Or try them in your Crockpot Express instead. Your choice!
Crockpot Express FAQ's
What is natural pressure release, and when should I use it?
NPR simply means after the cooking cycle is complete, let the Crockpot Express naturally release pressure through the bobber valve. This starts automatically as soon as it's done cooking. Always use NPR when cooking meats or things like soup that might splatter. See more here: 10 Things I Wish I'd Known Before Using my Crockpot Express
Is it normal for steam to come out of the bobber valve while it's heating up?
Yes. Some steam will be released from the valve as it comes to pressure. Usually, the HEAt display will go off and switch to the timer countdown within 1-2 minutes of the steam releasing from the valve.
Can you cook frozen food in the Crockpot Express?
Yes! It's perfectly safe to cook frozen meat in the pressure cooker. However, it will take longer for the pot to preheat and begin cooking. For best results, always thaw meat first. But in a pinch, cooking from frozen will work.
My display says E6 Error. What does that mean?
The E6 error is similar to the "burn notice" on the Instant Pot. Typically, it means there's not enough liquid and the pot. You can read more about the Crockpot Express E6 Error here.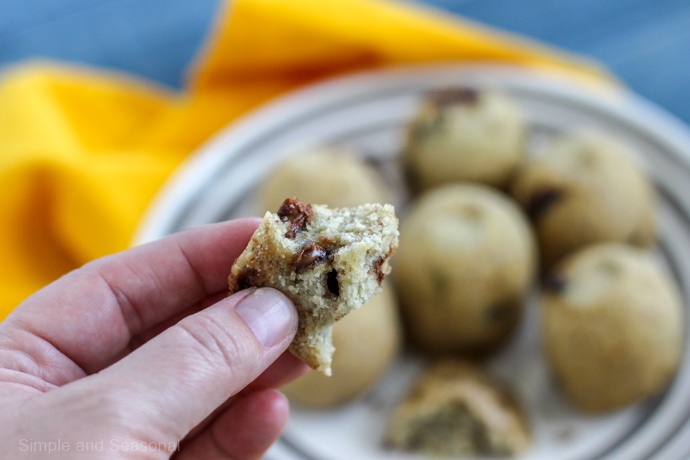 Honestly, I still prefer banana bread (and most baked goods) made in the oven. The light texture and crunchy crust is only possible in the dry heat of the oven.
However, this is such a quick way to make up a few treats and it doesn't heat up the whole house, which is a huge bonus as the weather gets warmer!
The texture for these bites was dense and a little chewy, but not unpleasantly so. My kids gobbled them up! They kept saying they tasted like chocolate chip cookies.
I'm fairly certain that's due to the fact that I added chocolate chips into the batter. 😉 Try freezing them to enjoy all week for breakfast! One of these banana bread bites and some Crockpot Express Yogurt would make for a great breakfast!
Crockpot Express Banana Bread Bites
Crockpot Express Banana Bread Bites are a perfect "on the go" breakfast made right in the pressure cooker!
Ingredients
1

cup

flour

3/4

tsp

baking powder

1/8

tsp

baking soda

1/8

tsp

cinnamon

pinch

salt

1

egg

1/2

cup

mashed bananas

1 med/lg banana

1/3

cup

sugar

2

tbsp

cooking oil

2

tbsp

chopped nuts

optional

2

tbsp

chocolate chips
Instructions
In a medium mixing bowl, combine flour (use a spoon to add flour to measuring cups and then level), baking powder, baking soda, cinnamon and salt. Make a well in the center and set aside.

In another bowl, combine the egg, mashed bananas, sugar and oil. Add the wet mixture all at once to the well in the middle of the dry mixture.

Stir just until moistened (batter should be lumpy) and fold in nuts and chocolate chips if desired.

Spoon batter into prepared pan. Lightly cover the pan with a paper towel and then cover with foil.

Pour 1 cup water into the Crockpot Express inner pot. Place trivet in the pot. Using an aluminum foil sling, lower the spring form pan into the Crockpot Express and set onto the trivet. (You can also use a handled trivet)

Make sure the steam release valve is closed. Press Beans/Chili (defaults to 20 on High) and then Start. Once pressure has released naturally for 5 minutes, release any remaining pressure and remove from the pot. Remove the aluminum foil cover and turn the mold over to remove the bites.
Nutrition
Calories:
196
kcal
|
Carbohydrates:
29
g
|
Protein:
3
g
|
Fat:
7
g
|
Saturated Fat:
1
g
|
Cholesterol:
24
mg
|
Sodium:
35
mg
|
Potassium:
132
mg
|
Fiber:
1
g
|
Sugar:
13
g
|
Vitamin A:
45
IU
|
Vitamin C:
0.9
mg
|
Calcium:
37
mg
|
Iron:
1.2
mg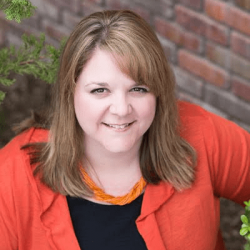 Latest posts by Nicole Burkholder
(see all)