This quick and easy recipe for Cheesy Chicken Rollups will make life a little easier and a whole lot tastier! With fewer than 5 ingredients, it's bound to become a weekly favorite!
This is a sponsored post written by me on behalf of RAGÚ® Pasta Sauce. All opinions are entirely my own.
Around here, "quick and easy" is the name of the game. Spending time in the kitchen is enjoyable for me, but during the week, I often don't have that luxury. I practically live in my car these days. My husband got a new job, so the school drop-off and pick-up has fallen back on my shoulders. It wasn't so bad when we were splitting the task, but now having three kids in three different schools is a little insane. The pick-up "circuit" takes me an hour and a half! By the time we get home, it's already time for homework and dinner. So, for the next couple months until school is out, I'm sticking with slow cooker meals, lots of freezer meals, batch cooking and quick dinners like these Cheesy Chicken Rollups.
Not counting the spices for the chicken, there are only 4 ingredients in this recipe! How's that for easy?!? I make Meatball Pockets for my boys all the time, and that's where I got the idea for these "rollups." Instead of using red sauce and a meatball, I'm using RAGÚ Roasted Garlic Parmesan sauce and chicken. It helps that my boys will literally eat anything if it's wrapped in crescent roll dough. Seriously.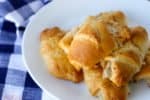 Cheesy Chicken Rollups
Ingredients
1

large chicken breast

flattened to 1/2" thickness and cut into strips

salt

pepper and Italian seasoning to taste

2

tubes crescent roll dough

1/2

cup

RAGU Roasted Garlic Parmesan Sauce

1

cup

mozzarella cheese
Instructions
Flatten the chicken breast and cut into strips.

Season with salt, pepper and Italian seasoning and cook in olive oil until golden brown on both sides (about 3 minutes each side.) Set aside.

Unroll the crescent roll dough and separate into triangles.

Spread about 1 tbsp of sauce over each triangle.

Place one or two strips of cooked chicken on the wide end of each triangle.

Sprinkle with cheese.

Roll up each triangle from the wide end to the narrow and place on a baking sheet.

Bake according to package directions until golden brown.
Serve with salad for a quick and easy meal or alone as an appetizer. To make this even easier, try using leftover cooked chicken or a grocery store rotisserie chicken. That literally cuts down the prep time to under 10 minutes, which means you can have dinner on the table in about 20 minutes total. Winner winner, chicken dinner!!!
Be sure to download the coupon for $0.55 off TWO RAGÚ 16-24oz and $0.50 off ONE RAGÚ 45oz at Family Dollar. (You can find all the tasty varieties in the pasta sauce aisle.) That will make this meal hit the trifecta: quick, easy AND inexpensive!
If you like these Cheesy Chicken Rollups, you'll like the other easy dinner ideas you can find when you follow the hashtag #RaguWeeknightTradition on your social media channels!