This post may contain affiliate links. Please see my full Disclosure Policy for details.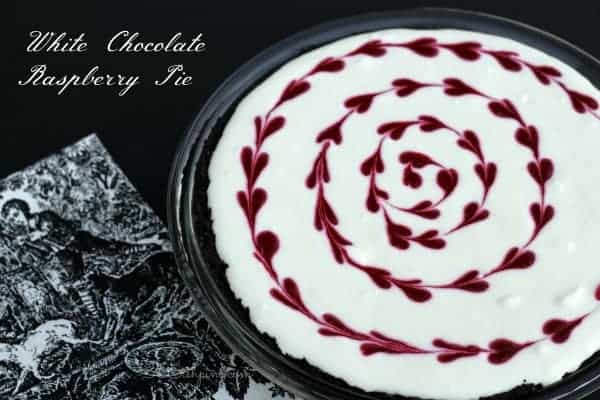 Today I'm going WAY off script. I did NOT find this recipe on Pinterest. *GASP* I was perusing my latest Family Circle magazine and they had a collection of fantastic desserts for Valentine's Day. When I saw the words "white chocolate" I was pulled in immediately. This was more of a "from scratch" and involved recipe than I would usually do ,but it was worth it, don't you think? It is so pretty and just in time for Valentine's Day!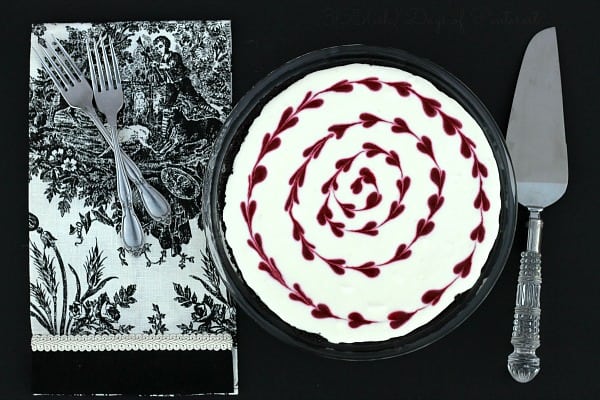 White Chocolate Raspberry Pie
Ingredients
18 OREO cookies
3 tbsp butter, melted
5 tbsp sugar
3 tbsp cornstarch
1 bag (12 oz.) frozen raspberries, thawed
1 1/2 tsp gelatin
1/8 tsp salt
2 cups whole milk
6 oz white chocolate, finely chopped
1 cup whipped topping, thawed
Instructions
Place cookies in a food processor and chop finely. Add the melted butter and pulse until evenly blended. Press into the bottom and up the sides of a 9″ pie plate. Refrigerate until filling is ready.
Combine 2 tbsp of the sugar and 1 tbsp of the cornstarch in a small saucepan. Stir in thawed raspberries and 2 tbsp water. Bring to a boil over medium heat. Cook for 3 minutes until dark red and thickened. Strain out seeds and cool completely. (straining the seeds was a bit more complicated than it sounds. I poured the sauce over cheesecloth and strained it that way, but it takes some real patience!)
Whisk remaining 3 tbsp sugar and 2 tbsp cornstarch, the gelatin and salt in a saucepan. Gradually whisk in milk until smooth. Cook over medium heat, stirring constantly until the pudding thickens and begins to bubble around the edges. (about 5 minutes, which only seems like an eternity.) Remove from heat and stir in white chocolate. Let cool 30 minutes at room temperature, then stir in whipped topping. Pour into prepared crust, smoothing the top.
Transfer raspberry sauce to a small piping bag. Snip off the tip. Pipe dots of raspberry sauce in a continuous spiral (I messed this up and starting with a circle on the outside, but it still works.) Run a toothpick through the drops in one direction to create hearts. Refrigerate for at least 4 hours or overnight, until firm. Cut and serve cold.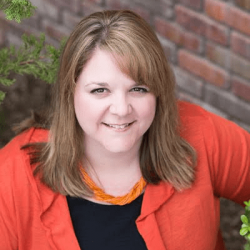 Latest posts by Nicole Burkholder
(see all)