For me, the hardest part of planning Thanksgiving or Christmas dinner is the sides. There are so many to choose from, but we often get in a rut and just make the same old thing year after year. I was listening to a podcast by Alton Brown and he said that it's just not Thanksgiving at his house without certain dishes. He began to list them off and he determined that NINE side dishes are necessary! 🙂 I think he was counting gravy as its own dish, but still…nine?!? Then again, maybe he's right. We must have a potato of some kind (preferably mashed) and it would be blasphemy to miss out on dinner rolls of some kind. Then there's the warm vegetable side like green beans or green bean casserole, sweet potatoes for those who like them (blech) and a salad of some kind. Our family loves sweet broccoli salad. My husband's family makes this orange jello salad every year. He hates it, but it's always on his plate because, well, it's just not the holidays without it! 🙂 Hopefully this very comprehensive collection of side dishes will inspire you to try something new! My contribution to the collection is this tangy, sweet, slightly spicy cranberry salsa. It's colorful and beautiful and it's way better than cranberry sauce from a can!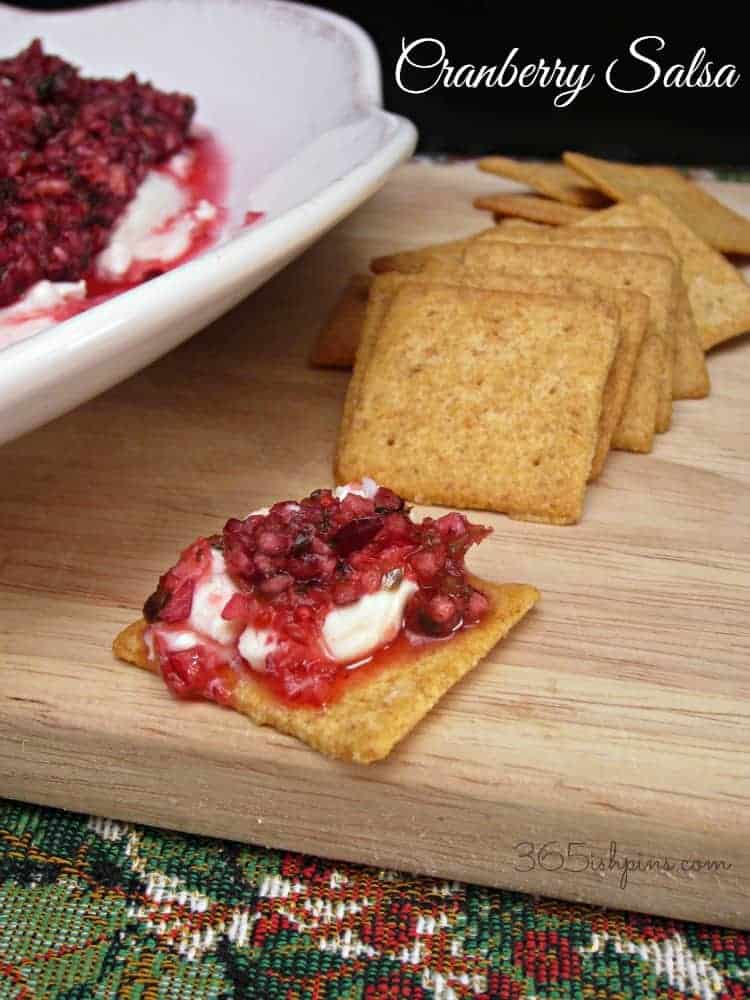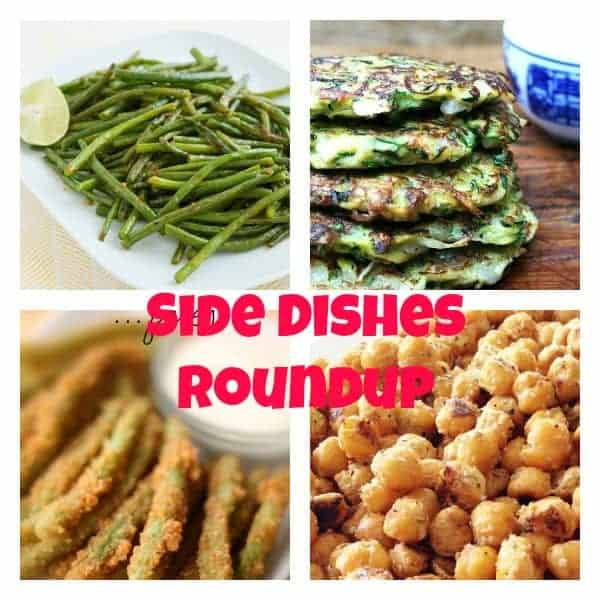 Parmesan & Rosemary Roasted Chickpeas by Skinny Mom
Zucchini Fritters with Tzatziki by Alexandra Cooks
Green Bean Fries by Six Sisters Stuff
Chili Garlic Green Beans by Oh My Veggies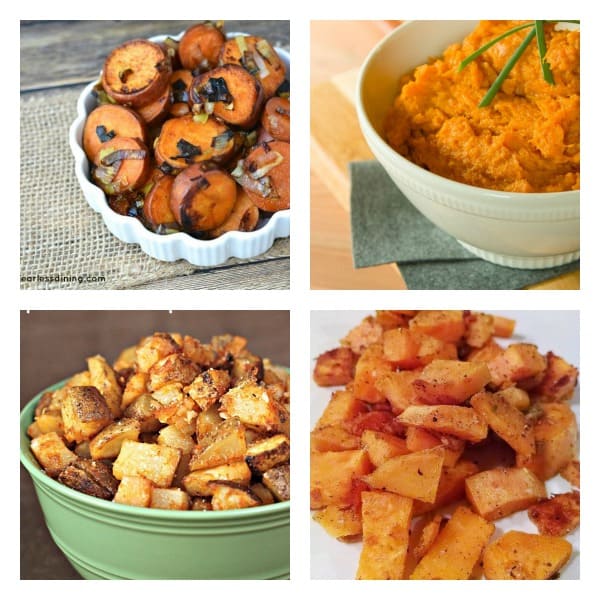 Roasted Parmesan Potatoes Recipe by Six Sisters Stuff
Sweet Potato by Fearless Dining
Chipotle Maple Mashed Sweet Potatoes by Life Currents
Roasted Parmesan Sweet Potatoes by Audre's Apron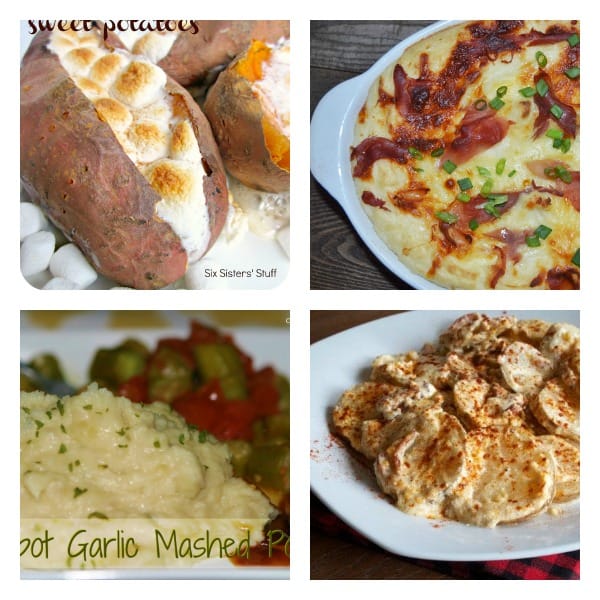 Loosen Your Belt Mashed Potato Casserole by Bakeaholic Mama
Cheesy Bacon Scalloped Potatoes by The Magical Slow Cooker
Crockpot Garlic Mashed Potatoes by Crystal and Comp
Loaded Baked Sweet Potatoes by Six Sisters Stuff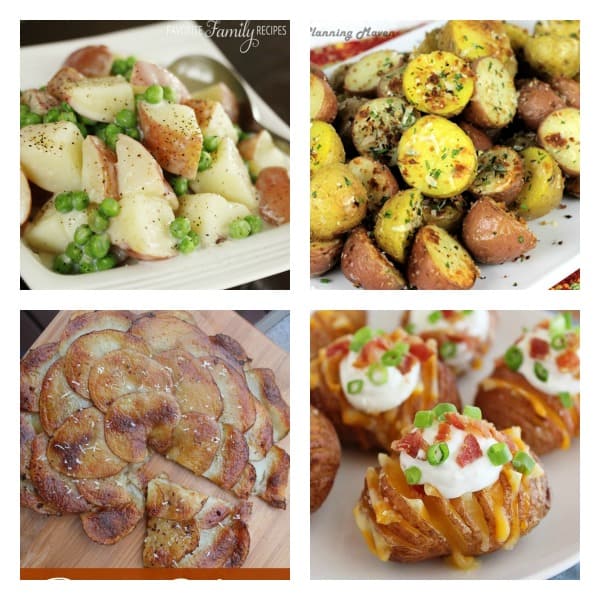 Potato Galette by Foody Schmoody Blog
Crispy Loaded Hasselback Potato Bites by Georgia
Creamy Potatoes & Peas by Erica
Parmesan Crunch-Top Potatoes by Meal Planning Maven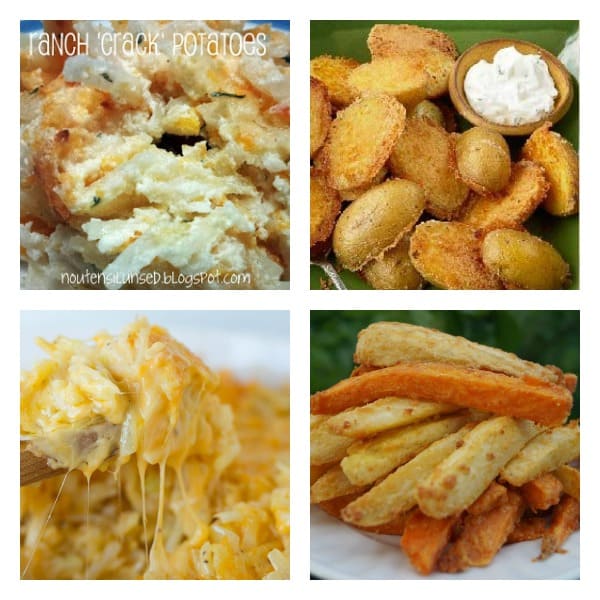 Cheesy Hashbrown Casserole by Table for Two Blog
Crispy Parmesan Baked Potatoes by Kraft Recipes
Baked Parmesan Sweet Potato Fries by In The Kitchen With Jenny
Ranch Crack Potatoes by No Utensil Unused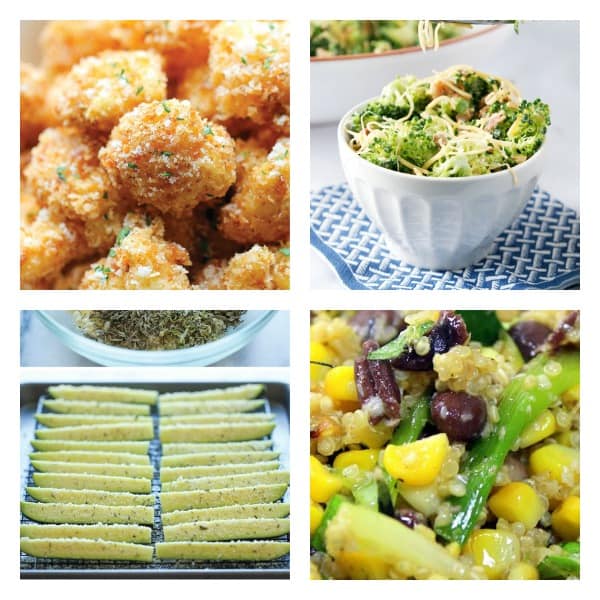 Parmesan Cauliflower Bites by Damn Delicious
Sweet Broccoli by Living Better Together
Black Bean Quinoa Salad by eRecipe Cards
Baked Parmesan Zucchini by Damn Delicious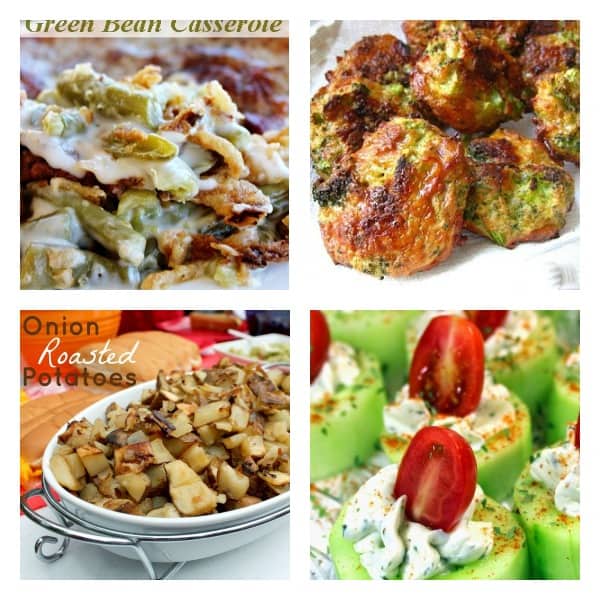 Onion Roasted Potatoes by Today's Taste
Broccoli Bites for Kids by Stacey Snacks
Green Bean Casserole by Memories by the Mile
Cucumber Bites With Herb Cream Cheese by eRecipe Cards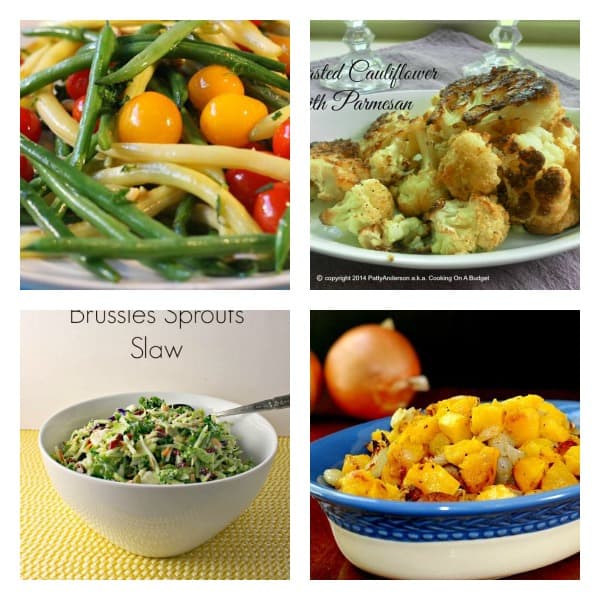 Broccoli, Kale, & Brussels Sprouts Slaw by Renee's Kitchen Adventures
Roasted Cauliflower with Parmesan by Patty Anderson
Roasted Acorn Squash by It's All About the Yummy
String Bean 'n Cherry Tomato Sauté by Meal Planning Maven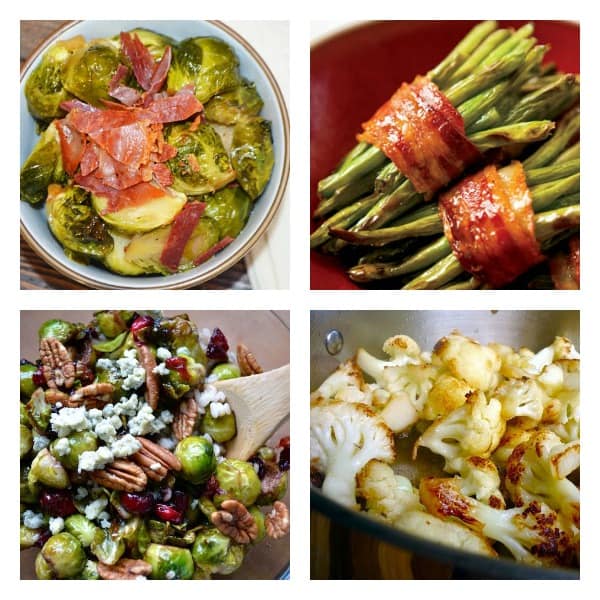 Maple Roasted Brussel Sprouts by Bakeaholic Mama
Bacon-Wrapped Green Bean Bundles by Farm Flavor
Pan Seared Brussels Sprouts with Cranberries and Pecan by Rachel Schultz
Pan-Roasted Cauliflower with Pecans and Raisins by Craving Greens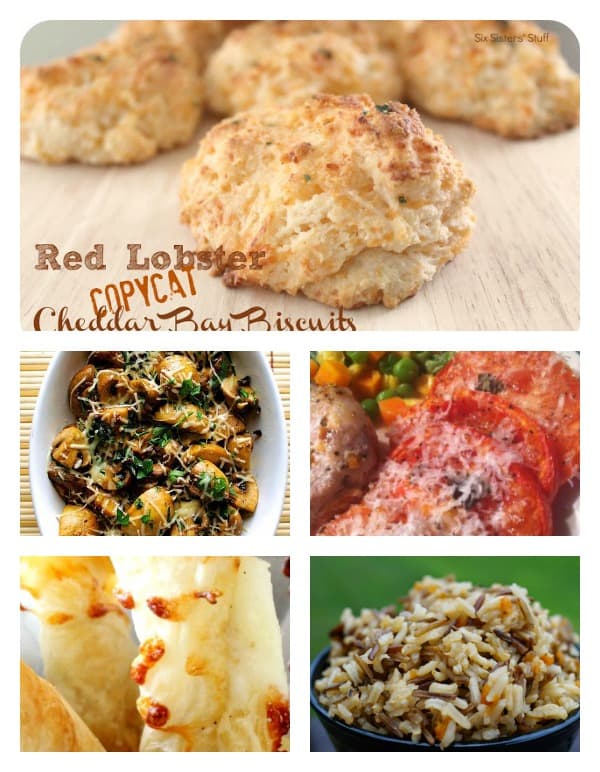 Twisted Cheese Breadsticks by Six Sisters Stuff
Wild Rice Pilaf by In the Kitchen with Jenny
Parmesan Baked Tomatoes by Good Deal Meals
Parmesan Garlic Roasted Mushrooms by My Kitchen Escapades
Red Lobster Cheddar Bay Biscuits by Six Sisters Stuff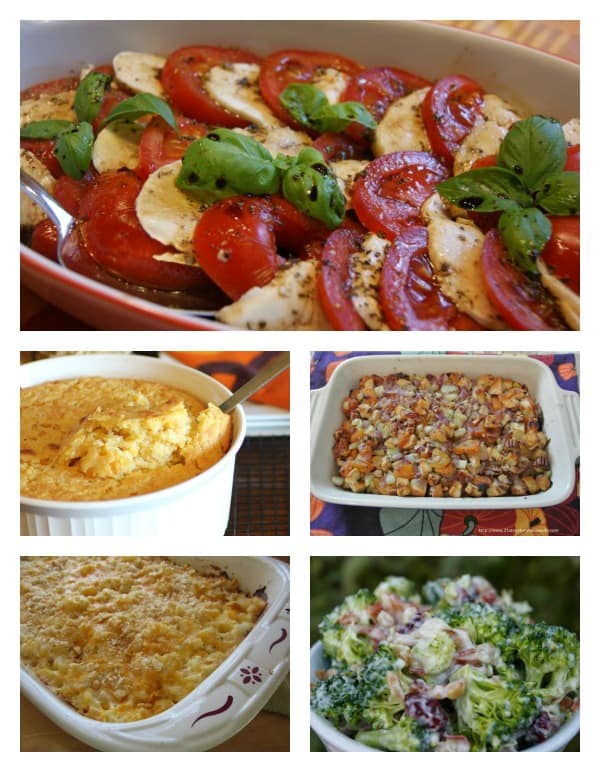 Broccoli Salad by In The Kitchen With Jenny
Caprese Tomatoes Mozzarella and Basil Salad by Ginger Lemonade Spice
Cornbread Casserole by Noshing With the Nolands
Easy and Delicious Thanksgiving Stuffing by April Harris
Hasbrown Casserole by Renee's Kitchen Adventures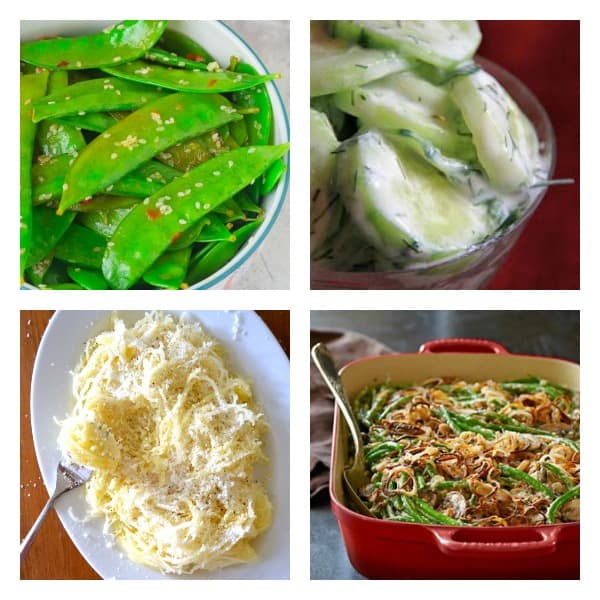 Green Bean Casserole with Crispy Fried Shallots by Williams Sonoma
Spaghetti Squash by Cocina Marie
Phew! Thanks for sticking with me to the end! That's over 50 delicious and beautiful side dishes, worthy of any holiday table! So which ones will you be trying out this season? You know it's time to start planning your Thanksgiving menu! 🙂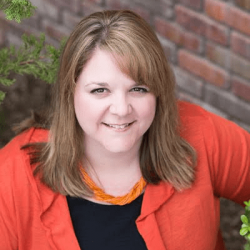 Hi, I'm Nicole!I love chocolate chip cookies, good grammar, and trying new things. Pinterest is my happy place. Come follow me down the rabbit hole!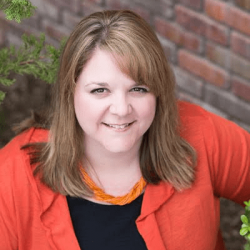 Latest posts by Nicole Burkholder (see all)