This post may contain affiliate links. Please see my full Disclosure Policy for details.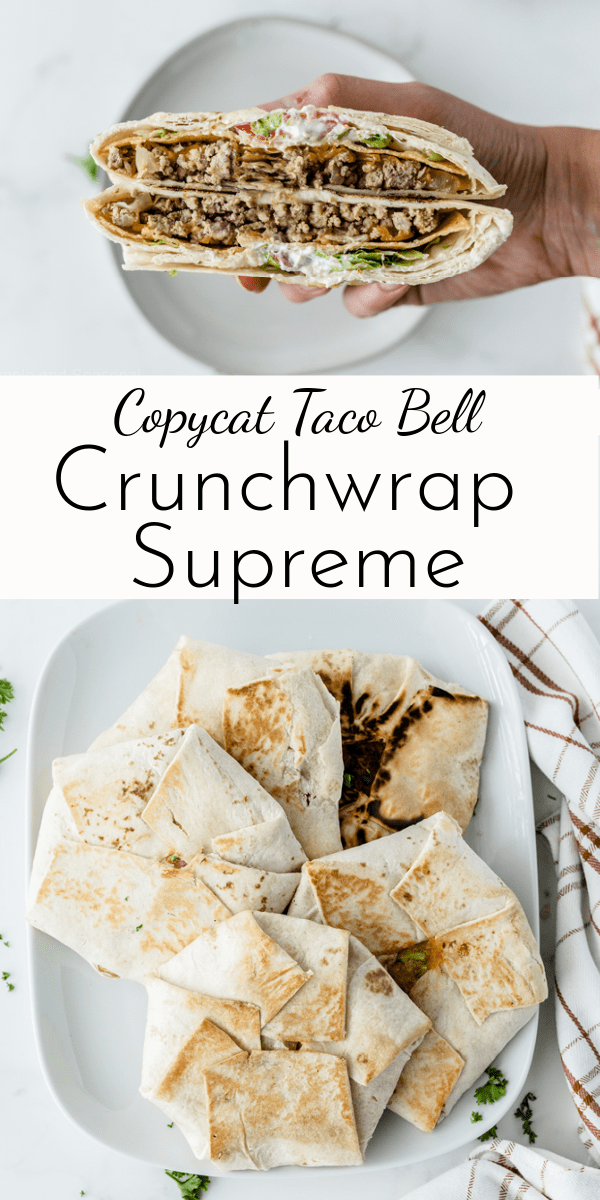 Skip the drive-thru line and make your own Copycat Crunchwrap Supreme at home! Layers of taco meat, cheese, fresh veggies, sauce and a crunchy shell make this a family favorite.

Even though this is a Taco Bell copycat recipe, I'd never had a Crunchwrap Supreme before trying the homemade version. My sister-in-law said that she made them and they tasted just like the ones from Taco Bell, so I had to give it a try myself. I've since tried the fast food version, and personally, I think this Copycat Crunchwrap Supreme is better!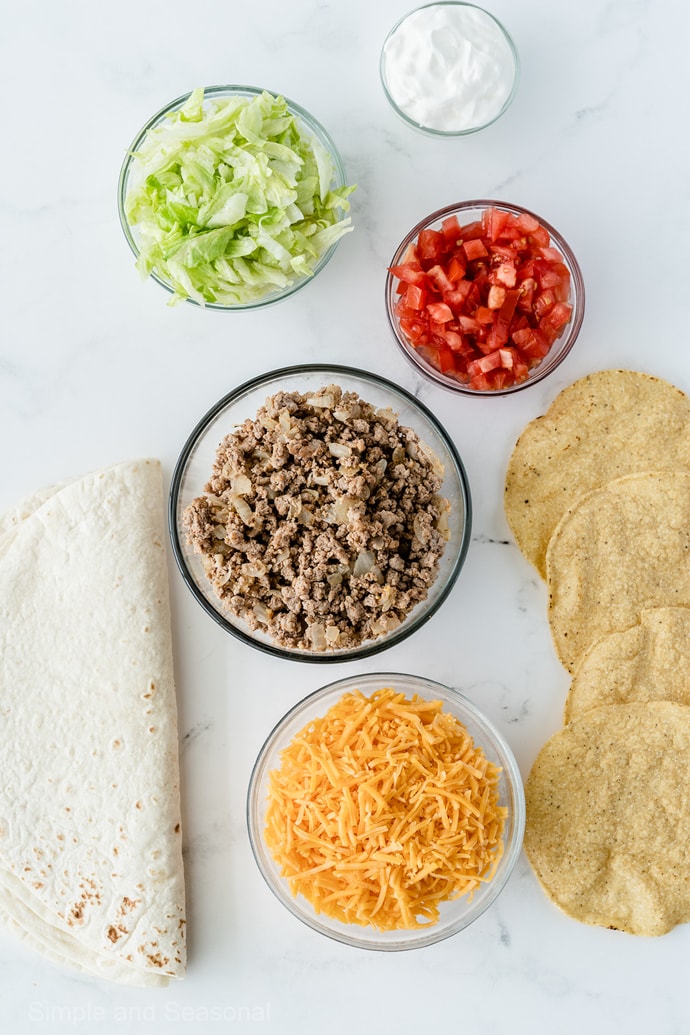 I really like creating copycat recipes because it's a great way to get that "fast food" flavor but guaranteed to be better for you (and probably cheaper, too!) This recipe calls for basically the same things you would use for an ordinary taco night at home. The most important thing, however, is to by the LARGEST burrito sized flour tortillas that you can find.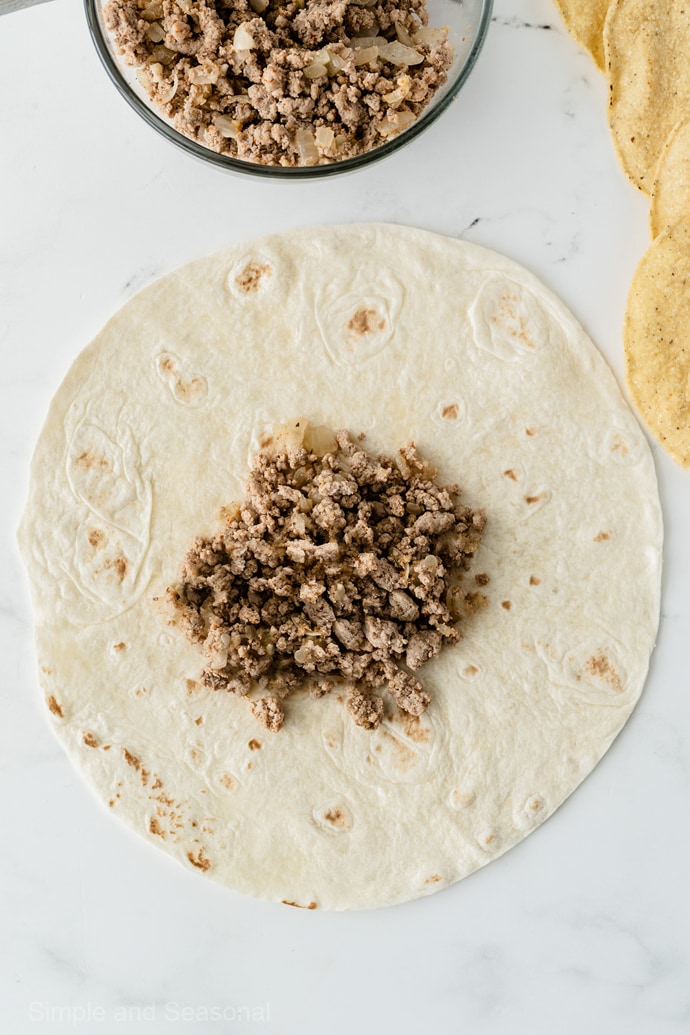 Start with your cooked taco meat (use any taco seasoning you like, but Taco Bell has their brand available in stores if you want to make this taste just like the fast food version. Spoon the cooked meat into the center of the large flour tortilla.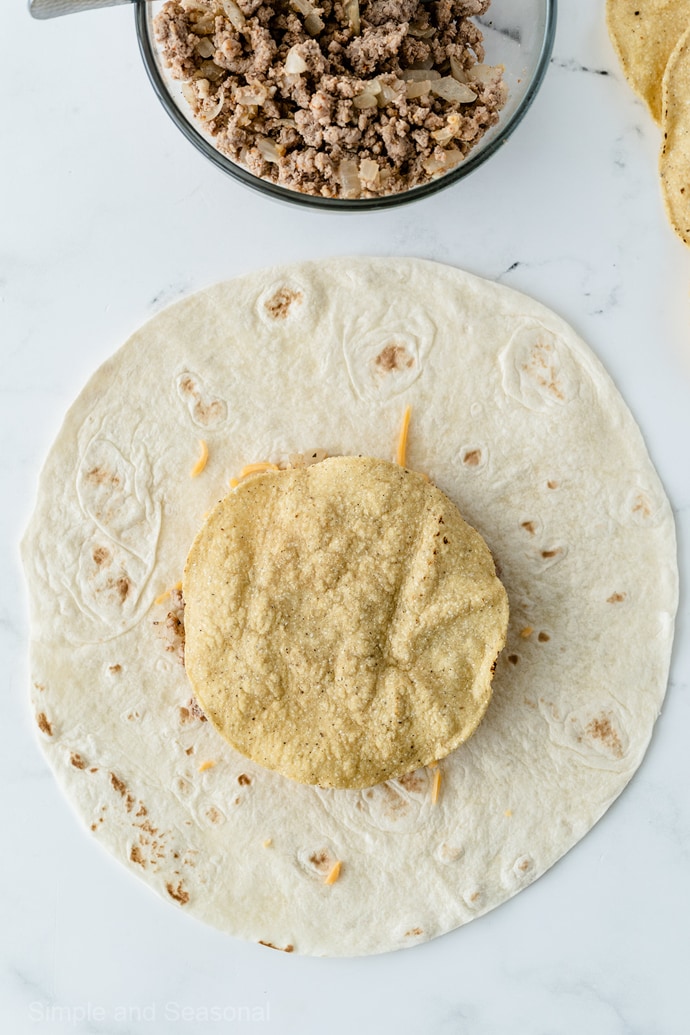 Next, top with cheese or cheese sauce and cover with the crunchy tostada shell. Using nacho cheese sauce makes it taste the most like Taco Bell's version, but you can skip it. Most of the time I just use grated Colby Jack cheese. It's totally up to you!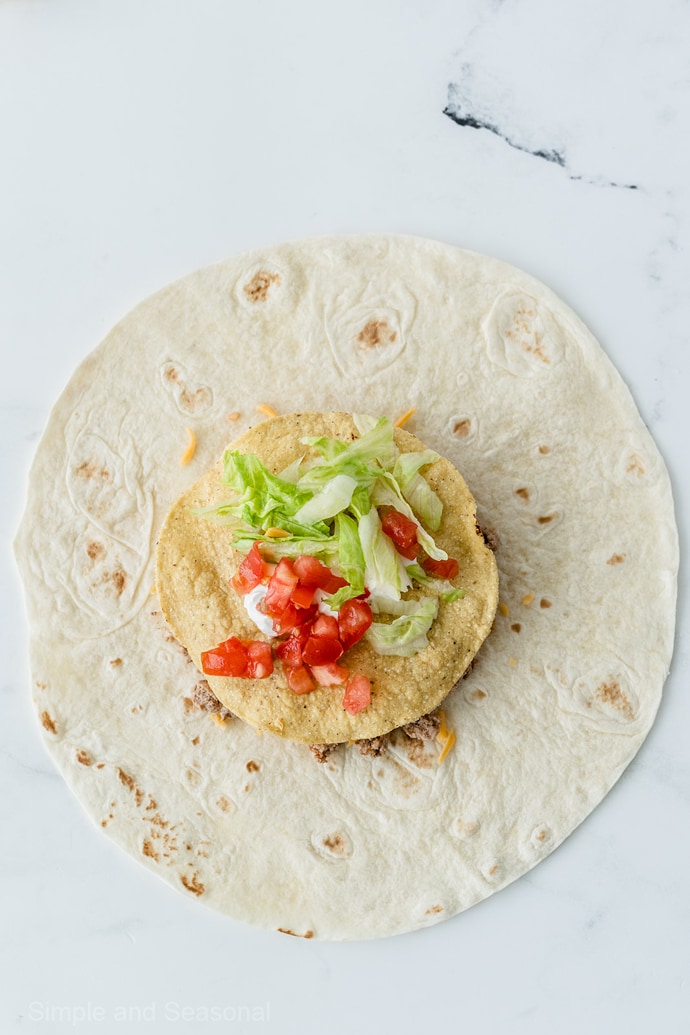 Now add the fresh ingredients on top of the crunchy shell. This helps keep them separate and you get that fun layered look and taste.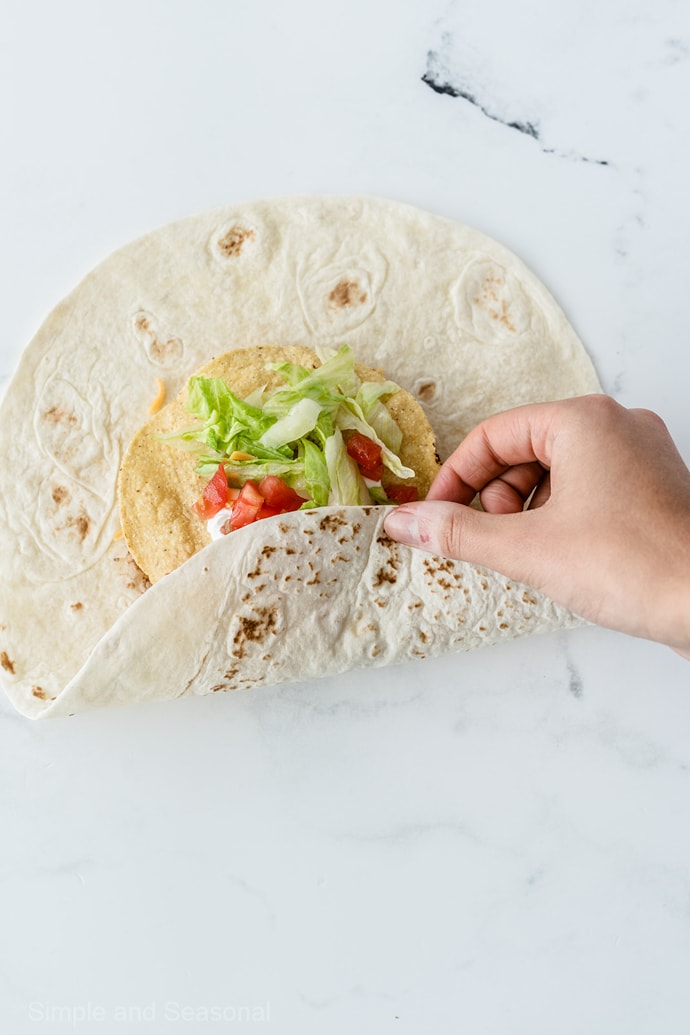 Here's the tricky part! Take the large flour tortilla and start folding it up around the center. You want to have sections that overlap each other a bit so it's completely enclosed. Check out the pictures below to see the process.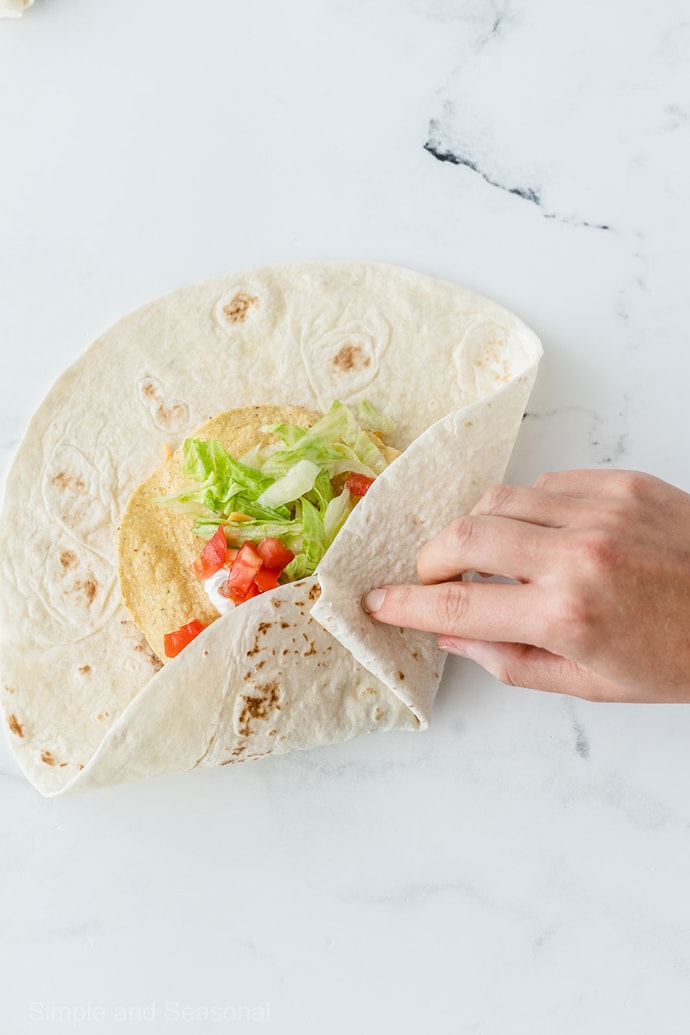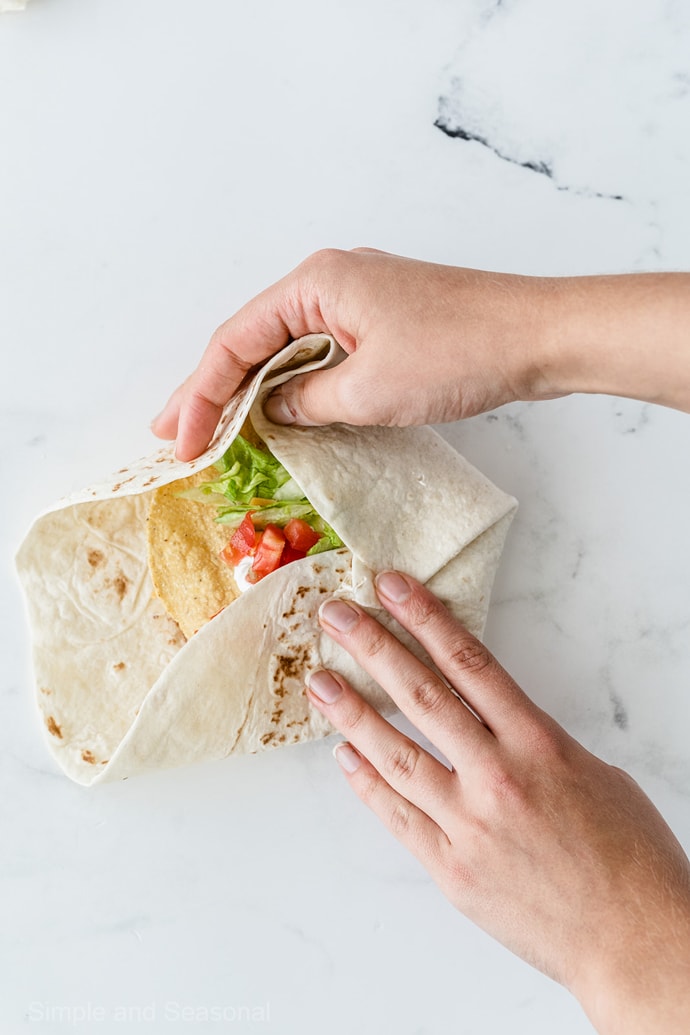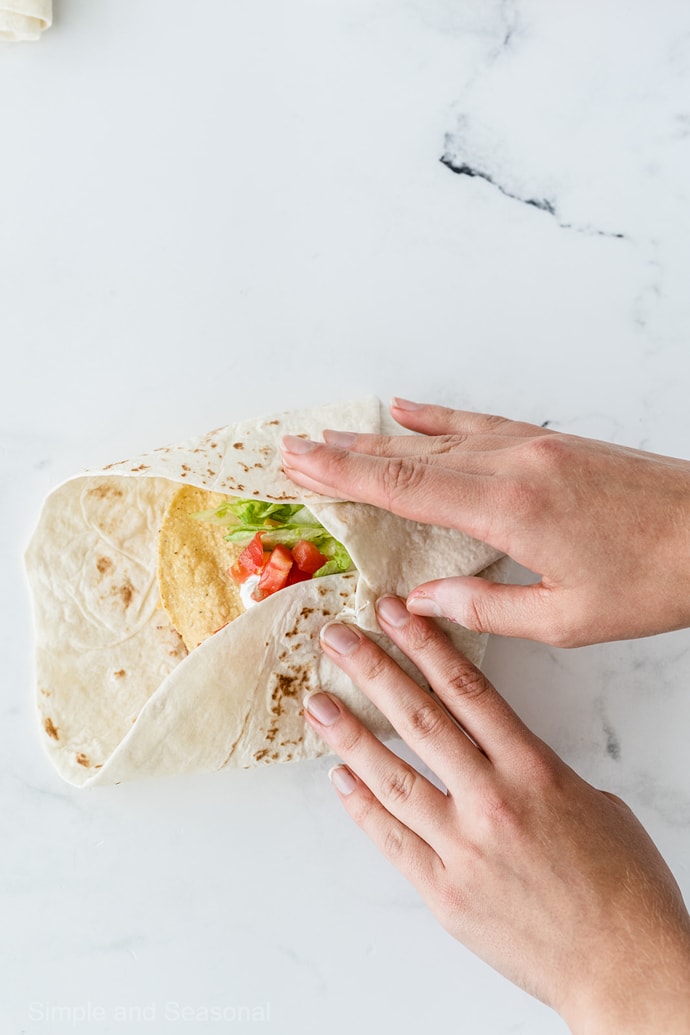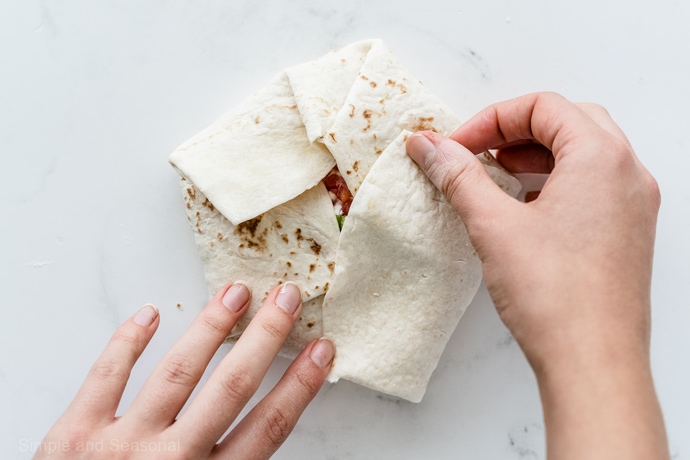 Once it's completely folded over, it's ready to be crisped up in the pan. Place it seam side down first to seal it up while melting the cheese inside and browning the outside.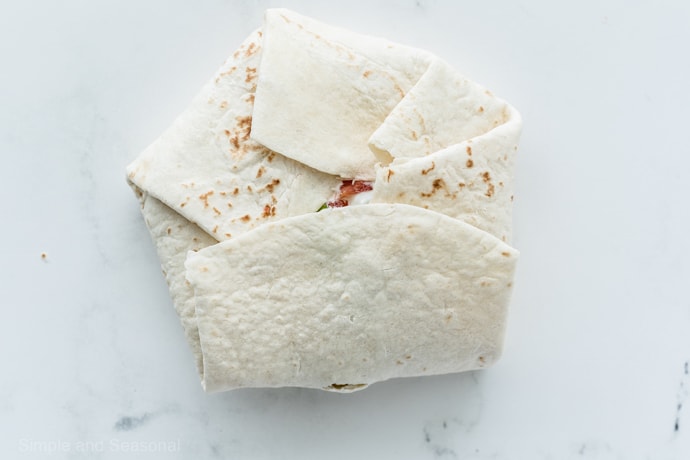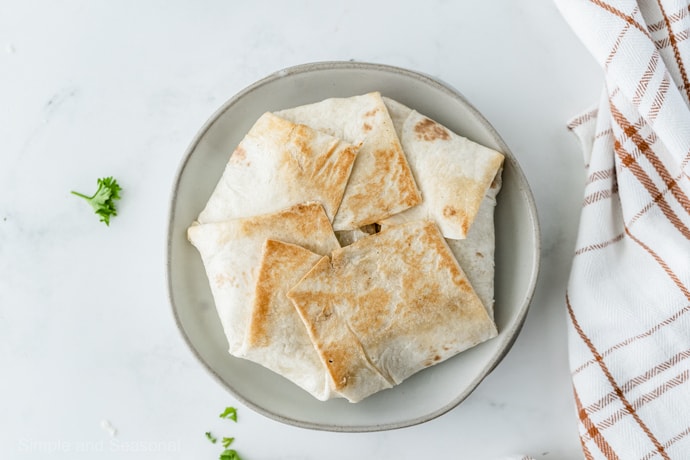 Doesn't that look great? They are hearty and satisfying, so one per person is usually enough, especially for kids.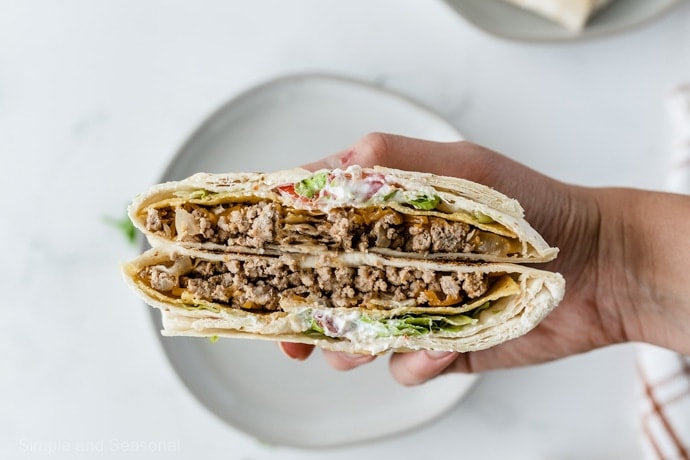 For even more "authentic" flavor in your Copycat Crunchwrap Supreme, grab a bottle of Taco Bell mild or hot sauce to enjoy with it.
Copycat Crunchwrap Supreme
Skip the drive-thru line and make your own Copycat Crunchwrap Supreme at home! Layers of taco meat, cheese, fresh veggies, sauce and a crunchy shell make this a family favorite.
Ingredients
6

XL burrito tortillas/wraps

Get the biggest ones you can find.

1

lb

ground beef or turkey

1

pkg

taco seasoning

Use Taco Bell brand seasoning for the most copycat flavor

1

10 oz

can nacho cheese or shredded Colby Jack cheese

(Nacho cheese will make it taste more like the Taco Bell version, but real cheese works well, too.)

6

tostada shells

1/4

cup

sour Cream

1

cup

shredded lettuce

1

cup

diced tomatoes
Instructions
Brown the ground beef or turkey, drain and add seasoning as directed. Set aside.

Lay out the tortilla. Spoon taco meat onto tortilla.

Slather with a couple spoonfuls of nacho cheese or sprinkle with shredded cheese.

Place tostada shell over meat and cheese.

Top tostada shell with a dollop of sour cream, lettuce and tomatoes.

Beginning with the bottom, fold the edge of the tortilla up to the center. Continue in a clockwise motion around the tostada shell and toppings until the tortilla is completely folded.

Spray a pan with cooking spray and place seam side down. Press with spatula and cook about 3 minutes until golden brown and crispy. Turn and cook the other side for another 3 minutes.
Notes
Add diced onion to the ground beef mixture for more depth of flavor
Use Taco Bell brand mild or hot sauce when serving
Amounts for toppings (sour cream, lettuce, tomatoes) are just an estimate. Adjust up or down as needed
Nutritional info reflects the full 10 oz of nacho cheese, however, it's unlikely you'll use that much (if we use it, there's typically 1/3 of the can remaining.)
If the large tortillas feel stiff or prone to tearing, heat them up just a bit before folding to help them remain supple.
Nutrition
Serving:
1
g
|
Calories:
489
kcal
|
Carbohydrates:
47
g
|
Protein:
19
g
|
Fat:
25
g
|
Saturated Fat:
9
g
|
Cholesterol:
59
mg
|
Sodium:
1056
mg
|
Potassium:
441
mg
|
Fiber:
4
g
|
Sugar:
5
g
|
Vitamin A:
714
IU
|
Vitamin C:
7
mg
|
Calcium:
115
mg
|
Iron:
5
mg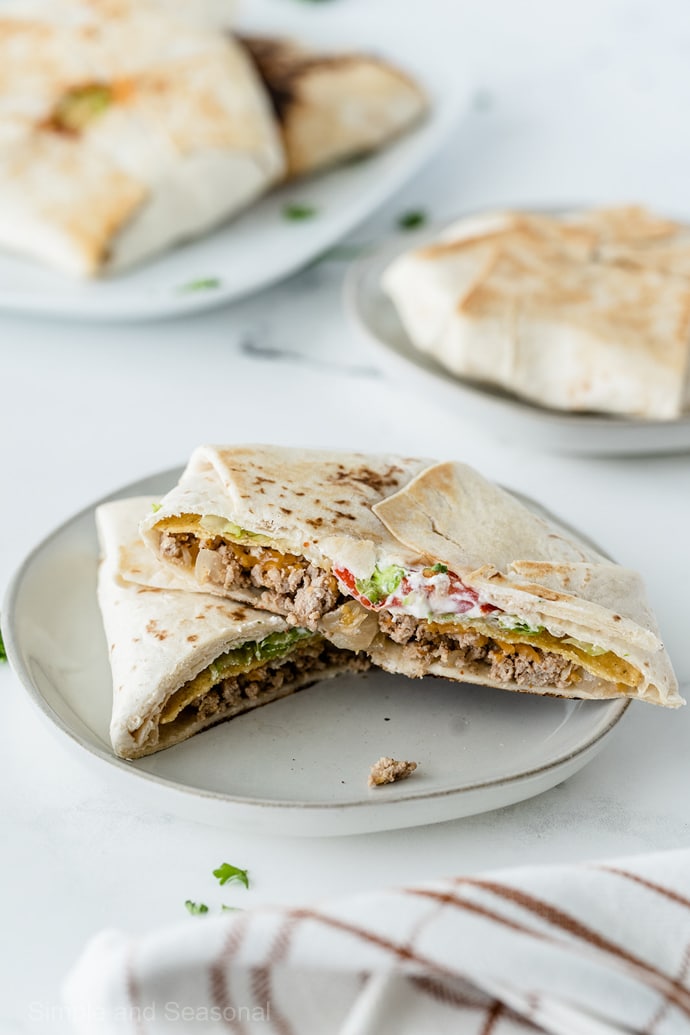 For another great "copycat" recipe, try these Copycat Cheddar Bay Biscuits from Red Lobster!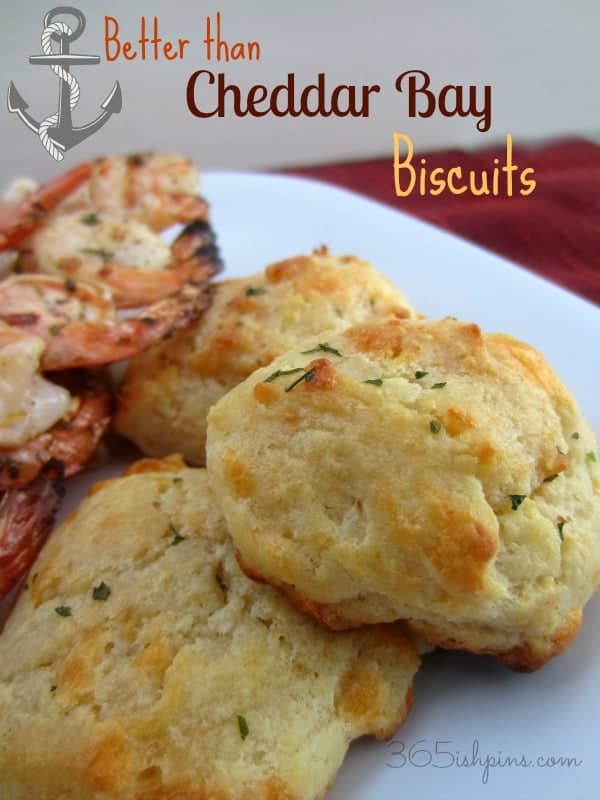 Originally posted 6/2015; updated 9/2020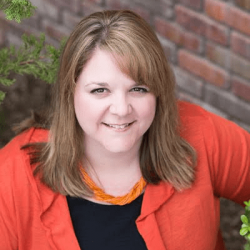 Latest posts by Nicole Burkholder
(see all)