This post may contain affiliate links. Please see my full Disclosure Policy for details.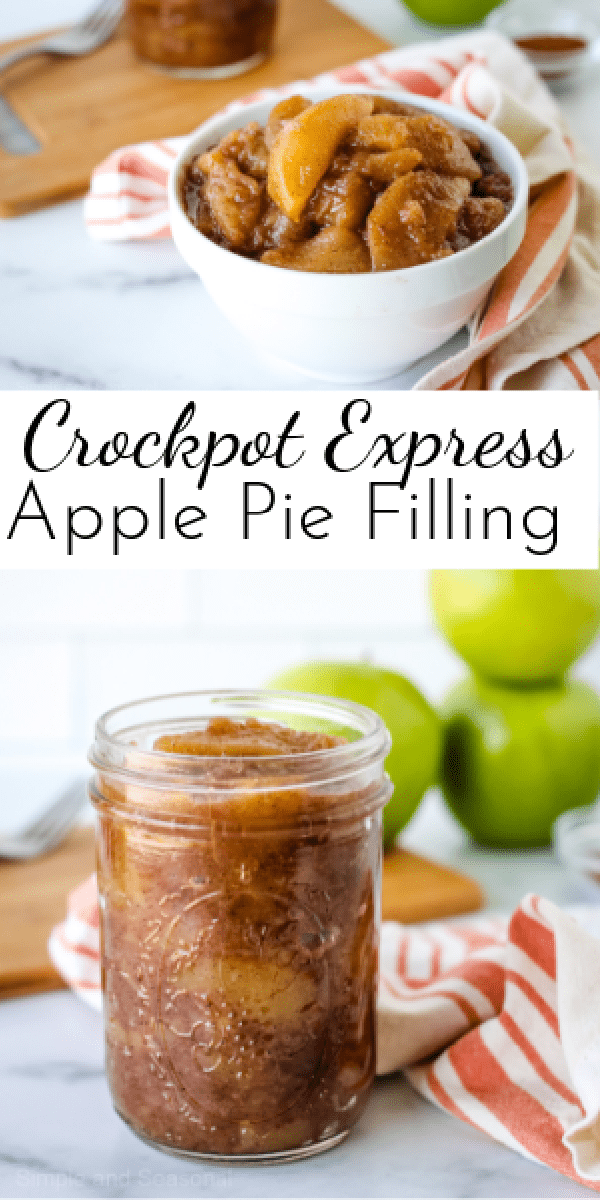 Bursting with cinnamon and spice, Crockpot Express Apple Pie Filling is easy to make and perfect for all kinds of fall desserts!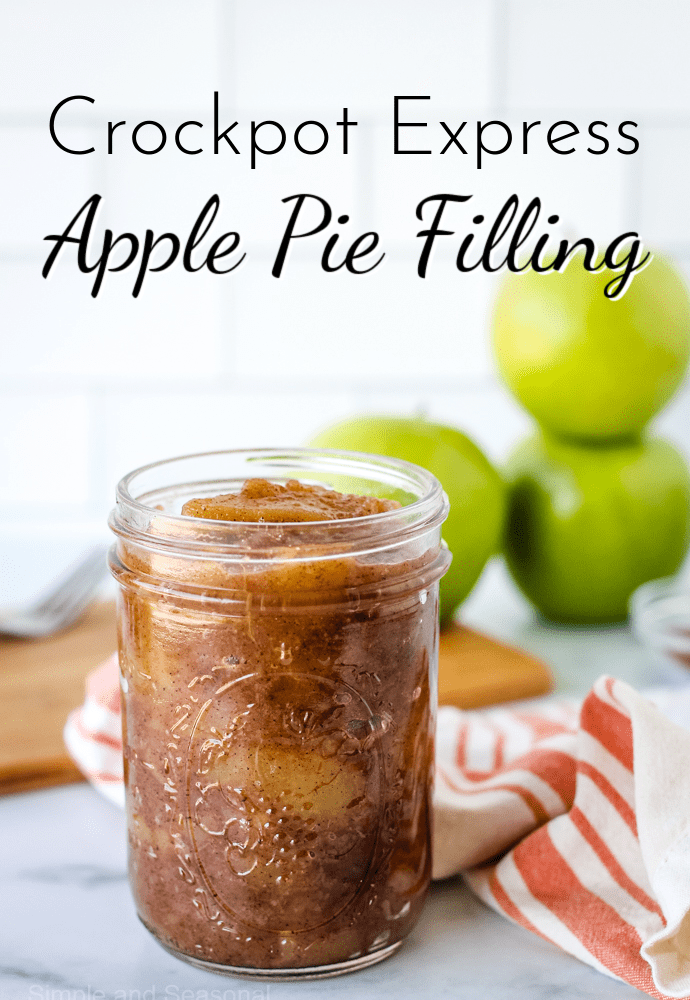 The other day I was looking at cans of pie filling and commenting on how ridiculously expensive they are. Canned filling isn't all that great tasting, either. I figured it was time to try making my own Crockpot Express Apple Pie Filling instead! I needed to add another entry to my growing list of Crockpot Express Recipes.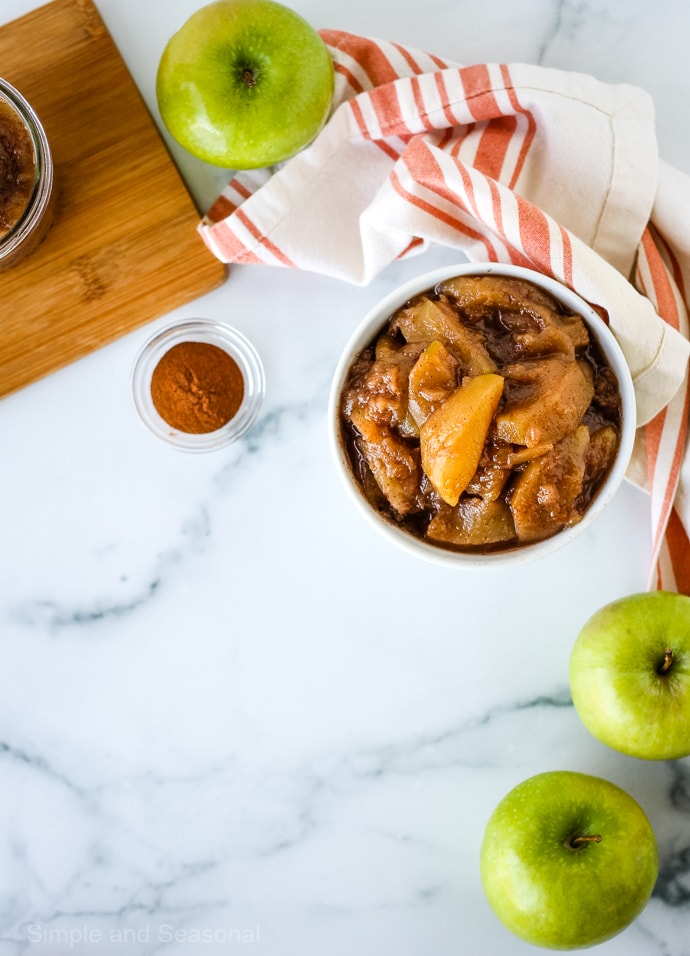 Because we're heading into apple season, I decided to make apple pie filling first. It's quite easy to make it on the stove, and if you want really pretty slices that you can test as you go along, that's the way to go. You can use ClearJel to get that really thick sauce like you see in store bought fillings.
If you're busy and don't want to babysit it, though, making it in the pressure cooker is a great shortcut. For something that's just going to get baked into another dessert, it doesn't need to look perfect anyway.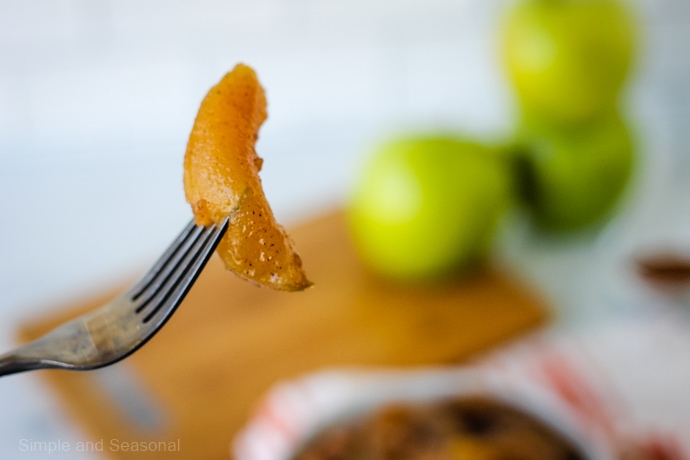 What kind of apples should I use to make Crockpot Express Apple Filling?
I used Granny Smith apples because they are tart and hold up well to cooking. The tart flavor keeps the filling from being overly sweet. You can use whatever kind you prefer (Jonagold, Honeycrisp and Braeburn all hold up well) but Granny Smith is the most common "baking" apple. Here's a list of a few common apple types from sweetest at the top to tartest at the bottom:
Fuji (sweetest)
Sonya
Gala
Jonagold
Cameo
Golden Delicious
Red Delicious
Honeycrisp
Rome
Braeburn
Pink Lady
Granny Smith (tartest)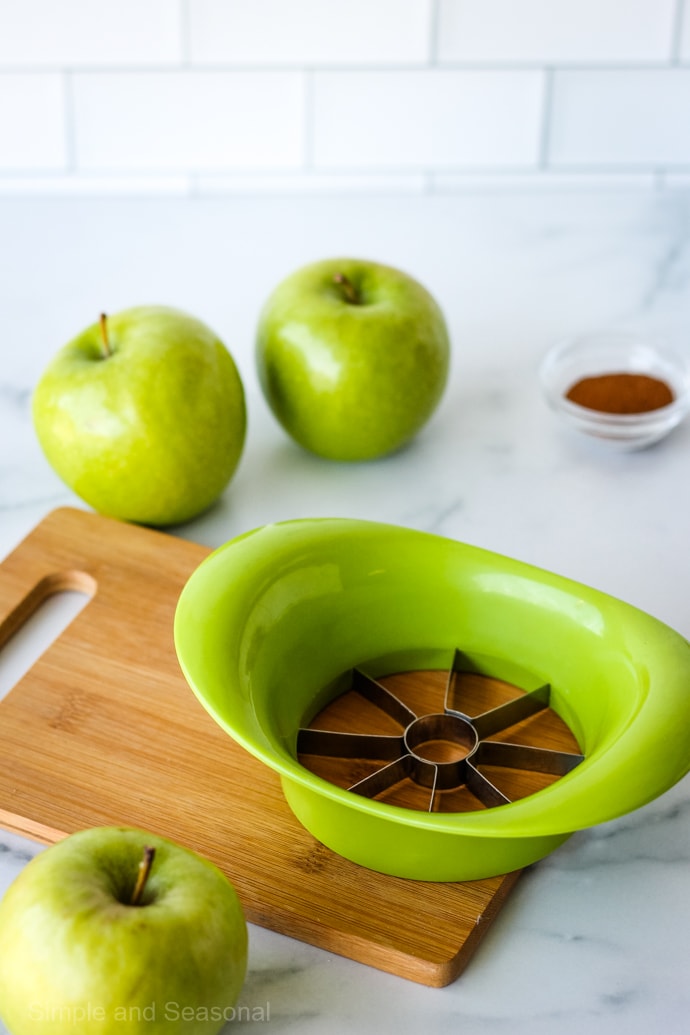 How many apples do I need for Crockpot Express Apple Pie Filling?
This can be a bit tricky! If you went apple picking, you have pounds of apples to use up, and that's how you're measuring them right now. However, when I go to the store, I typically buy a certain number of apples rather than being concerned about the weight. Plus, once you peel and core an apple, the weight changes. So I did a little prep work (math) for you.
One pound of whole apples is about 3 cups of prepared (peeled and cored) apples. Three pounds of whole apples (which is what I used for this recipe) will be enough to make the equivalent of 2 (20 oz) cans of apple pie filling. I used 9 medium Granny Smith apples to make this recipe.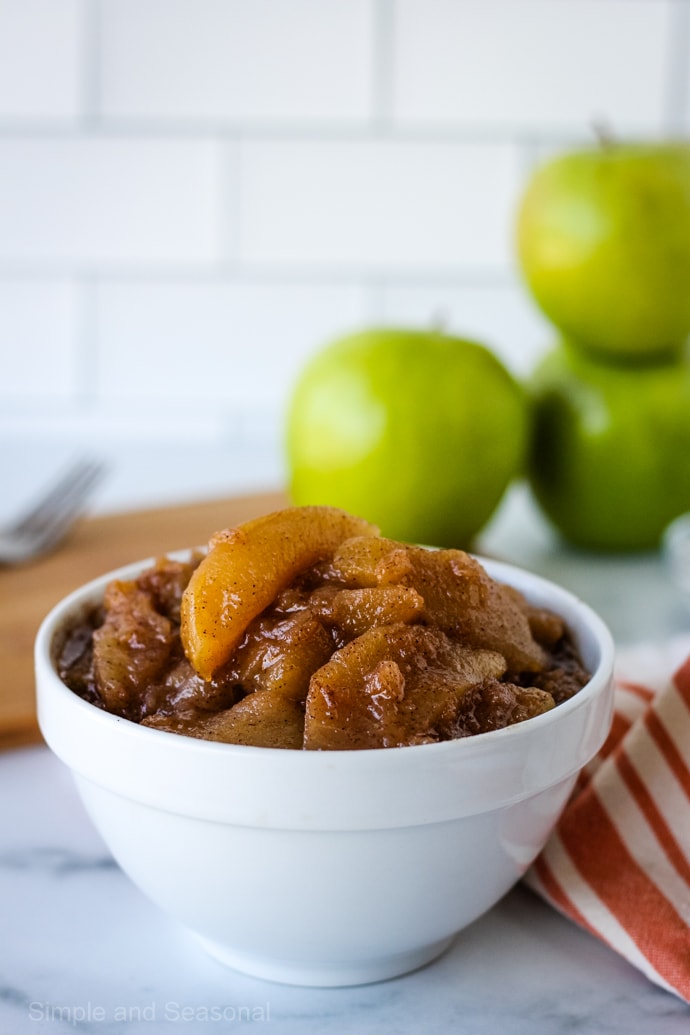 How large should the apple slices be?
Here's the most important part when it comes to making pie filling in the Crockpot Express (or any brand of pressure cooker.) It doesn't take long for the apples to get soft and start to disintegrate, so you really need to keep the slices large and evenly sliced. I use an apple corer/slicer that cuts them into 8 even slices.
Most of my apple slices stayed whole, but the smaller ones (sometimes I accidentally cut them unevenly) broke apart. They are still perfectly delicious, but they aren't as pretty. You don't really want applesauce, so be careful when slicing and use med/large apples for best results.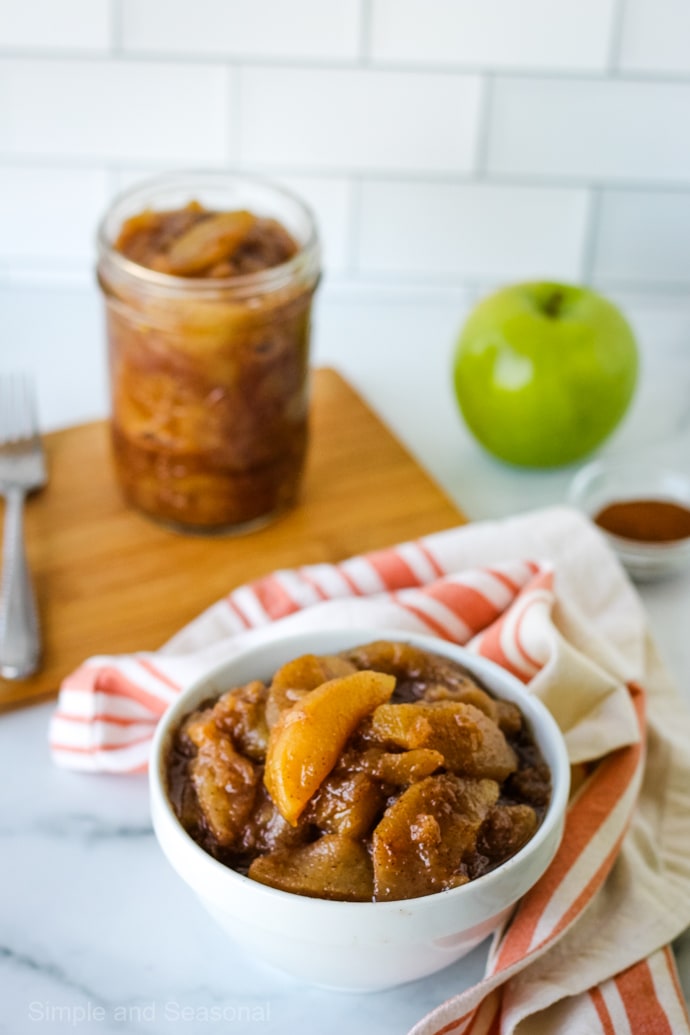 Crockpot Express Apple Pie Filling
Bursting with cinnamon and spice, Crockpot Express Apple Pie Filling is easy to make and perfect for all kinds of fall desserts! 
Ingredients
3

lbs

Granny Smith apples

(8-9 medium apples)

2

tbsp

lemon juice

bowl of water for apple prep

1/2

cup

brown sugar

1/2

cup

granulated sugar

2

tsp

cinnamon

1/4

tsp

nutmeg

1/4

tsp

all spice

3/4

cup

apple juice or water

1/4

cup

melted butter

1

tbsp

water

1

tsp

corn starch

(if needed)
Instructions
Peel, core and slice the apples. Place the sliced apples in the bowl of water with lemon juice to prevent browning while you work.

In another bowl, mix together the sugar and spices.

Add the apple juice or water to the pot, and then remove the apple slices from the lemon water and place into the pot.

Sprinkle the sugar mixture all around the apple slices as evenly as possible. You don't need to stir it, but you can move things around to make sure it's all over the apples.

Pour the melted butter over the top of the sugar mixture and apples.

Close and lock the lid. Press Steam (or manual) and set the time for 1 minute. (If your unit doesn't go down to 1 minute, set it for the lowest time and then stop the cooking cycle after 1 minute has passed.)

Press Start/Stop. It will take about 10 minutes to heat up and pressurize. When the 1 minute cook time is done, press Start/Stop again and do a quick pressure release.

Open the lid and gently stir. The sauce will thicken some as it cools, but if you want it thicker, use a cornstarch slurry. Dissolve the corn starch in cold water and then add to the pot. Switch to Saute/Simmer and cook on low for just a minute or so.

Remove from pot immediately and place in refrigerator to cool. Filling will thicken more as it cools.

Recipe yields enough for the equivalent of 2 (20 oz) cans of pie filling. Use in pies, cobblers, cookies or just top with ice cream and eat with a spoon!
Notes
Stir gently after cooking to avoid breaking apart the apples. (If it all goes to mush, don't worry-you can just enjoy applesauce instead!) 🙂 
Store in glass canning jars in the refrigerator. Use within 2 weeks for best results.
If you use apple juice or apple cider as the liquid, you can reduce the amount of sugar in the mixture to keep it from being too sweet. 
Tested in a 6 quart Crockpot Express (original model)
Nutrition
Calories:
139
kcal
|
Carbohydrates:
29
g
|
Protein:
1
g
|
Fat:
3
g
|
Saturated Fat:
2
g
|
Cholesterol:
9
mg
|
Sodium:
33
mg
|
Potassium:
114
mg
|
Fiber:
2
g
|
Sugar:
25
g
|
Vitamin A:
154
IU
|
Vitamin C:
5
mg
|
Calcium:
16
mg
|
Iron:
1
mg
Ways to use up Crockpot Express Apple Pie Filling
So now that you've made it, what do you DO with it? Well, here are a few ideas to get you started: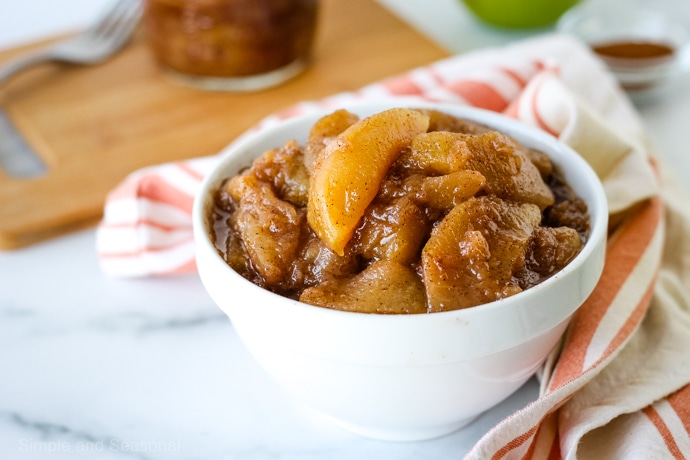 To test mine out, I baked it into an apple crisp. It was delicious and the baking time was shorter because the apples are already cooked. Just top with your favorite crumble and bake for about 15 or 20 minutes to brown the top and get the filling bubbly and gooey. Add ice cream and you're in heaven. I just LOVE fall recipes!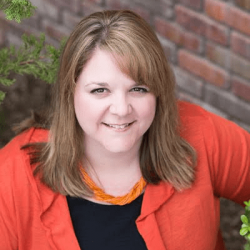 Latest posts by Nicole Burkholder
(see all)