Spice up taco night in your house with an Easy Taco Braid! Stuffed full of delicious taco meat and creamy, melted Sargento® cheese, it's a great twist on a classic.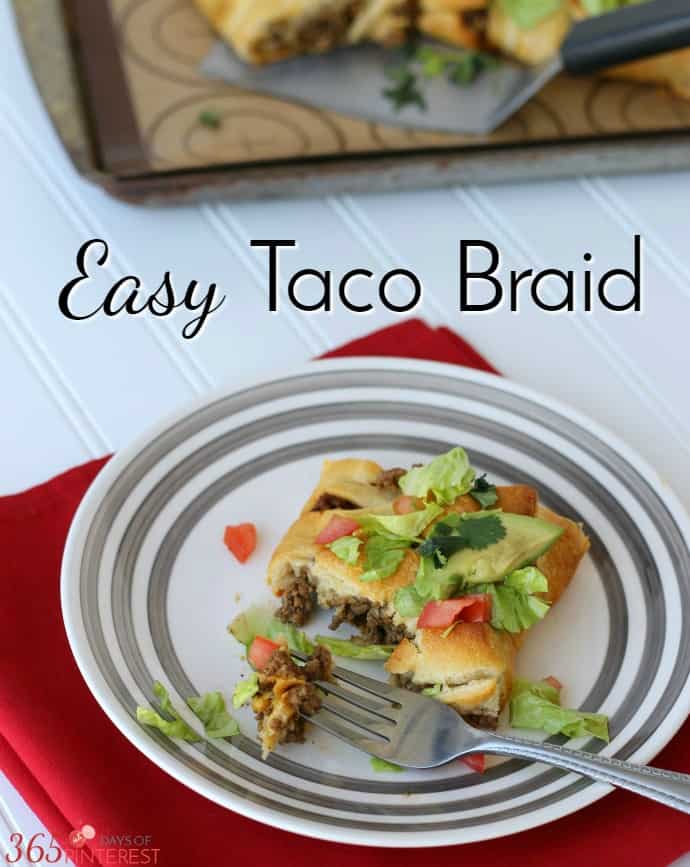 Mexican food (or any variation thereof) is my absolute favorite kind of cuisine. Jared and the boys would be willing to have tacos several nights a week, so that works out in my favor. 🙂 Last week I wanted to make these Taco Empanadas for dinner just to change things up. However, I couldn't find the empanada discs that the recipe called for, so I grabbed a can of crescent roll dough and thought I would try making little empanada pockets out of those. Once I rolled out the dough, I changed my mind and decided to make a braid instead. It was quick and easy and the boys gobbled it up!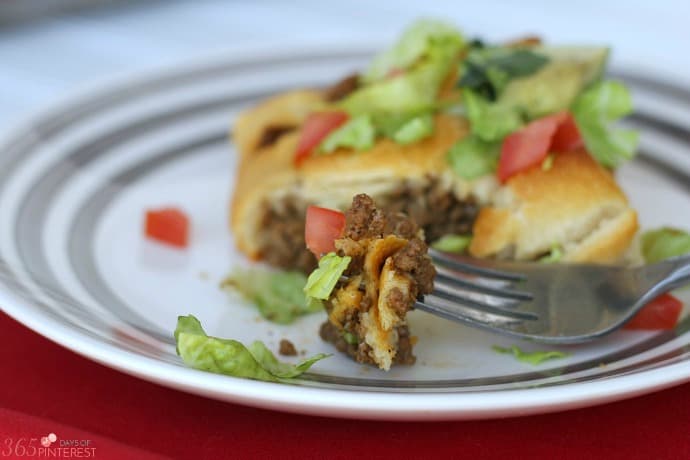 Easy Taco Braid
The idea behind a braid is simple. Just roll out the dough (you can use crescent roll dough, pizza dough, or even frozen bread dough) and then add whatever fillings you choose. In this case, I used one pound of seasoned ground beef and a tasty pile of Sargento® Fine Cut Shredded 4 Cheese Mexican. Slice the dough into strips about 1″ apart and up to the filling in the center and then wrap the dough over the center in a braid pattern.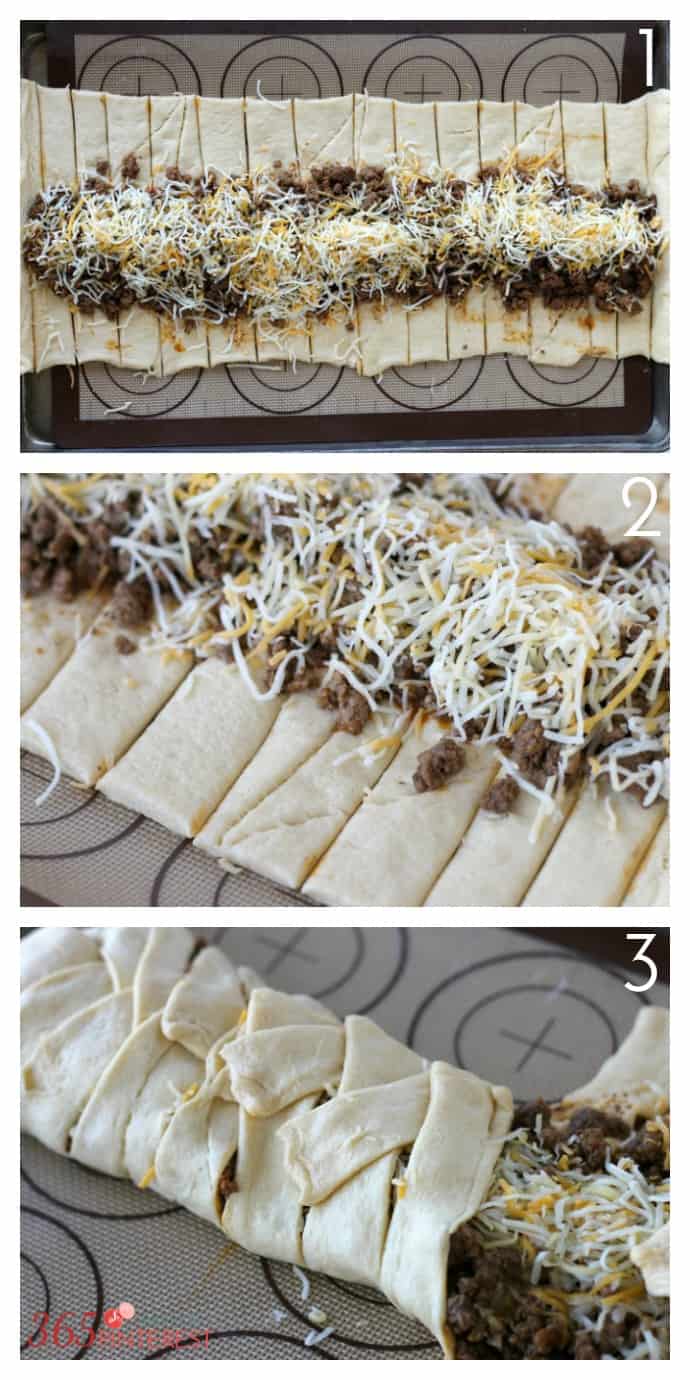 Using crescent roll dough means there are extra perforations that might come apart a bit, but it's easy enough to pinch them back together. It really doesn't have to be perfect. You don't even have to worry about covering every spot of filling, because the bread will cover it as it cooks. The Sargento® cheese that I used was perfect for this. It tasted fresh and didn't have that weird powder that pre-shredded cheese sometimes gets. It melted down into the meat and cooked in with the dough beautifully. Honestly, it really did make a big difference in the quality and taste of this recipe.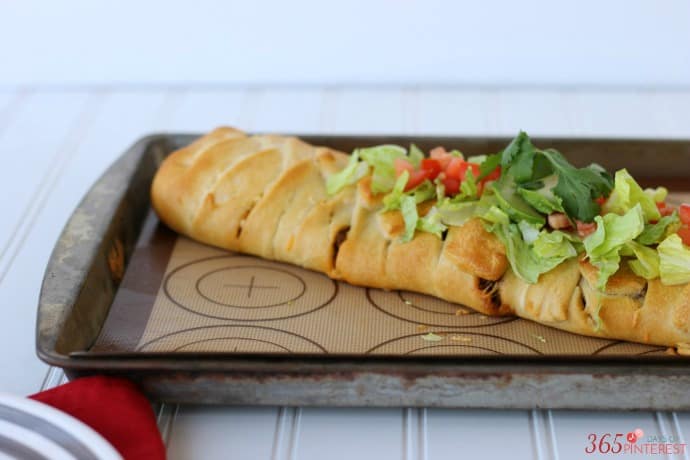 Easy Taco Braid
Ingredients
1

pound

ground beef

2

tbsp

taco seasoning

try my homemade mix!

1

can crescent roll dough

I used the extra large crescents for more dough OR pizza dough

1

cup

Sargento® Fine Cut Shredded 4 Cheese Mexican

plus more for sprinkling on top

Optional toppings: diced tomato

shredded lettuce, sliced avocado, cilantro
Instructions
In a skillet, brown the ground beef and then drain excess fat.

Add the taco seasoning and 1/4 cup of water. Simmer for 5 minutes.

While the meat is simmering, unroll the dough onto a sheet pan and press any perforations together so it's one continuous sheet of dough.

Add the meat in a strip down the center of the dough, leaving about 2 inches on each side.

Top with cheese.

Cut the dough in 1" wide strips down both sides as shown above, using a pizza cutter.

Lift one end up and fold it over the filling and then grab the strips from the sides one at a time and cross them over the filling in a braid-like pattern. Tuck any excess dough underneath, or use it to fill any empty looking spots.

Bake at 350 for 15 minutes, or until golden brown on top.

Remove from oven and sprinkle with more cheese if desired. Top with your favorite taco toppings and serve with sour cream and salsa!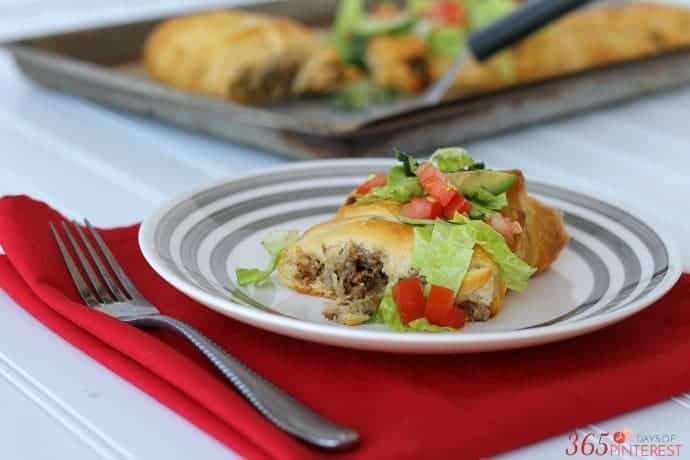 My boys wolfed this down! I don't know what I'm going to do when they get bigger. They are already practically eating me out of house and home. I guess I'll just have to make two next time. 🙂 Look for specially marked packages of Sargento® Shredded Cheese for $1 Savings at your local Kroger. (Ralph's for me)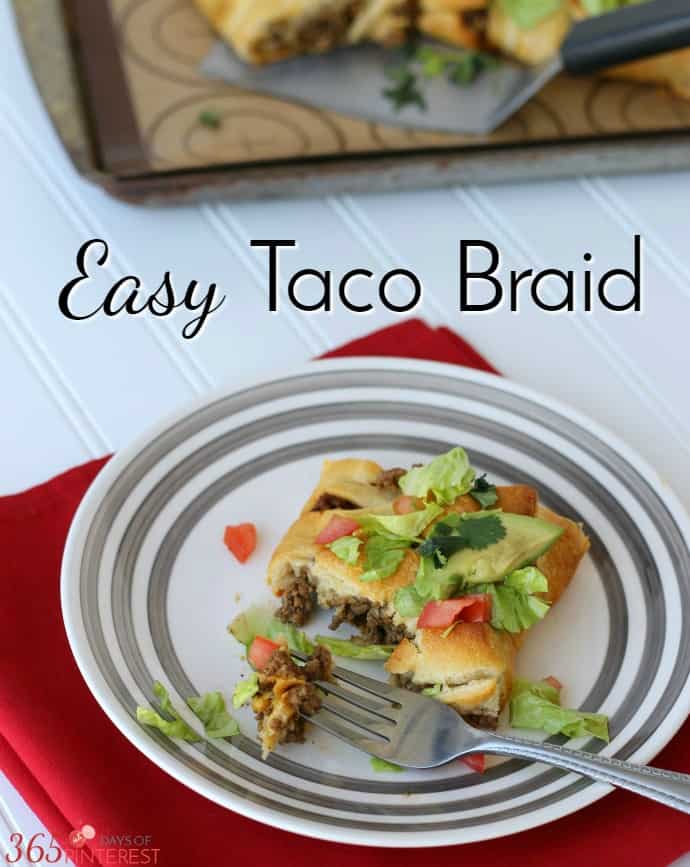 This is a sponsored conversation written by me on behalf of Sargento®. The opinions and texts are all mine.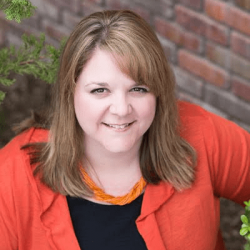 Latest posts by Nicole Burkholder
(see all)