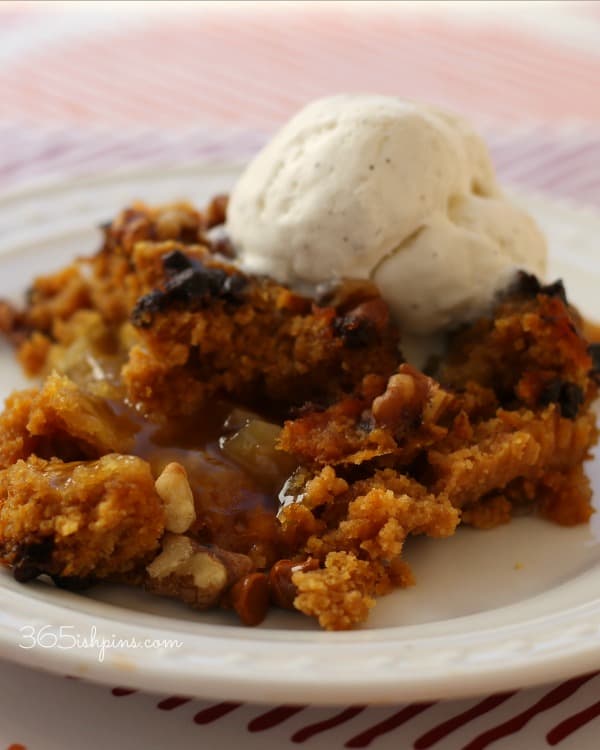 That's right. You read the title correctly. CROCKPOT Apple Cinnamon Dump Cake. You only need five ingredients and a slow cooker to make this dessert happen! Pumpkin dump cake was one of the very first things I tried when I discovered Pinterest. I don't know how I grew up in a Baptist church with regular potlucks and never heard of dump cakes! They are so easy to make and they taste delicious! I put these ingredients together the other night for dessert and it. was. awesome. Really.
Crockpot Apple Cinnamon Dump Cake
Dump cakes get their name from their "preparation." You literally just dump out a can of pie filling and a box of yellow cake into a pan and you're just about set. One thing I didn't really like about the pumpkin dump cake was the lack of texture, especially in the middle where the you don't get any crispy edges. So for this cake, I tossed in some walnuts for that extra crunch. That simple addition took this dessert right over the top! It was a little taste of Fall on a plate. (Even though I could barely stand to be outside taking pictures because it was 108°) A girl can dream.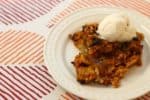 Crockpot Apple Cinnamon Dump Cake
Ingredients
1

can

20 oz apple pie filling

1

box yellow cake mix

mix only, do NOT add any other ingredients

1/2

cup

1 stick butter, melted

1/2

cup

cinnamon chips

1/2

cup

walnuts

chopped

Ice cream

optional
Instructions
Spray the inside of a slow cooker with non-stick spray.

Pour out the can of apple pie filling and spread evenly across the bottom

Cover pie filling with cake mix

Pour melted butter over cake mix (Do NOT stir!)

Sprinkle with cinnamon chips and walnuts

Cook on HIGH for 2 1/2 to 3 hours.

Serve warm with ice cream!

I have a few more desserts and other meals pinned that are made in the crockpot. (Insert shameless plug to follow my Crockpot board on Pinterest here.) I am looking forward to trying them as the weather cools down a bit. I got the inspiration for this dessert from The Magical Slow Cooker's White Chocolate Cherry Dump Cake. So, thanks, Sarah. 🙂 Have you ever made dessert in the slow cooker before? I'd love to see more recipes, so feel free to leave a comment and link if you've got one!
 If you are a big fan of easy apple desserts, you should try my mom's Easy Apple Cobbler. That IS something I grew up eating at potlucks and doesn't require a bunch of ingredients or a lot of time to put together. So what gets your vote this Fall: apple or pumpkin?