Chicken Fiesta Soup is easy to make and full of delicious flavors! It's a family favorite that can be made in the slow cooker or the pressure cooker.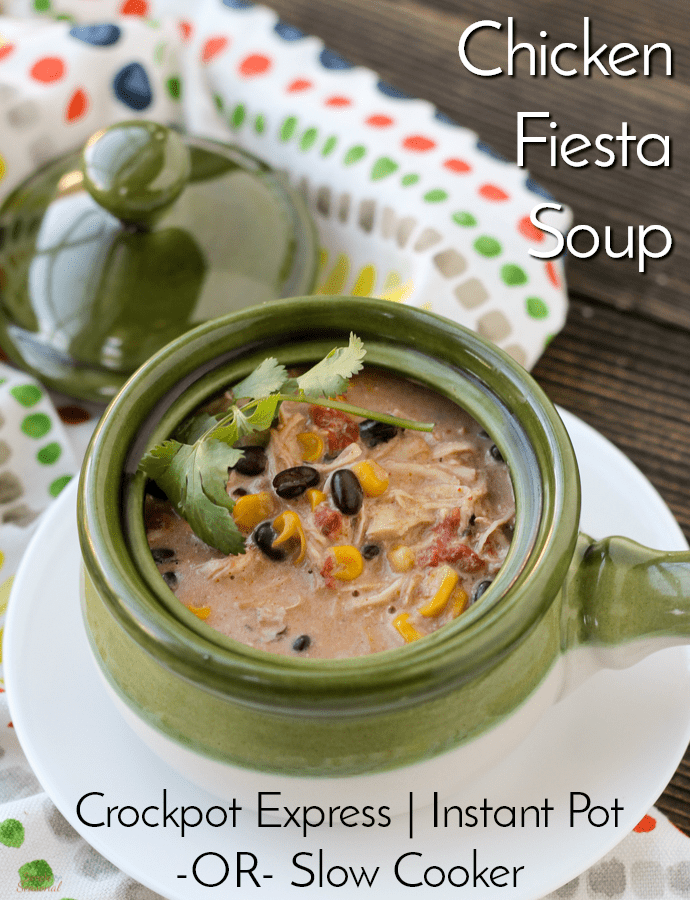 We just had our annual Fall Festival complete with chili lunch at our church on Sunday. The last several years it has been a chili cook-off so I had to adhere to strict parameters to participate. This year, because we had so much going on, it was just a chili and pie lunch- no contest to win. So I stretched the meaning of "chili" a little bit and made my favorite Chicken Fiesta Soup instead. It's always a hit when I make it and my husband already begged me to make more so we don't have to share it. 🙂 I figured since this was WAY back on Day 24 of my first 365 days, it would be good to share this again.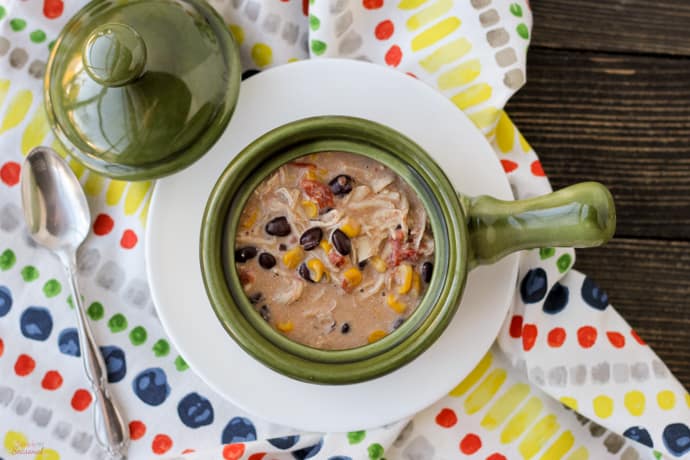 Ding Ding Ding!!! Ladies and Gentlemen, we have a winner! I pinned
this
last week, and couldn't wait to try it because it sounded so good. I call this Chicken Fiesta Soup because every time I eat it, there's a party in my mouth! Seriously, it was a perfect Sunday meal- I love my crock pot! The pin doesn't contain a link.  It was just posted as a photo with the ingredients listed beneath it. So I'll give a little more detail and write out the recipe here. I've also updated it to include instructions for making this much more quickly in the Crockpot Express or Instant Pot!
Slow Cooker Fiesta Chicken Soup
Ingredients
1

pound

chicken breasts

boneless, skinless

1

can

Rotel (tomatoes and peppers)

1

can

black beans

drained and rinsed

1

can

corn

8

ounces

cream cheese

1

tbsp

cumin

1

tsp

chili powder

1

tsp

onion powder

OR use 1 packet taco seasoning in place of the cumin

chili powder and onion powder
Instructions
Put all the ingredients in the crock pot and cook on Low for 5-6 hours or High for 3-4.  Shred chicken and stir before serving.  Yup, that's it.  Serve with warm tortillas and that's a little bit of Heaven on Earth!
For Crockpot Express/Instant Pot
Put all the ingredients in the cooking pot and set for 15 minutes on high. (Use the Beans/Chili button and adjust the time on the Crockpot Express.) If chicken breasts are frozen, increase time to 25 minutes. Do a natural pressure release for 10-15 minutes, until the lid releases.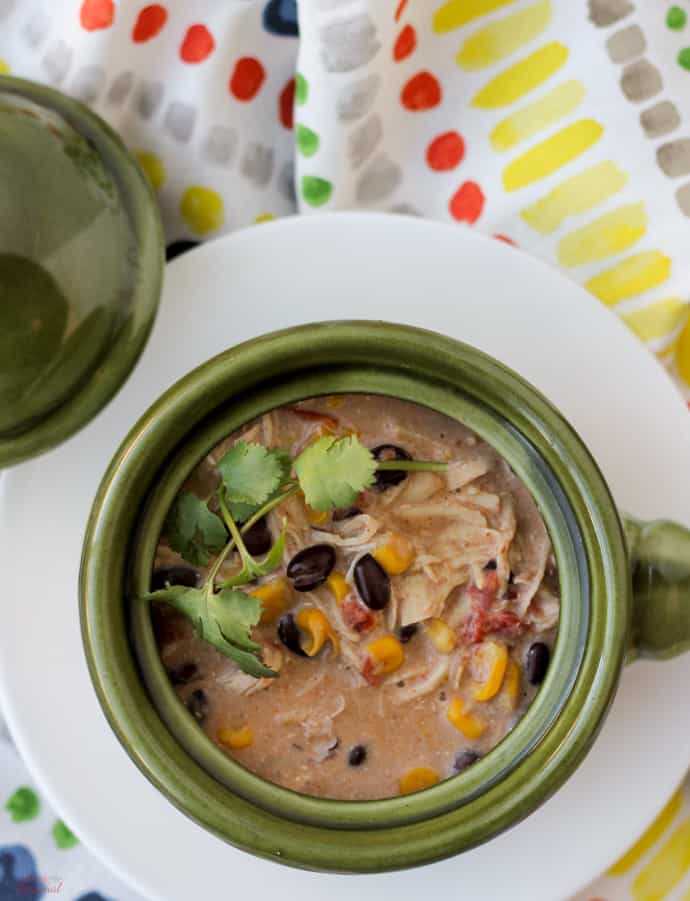 Can you believe it?  So easy!  And it was AMAZING.  I dumped everything in the crock pot before I left for church, and when we got home, the house smelled so good!  Then I just used two forks to shred the chicken and break up the cream cheese (it was still in a few big pieces, but super soft).  I would hardly call this soup.  It was so hearty, I used a slotted spoon and put it in a tortilla for the boys because I knew they'd never eat it unless it was disguised. We tried it with tortilla chips.  THIS WOULD MAKE A GREAT WARM DIP FOR PARTIES!
 Here's another Crockpot chicken recipe that we love!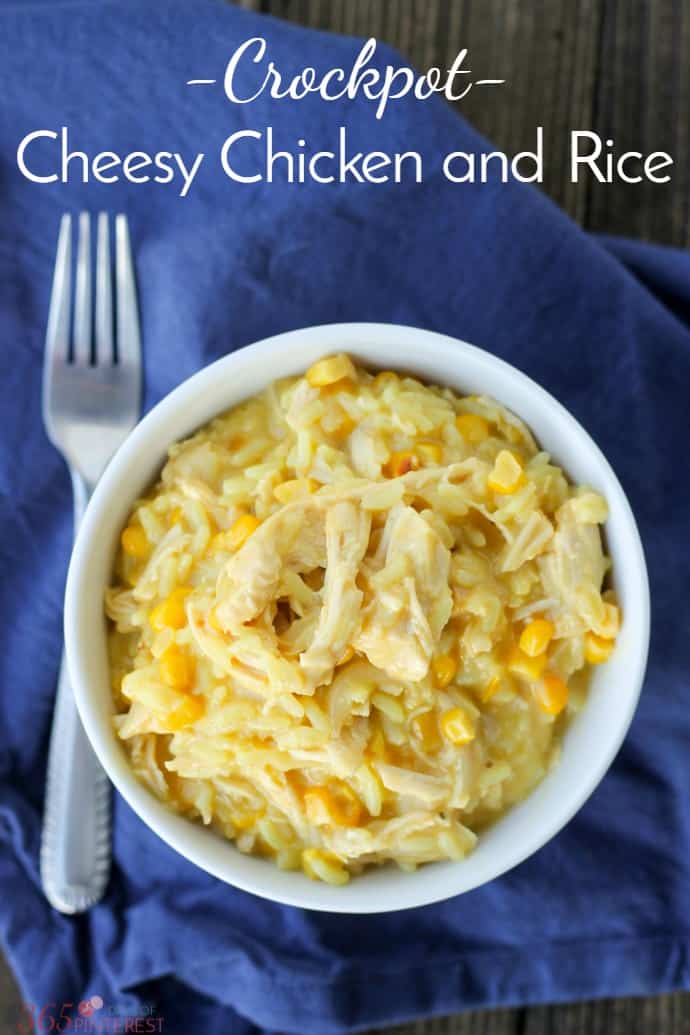 Crockpot Cheesey Chicken and Rice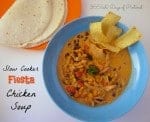 Post updated 1/17/18