This post may contain affiliate links. Please see my full Disclosure Policy for details.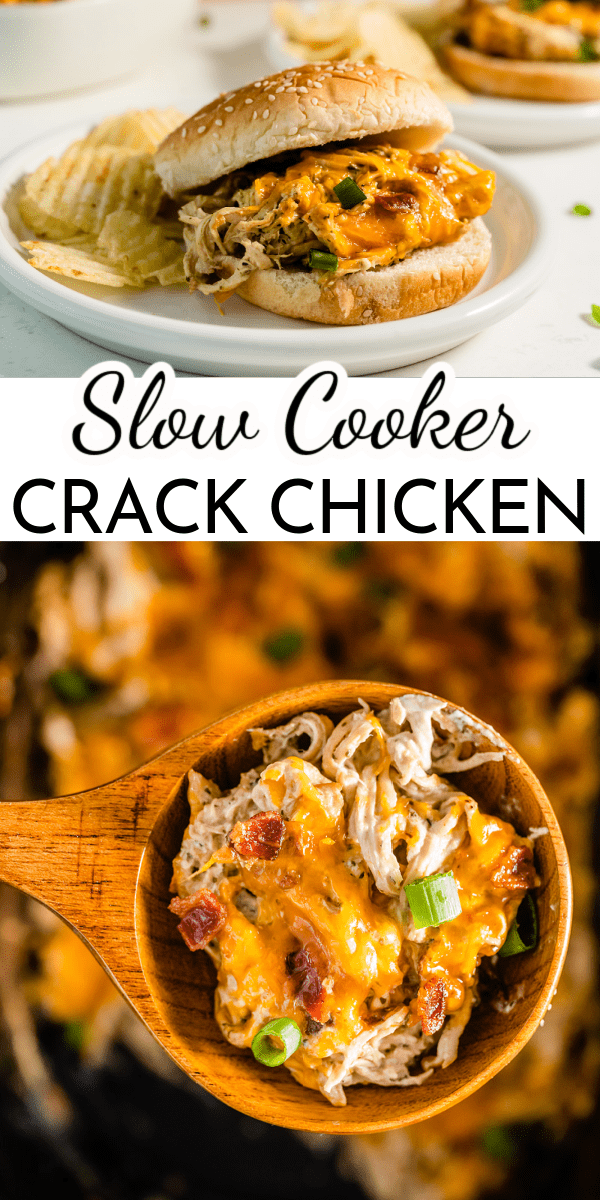 More than just the standard chicken/bacon/ranch combo, this Slow Cooker Crack Chicken features flavorful herbs and spices in a not-too-creamy sauce. Ditch the Ranch Dressing packet and taste the difference!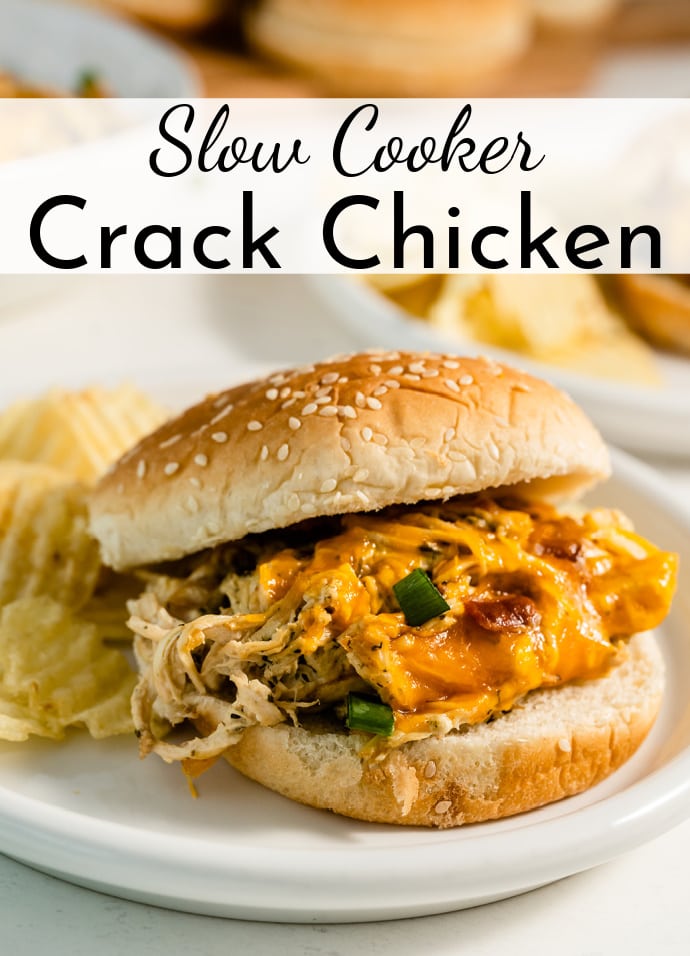 I honestly don't know where the original recipe or the name "crack chicken" came from, but it's been all over the internet for several years now. Slow Cooker Crack Chicken became very popular in low carb/keto circles for a while. If you've never heard of it, it's basically the combination of chicken, bacon and Ranch dressing seasonings.
Now, I like a good Ranch dressing on my salad as much as any other American, but I'm not as keen to use the dressing packets simply for seasoning purposes. It makes the food taste overly salted and the other flavors are overpowered. I prefer my own combination of seasonings to get that delicious "ranch dressing" flavor.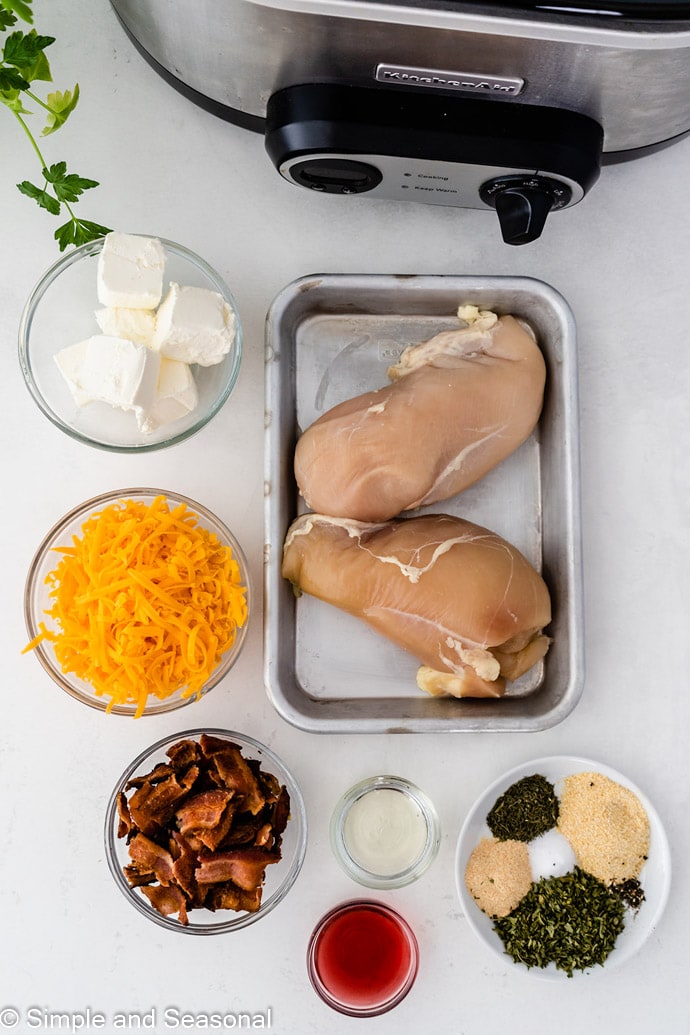 The other issue with using a dressing packet is that our good friends "across the pond" may not have access to the little green packet of goodness. 😉 Everyone needs a chance to try Slow Cooker Crack Chicken, no matter where they live!
I use less cream cheese than typically called for in crockpot crack chicken recipes. It's a strong flavor and I don't want my shredded chicken to be really wet and gooey, or falling out of the bun. It's a matter of preference, so if you want the whole block in there, by all means. You do you.
How to make Slow Cooker Crack Chicken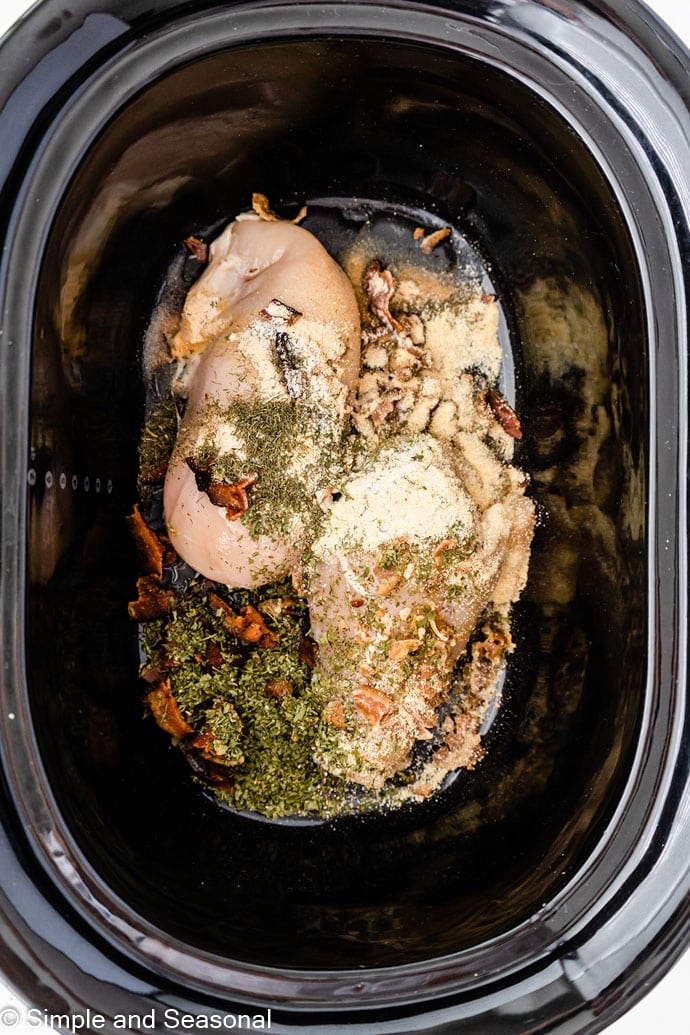 Start by placing the boneless skinless chicken breast in the bottom of your slow cooker. Any size will work. I've used my oval 6 quart slow cooker, as well as my round Crockpot Express on the slow cook setting. Toss in the cooked bacon and all the seasonings.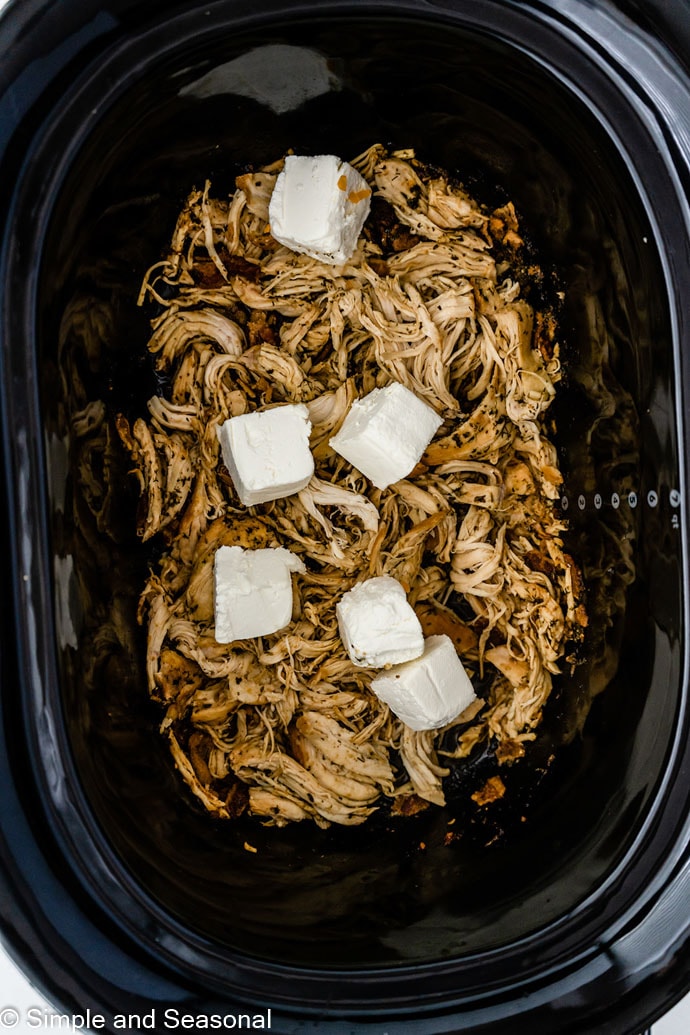 After the chicken is done cooking, shred it and leave it in the slow cooker. Add cream cheese and cook for about 15-20 minutes more until it's completely softened and easy to mix in. I like to soften the cream cheese in the microwave a little so it doesn't take so long to do in the slow cooker.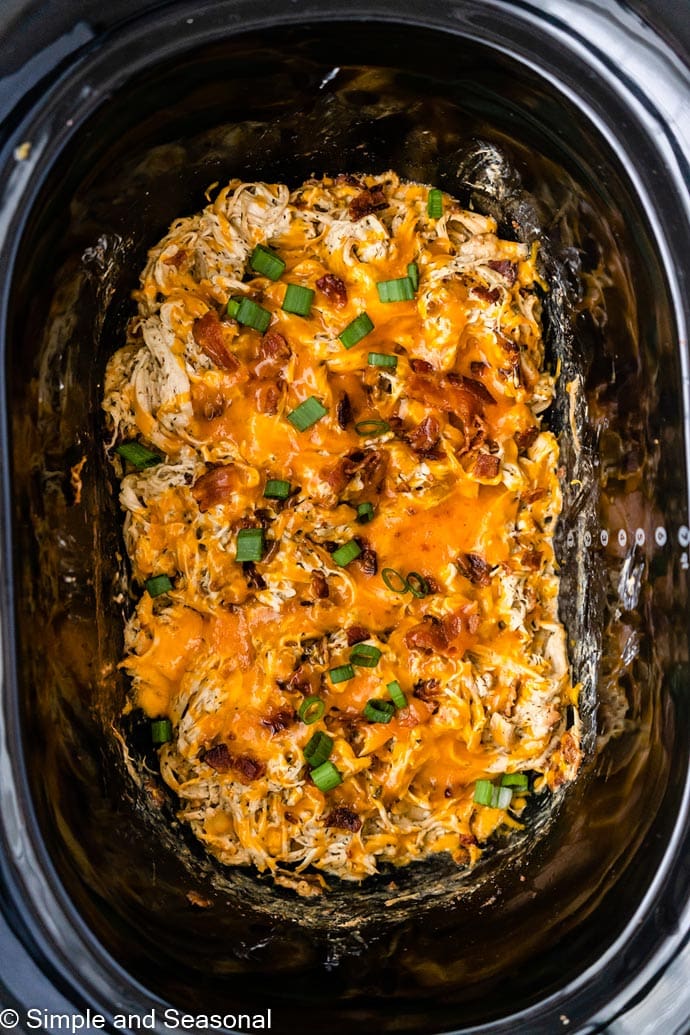 Top with some cheddar cheese, extra bacon and green onions. If you're doing low carb or keto, you can eat it just like this. If not, serve on buns for a delicious chicken sandwich.
If you love the idea of chicken and bacon, but still aren't sold on the addition of ranch dressing seasonings, try my Chicken Bacon Pasta instead! It's the most dreamy combination of homemade Alfredo sauce and crack chicken minus the ranch dressing and cream cheese. 😉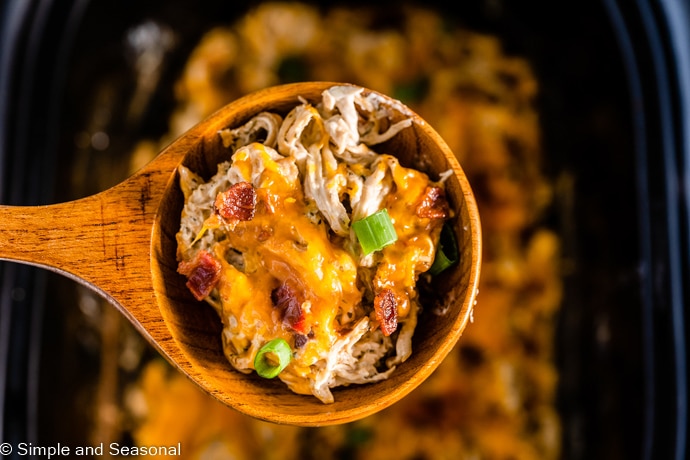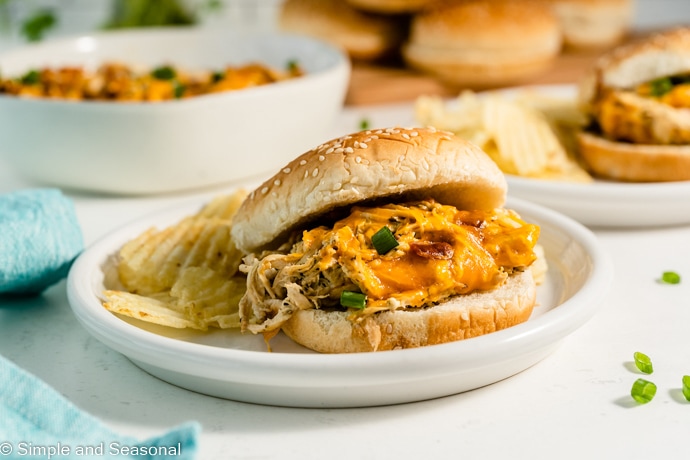 What should I serve with Slow Cooker Crack Chicken?
In our house, we keep it simple and usually have some chips and a fresh salad on the side. Crack Chicken also tastes great on a bed of mashed potatoes instead of the bun. If you're doing low carb and have no happiness left in your life, you can try mashed cauliflower. (I kid, I kid…relax.) 😉
What if I want to make this in my Crockpot Express (pressure cooker)?
I have made both slow cooker crack chicken and Crockpot Express crack chicken. Personally, I prefer the slow cooked version because I don't want it to be too "saucy." However, when you've forgotten to thaw the chicken and you're in a pinch, the pressure cooker version works just as well.
You need to add 1/2 cup of chicken broth to the chicken/bacon/seasoning mixture. Then hit the poultry button (15 min on high) and let it NPR completely. Shred the chicken in a separate bowl or with a nylon tool like this one so you don't scratch the inner pot.
Add the softened cream cheese and leave on keep warm for a few minutes. Mix in the cream cheese, then top with cheese and green onions to serve.
What can I do with leftover Slow Cooker Crack Chicken?
Oh, goodness do I have a treat for you! If you don't want to just enjoy another sandwich, then use your leftover crack chicken to make these delicious Crack Chicken Jalapeno Poppers. The addition of spicy (but not bad after it's roasted) jalapeno to the chicken/bacon/ranch flavor is perfection.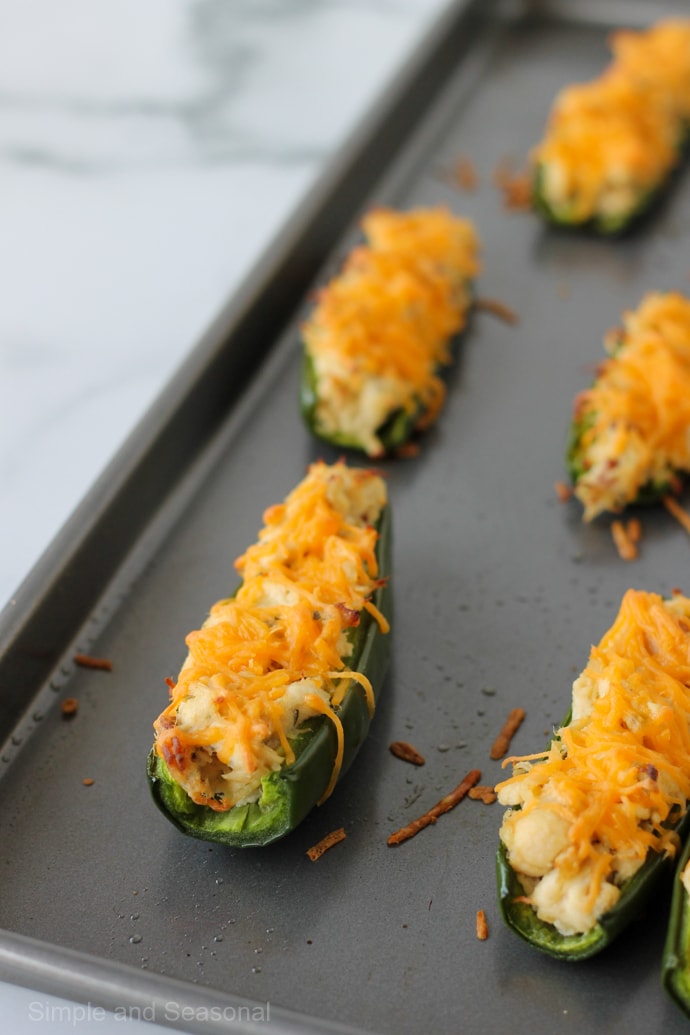 Slow Cooker Crack Chicken
Slow Cooker Crack Chicken features flavorful herbs and spices in a not-too-creamy sauce. Ditch the Ranch Dressing packet and taste the difference!
Ingredients
2

pounds

boneless skinless chicken breast

1

cup

cooked bacon

chopped

3

tbsp

olive oil

2

tbsp

red wine vinegar

1

tbsp

parsley

1

tbsp

onion powder

1 ½

tsp

garlic powder

½

tsp

dill

½

tsp

pepper

½

tsp

salt

6

oz

cream cheese

½-1

cup

shredded cheddar cheese

Green onions for garnish
Instructions
Add all ingredients up to the cream cheese to the slow cooker and cook on low for 4-6 hours.

Open, shred the chicken and add the cream cheese. Cook for another 20 minutes or so to soften.

Mix well, then serve on buns with grated cheddar cheese and green onions.
Notes
Cook time may vary, depending on your model of slow cooker. One of mine is done in just over 2 hours on low, while the other takes 4-6.
Thickness of the chicken will also affect cook time
Use real bacon bits if you don't have time to cook up some fresh bacon
Soften cream cheese in the microwave to cut down the last part of the cook time
Nutrition
Calories:
349
kcal
|
Carbohydrates:
2
g
|
Protein:
32
g
|
Fat:
23
g
|
Saturated Fat:
9
g
|
Trans Fat:
1
g
|
Cholesterol:
117
mg
|
Sodium:
633
mg
|
Potassium:
548
mg
|
Fiber:
1
g
|
Sugar:
1
g
|
Vitamin A:
439
IU
|
Vitamin C:
2
mg
|
Calcium:
85
mg
|
Iron:
1
mg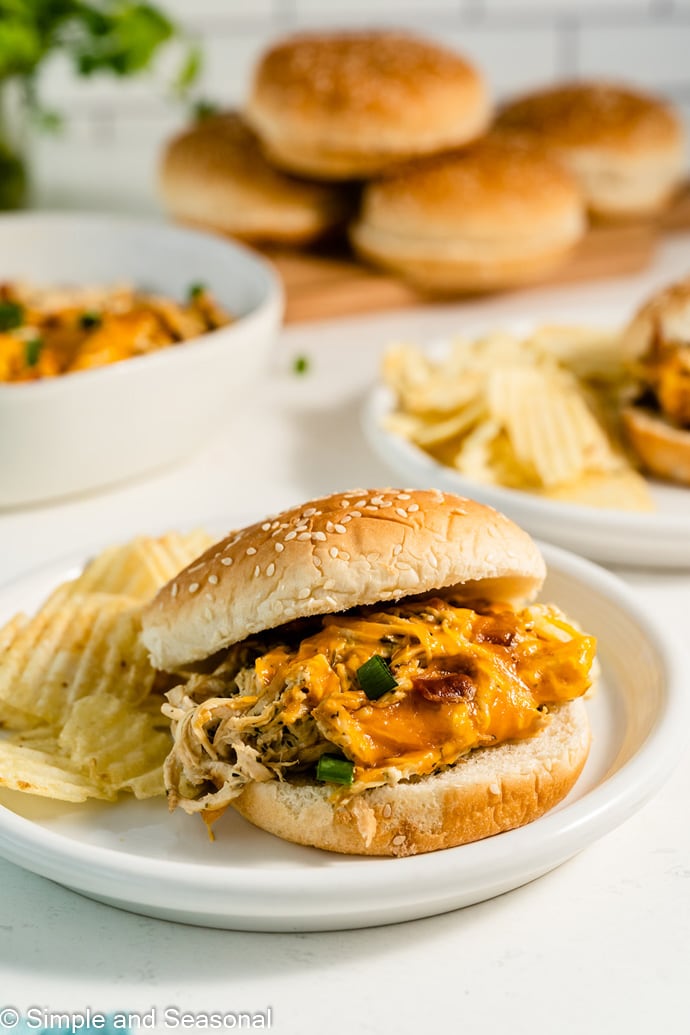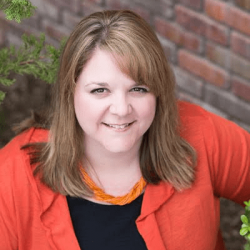 Latest posts by Nicole Burkholder
(see all)