This post may contain affiliate links. Please see my full Disclosure Policy for details.
A few years ago, my brother made these sandwiches for everyone in the family for Christmas breakfast. They were so amazing, it has become a tradition for us eat them every Christmas morning. I have now deemed them the world's best breakfast sandwich. Yes, there are probably 98,517 calories in one of them, but that's why they are a special occasion only kind of thing. 🙂 Crispy, cheesy, buttery, salty…you HAVE to try these. When we walked into the house on Christmas morning, it already smelled amazing. My family must finally see me as a legitimate blogger because several of them asked me if I was going to blog these, and did I remember to take pictures? I wasn't planning on it, so you are seeing photos taken with my phone and no staging to make them look pretty. 🙂 My VERY pregnant sister-in-law patiently waited as I wandered around the house looking for a place with decent lighting to snap a photo of her plate. (I had already eaten half of mine before I remembered I still needed a shot.)
I took a picture of the counter so I could remember the ingredients for this "recipe." When I called Nathan to ask him about it, he was less than specific as far as measurements. He just throws these together and we all pitch in different ingredients to share in the cost. So I'll do my best to make this an official recipe, but know that it's flexible.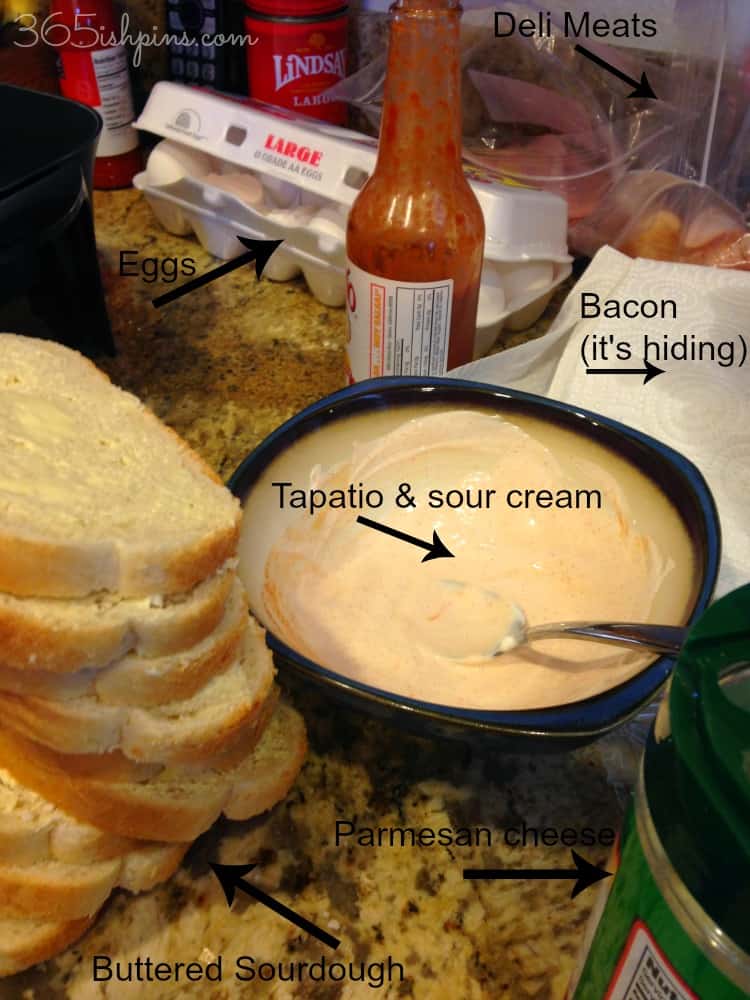 The only thing not pictured above is the fried potato. They were still in a pan on the stove, I think. I'm going to give you the ingredients for ONE sandwich to make this easier. So here we go:
World's Best Breakfast Sandwich
Sliced sourdough bread
Butter
Parmesan cheese
Several slices of deli ham and turkey
1-2 pieces of bacon, cooked
1/2 potato, shredded and fried (like hash browns)
1 slice Swiss cheese
1 slice cheddar or Colby jack cheese
1 fried egg
Sour cream and Tapatio (hot sauce) mixed together 2:1 (the sauce should be pink)
Heat up an electric skillet or griddle to 350°
In a separate pan, placed shredded potatoes spread evenly in one inch of hot oil. DON'T stir or turn the potatoes. Once they have cooked together into a "sheet" then you can turn the whole thing and brown the other side. (Think hash browns)
In another pan (I know, this is getting messy) cook bacon until crispy. You can also fry the egg in this pan, or cook it next to the sandwich in the skillet.
Butter the outsides of the bread and put Parmesan cheese on one slice (outside).
Place bread butter side down on hot skillet. Top with cheese (it will get nice and melty and hold everything in place), meat, potato, bacon, egg and sauce.
OK, I think that's it. You know what, it will just be easier to show you.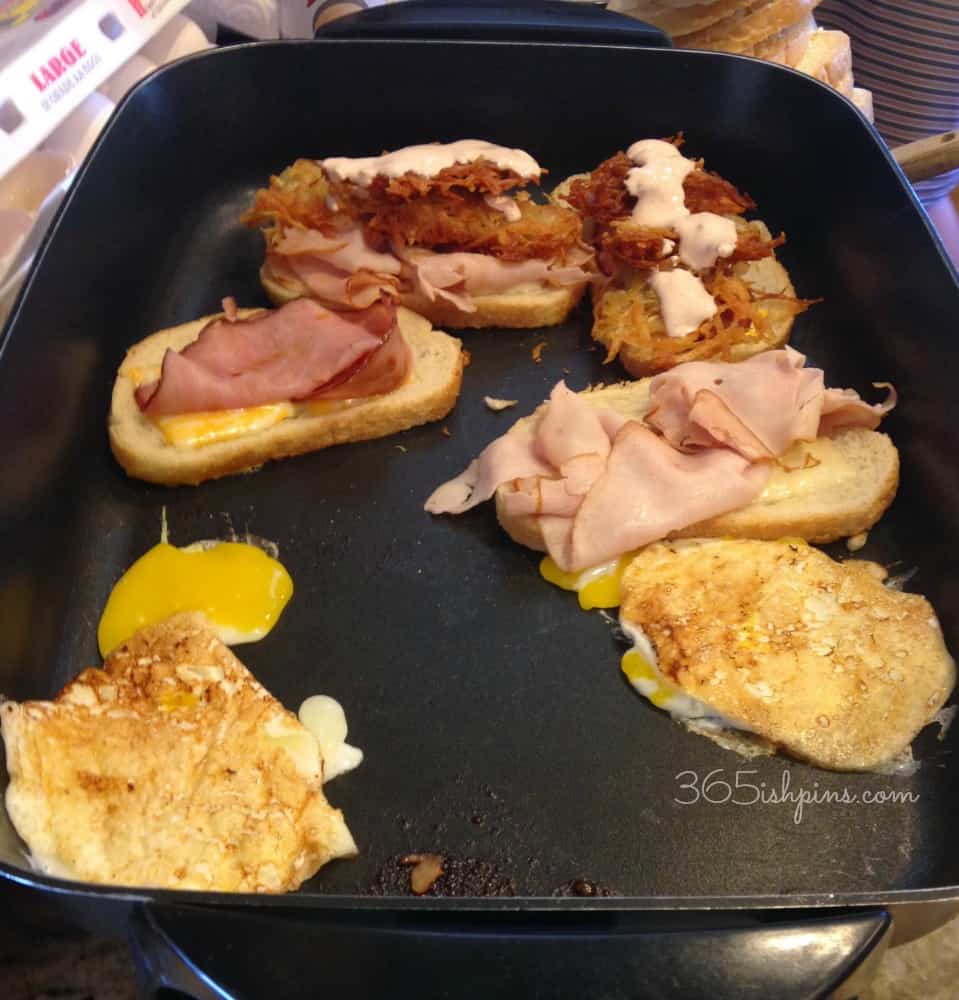 See? Eggs frying, sandwiches in different states of preparation, but you can get the general idea. I'm sorry this is so casual a recipe, but really, is there a RIGHT way to put a sandwich together? You could easily adjust this to your own tastes by changing the cheeses, the meats, or even scrambling the eggs instead of frying (although that would be a little messier.) Don't skip the sauce! It's not hot at all, thanks to the sour cream, but it adds a great dimension of flavor to this AWESOME breakfast sandwich.
What about you? Do you have a favorite breakfast food? Is there something special you do for Christmas breakfast, or do you try new things every year? Personally, I think this would be a great breakfast in bed for Valentine's Day 🙂
Oh, and just so you have a face to put the name NATHAN, the great purveyor of this recipe, here you go: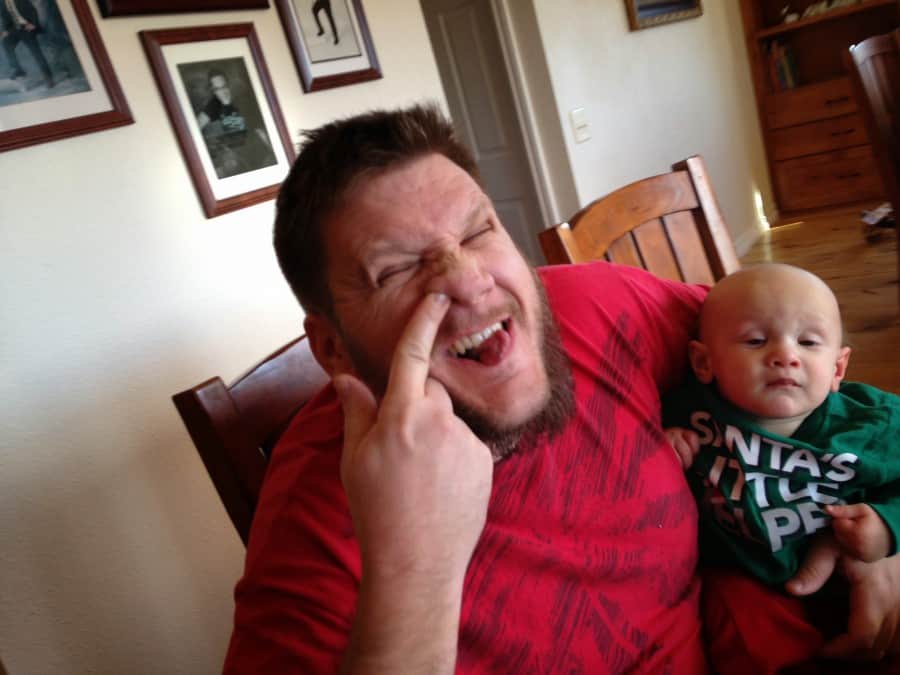 I might as well show you the other two. (I told them I would get revenge for them taking my phone and filling it with idiotic pictures.) *maniacal laugh* Now you know what I have to put up with around here: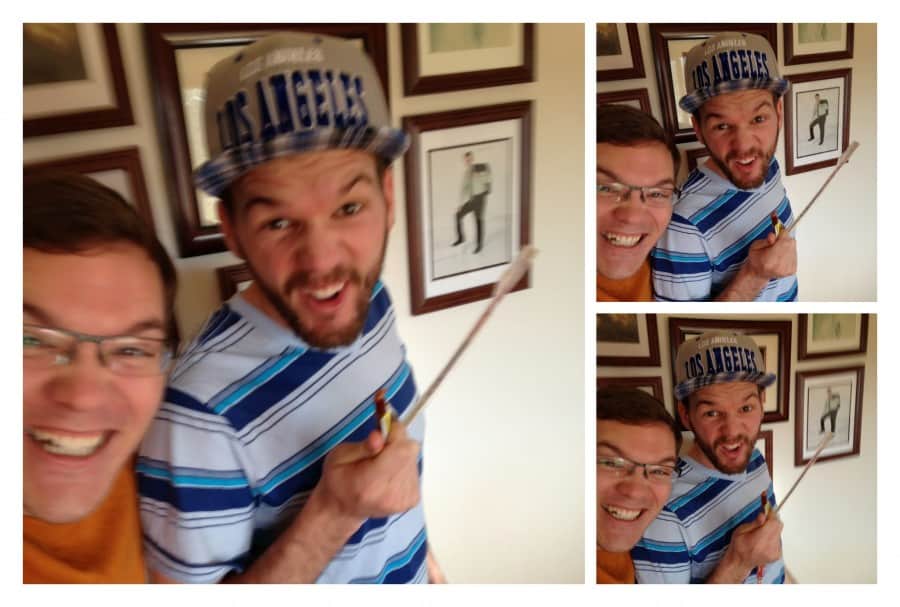 I BEGGED God for a little sister…
Don't forget to pin this tasty breakfast sandwich so you remember to try it later! 🙂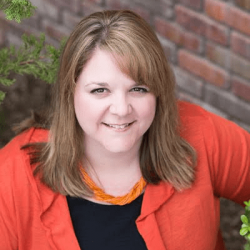 Latest posts by Nicole Burkholder
(see all)