This post may contain affiliate links. Please see my full Disclosure Policy for details.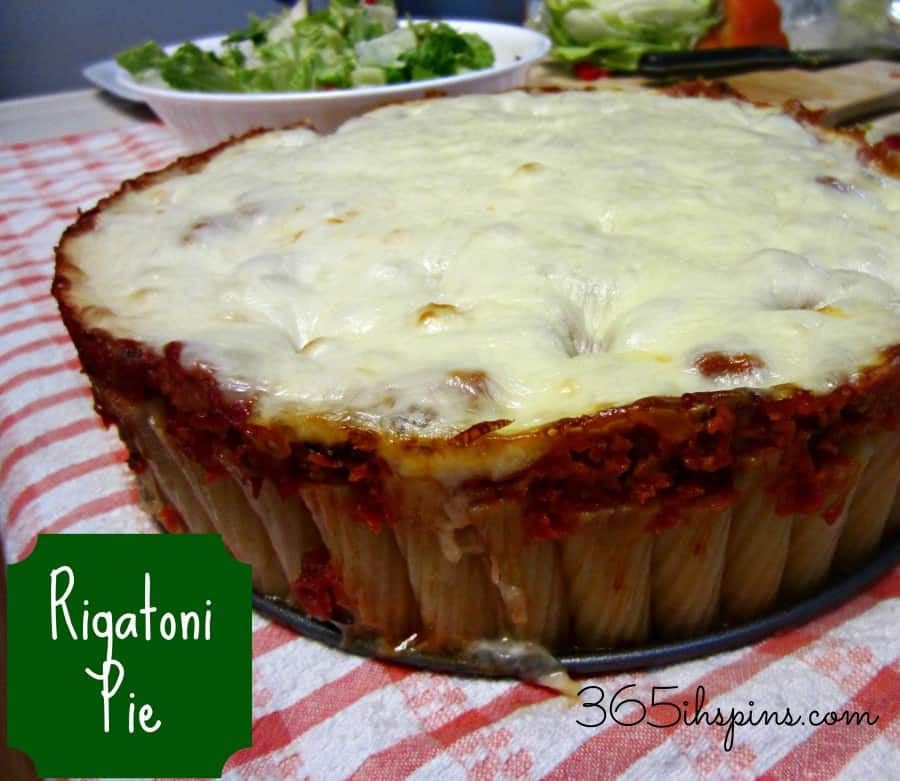 I will be the first to admit, I only tried this Rigatoni Pie because I wanted to play with my new spring-form pan. 🙂 I've never owned one of those before, and when I saw this on Pinterest, I just had to try it. How cool is it to eat pasta on its end? Besides, my family loves baked ziti, so I figured it couldn't hurt.This is the simplified, probably less healthy version of a recipe I found on Recipe Sweet. You really should hop over and check it out, because her photos are pristine. Mine- well, we eat whatever I'm posting about almost immediately, so I get what I can before the hungry masses descend upon the kitchen. 🙂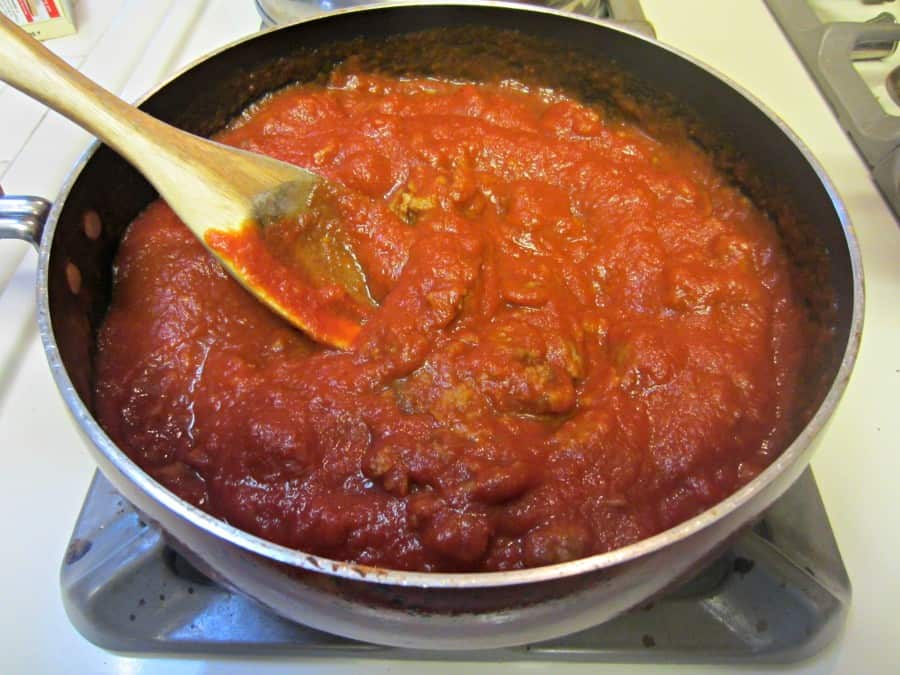 When I went to the freezer to pull out my ground turkey, I realized I had used it all the night before making tacos. Oops. So I improvised (per usual) and warmed up some frozen turkey meatballs. Perfect! They were already seasoned and all I had to do was crumble them up a bit in the sauce. I used one jar of Ragu for this.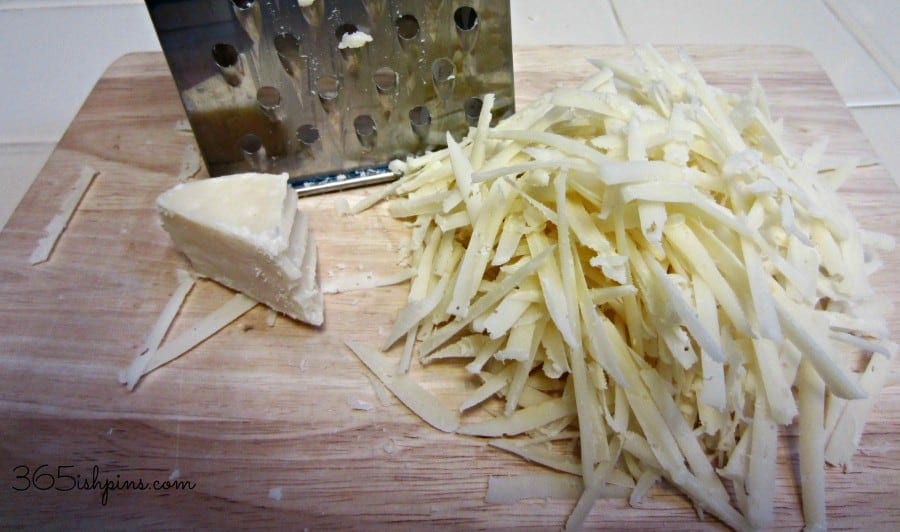 While the noodles are boiling, grate the cheese. There is nothing like fresh grated Parmesan cheese. Yummmmmmmm. Its flavor is so much stronger than the bagged stuff. So do it yourself-it's not that much harder and it tastes so much better.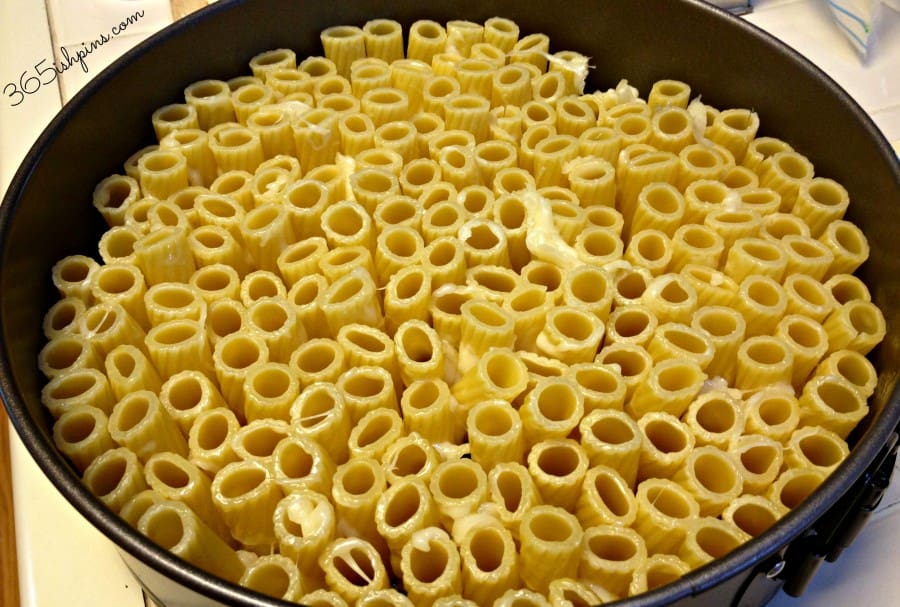 Here's the fun part: Take out the noodles before they are cooked all the way and toss them with the Parmesan. Then, add them to the spring form pan standing on their ends. It's a little hard at first to keep them up, but as you fill it in, it gets easier. The melty cheese helps to hold them together, too. Then you pour the sauce over the top and use a spoon to help it get down into the pasta as much as possible. Throw it in the oven to cook, adding the mozzarella all over the top for the last 10 minutes of cook time. Let it sit for a full 10 minutes when it's done. Then remove the sides of the pan and this is what it looks like when you cut into it. How cool is that? I'm saving this for a "fancy" company for dinner meal. 🙂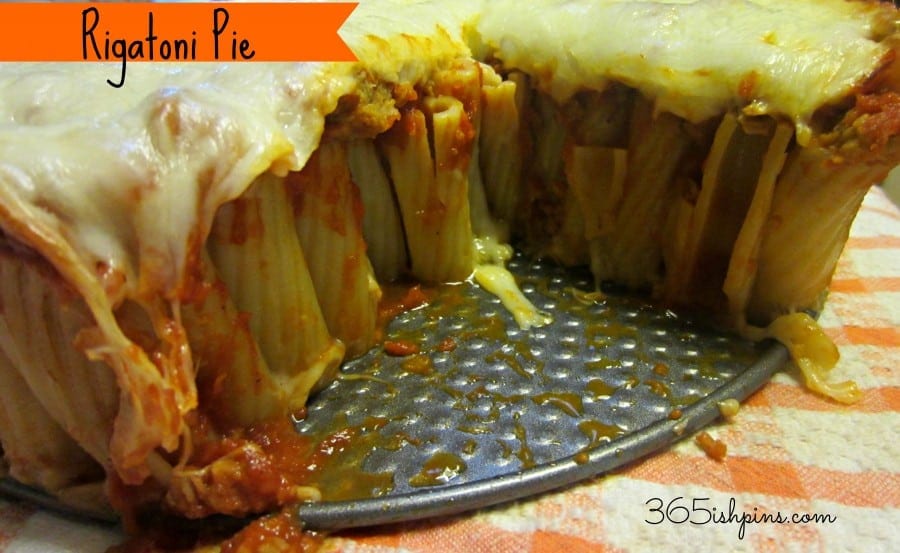 Rigatoni Pie
Ingredients:
1 lb. Rigatoni noodles
1 lb. ground turkey, beef, or meatballs 😉
1 jar Ragu sauce (or make your own if you're so inclined)
1 cup Parmesan cheese, grated
2 cups mozzarella cheese, grated.
Directions:
Preheat oven to 400°
Boil noodles 1-2 minutes less than package directions. You want them just shy of al dente.
While noodles are cooking, brown ground turkey. Drain. Add sauce and simmer.
When noodles are done, drain and then toss with Parmesan cheese. Place each noodle upright in a spring form pan. One pound will just fill a 9″ spring form.
Pour meat sauce over the noodles, pushing it gently into the holes with the back of a spoon. (It will completely cover the noodles)
Bake for 15 minutes, then pull out and add the mozzarella cheese. Bake another 10-15 minutes until cheese is melted and sauce is bubbly. Let sit at least 10 minutes before you remove the ring. Slice and serve with some tasty garlic bread and salad for a complete meal!
Hurray! This post was featured on Marvelous Mondays link party!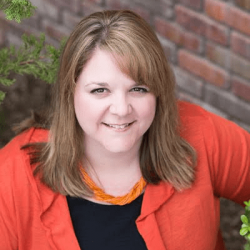 Latest posts by Nicole Burkholder
(see all)