This post may contain affiliate links. Please see my full Disclosure Policy for details.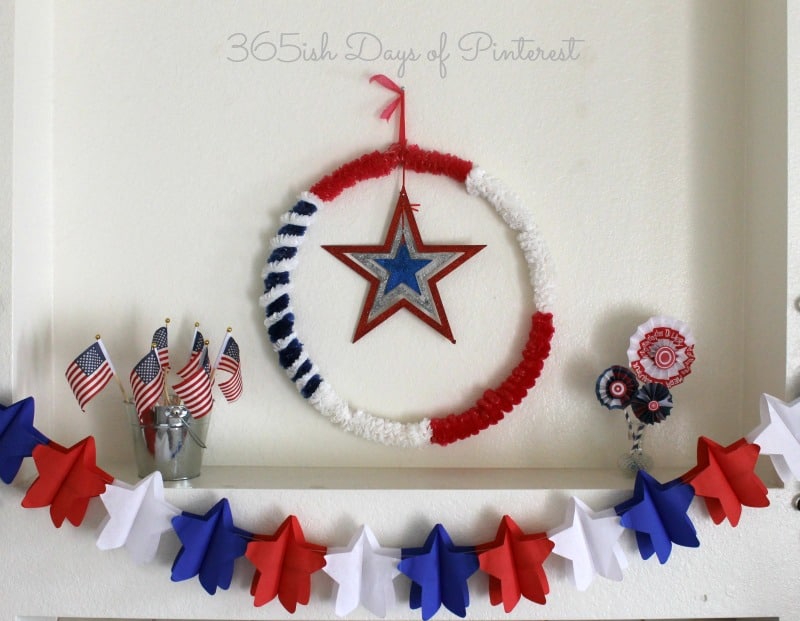 Does anyone else feel like the summer is flying by and you're already playing catch up? I wanted to decorate my mantel for Summer this year and I suddenly realized that Independence Day is only a week away! A week!!! How did that happen? I didn't have time (or, let's face it, crafting ability) for anything fancy, so I wanted to throw something together quickly and cheaply. Trumpet Fanfare: dollar store to the rescue! Can you guess what I used to make that patriotic wreath?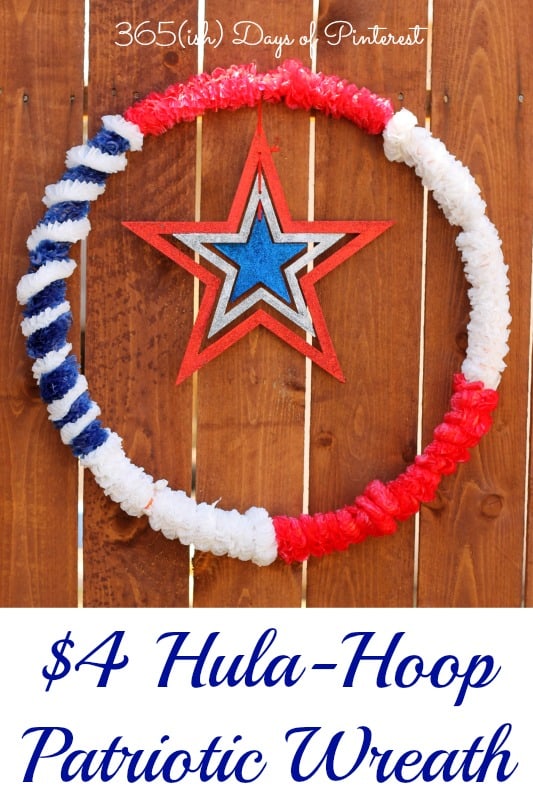 Yup. A hula hoop! I was browsing the aisles at the local dollar store when I saw a box of different sized hula hoops. I pulled out the smallest one and then wandered some more until inspiration hit again. Leis! They were selling a set of 6 patriotic leis for $1. I used two packages of leis, and also got the glitter star for the center in the seasonal aisle. The next step was to go home and figure out if I could make a patriotic wreath out of this stuff!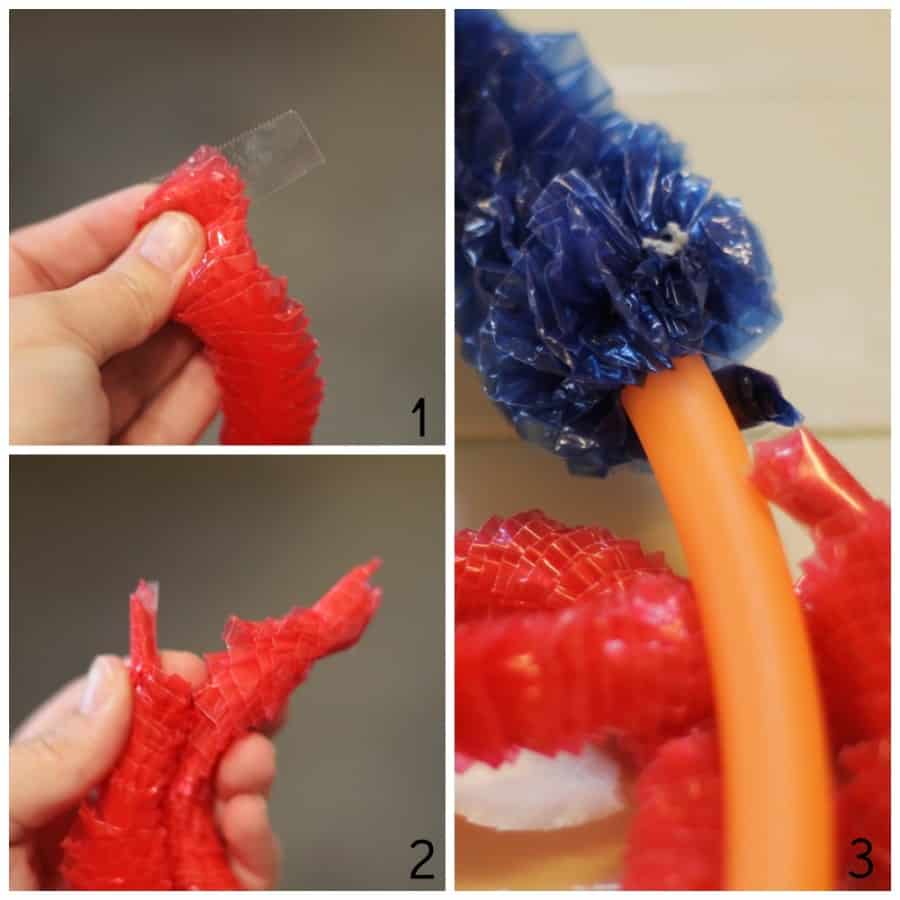 Patriotic Wreath
hula hoop (mine has a diameter of 24″ but you can get much larger ones)
plastic red, white and blue leis (I used 12 for my hula hoop)
packing tape (you may be able to use hot glue, but I'm not certain-the plastic leis might just melt and make a mess)
scissors
optional: decoration for the center of the wreath
1. Cut a lei so it's a long strand instead of a loop. Hold tightly to the ends and have strips of tape ready.
2. You will need to fold over the ends and tape them so the whole thing doesn't unravel. Ask me how I know this.
3. Fasten one end of the lei to the hula hoop with tape or hot glue. Then wrap it around the hoop tightly enough to make sure nothing shows through. (In retrospect, it would have been smart to spray paint the hoop white to hide any bare spots, but, hey, live and learn.)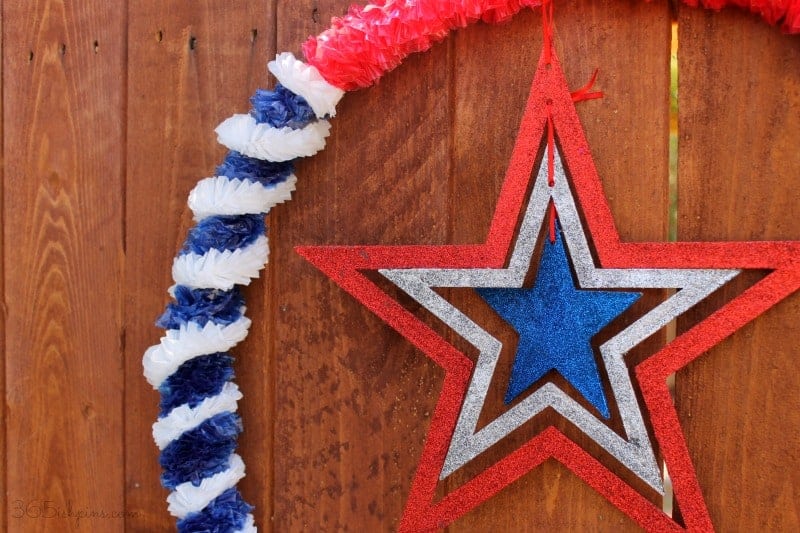 I started with two blue leis to represent the star field. Then I did two red, two white, two red and two white to represent the stripes. I added a final white one on top of the blue to represent the stars. Then I tied a ribbon around the glitter star and hung it from the center. Ta Da! Behold, my $4 creation and gasp in wonder! OK, you can just pat me on the back with a lovely comment down below. 😉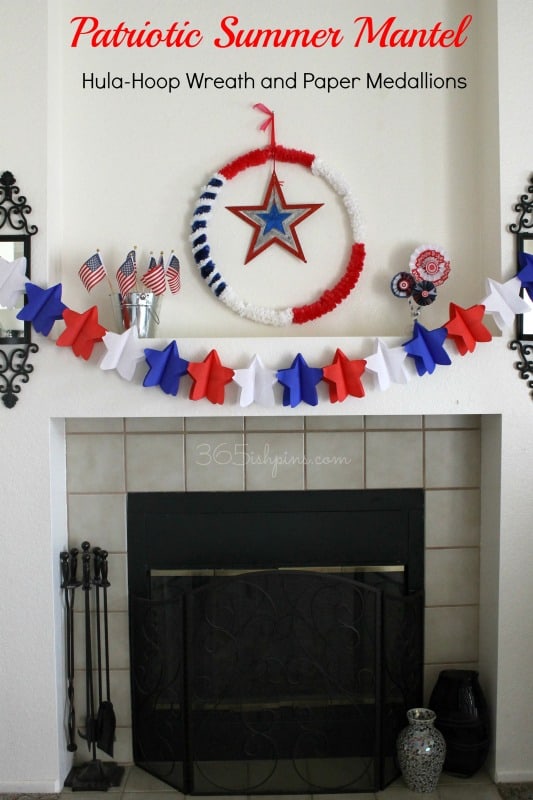 I got a package of American flags at the dollar store (yay for being cheap) and I put the paper medallions that I made last week in a bud vase to accompany my hula hoop wreath. Add in a paper banner that I'd LOVE to take credit for but actually got at…wait for it…the dollar store, and I have a festive mantel for Summer! I used to only decorate for Christmas, but this year I started changing my mantel for Fall, Christmas, Spring and now Summer! What about you? Do you decorate for the seasons?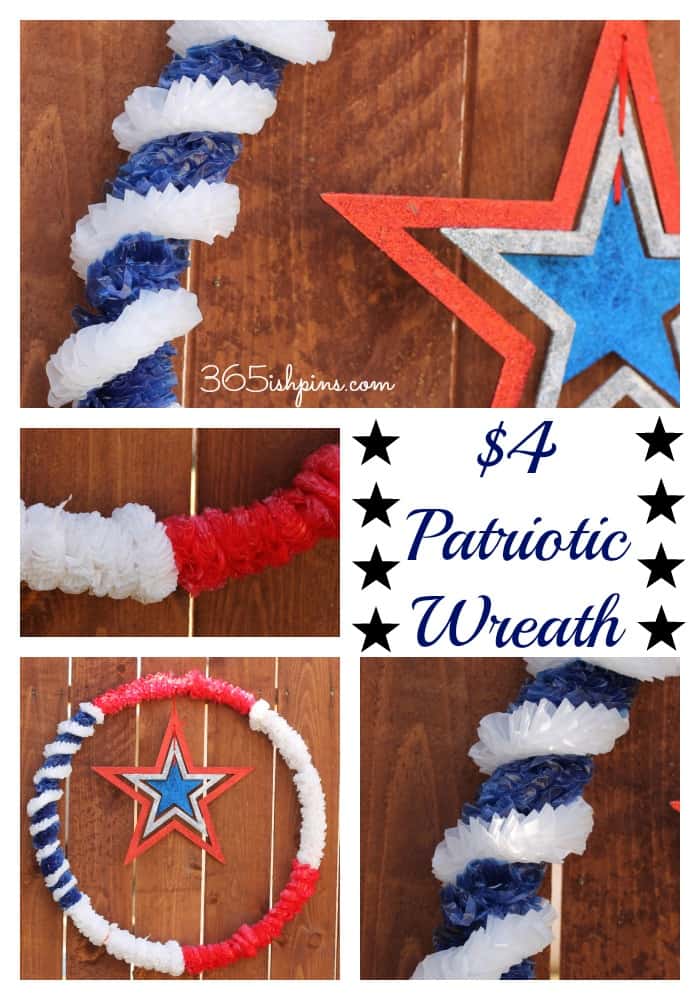 Check out my Summer Pinterest Board for more seasonal inspiration or the ProFlowers Wreaths All Year Project for some amazing wreath inspiration!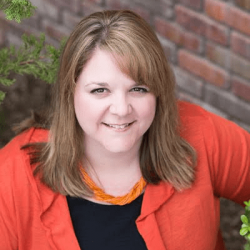 Latest posts by Nicole Burkholder
(see all)