This post may contain affiliate links. Please see my full Disclosure Policy for details.
I am so proud of myself. I saw something on the side of the road waiting for the trash man, and I rescued it. Now, for a typical DIY blogger, that's just known as Tuesday. But for me, it's a bit of a stretch from my comfort zone. I saw a broken entertainment center sitting near the road with one of the cabinet doors missing. But the other one was still there. The glass wasn't broken. The wood wasn't too dinged up, and the hinges were on the inside, so I could remove them and still have clean lines all the way around the edges. I wasn't sure what to DO with the pretty door, but I wanted it. So I went home, grabbed a screwdriver and walked back down the street. The neighbors probably thought I was crazy, but then again, I can often be found in my garage or on the front lawn contorting myself into random positions and taking pictures of food. It's been sitting in my garage for several weeks, until I saw a fun idea from Better Homes and Gardens to use leaves in the panes of a glass door. Well, I don't have a glass door, but I do have this for my Fall mantel decor!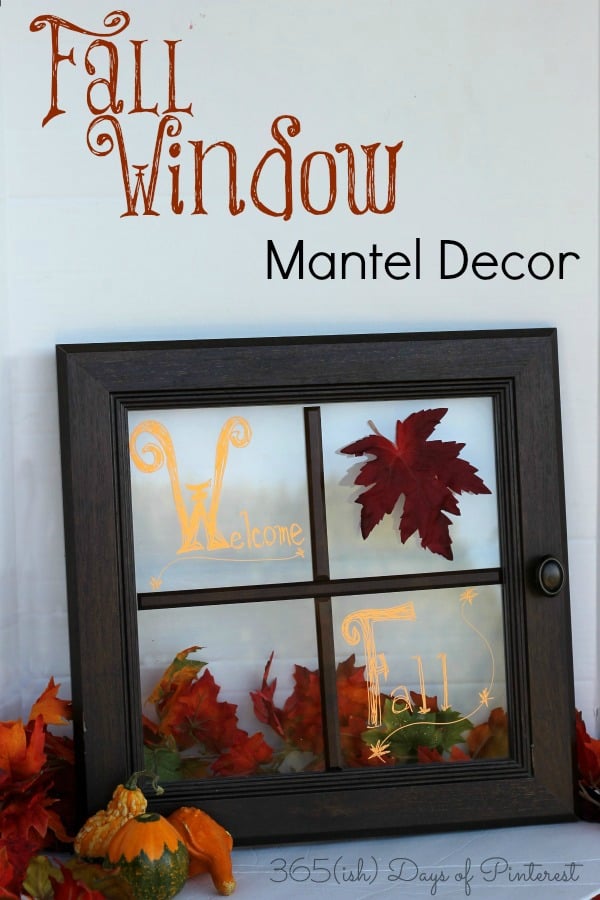 I pulled out some Fall leaves from my decorating stash and started with one in each panel. I liked how it looked, but I couldn't get it just right, so I tossed that idea and just left one leaf up in the right corner. When I was setting things up to photograph the window, I pulled out a garland full of beautiful colored leaves and I loved the way they looked behind the window pane. It's like you are peeking outside and seeing piles of Autumn leaves. I just bought a package of chalk markers at Hobby Lobby the other day, and I had fun with that! They write so nicely on the glass. I free-handed a couple "fancy" letters and created my Welcome Fall sign.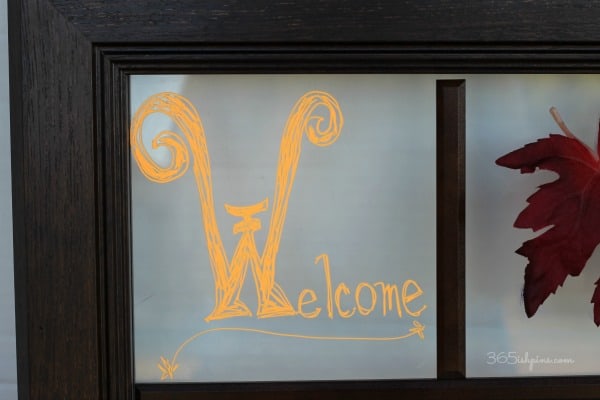 I tried to copy the font "Things we said" to create the "W." Because it's so easy to change, I will probably be playing with this for several days. 🙂 I also have a white marker, so I might go back and add some highlights to the letters and flourishes.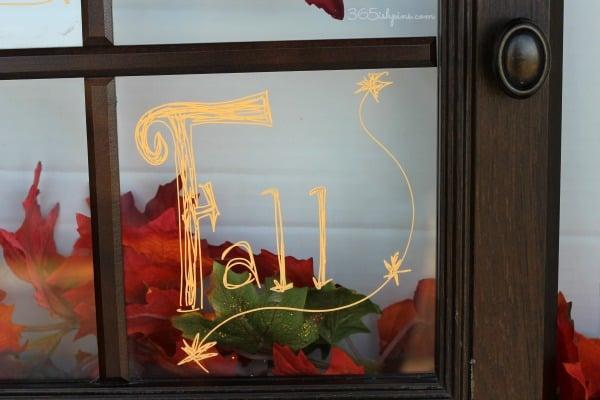 I had no idea where I was going with this project when I started this afternoon, but I really like how it's coming together. I love the color of the leaves coming through the window panes!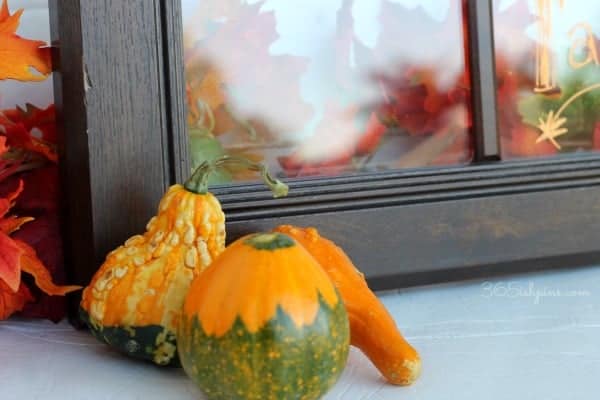 I bought some ornamental gourds at the grocery store and they will be sitting up on the mantel somewhere, too. Aren't they cool? The colors and all the lumps and interesting textures remind me why Fall is probably my favorite season!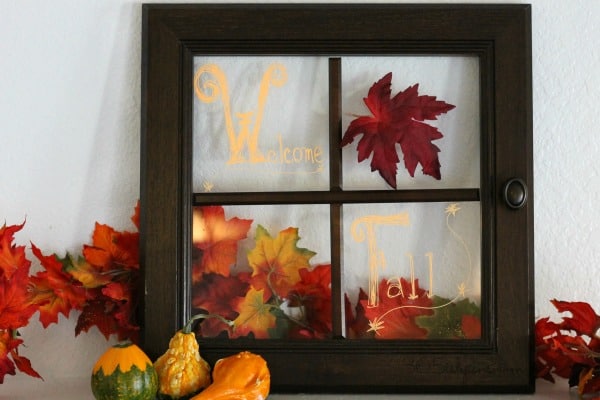 For now, this is all that's on my mantel. I will post pictures again after I have it all done. A little side note: it's nearly impossible to take pictures of something with a reflective surface like glass. I kept seeing myself in every photo! Hopefully, this will inspire you to try creating your own Fall mantel decor. If you don't have a mantel, you can always dedicate a shelf to Fall or decorate your entryway instead. Happy Fall, friends!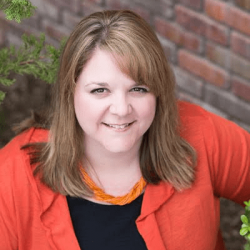 Latest posts by Nicole Burkholder
(see all)