This post may contain affiliate links. Please see my full Disclosure Policy for details.
Punch up your look for fall with these easy fall decor ideas. Take a little tour around my house this season! If I can do it, so can you. 🙂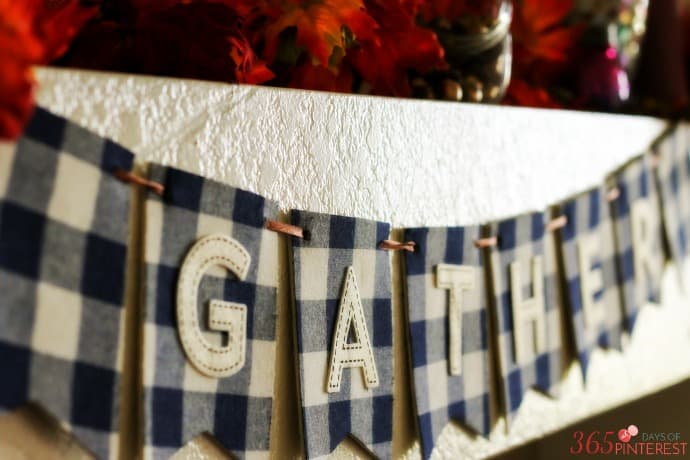 I finally pulled out my fall decorations last week and yesterday I snapped a few pictures of my mantel and "piano room" where I keep most of the seasonal decor. I have little touches of fall throughout the house, but the room with the most impact will always be the front room with the fireplace. Hallmark sent me a couple really cute pillows to add to my fall collection, so I thought I would take a bunch of pictures and do an informal "fall tour" of my house. I also get to giveaway something fun from Hallmark's home collection, so be sure to scroll all the way to bottom to enter. Now, on with the tour!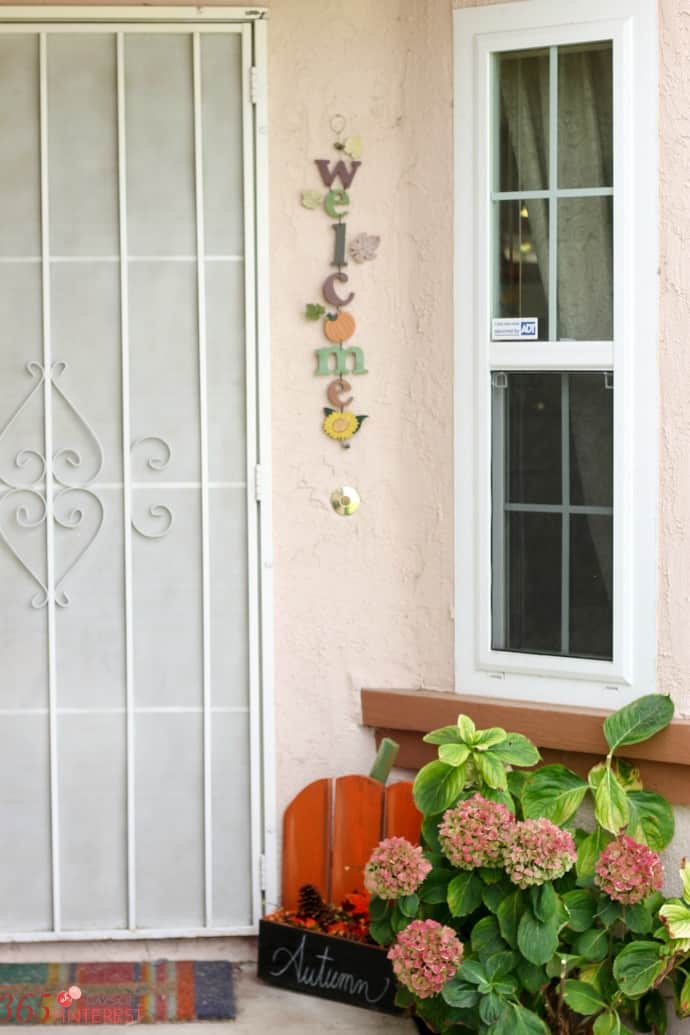 I'll start with the front door and then take you inside and around the room. To be honest, I really hate our entryway, but there's not much I can do about it right now. It's VERY narrow (there's not enough room on the other side of the door to put anything without blocking it) and that security screen is an eyesore. But it's a rental and we can't just rip it off, so I deal with it. I need to get a wreath for fall to pretty it up a bit. My hydrangea grew beautifully this year (it was nothing but a couple sticks in the ground before it exploded with leaves and blooms.) It's headed out for the season, so the leaves are losing their luster and the blooms are fading, but it still adds some color to the front porch. This year I put my DIY Rustic Pumpkin Stand outside. I gave it a new coat of black paint because it had faded a bit and wrote "Autumn" on it with a chalk pen. The box is stuffed with some fall leaves and pine cones. It's just a little touch of fall before coming inside.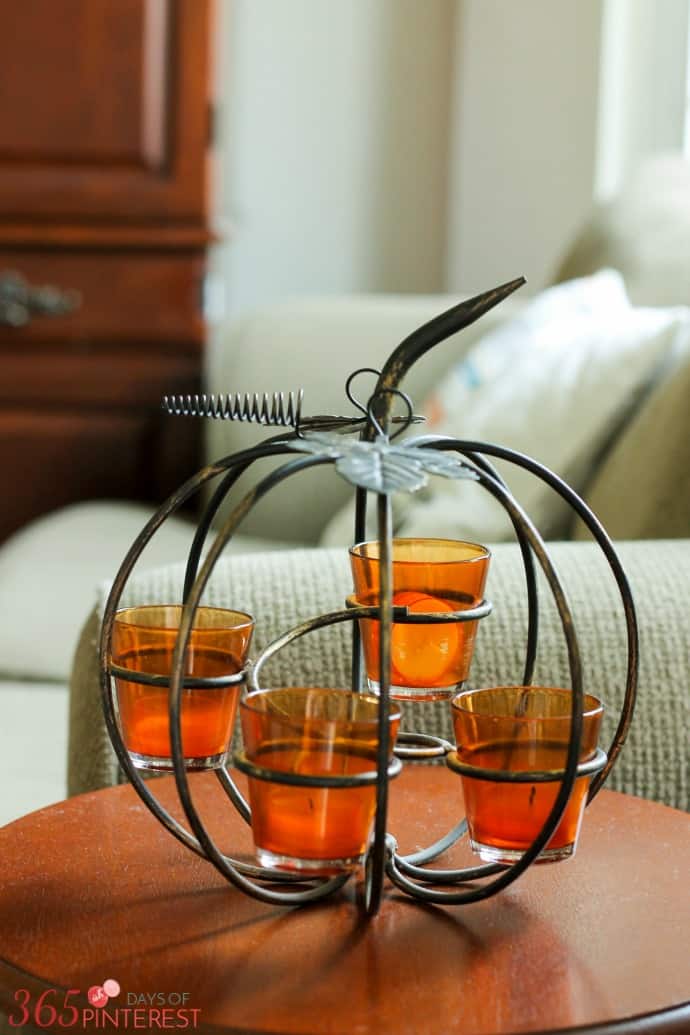 We've entered the room and immediately on the right is the love seat and this end table. My mom bought this pretty pumpkin for me for my birthday one year. I'm fairly certain it came from Kirkland's in the mall. Aaaaaaand I'm just now noticing that one of the tea candles is standing up on its end. I'm going to blame Charlie for that one. Boys.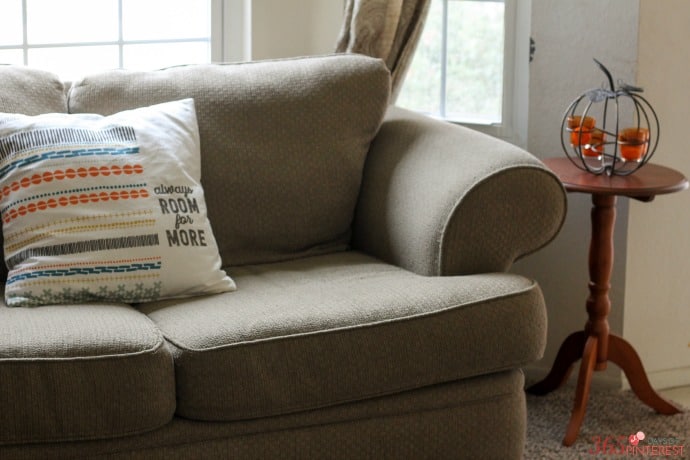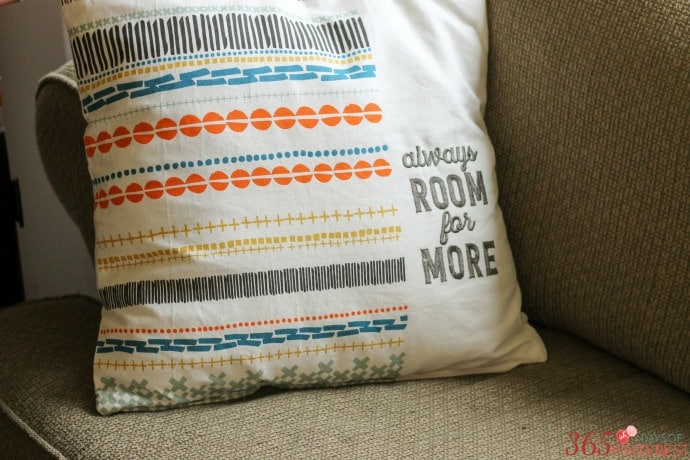 This is the first pillow I got from Hallmark. Isn't it cute? I love the patterns and playful colors. Jamie (sister-in-law #2) came in to drop off Abe (nephew #2) for music class and the first thing she said was, "Cute pillow!" I have to agree. 🙂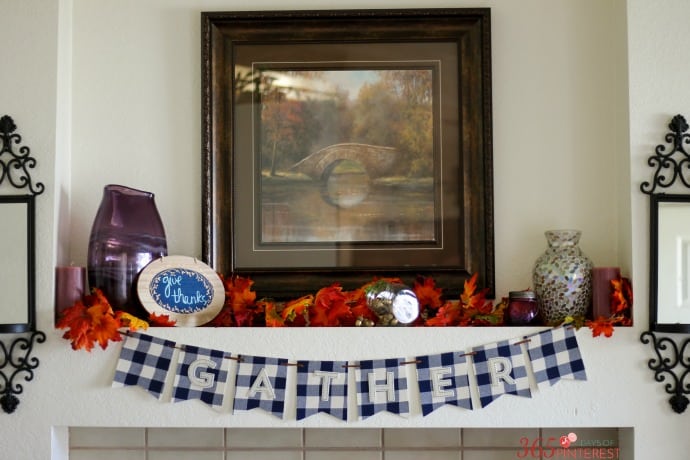 Now we're moving around to the mantel. I love decorating my mantel for the different seasons! I still can never quite get it like the glossy magazine photos, but then again, I don't live in a studio. 🙂 I wanted to do something different this year and loved the idea of flannel, navy blue, metallics and an overall warm feeling. I already use purple as my accent color in the piano room, so I just collected it all and grouped things together on the mantel.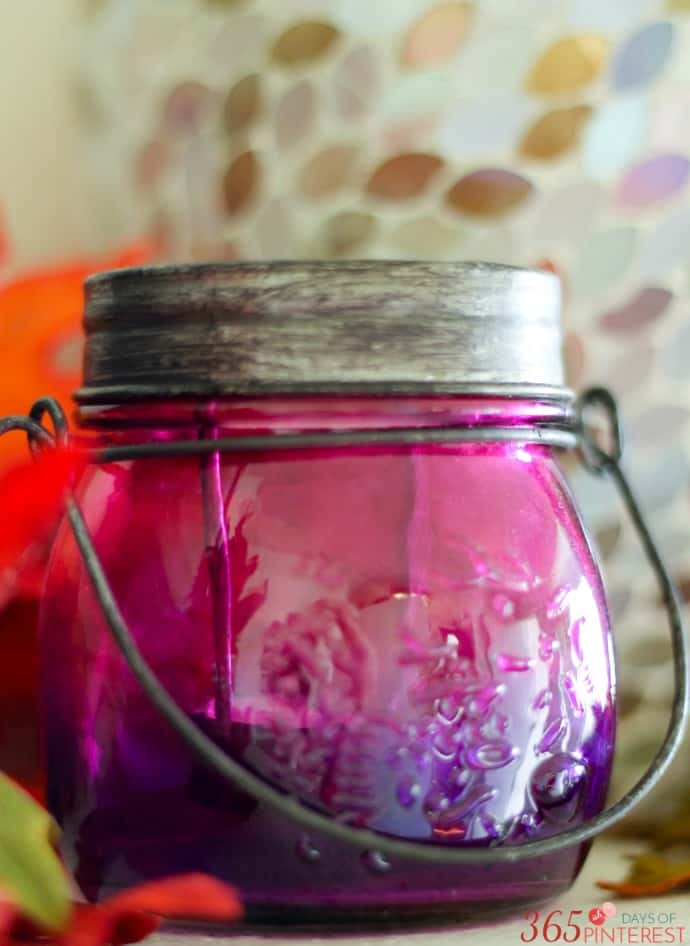 I love the color on this little tea light lantern! I got it as a door prize at a mother/daughter banquet so I have no idea where it came from. It's very pretty when the candle inside is lit.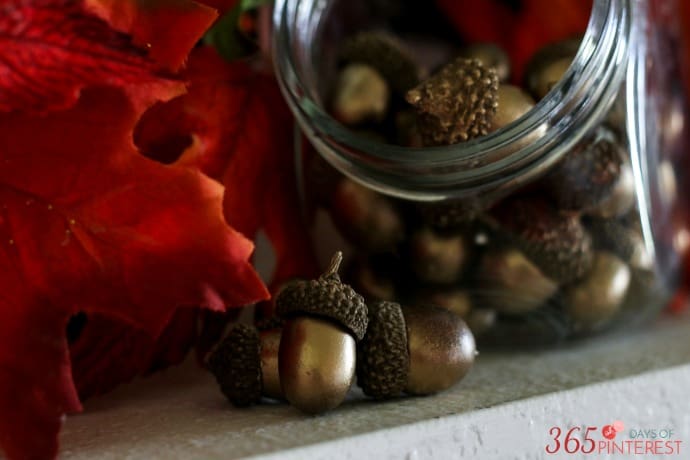 Last year I picked up a little box of acorns at a garage sale. They were a bit dull, so I pulled out my metallic gold spray paint that I used to make gold leaves for our Thanksgiving place settings one year and sprayed them down. When they were dry I put them in a candy jar to display them.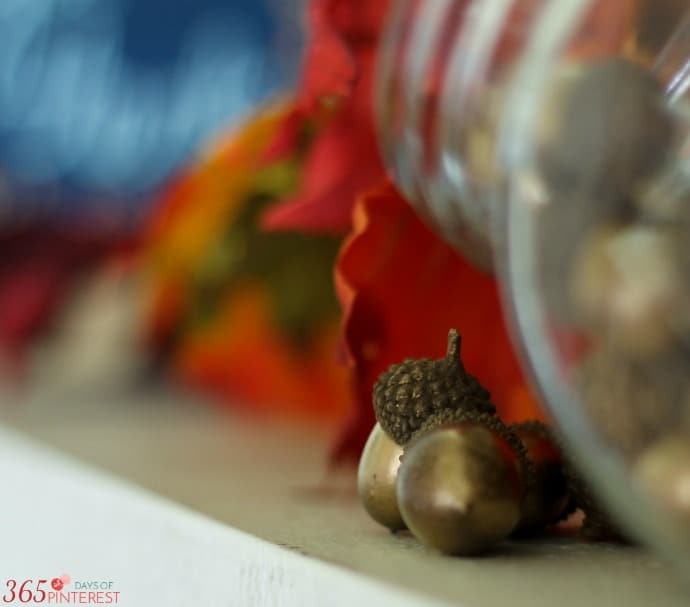 I got a little "artsy" with these pictures. Indulge me. 😉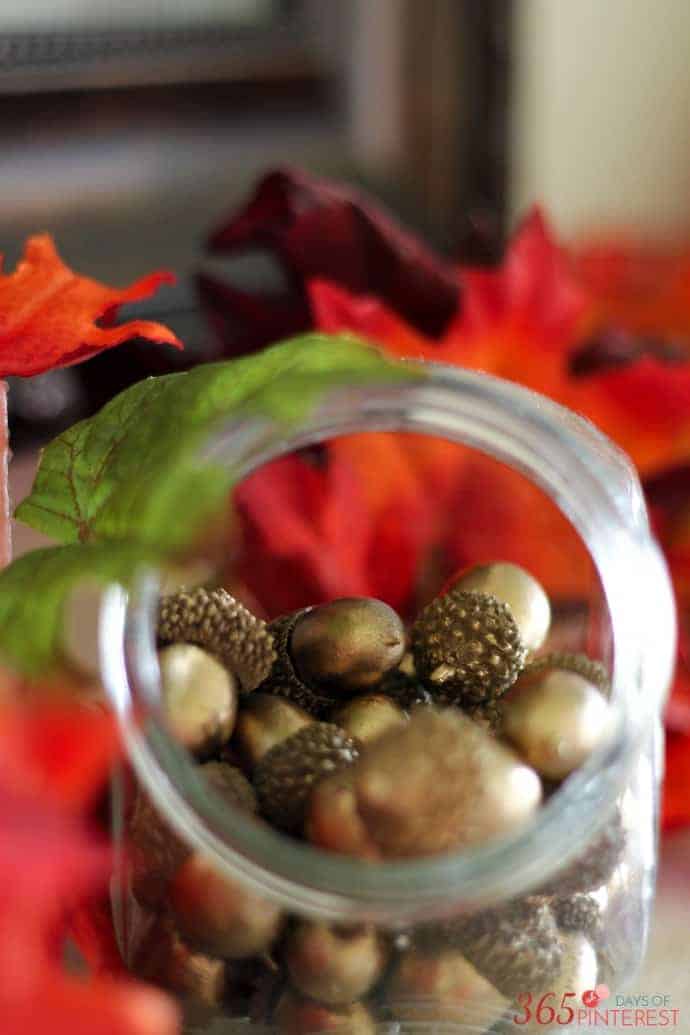 On the other side of the mantel I put a sign with the blue and gold colors that are so pretty this year. I was going to hang it up, but it's a bit small for the wall, and I needed something to balance out the mantel.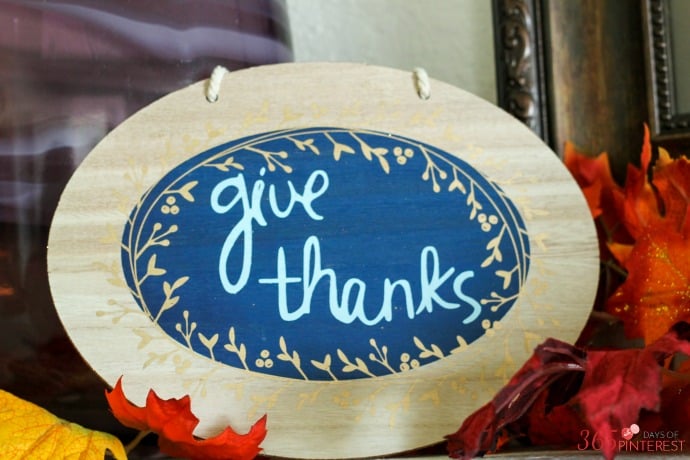 Over next to the piano is my "piano lesson chair" with the other new pillow from Hallmark. (I'm kicking myself for forgetting to put back the purple throw that drapes over the chair because it would have been a pretty pop of color for this picture.) 🙂 The pillow fits perfectly on the chair and I love the emphasis on giving thanks. It's a silent reminder to me and my kids to be thankful for the blessings God gives us!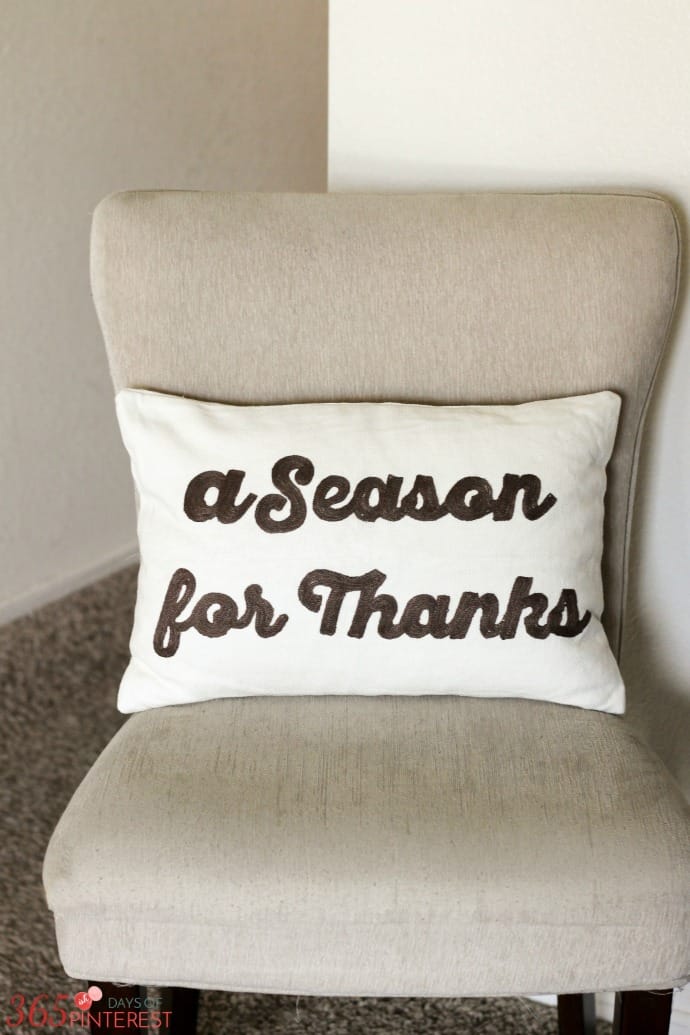 Right above the chair is a frame with a tiny shelf that holds three little pumpkins. They are photo stands, and as soon as the boys' school photos come back, I'll put them there. Maybe I'll find a cute fall printable to stick on one of them.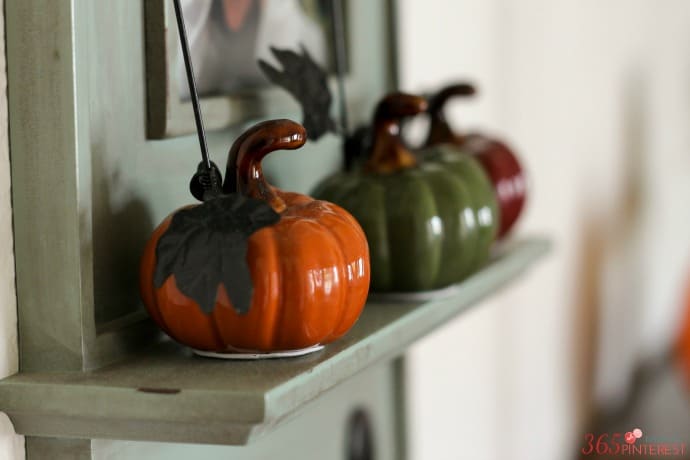 Lulabelle isn't really a fall decoration, but she is pretty cute. 🙂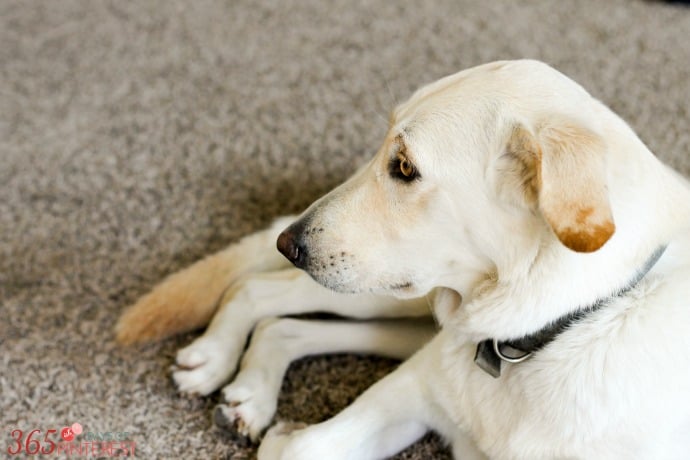 You can win either the Gold Berry Ruffled Pot Holder set or the the Stir in Extra Love Tea Towel set. To enter, either pin the image below OR share this post on Facebook and then leave a comment here to tell me which one you did. I'm going to trust you to be honest! 🙂 (1) random winner will be chosen. #LoveHallmark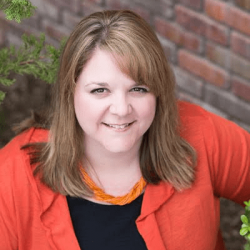 Latest posts by Nicole Burkholder
(see all)