This post may contain affiliate links. Please see my full Disclosure Policy for details.
Break away from the typical sandwich or salad and try this spiced up Southwest Salmon Bowl for lunch! It's a perfect solution for an on-the-go lunch that's wholesome and delicious!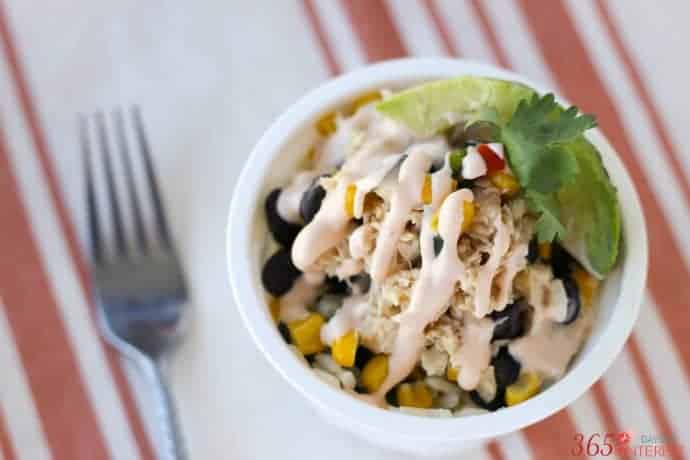 Both my husband and I now work full-time from home. (Well, I've always worked full time from home, because that's just what a mom does, but you know what I mean.) 😉 That means both Jared and I are at home for lunch every day.
For years, I have subsisted on PB&J sandwiches, random leftovers, or general "scrounging" for lunch. But now that my husband is home, he seems to think it's necessary to actually EAT a midday meal. Imagine that.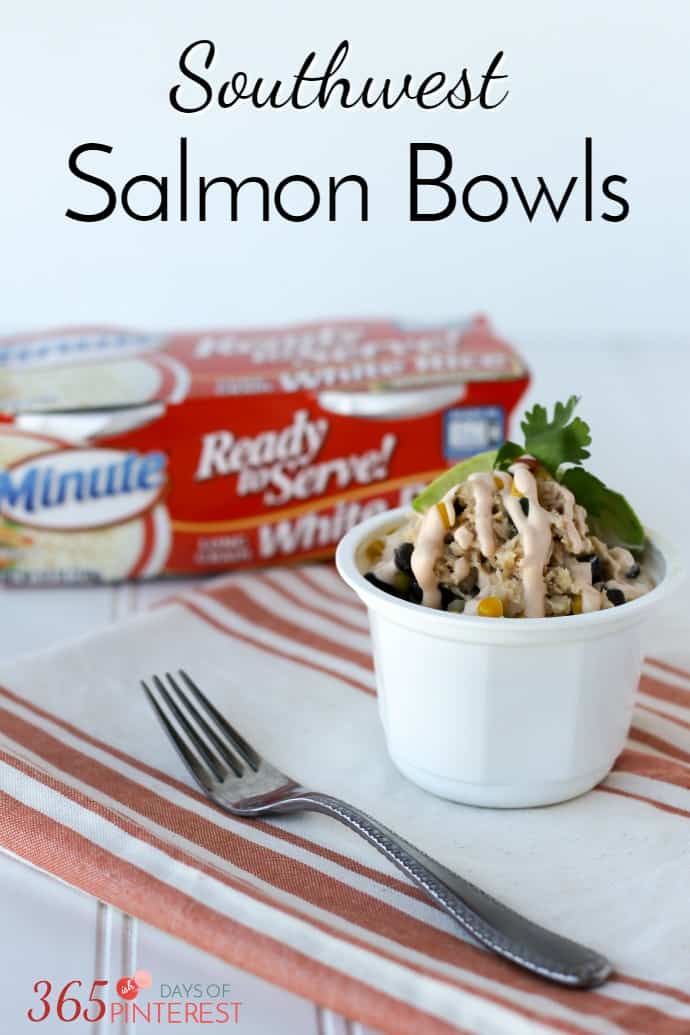 Guess what?
I don't want to make lunch. I have to plan/buy/make dinner every day for five people. Please don't ask me to add lunches to the weekly menu! I can't want to. I got spoiled over the years that Jared was working in the food industry.
He was given one meal on the clock every day, so I didn't even have to worry about packing him something to eat. Now suddenly my PB&J sandwiches look less-than-appetizing, and they certainly aren't going to satisfy the appetite of a full-grown man!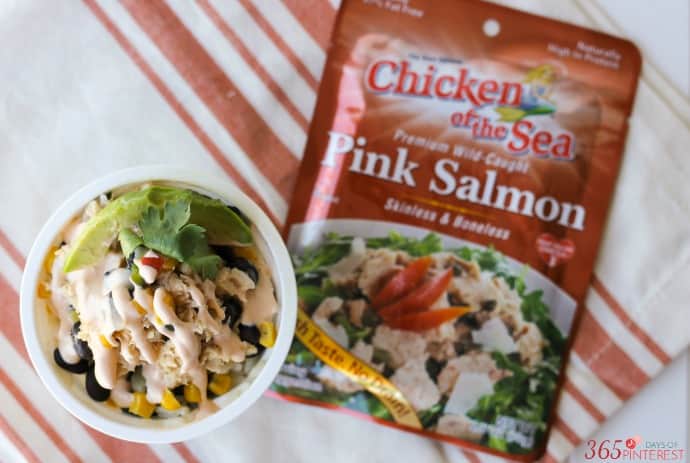 My problem is that I get on a roll when I'm working, and I don't want to stop to prepare a meal. Plus, I usually eat right at my desk while I'm doing other things like scheduling social media or editing photos. My husband tends to do the same thing, so we need something quick to make and easy to clean up.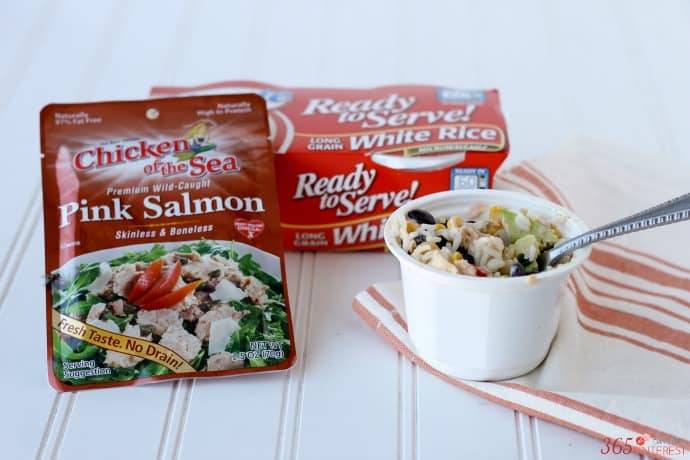 *Trumpet fanfare* Behold, I bring you Minute® Ready to Serve Rice and Chicken of the Sea Salmon pouches! They are the perfect solution for packing a lunch, too! When they say "ready to serve" they aren't kidding. You don't add water or anything. Just zap it in the microwave for 60 seconds and you have one serving of rice ready to go!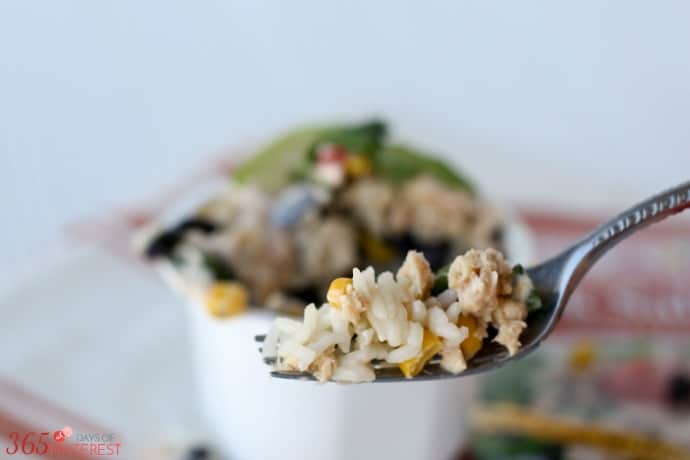 I wanted to spice things up just a bit, so I stirred in a few things to make my southwest salmon bowl. I stuck with frozen (or you could use canned) veggies so the prep was still minimal and the whole meal took me under three minutes to make. I'm not even joking. Three minutes! Both the salmon and rice were a perfect canvas for the spicy southwestern flavors that I love.
Southwest Salmon Bowl
Ingredients
1

cup

of ready to serve rice

1

packet of salmon

for extra spice, use the Sriracha flavor!

1/4

cup

southwest blend frozen veggies

corn, black beans, red and green peppers and onions

2

tbsp

sour cream

hot sauce

Optional toppings: sliced avocado and chopped cilantro
Instructions
Microwave the rice cup for 60 seconds. Stir to fluff the rice and set aside.

Warm up the canned or frozen veggies in a small bowl or cup and then stir into the rice.

Top the rice mixture with salmon.

In a small bowl, mix the sour cream with the hot sauce until it's pink. Add more if you like extra spice.

Drizzle the creamy sauce over the rice and salmon and top with cilantro and avocado slices.
From September 25- October 8, enter the "Salmon Loves Rice Sweepstakes," using the hashtag #NationalSalmonDay on your social media platforms to answer salmon trivia questions for a chance to win a 10-day Alaskan cruise and Chicken of the Sea Flavored Salmon Pouches and Minute® Ready to Serve Rice products. Be sure to participate on September 27 at 11 a.m. ET in a Twitter party showcasing some fun ways to pair Minute Ready to Serve Rice with Chicken of the Sea Flavored Pouches. We'll be using the hashtag #SalmonLovesRice during the party!
Don't forget to pin this Southwest Salmon Bowl for later!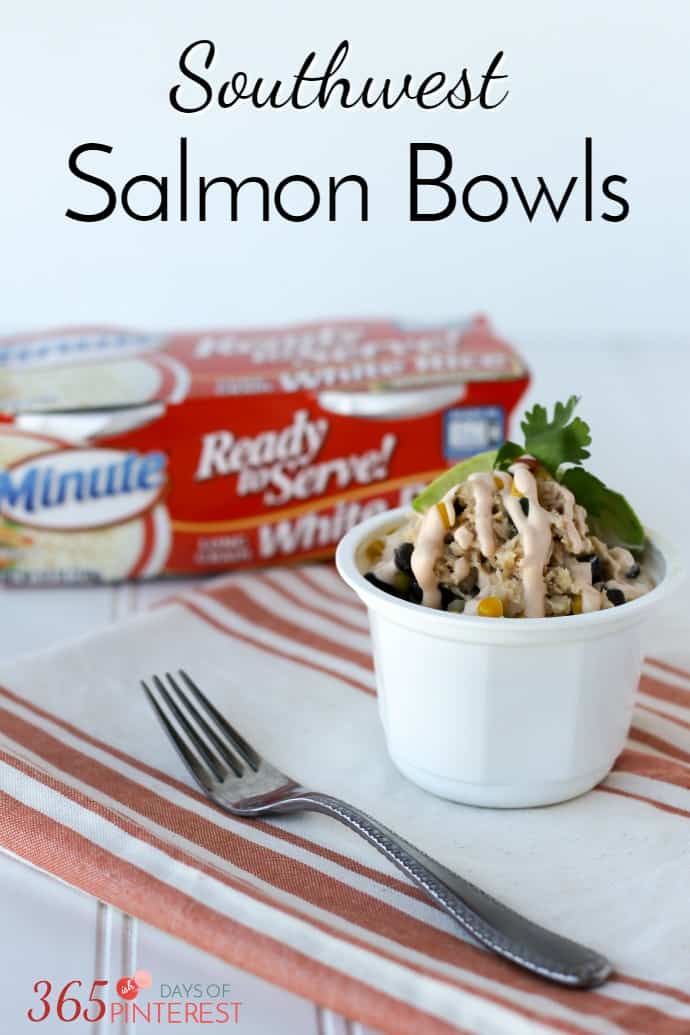 This is a sponsored post written by me on behalf of Minute® Ready to Serve Rice.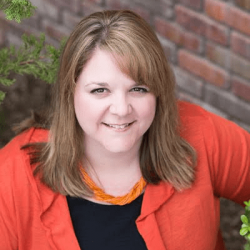 Latest posts by Nicole Burkholder
(see all)