This post may contain affiliate links. Please see my full Disclosure Policy for details.
Made with spice cake and cream cheese frosting, these Cake Ball Pumpkins are a perfect party treat for Halloween, Thanksgiving or the Fall Festival!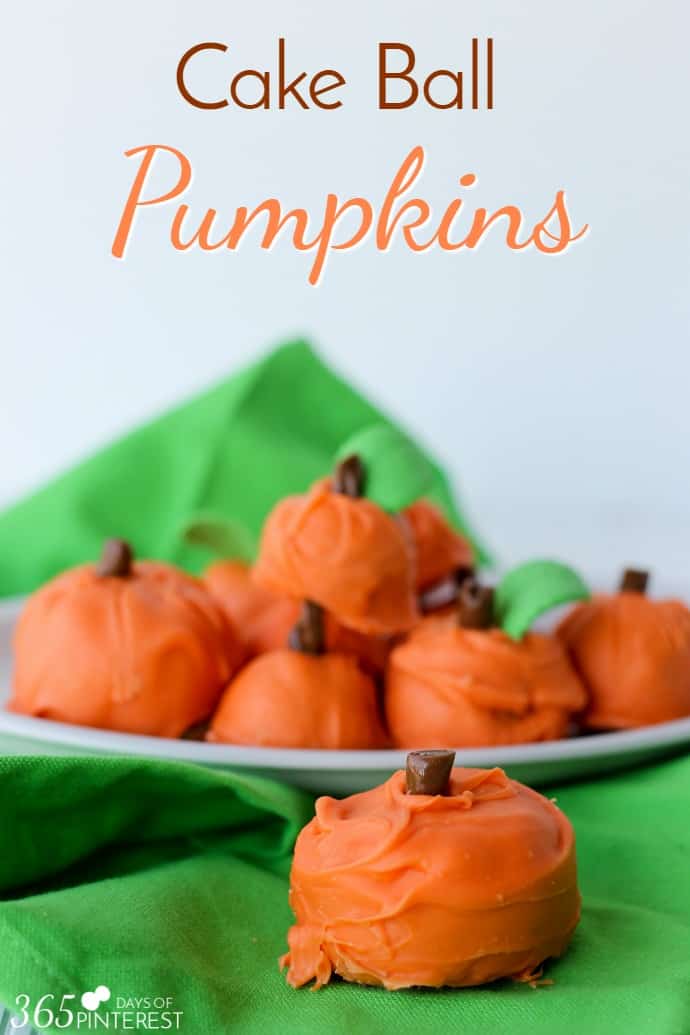 We don't really make a big deal out of Halloween (I'm much more of a general "autumn" kind of girl) but I thought it would be fun to team up with Alli from Cupcake Diaries for her annual 30 Days of Halloween.
She's brought bloggers together to create fun recipes and printables every day in October! You can read a little more about it on her website.
I saw what I'm calling "Cake Ball Pumpkins" on Pinterest several months ago and I pinned them to my "test these for later" board. The pin didn't lead to a recipe- these little pumpkins were something you could get in a gift basket from 1800Baskets.
But I figured I could come up with something similar on my own. My cooking and baking adventures always seem to start with, "I'll just make something up. It's close enough."
Obviously, these are little spice cakes with a cream cheese filling and coated in candy melts. I think the stems are just frosted, but they could be little candies, perhaps. I didn't feel like going to the work of creating a filling, so I decided to combine the flavors into a basic cake ball.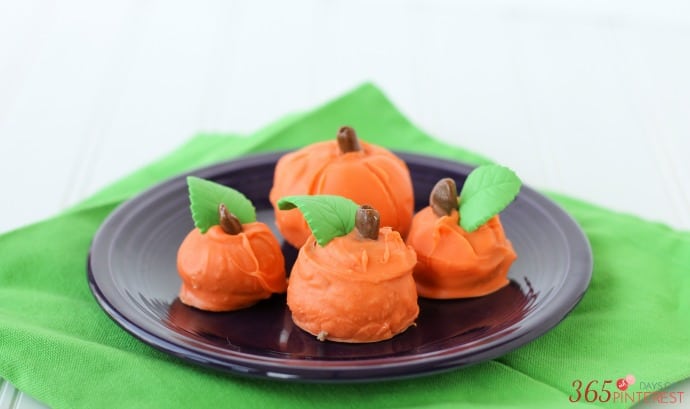 The cake ball part was easy. The DIPPING of the cake balls was a bit of a disaster this time. I don't really know what happened, other than the fact that those candy melts are so unpredictable.
I didn't want to deal with dyeing my own, so I got the orange Wilton Candy Melts. They are supposed to melt in the microwave, but I'm pretty sure mine got too warm and started to seize up.
I added some coconut oil to the candy to smooth it out, but I was still muttering under my breath and coming to the realization that mine were just not going to be perfectly smooth.
Fine. I'm not a professional and they are still going to taste good. Plus, they still give me that, "Oh, those are so cute!" feeling when I see them on the plate. 🙂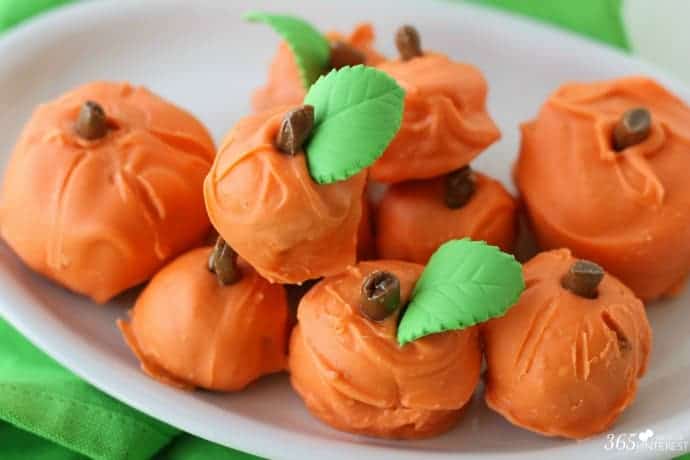 How to Make Cake Ball Pumpkins
1 box spice cake mix (or your favorite spice cake recipe)
1 tub cream cheese frosting
1 bag orange candy melts
2-3 tootsie rolls for stems
Optional: candy leaves or green frosting for piping leaves
Bake the cake according to package directions and let cool. Crumble up the cake in the pan (I just use my hands to rake through the cake until it's evenly crumbled.)
Stir in the frosting until you get it wet enough to roll into balls. I think I used about 3/4 of the tub of frosting.
Roll up the mixture into balls, pressing down on the top slightly to make them a little more pumpkin shaped. Place on a wax paper lined sheet pan and freeze for about 10 minutes to harden slightly.
While the cake balls are in the freezer, melt the candy melts according to the package directions (I have found using a double boiler to be much better than the microwave for this.) Dip the cooled cake balls into the melted candy to coat and then place back on the wax paper to set.
Little side note here-I had great visions in my mind of perfectly shaped pumpkins with the creases down the side. I tried adding those crease lines first to the cake ball, but they disappeared under the candy coating. Then I tried swiping down the candy coating to create lines, but it hardens so quickly that it just ends up making a mess. So stick with the cute stems and leaves to make it obvious these are pumpkins and not just random orange balls. 😉
For the stems, roll out a tootsie toll on the counter like a bit of play dough, so you get a longer, thinner roll of chocolate. Slice off a piece and stick it into the top of the pumpkins before the candy coating sets completely.
You'll want to do them a few at a time. Add candy leaves or pipe them on with green frosting and you've got cake ball pumpkins!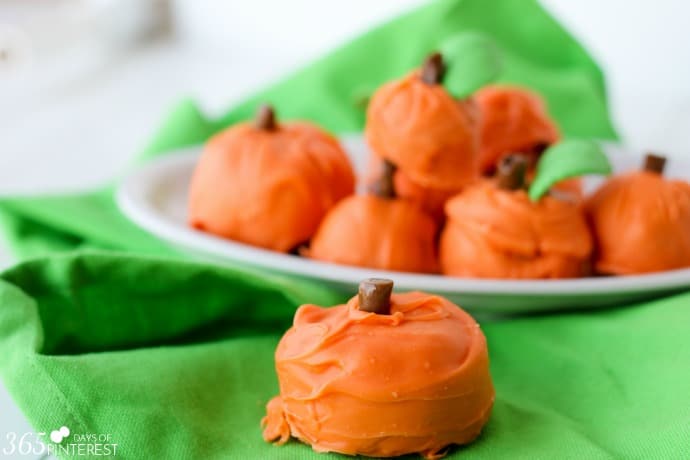 Charlie helped me roll the pumpkins and then he came out to the garage to do a photo shoot with me. He's going to be quite the blogger when he grows up. 😉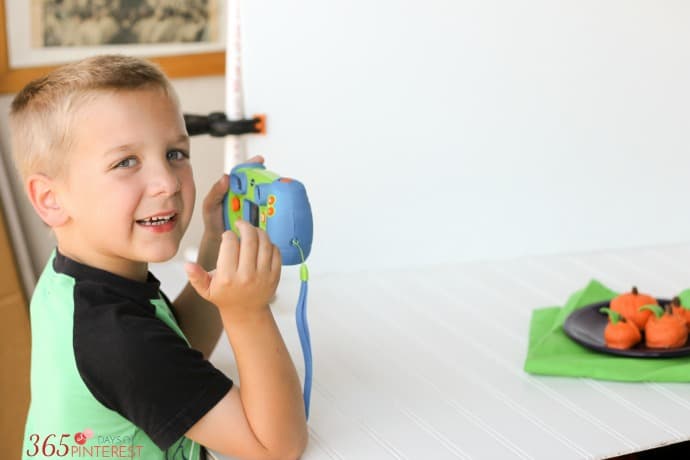 More fun treats for Halloween and Thanksgiving:
Here's the rest of this fun Halloween series so far-it will update each day as a new post goes live, so be sure to come back and check out what's been added! Happy Fall, Y'all!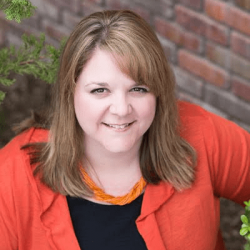 Latest posts by Nicole Burkholder
(see all)