This post may contain affiliate links. Please see my full Disclosure Policy for details.
Rice Krispie Treat Owls are fun to make and easy to customize with your favorite candies! They make the perfect Halloween treat!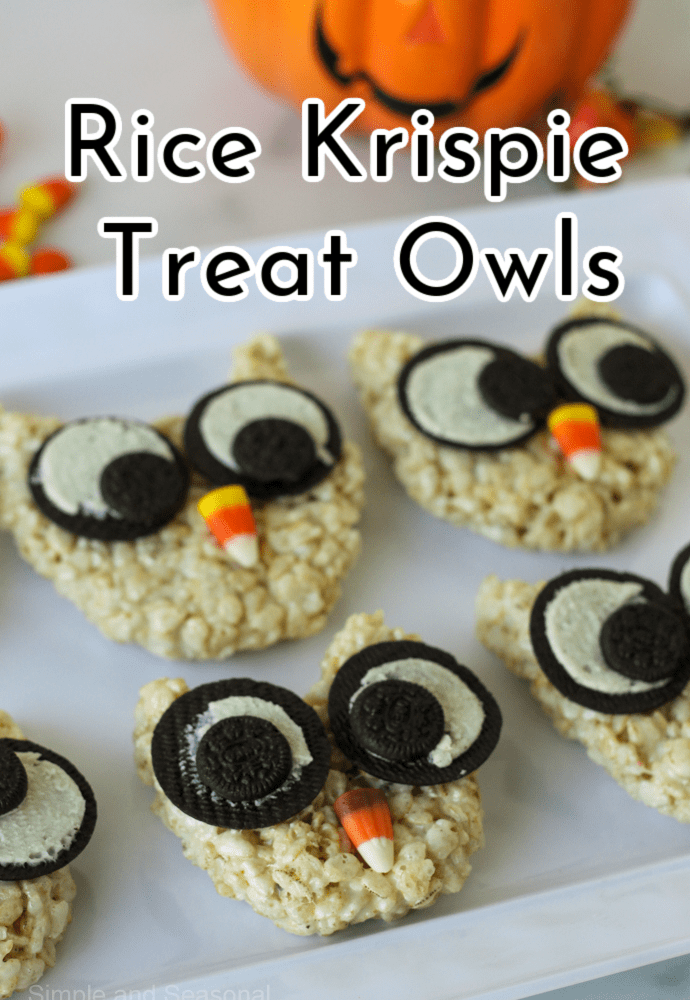 Last week, I decorated for fall and bought my first bag of candy corn. Even though it's still quite warm where we live, the new fall decorations and candy put me in the mood for a seasonal treat. I thought it would be fun to make some Rice Krispie Treat Owls!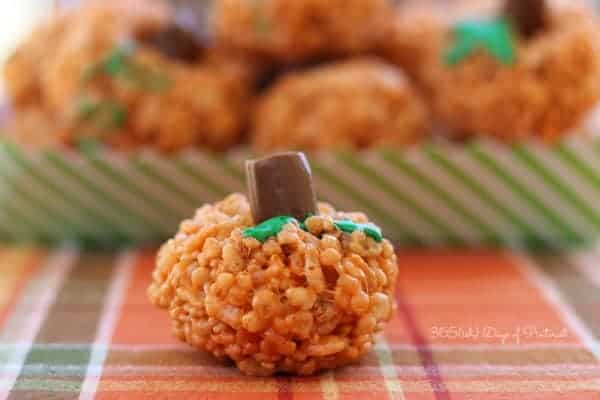 I have a long history of making easy seasonal/holiday treats. My food may never be magazine worthy, but I still think it's cute and it's something that anyone can make at home! Here are some of my past favorites using the classic Rice Krispie Treat recipe: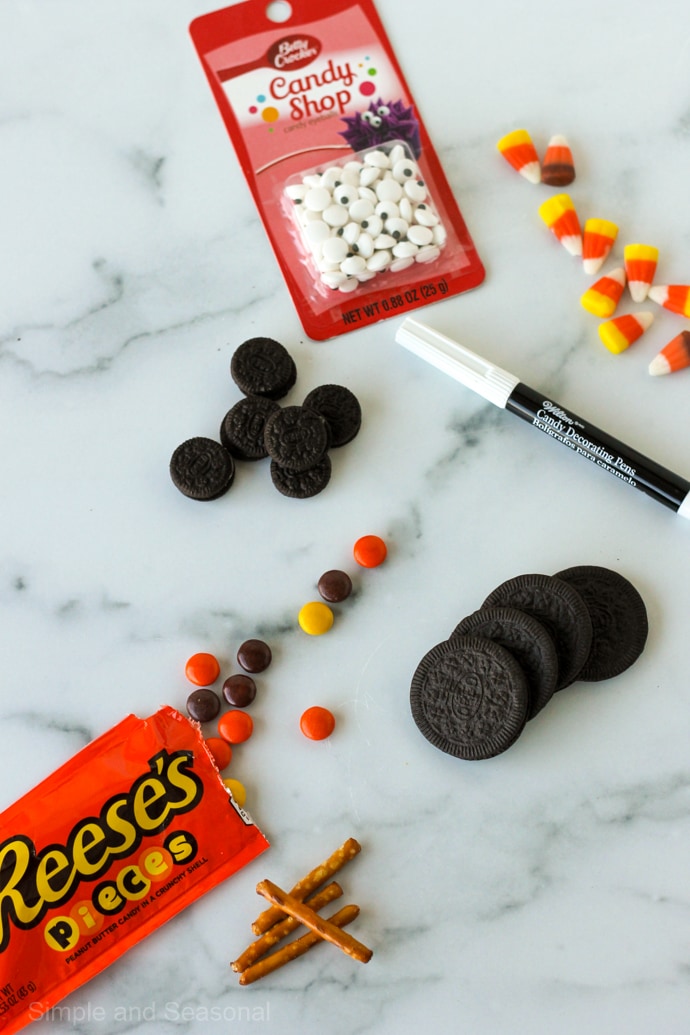 To make Rice Krispie Treat Owls, you'll need the ingredients for the traditional treats, plus some fun decorations. I picked up some things that I thought would be good and then let the boys play around with how to create the faces. You don't need everything pictured, but this might give you some ideas.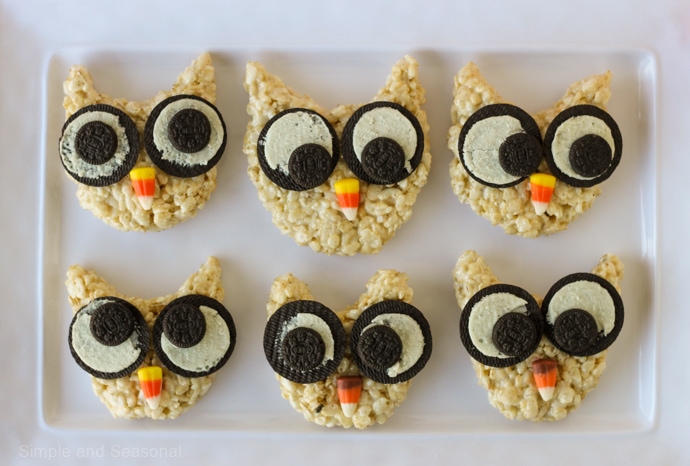 This platter of six owls is my "best of" category. I started out making the owl body much larger to accommodate the Oreo eyes, but my son said I should try the big eyes on smaller owls instead. He was right! They gave the owls a fun, cartoon-like appearance and didn't leave so much empty space.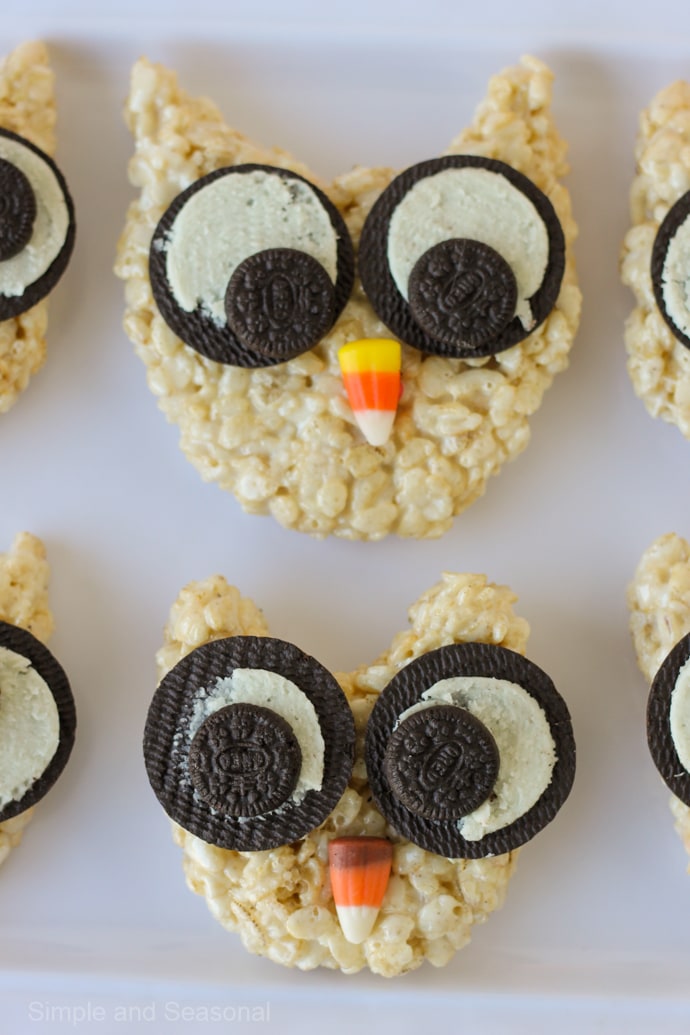 You can play around with the placement of the eyes to show a different personality for each owl.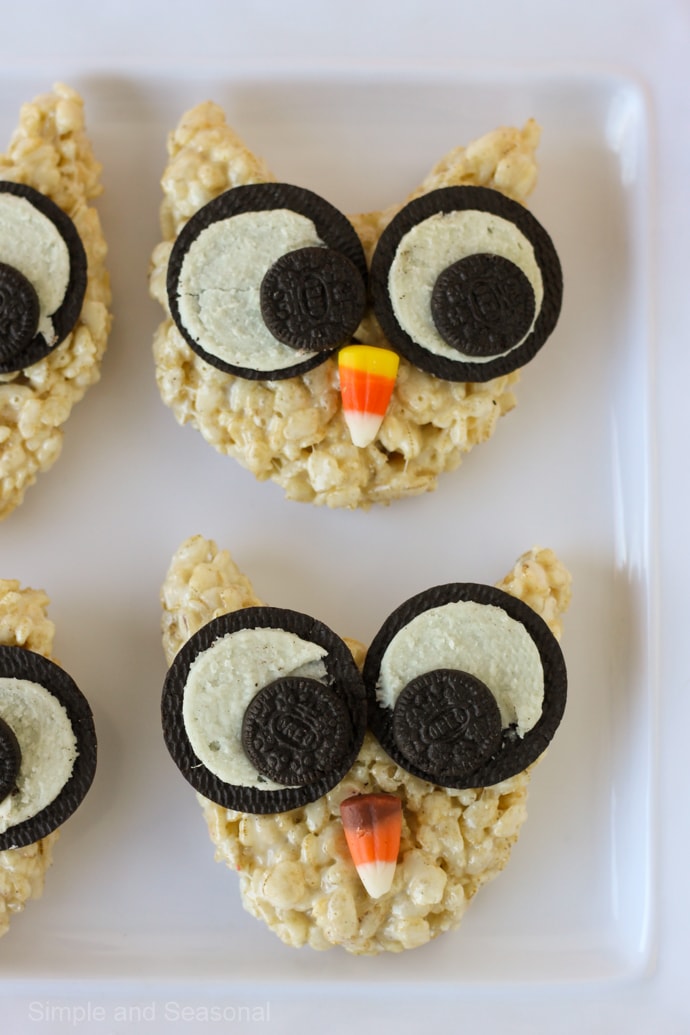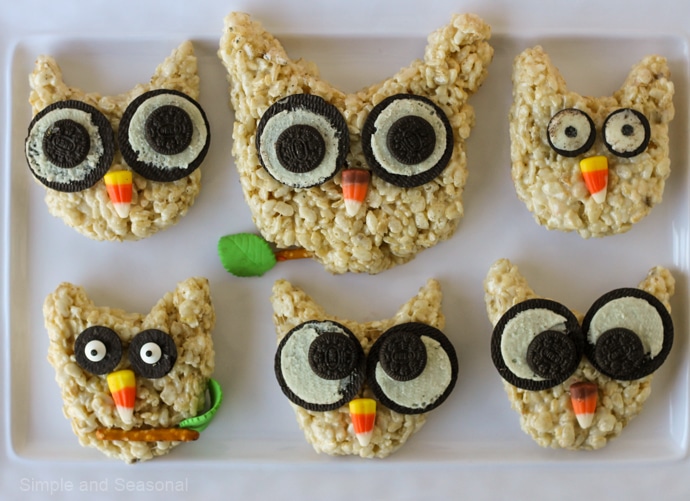 This second platter was made up of the "rejects" that weren't quite as cute. However, they are good options if you don't have mini Oreos, for example. The large owl in the center was the first one that I made. He looks pretty cool, but it would be a bit large for one person to eat as a snack.
My husband said the owl on the top right…had problems. So he's not the cutest, but I wanted to try using my candy pen for at least one owl.
The candy eyeballs would probably be better if you use the larger ones. I only had the small eyeballs on hand, so the owl on the bottom left looks a little bit like he's been up all night drinking coffee.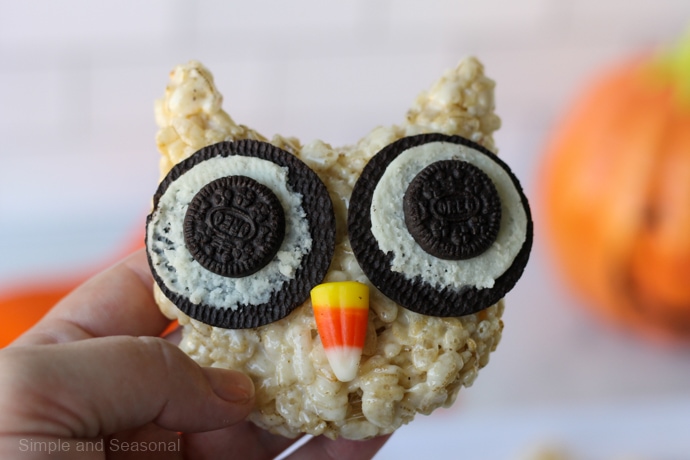 My point is, you can play around with these Rice Krispie Treat Owls and make them your own without needing too many special ingredients. Add feathers using candies, or stand them up on pretzel rod tree branches…just have fun!
Rice Krispie Treat Owls
Rice Krispie Treat Owls are fun to make and easy to customize with your favorite candies! They make the perfect Halloween treat!
Ingredients
1/4

cup

butter

40

large marshmallows

one bag

6

cups

Rice Krispies cereal

12

Oreo thins

12

mini Oreos

12

pieces

candy corn

Other candy for decorating: fall colored candies, candy eyeballs, candy leaves, candy pen, pretzel sticks or rods
Instructions
In a large pot over low/medium heat, melt the butter. Add the marshmallows and stir continuously until completely melted.

Remove from heat and gently stir in the Rice Krispies. Mix well until evenly coated with marshmallow mixture.

Immediately place treat mixture in a greased 9x13 pan and press down evenly.

Allow to cool for about 10 minutes.

While still warm and pliable, scoop out 1 cup chunks of marshmallow treat and shape with your hands. (If they are too sticky, spray your hands with cooking spray)

Work into a sort of rounded heart shape, and then pull the sides up to form the points at the top.

To decorate, gently pull apart an Oreo thin for the large owl eyes. Try to keep the cream on both sides so you get the "whites" of the eyes. Pull apart a mini Oreo and use it for the eyeballs.

Place a candy corn beak directly under the eyes.

Add any other decoration you want, and then allow to cool completely to set.
Notes
The marshmallow treat should be sticky enough for the cookies and candy to hold, but as it cools, it gets harder. If decorations aren't sticking well, use a bit of frosting or candy melt to hold it in place.
Work quickly to mold and shape with your hands before the mixture cools and hardens. 
You can make these ahead and store them overnight, but keep covered. 
One package of Oreo thins has more than enough cookies in case of breakage. 
Nutrition
Serving:
1
owl
|
Calories:
221
kcal
|
Carbohydrates:
40
g
|
Protein:
2
g
|
Fat:
7
g
|
Saturated Fat:
3
g
|
Cholesterol:
10
mg
|
Sodium:
184
mg
|
Potassium:
43
mg
|
Fiber:
1
g
|
Sugar:
21
g
|
Vitamin A:
1049
IU
|
Vitamin C:
9
mg
|
Calcium:
4
mg
|
Iron:
5
mg
I hope you have as much fun making these cute little owls as we did! They are perfect for a Halloween treat or a unit study on owls in school.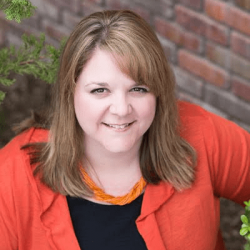 Latest posts by Nicole Burkholder
(see all)