This post may contain affiliate links. Please see my full Disclosure Policy for details.
Guess what? I'm on vacation right now! So a few of my blogging buddies are filling in for me-isn't that so sweet? Susan is super organized and knows her way around a moving van! She's here today with a fun and simple project for creating a unique journal. Be sure to check out her site when you are finished reading and commenting on how wonderful her post is today! 😉
Hi, I'm Susan from Organized 31. I'm excited to be here with Nicole and all of you today. I'm a military mom with more than 20 moves in my rear view mirror and who knows how many more up ahead. I share tips on organizing, crafting and family life and I'd love you if popped over to visit sometime.
Most of my tips and crafts are super easy (I don't have time for complicated!). Today's simple DIY duct tape journal is definitely a quick and easy project. I use journals for all types of organizing. Every time we move, I set up a moving journal and a new house journal. I keep everything I need to know and remember in one easy to find spot. I make journals for projects and life events, too. I like to decorate the journals so that they're bright and easy to find in the chaos of moving or of life.
Start with a composition book or hard cover notebook. I usually hit the clearance aisle to find my journals. Since I'm going to decorate the cover, the rejected on sale notebook no one else wants is perfect for me. There are so many fun duct tape designs out there now that you'll have no trouble find one or two or three that you love.
Open your notebook and place it face down. Cover the front of the notebook with strips of duct tape, leaving just a bit of overhang.
Cover the bottom and top of the spine with a strip of duct tape lined up with the edge of the spine.
Next cover the spine with one strip of duct tape and the finish the back cover.
Fold the duct tape around the corners neatly. You can trim the tape on the edges of the cover neatly before you wrap it around to the inside cover or add a piece of card stock for a finished look.
In less than 10 minutes you have a one-of-a-kind journal to organize your busy life. This also a fun back-to-school project to make with the kiddos and make personalized notebooks.
Happy organizing and journaling with your own simple DIY duct tape journal.
You may be interested in other journal and duct tape projects I've done.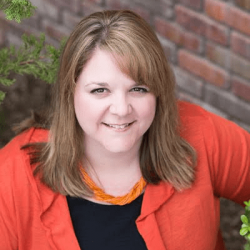 Latest posts by Nicole Burkholder
(see all)