This post may contain affiliate links. Please see my full Disclosure Policy for details.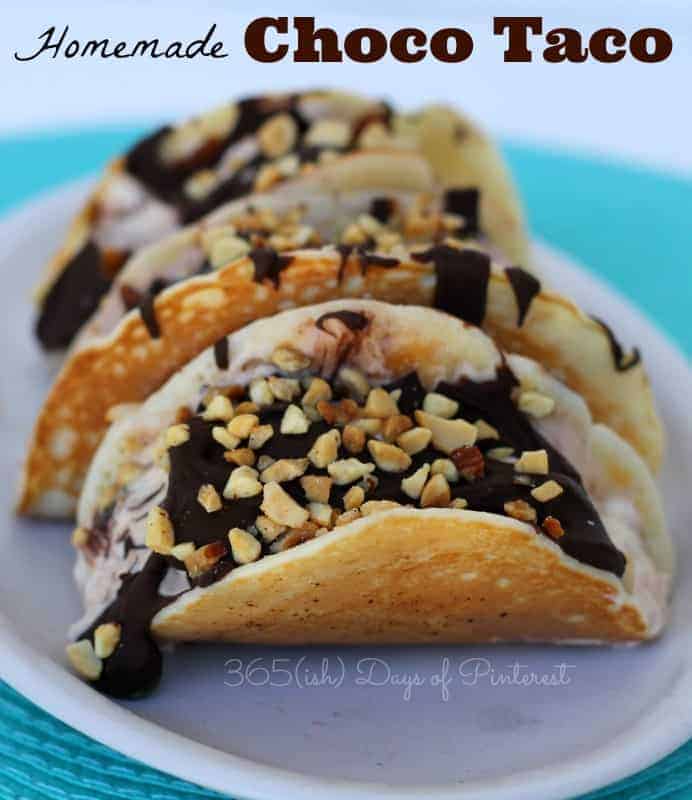 This week we celebrated Charlie's 3rd birthday and my nephew Abe's 2nd birthday with a water party just for the family. We made a huge slip and slide, had all sorts of water guns, sprinklers and squirters and finally ended up in the pool. Instead of a traditional birthday cake and ice cream, we had a giant Mickey Mouse cookie cake and I made this homemade version of Choco Tacos that were pinned from People.com. Yeah, who knew that People had a recipes department? You can see it and lots of other yummy recipes on my desserts board.
Before you send me an email, I know this isn't exactly a Choco Taco. They don't have a waffle cone shell. I'm not really sure how you could make that at home, but I did find some waffle bowls by Keebler
(affiliate) that you could dampen and mold to create a taco shell. That would certainly make this a VERY easy recipe! But you wouldn't get the yummy aromas of an ice cream parlor in your house, so it's up to you. 🙂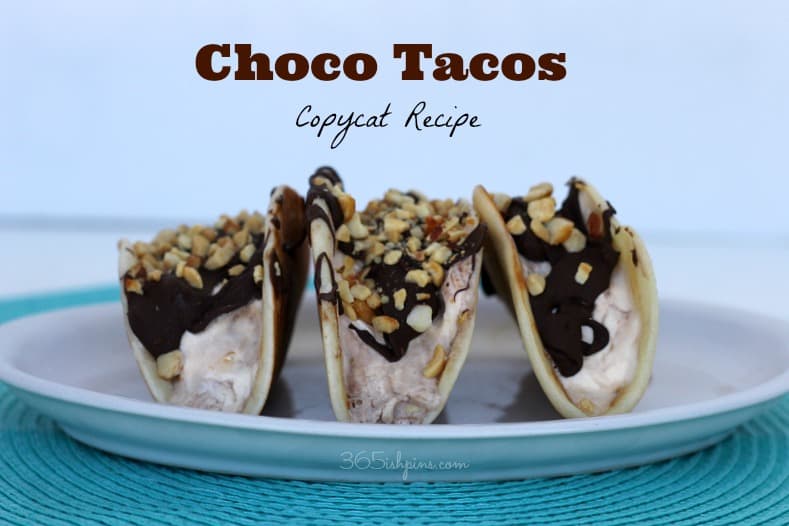 Homemade Choco Tacos
For the shells: this makes 6 shells, I doubled the recipe for the party
2/3 cup flour
1/2 cup sugar
1/8 tsp salt
2 tbsp butter, melted
1/4 cup milk
1/4 tsp almond extract
1/2 tsp vanilla extract
2 large egg whites
For the fillings and toppings:
8-10 oz. dark chocolate chips
1 tbsp oil (vegetable, coconut, whatever you like)
4-6 cups ice cream, softened (I actually used a package of one dozen individual ice cream cups because it was actual vanilla ice cream with chocolate swirls and the portions were perfect!)
1/2 cup crushed nuts and sprinkles or other candy toppings
To make the taco shell batter, whisk together the flour, sugar and salt in a medium bowl. In another bowl, melt the butter and stir in milk, almond and vanilla extracts and the egg whites. Add the wet ingredients to the dry and mix until a smooth batter forms.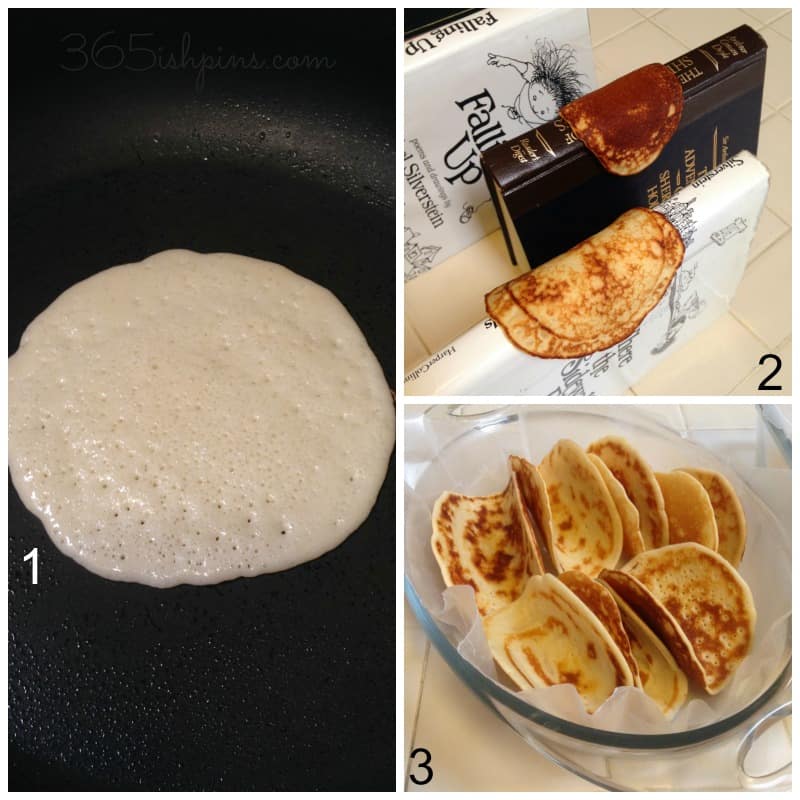 Pour about 1/8 cup of batter into a medium hot, greased skillet. TIP: keep the batter as thin as possible. Use the back of the measuring cup to spread the batter out to a 6″ circle. If the shells are too thick, the texture is more like a pancake and they will split on the bottom when you fold them.
Cook for 1-2 minutes or until browned and bubbly and then flip over to cook on the other side. Then immediately remove from the pan and drape over the spine of a book to form a taco shell. I actually switched to using the back of my dining room chairs because my books were a bit too wide. Once the shells are cool, you are ready to stuff!
To make the chocolate topping, add the oil to the chocolate chips in a microwave safe bowl and heat in 30 second intervals, stirring until smooth. While the chocolate cools, scoop the ice cream into the shells and work FAST! This can get messy. 🙂 Drizzle generously with the melted chocolate and sprinkle with nuts or other toppings.
If you are eating immediately, eat fast! If you are making these ahead of time, put the filled taco shells into the freezer until the chocolate cools and hardens a bit. Then remove, wrap with plastic wrap and freeze until it's time to serve.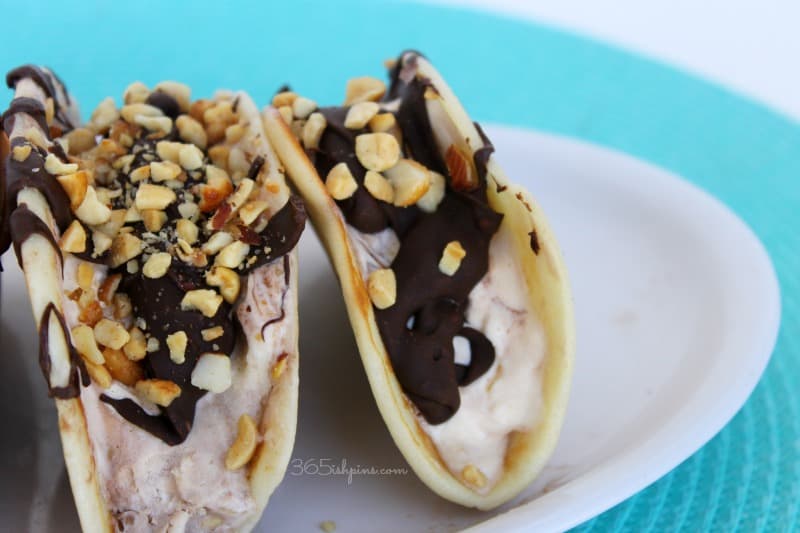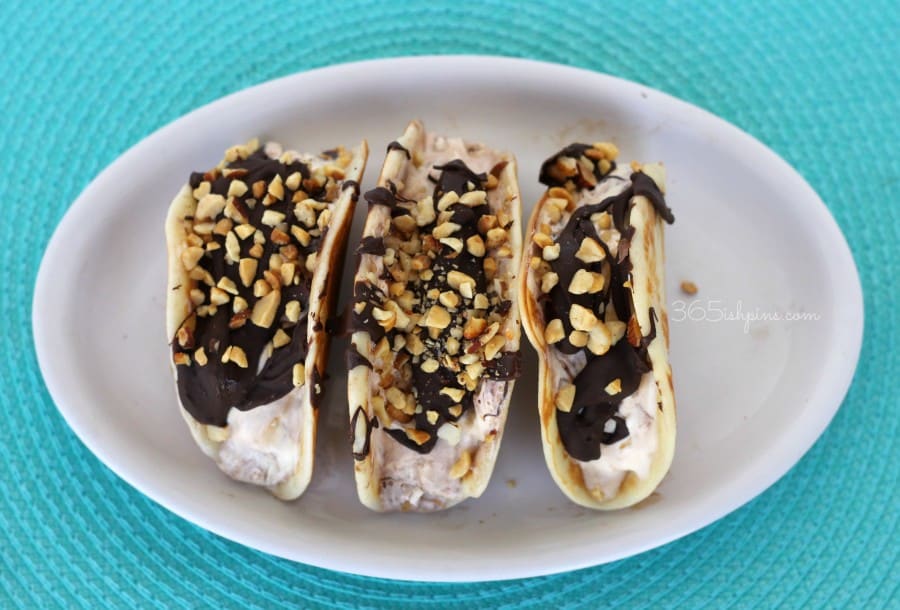 In case you thought I was exaggerating about our epic slip and slide, here's proof. I think we need to do this again!
https://www.facebook.com/njburkholder/videos/10152577881956737/?l=119060414773940480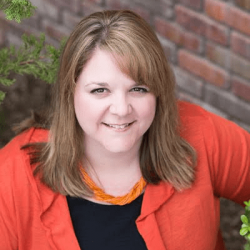 Latest posts by Nicole Burkholder
(see all)