This post may contain affiliate links. Please see my full Disclosure Policy for details.
It's the Monday before Thanksgiving! Did you get your turkey out of the freezer yet? If not, quick! Run to the freezer and toss that bird in the refrigerator! Thinking about turkey today reminded me of a cute pin that I saw last week for an easy craft that I'll actually save. I'm a terrible mom when it comes to the stuff that comes home from church and school. 99% of it ends up in the trash when the kids aren't looking. Unless, it's something like a hand print or footprint. Those are a tangible reminder of how little they were and how quickly they grow. So when I saw this little project, I knew it would be fun to do, and it involved the whole family!
I didn't have enough plain card stock or construction paper, but I did have a paper stack of scrapbook 12×12 paper that had coordinating prints for every holiday. So I pulled out a few of the Thanksgiving sheets and went to work! I traced our hands on alternating paper (Dad, Mom, Bryce, Henry and Charlie) and cut them out. It's a little hard to see the definition in the picture, but I layered each hand print to make it look like turkey feathers. Then I just free handed an oval for the body and a "bowling pin" shaped head. I drew on eyeballs and used a couple scraps of paper for the beak and waddle. Behold! An adorable turkey that is a moment frozen in time. I may just do it again every few years to watch the boys grow.
The site I got the idea from has a template for the body and head, if you don't trust yourself. You can also see what it looks like framed. I kept mine in a plastic sleeve (I wrote on the plastic with a dry erase marker just for fun) because I may want to keep it in a scrapbook after Thanksgiving. For now, it is hanging in a place of honor and makes me smile every time I see it!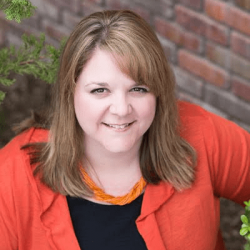 Latest posts by Nicole Burkholder
(see all)