This post may contain affiliate links. Please see my full Disclosure Policy for details.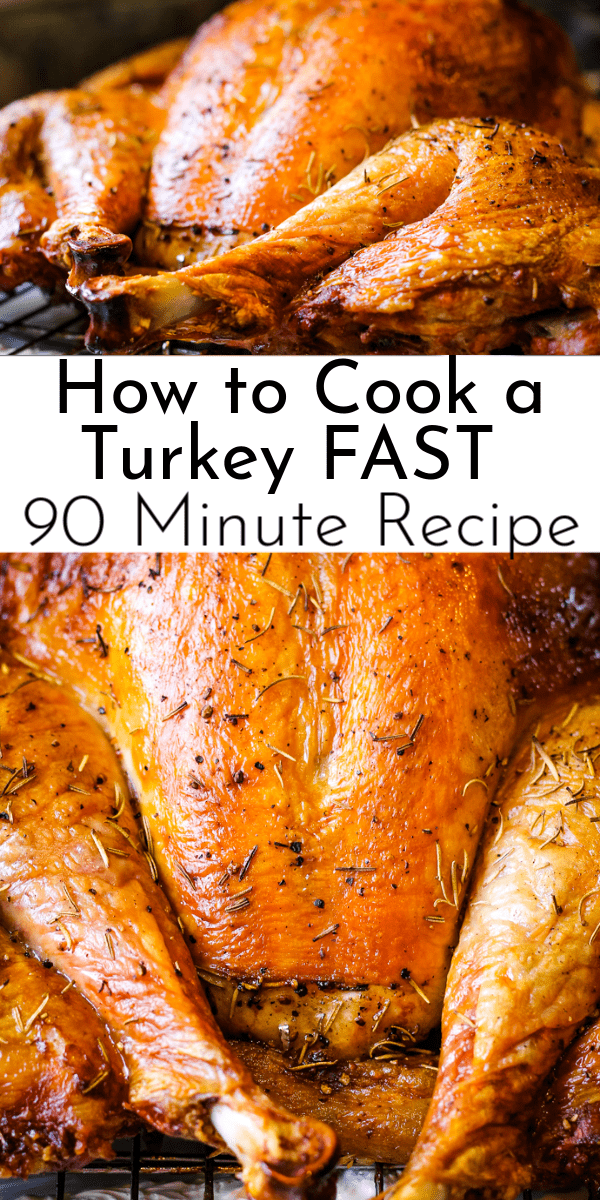 With golden, crispy skin and tender, juicy meat, this 90 minute turkey recipe takes the stress out of Thanksgiving!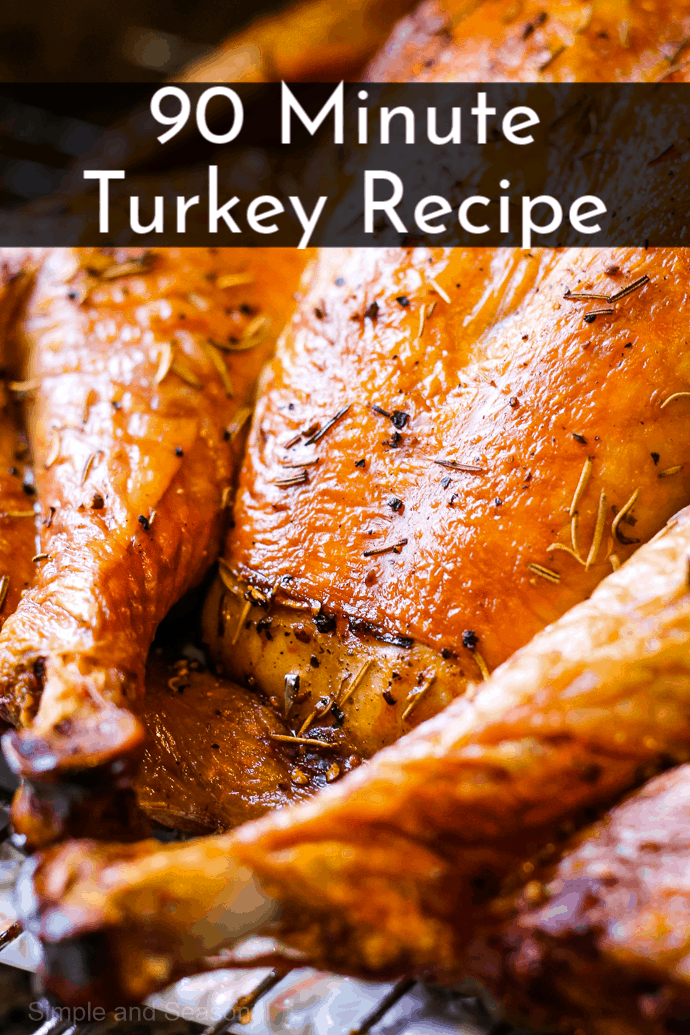 Yep. You read that right. You can BAKE an entire turkey with this 90 minute turkey recipe and it will be juicy and delicious. If you prepare a little ahead of time, you can also be rewarded with that gorgeous crispy skin covering the whole bird.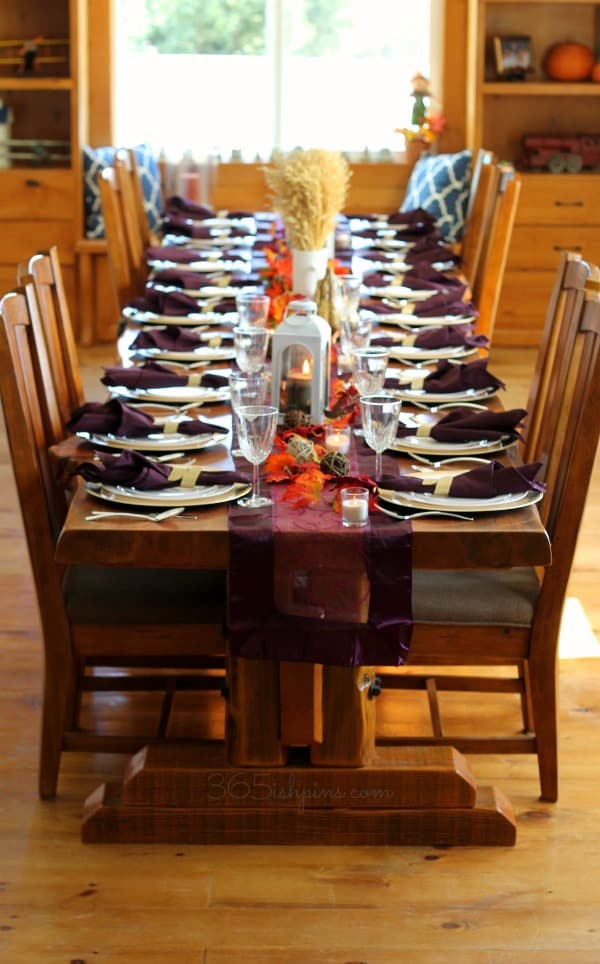 Every year for Thanksgiving, we go over to my parents house. My mom has the giant farmhouse table that seats 20 people easily, so it makes sense. Since she's hosting, and turkey usually takes at least 3 hours to bake, Mom typically makes the turkey and we all pitch in for sides.
If you want to see more pictures of the table (my brother made it!) you can check out my Thanksgiving Tablescape here.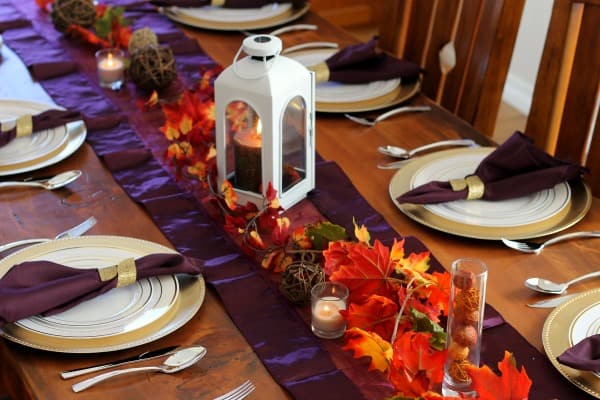 Last year, however, I happened to already have a 13 pound turkey in my freezer that needed to be cooked. I volunteered to make the bird and figured I'd just have to go over early that morning to get it into the oven.
To be honest, I'm not a huge fan of turkey. I like it in small doses, and I do love a good leftover turkey sandwich. But so often it gets dried out or just ends up bland and tasteless. Cooking in an oven bag helps keep the meat moist, but then you end up with soggy skin. *Gag.*
I did some research and starting reading about many different ways to cook a turkey. I read several articles, watched a few videos and settled on spatchcocking and this 90 minute turkey recipe.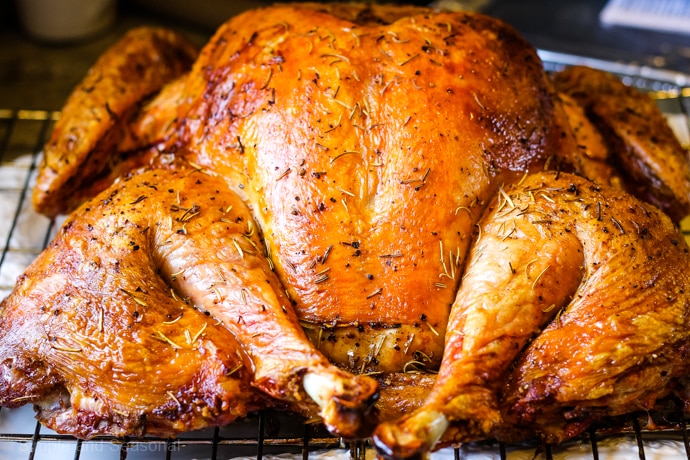 What does it mean to "spatchcock" a turkey?
To spatchcock something, you remove the backbone and lay it flat for cooking. It can be done with chicken, cornish game hens, turkey-any bird you want to cook quickly.
The reason it cuts down so much on cook time is that more of the bird is exposed to the heat. This helps the dark meat cook as quickly as the white, resulting in juicy turkey in half the time.
How do you get such crispy skin when baking a turkey?
Salt and air.
Yep, that's it. When you rub a salt mixture all over the skin of the turkey, it not only adds great flavor, it helps to pull the moisture out of the skin. If you want crispy skin, it needs to be really dry.
Now comes the part that feels counter-intuitive. After salting the skin, you need to leave the whole turkey in the refrigerator overnight UNCOVERED. It's going to dry out beautifully, leaving a layer of skin that's just begging to crisp and turn golden while baking.
Obviously, if you're reading this because it's 11:00 AM on Thanksgiving morning and you need to serve a cooked turkey by 12:30, you're going to have to skip that part. So no crispy skin for you.
It will still work, and salting the skin will help, but you just won't get the benefit of having let the bird air dry all night long.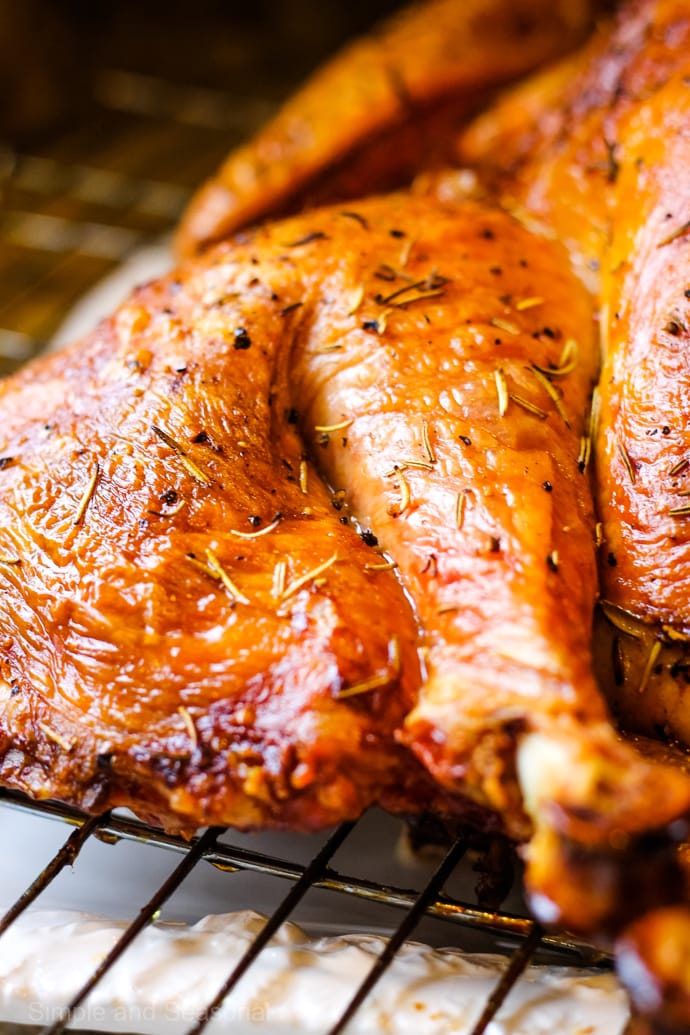 Side dish ideas for serving with turkey:
90 Minute Turkey Recipe
With golden, crispy skin and tender, juicy meat, this 90 minute turkey recipe takes the stress out of Thanksgiving!
Ingredients
1

12-14 lb.

whole turkey

3

tbsp

kosher salt

1

tbsp

garlic powder

1

tbsp

rosemary

1

tbsp

thyme

1

tbsp

sage

2

tsp

coarsely ground pepper
Instructions
The night before:
Pat the turkey dry with a paper towel and place on a cutting board. (Put a towel beneath the cutting board to help hold it in place.)

Using kitchen shears, remove the backbone by cutting along one side and then the other. This takes some force and leverage, so be careful! (Save the bone for making broth!)

Turn the bird over and press down on the sternum to flatten. You should hear a "crack."

Place on a wire rack over a foil-lined baking sheet. (Make sure the rack is safe for cooking-typical non-stick cooling racks are not.)

Rub the salt and herbs all over the skin, making sure to cover the whole bird.

Place the pan in the refrigerator overnight (uncovered!) to dry out.
Cooking day:
Remove the turkey from the fridge to come to room temperature whole the oven preheats to 450 degrees.

Bake at 450 for 75-90 minutes. Check the temperature at the thickest part of the thigh. It should read 170-175 degrees. Remove from the oven and let rest for 15 minutes before carving so you don't lose all the juices!
Nutrition
Calories:
308
kcal
|
Carbohydrates:
1
g
|
Protein:
47
g
|
Fat:
12
g
|
Saturated Fat:
3
g
|
Cholesterol:
155
mg
|
Sodium:
1985
mg
|
Potassium:
494
mg
|
Fiber:
1
g
|
Sugar:
1
g
|
Vitamin A:
157
IU
|
Vitamin C:
1
mg
|
Calcium:
34
mg
|
Iron:
2
mg
If you're more of a visual learner, here's a great video to walk you through the "how to" of breaking down the turkey or you can see step by step photos on Taste of Home.
See more great fall recipes like this one on Meal Plan Monday!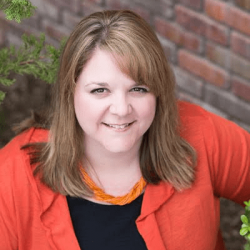 Latest posts by Nicole Burkholder
(see all)