This post may contain affiliate links. Please see my full Disclosure Policy for details.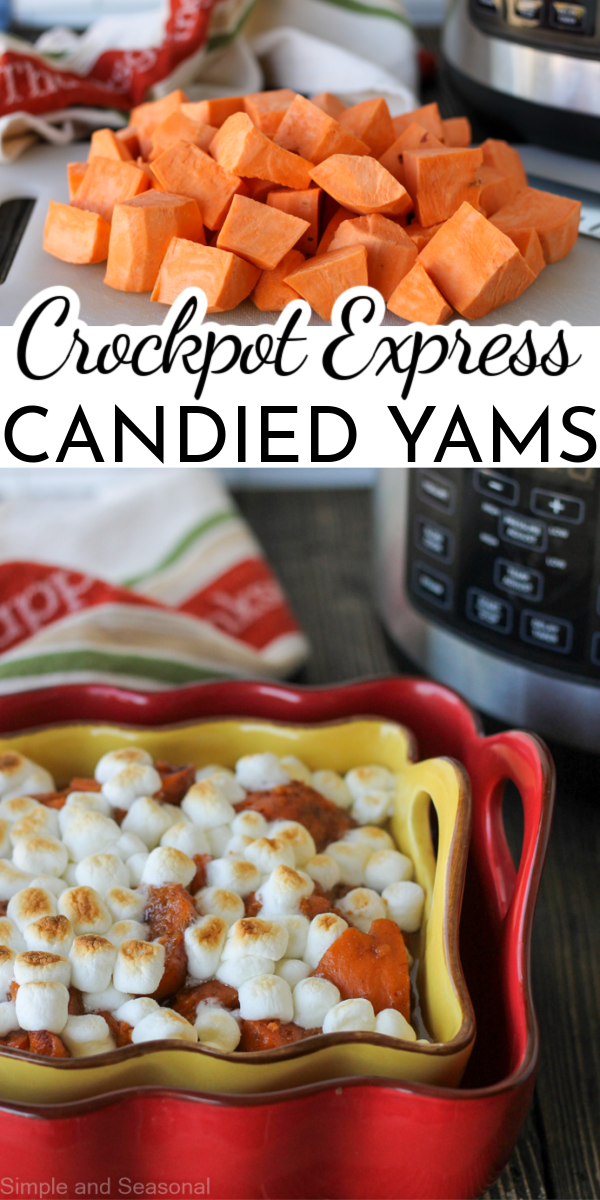 This isn't just a "shortcut" or pot-in-pot recipe. Crockpot Express Candied Yams are made start to finish in the pressure cooker (in minutes!)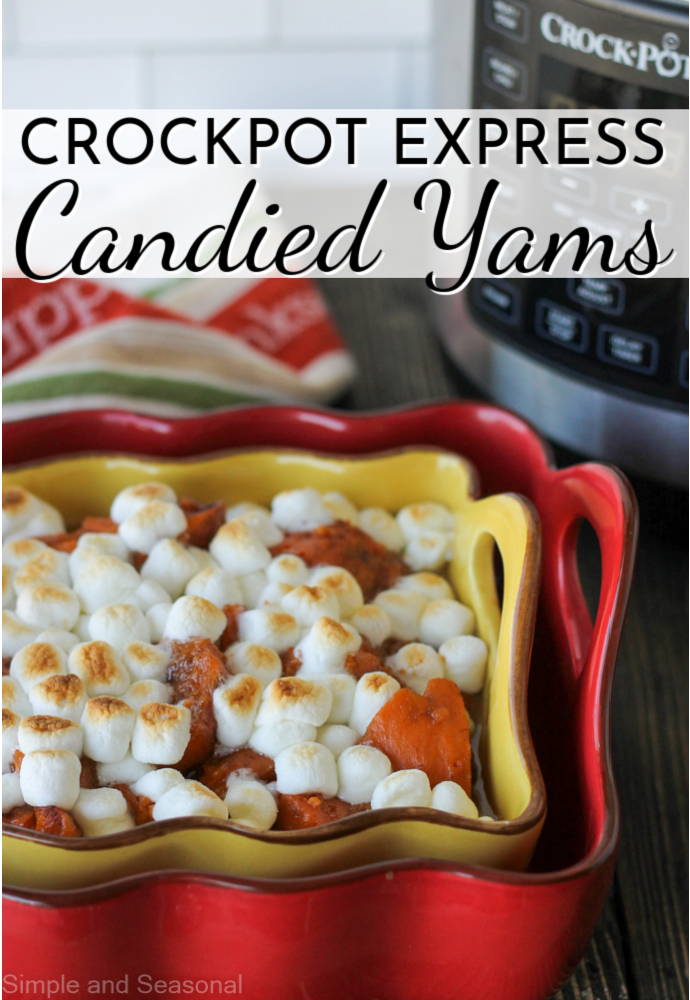 Maybe I'm just a food snob. I never liked yams growing up, so I always skipped them at Thanksgiving. However, after making Crockpot Express Candied Yams, I think maybe it's just canned yams that I didn't like.
Growing up, my mom was really the only one in the family who cared for yams. She would just open a small can and toss some butter and marshmallows on top for herself.
Then along came all of our spouses over the years. It turns out, all the "in-laws" also like sweet potatoes/yams so we now have an 8×8 dish of them on the table every year for Thanksgiving. But from now on, I'm volunteering to bring the Candied Yams. Because making them this way is SO MUCH BETTER and ridiculously easy.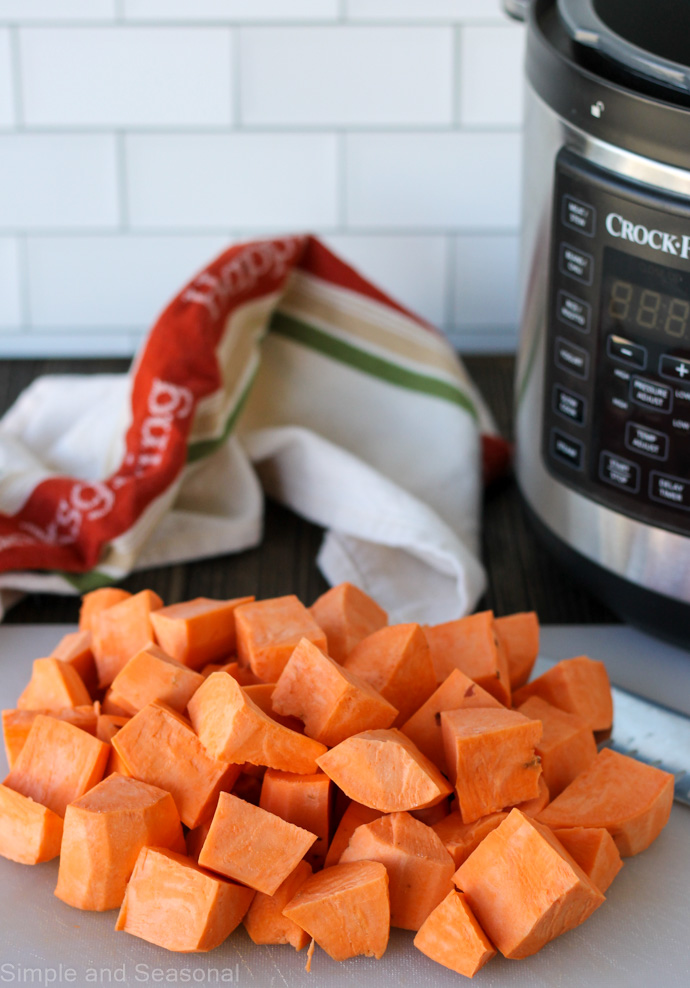 Start by peeling and cutting 2 pounds of garnet yams (sometimes called sweet potatoes-scroll down for more about that) into chunks. Don't cut the chunks too small or you'll end up with more of a mashed potato texture. My chunks were about 2″ but obviously varied in size.
For me, two pounds of sweet potatoes was just 2 potatoes. They are quite large! Unlike when cooking whole Crockpot Express Sweet Potatoes, you don't need to worry about the size of the individual potato. Just keep the chunks similar in size.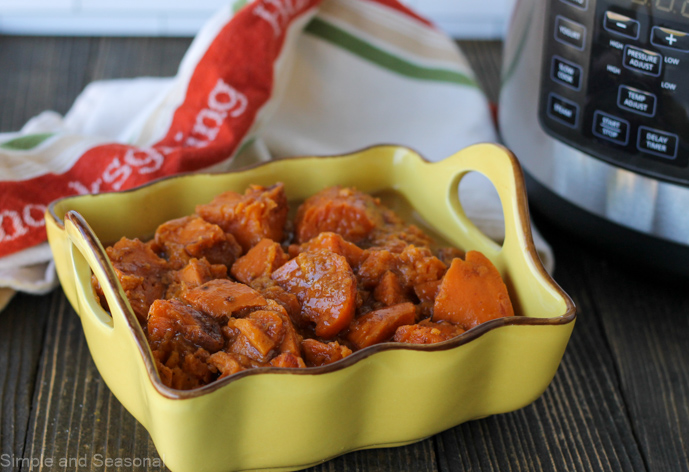 The next "step" seems wrong, but I promise, it will work! Everything goes directly into the pot all at once. Yams, spices, butter, sugar, water…just toss it all in there and give it stir.
Let me warn you-if you're looking for a "healthy" Thanksgiving side dish…this isn't it. These candied yams are, well, candied. As in sweet. As in there's a lot of sugar and butter.
If you want healthy, just stick with a whole sweet potato. But honestly, Thanksgiving is only once a year. Live a little. 😉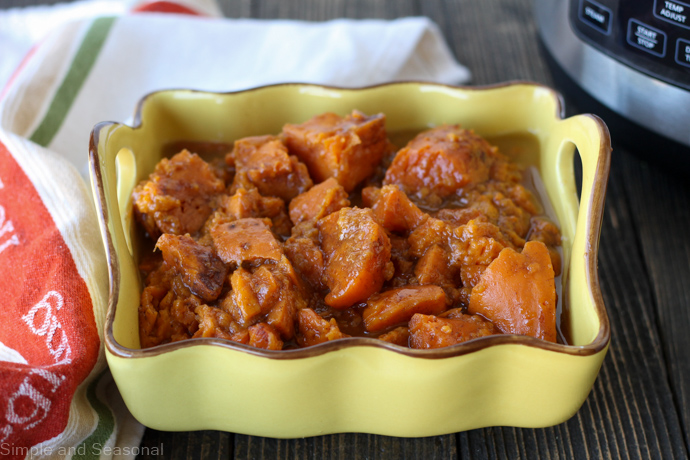 What comes out of the pot is beautifully soft and creamy yams with just enough texture to keep it from feeling like baby food. The cooking liquid is this delicious buttery, sweet syrup in the bottom of the pot.
I used a slotted spoon to remove the cooked yams and then spooned out additional syrup until I had what I wanted in the pan. At this point, you can do a few different things.
Leave the sweet potatoes/yams exactly as they are and serve.
Top with pecan chunks for some addition texture and crunch.
Top with mini marshmallows and broil in the oven or with a cooking torch to brown them.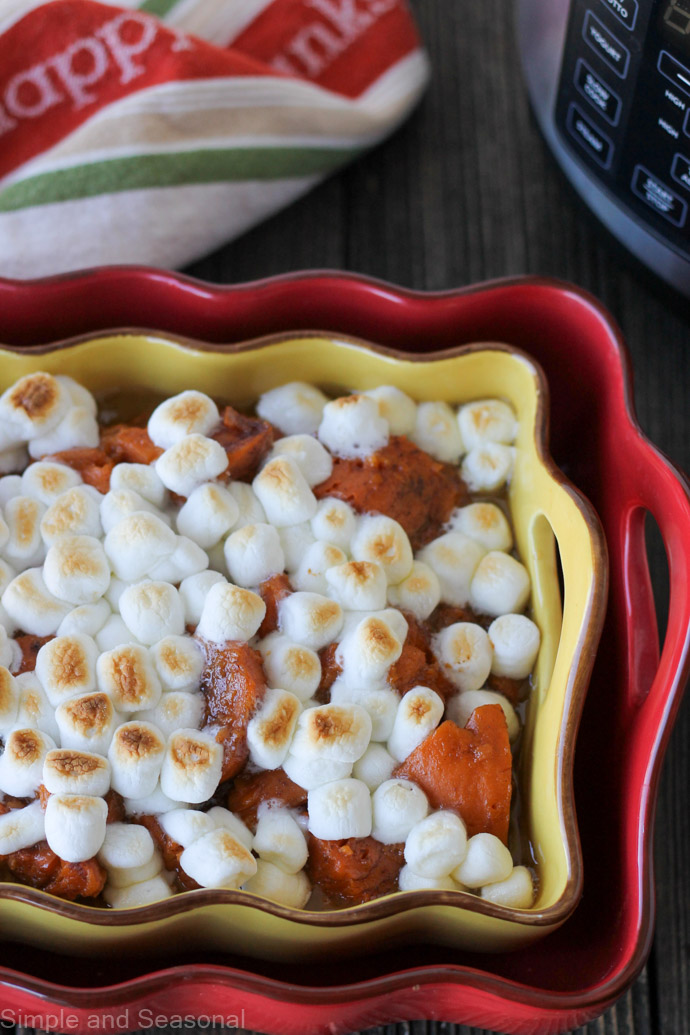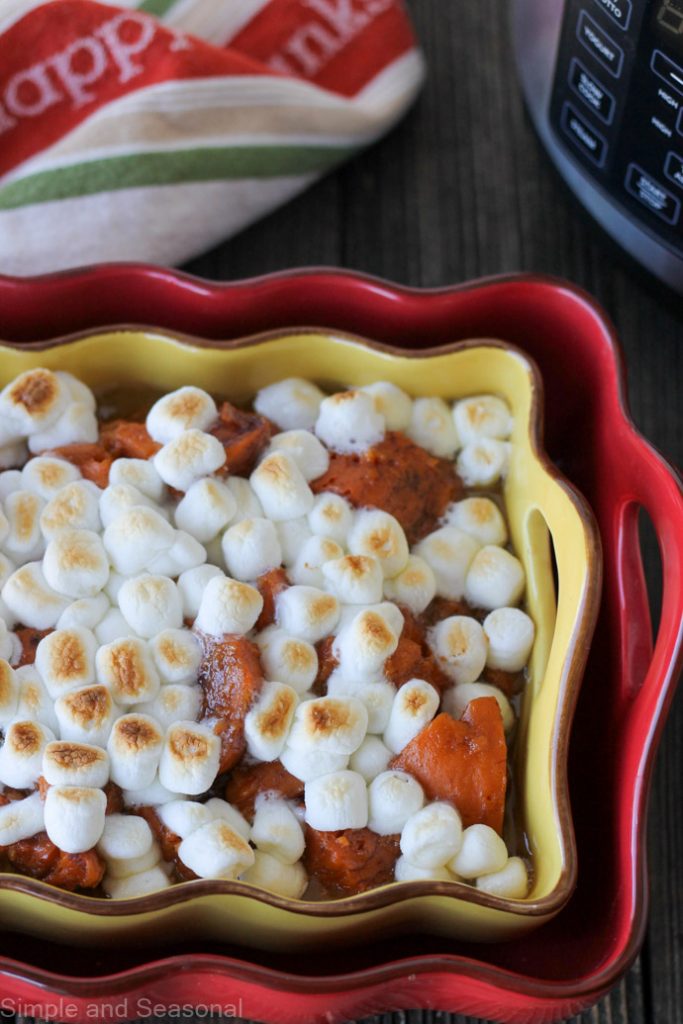 I opted to stick with tradition and added some mini marshmallows on top. I broiled them in my oven under the broiler for about 30 seconds. DO NOT WALK AWAY or take your eyes off the marshmallows!
So many people ruin their yummy Thanksgiving side dish by burning the marshmallows. Just leave the oven door open and watch them toast under the flame for a few seconds. Or better yet, get a kitchen torch and brown them with a bit more control. 🙂
Why do you call them both sweet potatoes and yams?
Americans tend to use the term sweet potatoes and yams interchangeably. Actual sweet potatoes have a more of a brown skin and light tan inside, much like typical potatoes. They are starchier and more "fluffy" rather than creamy.
What's pictured here (and what most of us think of when we say "sweet potatoes") is actually called a garnet yam. The skin is reddish purple and the insides are bright orange. They get very creamy and have a mildly sweet flavor. If you bought canned yams, it's likely that's what would be in the can.
BUT…to add to the confusion, garnet yams aren't really yams at all. They are another kind of tuber like sweet potatoes and regular potatoes. Actual yams are a very starchy root that's typically imported from Asia.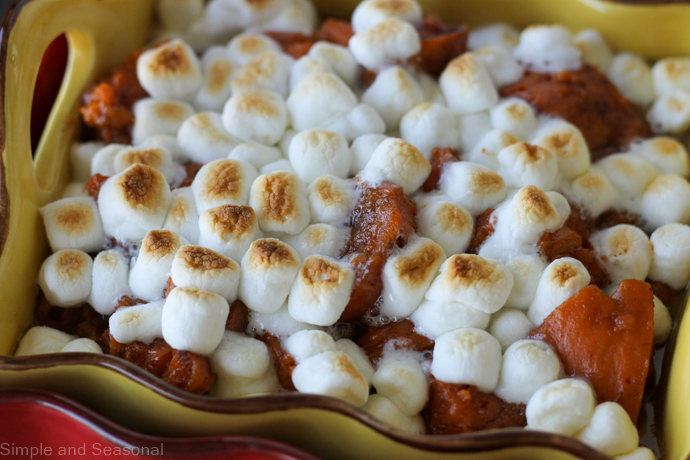 Other great Thanksgiving dishes to serve with Crockpot Express Candied Yams
If you have more than one pressure cooker, make Crockpot Express Mashed Potatoes at the same time! You'll love having so much more open space on the stove and in the oven.
If you don't need to feed a crowd, a Crockpot Express Turkey Breast would be ideal. You can also make homemade cranberry sauce, which tastes so much better than the canned stuff. Make it a day ahead in your Crockpot Express and pat yourself on the back for making life so much easier this holiday season.
Click here to see all my Thanksgiving recipes in one place!
Crockpot Express Candied Yams
Crockpot Express Candied Yams are cooked in a buttery syrup that yield creamy and perfectly cooked yams-perfect for Thanksgiving.
Ingredients
2

pounds

garnet yams (sometimes called sweet potatoes)

peeled and chopped

1/2

cup

water

1/2

cup

butter

melted

1/2

cup

sugar

1/4

cup

dark brown sugar

1

tsp

cinnamon

1/4

tsp

ginger

1/4

tsp

all spice

1/4

tsp

salt

1/2

cup

mini marshmallows

optional

1/4

cup

chopped pecans

optional
Instructions
Peel and chop the yams into 2" pieces.

Place the potatoes/yams in the bottom of the pot and then add all the other ingredients. Stir to mix well and evenly coat the chunks with sugar and spices.

Close and lock the lid, turning the steam release valve to close. Press Steam and adjust time up to 15 minutes (or manual high pressure.) Press Start/Stop.

When the cooking cycle is over, open the steam release valve to do a quick release.

Remove cooked yams to a serving dish with a slotted spoon. If desired, top with mini marshmallows and broil for 30 seconds to brown.
Notes
Nutritional info includes both pecans and marshmallows
Add chopped pecans for extra crunch
Use a kitchen torch or oven broiler to brown marshmallows
The buttery syrup will thicken as it cools
Store leftovers in the fridge for 3-5 days
Nutrition
Calories:
344
kcal
|
Carbohydrates:
54
g
|
Protein:
2
g
|
Fat:
14
g
|
Saturated Fat:
8
g
|
Polyunsaturated Fat:
1
g
|
Monounsaturated Fat:
4
g
|
Trans Fat:
1
g
|
Cholesterol:
31
mg
|
Sodium:
190
mg
|
Potassium:
954
mg
|
Fiber:
5
g
|
Sugar:
22
g
|
Vitamin A:
514
IU
|
Vitamin C:
19
mg
|
Calcium:
34
mg
|
Iron:
1
mg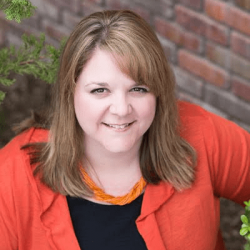 Latest posts by Nicole Burkholder
(see all)