This post may contain affiliate links. Please see my full Disclosure Policy for details.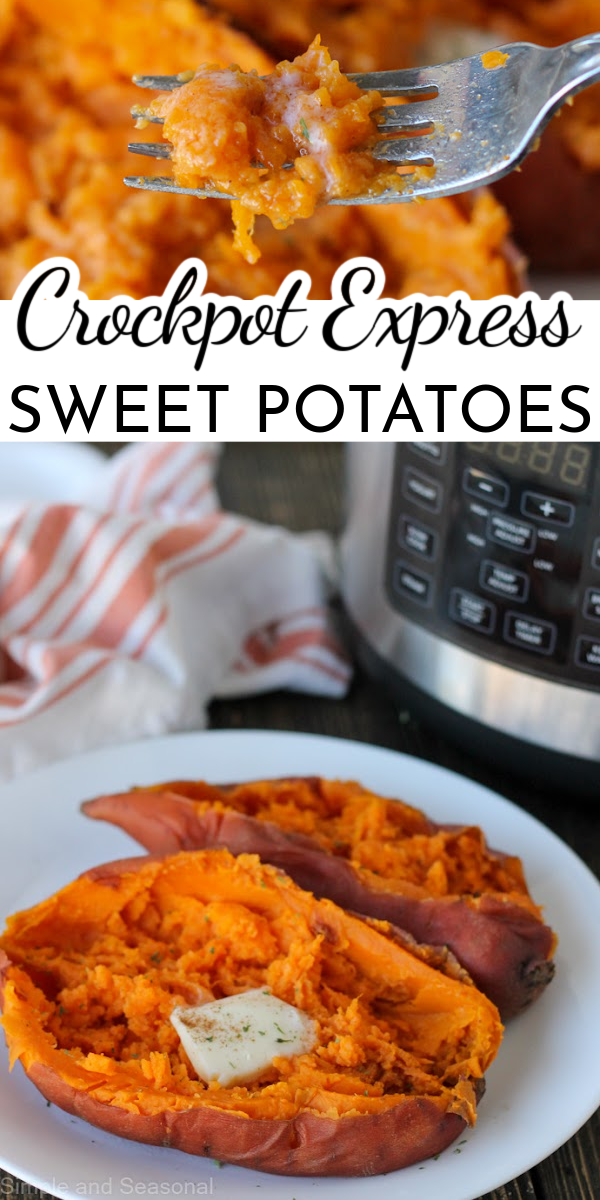 Crockpot Express Sweet Potatoes are creamy and cooked to perfection in minutes! It's the most convenient way to prepare sweet potatoes.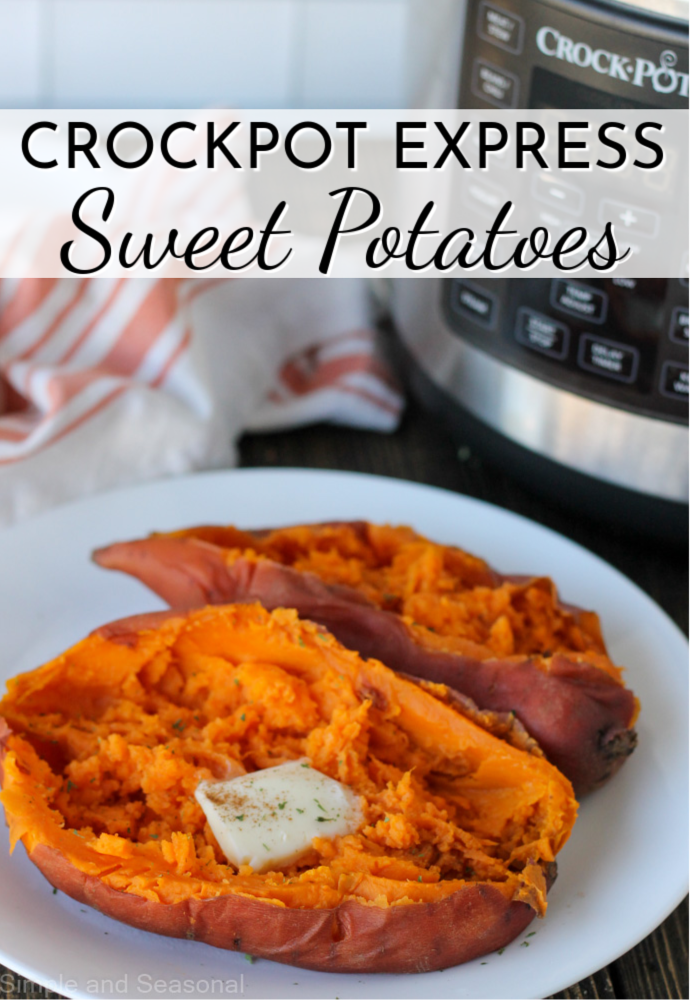 I am an honest person. I'm the first one to admit that not everything needs to be cooked in a pressure cooker. (Contrary to what you might read in Facebook groups.) But seriously…if you're not making Crockpot Express Sweet Potatoes, you're doing it wrong.
OK, maybe not "wrong" but you're definitely doing it the hard way!
The prep time for this recipe is about 30 seconds. Seriously. Scrub the potatoes, and then put them in the pot. Push a button and walk away. Come back. Open the pot. Remove potatoes and eat. The end. Why would you make sweet potatoes any other way?!
By the way, the same sentiment applies to Crockpot Express Mashed Potatoes.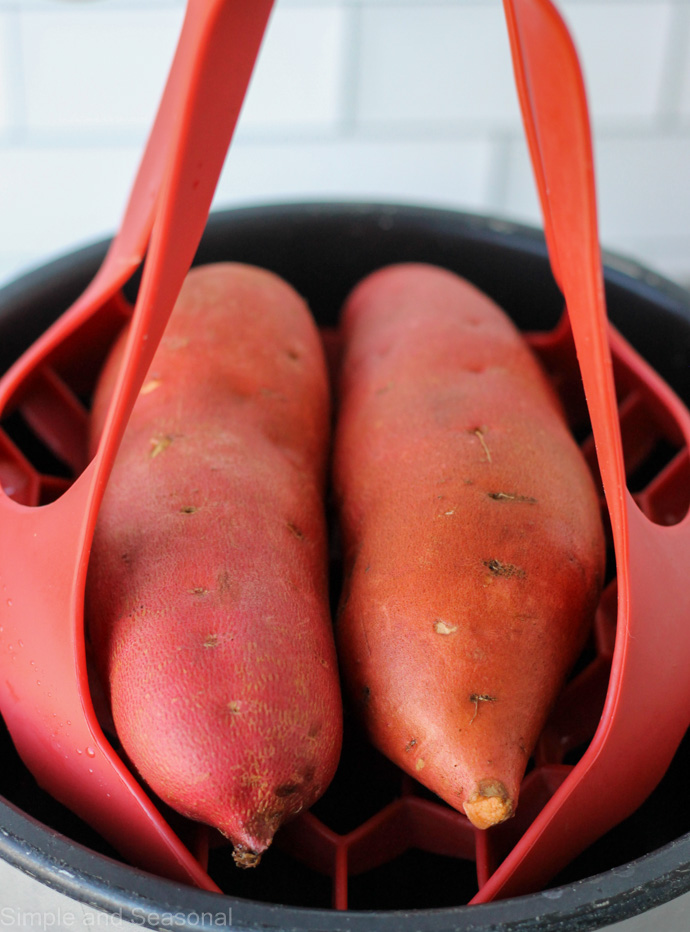 My boys LOVED sweet potatoes when they were babies. I spent a fortune on those little baby food jars. I wish I'd had a Crockpot Express back then. It would have been so much easier to make baby food-and cheaper!
But now, my husband is probably the only one who really likes them so I don't cook too many at a time. I eat them because they are good for you, but I don't need much. Maggie, our beagle, loves them, so she gets the leftovers.
I only cooked 2 sweet potatoes in my 6 quart pot this time, but you can easily fit several more in the pot. Just stack them up and they will cook no problem. It works the same way with Crockpot Express Baked Potatoes.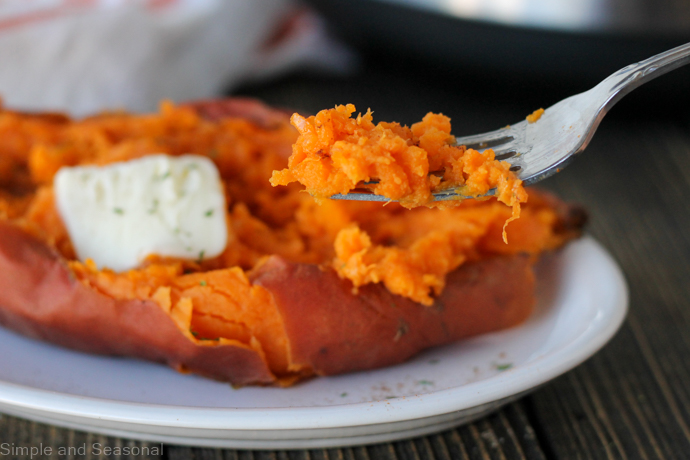 How long do I cook Crockpot Express Sweet Potatoes?
The key to cook time is the size of the sweet potatoes (technically they are yams, but not really true yams…we'll get to that in a minute.) As you can see in the picture above, I chose two potatoes that were the same size. Ideally, you want a sweet potato that is 2-3 inches across.
Choose sweet potatoes that are the same size so they cook evenly. Long and thin is better than short and fat. (I'm talking about potatoes, here people, relax.) 😉 Cook time can vary anywhere from 15-35 minutes, plus natural pressure release.
What kind of sweet potatoes should I buy?
This is complicated by the fact that Americans tend to use the term sweet potatoes and yams interchangeably. Actual sweet potatoes have a more of a brown skin and light tan inside, much like typical potatoes. They are starchier and more "fluffy" rather than creamy.
What's pictured here (and what most of us think of when we say "sweet potatoes") is actually called a garnet yam. The skin is reddish purple and the insides are bright orange. They get very creamy and have a mildly sweet flavor.
BUT…to add to the confusion, garnet yams aren't really yams at all. They are another kind of tuber like sweet potatoes and regular potatoes. Actual yams are a very starchy root that's typically imported from Asia.
Long story short-buy garnet yams for this recipe. They are most likely located right next to the sweet potatoes and baker potatoes in your produce section.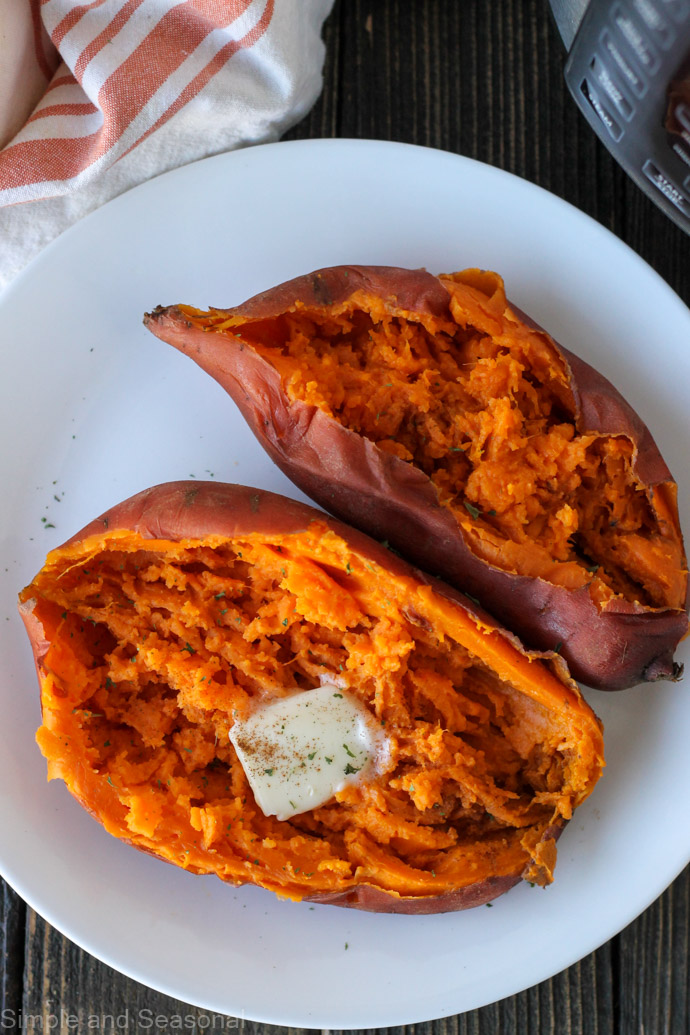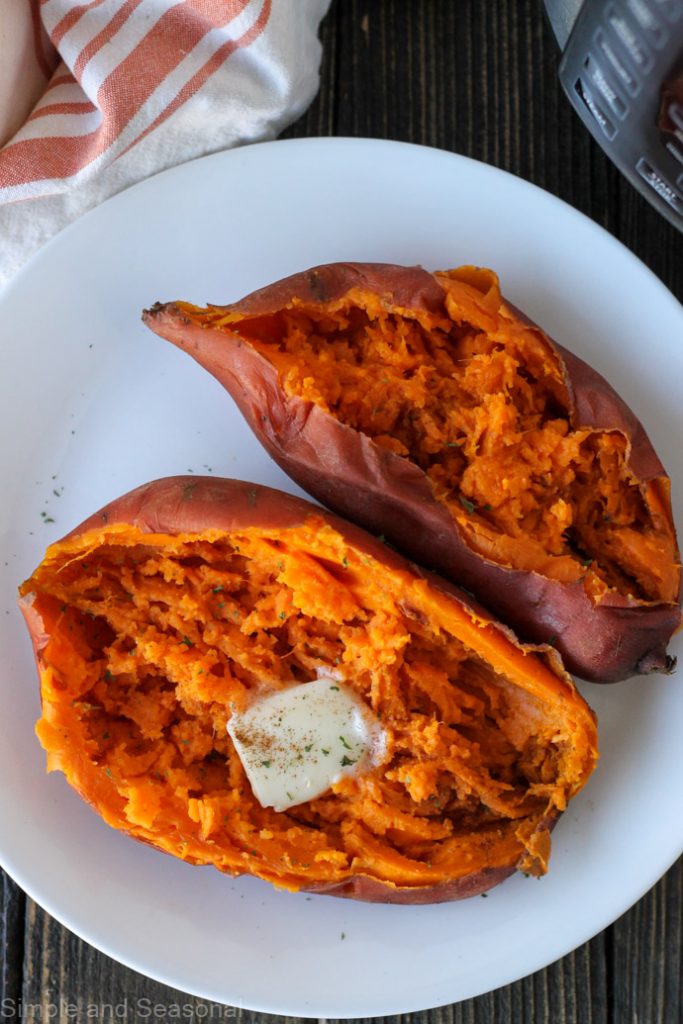 When they are done cooking, lift them out of the pot with your handy-dandy trivet (trust me, it's worth it to order a trivet with handles.) Then use tongs to place them on a plate. Split them open and drag a fork around to fluff up the insides. Add butter, salt and pepper to serve.
Crockpot Express Sweet Potatoes
Crockpot Express Sweet Potatoes are creamy and cooked to perfection in minutes!
Ingredients
2

medium sweet potatoes

2-3" across

1

cup

water
Instructions
Wash and scrub sweet potatoes to clean them.

Place water in the inner pot, and then place the potatoes on the trivet and put inside the pot.

Close and lock the lid, turning the steam release valve to closed. Press Beans/Chili and adjust the time down to 18 minutes. (Or use "manual" high pressure and set to 18 minutes.) Press Start/Stop.

When the cooking cycle is done, allow a natural pressure release for at least 10 minutes. Release any remaining pressure by opening the steam release valve.

Remove potatoes to a plate, split open and fluff with a fork. Add butter, salt and pepper to serve.
Notes
If potatoes are not done to your liking (larger/thicker ones will take longer) simply replace the lid, Press Start/Stop to cancel the "Keep Warm" setting and then add more time. The pot will quickly preheat because it's already warm. 
Make several potatoes by stacking them on top of each other, alternating directions if possible. 
For the 8 or 10 quart pots, use 1 1/2 cups of water. 
Nutrition
Calories:
194
kcal
|
Carbohydrates:
45
g
|
Protein:
4
g
|
Fat:
1
g
|
Saturated Fat:
1
g
|
Polyunsaturated Fat:
1
g
|
Sodium:
130
mg
|
Potassium:
762
mg
|
Fiber:
7
g
|
Sugar:
9
g
|
Vitamin A:
32063
IU
|
Vitamin C:
5
mg
|
Calcium:
71
mg
|
Iron:
1
mg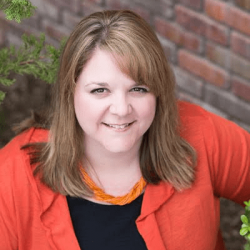 Latest posts by Nicole Burkholder
(see all)