This post may contain affiliate links. Please see my full Disclosure Policy for details.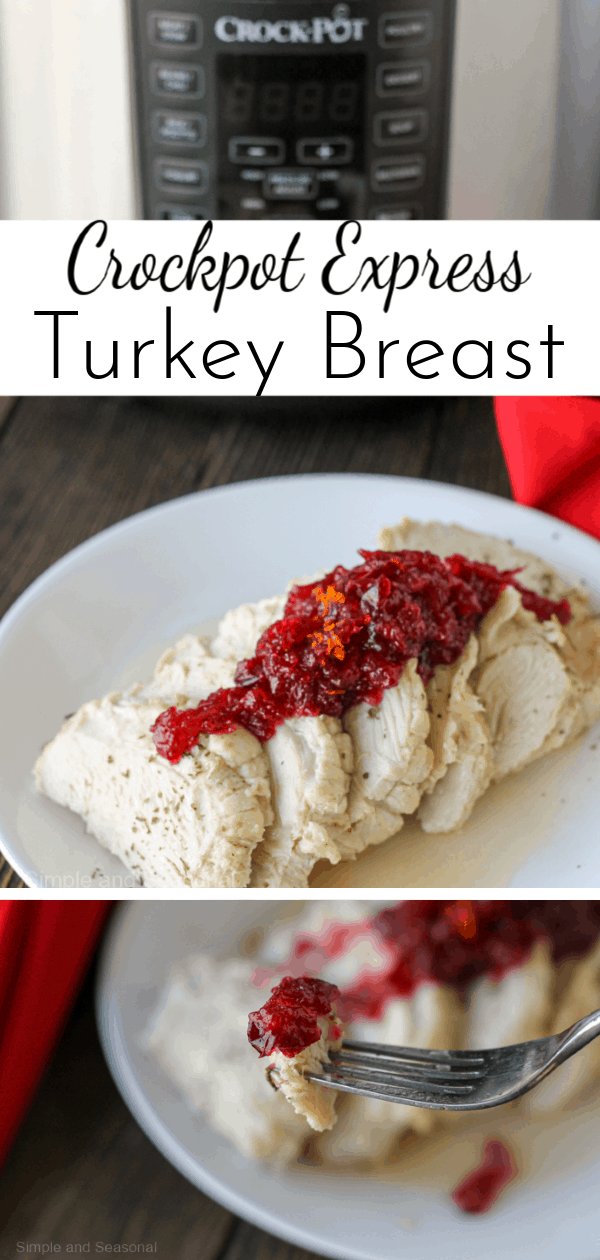 Enjoy flavorful and moist turkey any time with this Crockpot Express Turkey Breast. It's quicker than the oven and can be cooked from frozen, too!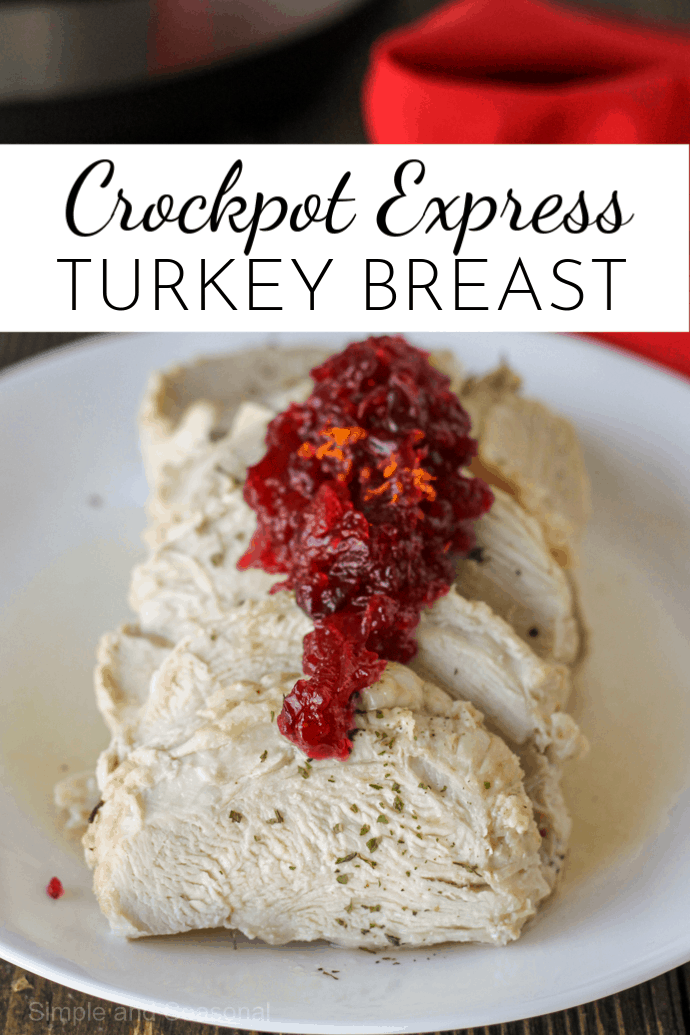 If you have no desire to wrestle a 20 pound turkey into the oven, but don't want to miss out on turkey dinner (and leftover sandwiches) then something like this Crockpot Express Turkey Breast is the answer!
Most years, my mom will make the turkey for Thanksgiving because we gather at her house for the holiday. Sadly, this means that the leftover turkey doesn't usually make its way home with us (if there are any leftovers!)
This year, I'm going to keep my eyes open for sales on turkey breasts, rather than whole turkeys. They cook up quickly in the pressure cooker, and stay tender and moist. Plus, I don't have to fight off my siblings for the leftovers the next day. 😉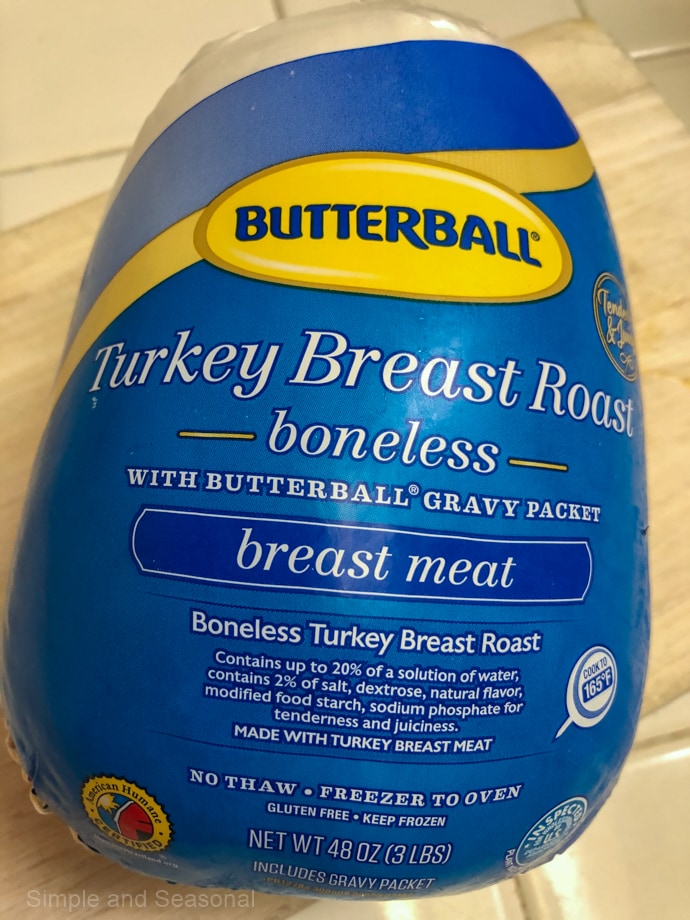 I purchased this 3 pound turkey breast at my local grocery store. I know it says "no thaw-freezer to oven" but I thawed it anyway. I wanted to add flavor to the meat before it cooks, and I wanted to keep the cook time short. You can cook from frozen, but for the most flavorful results, let it thaw.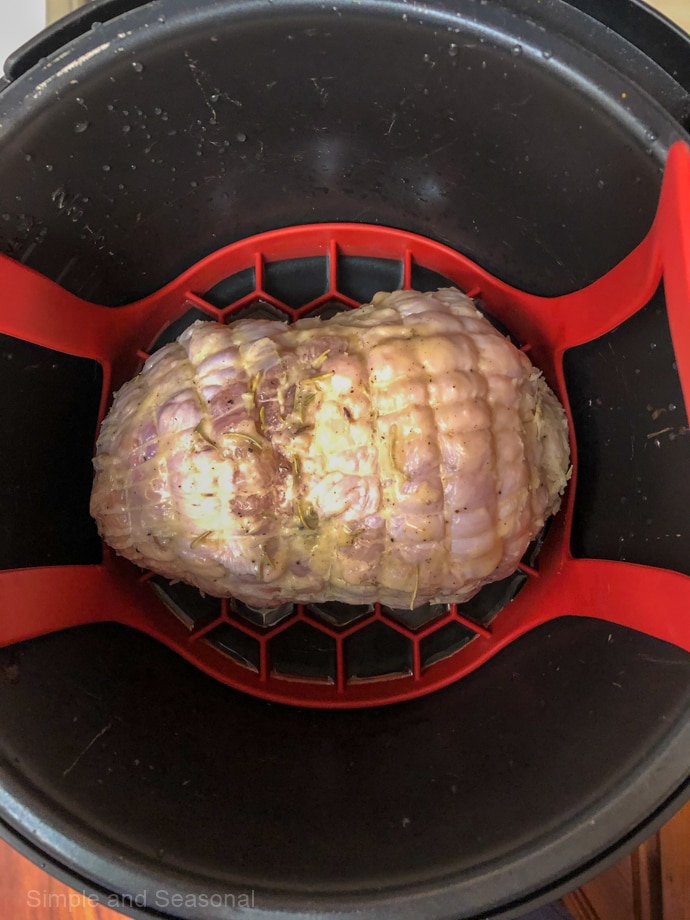 It's not pretty, I know! I left the string wrap around the breast because I was thinking it would be easy to remove from the pot that way. I completely forgot about the fact that my trivet with handles made that superfluous.
If you don't have a trivet like mine, I'd suggest leaving on the string for easy handling. But seriously, you should just invest in this trivet with handles. It makes life with a Crockpot Express so much easier!
I slathered the turkey breast with butter, salt and pepper and some seasoning before placing it on the trivet. You can use either water or stock as the liquid in the pot. Then I closed the lid and let the magic pot do its work!
My favorite turkey seasonings:
salt and pepper
garlic powder (everything tastes better with a little garlic)
onion powder
rosemary
celery salt (this flavor reminds me of stuffing)
Other options: sage, thyme or poultry seasoning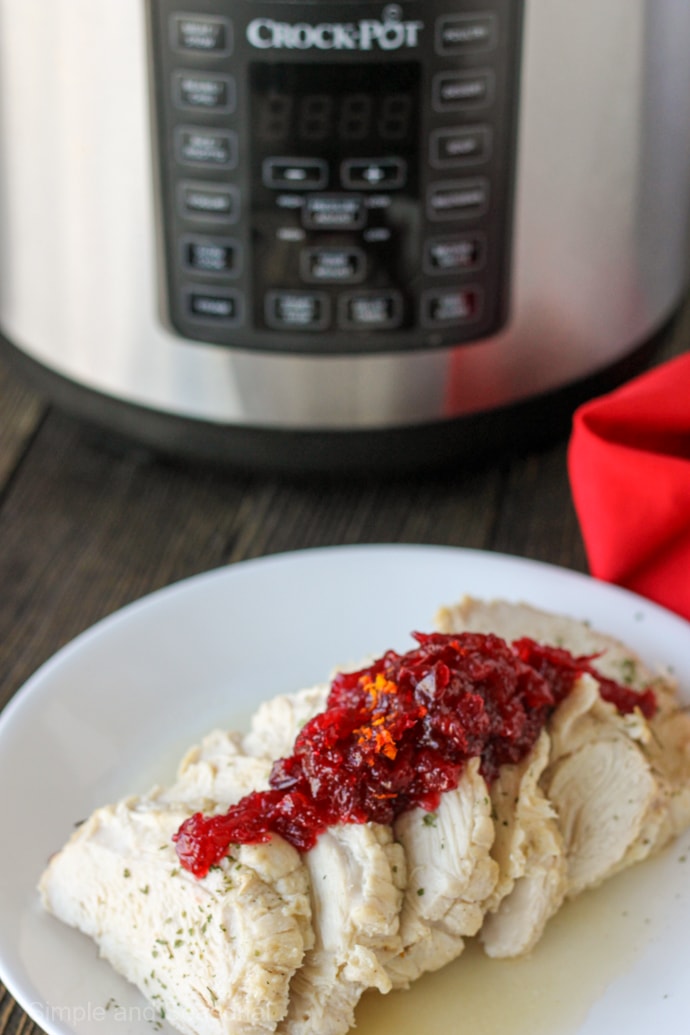 Can you reheat Turkey Breast in the CPE?
I actually made the turkey breast earlier in the day when I had some time free. After I took pictures, I put it in the refrigerator. I didn't want to dry it out when I reheated it for dinner, and it needs to be reheated to an internal temperature of 165 according to the USDA.
You can reheat in the oven (be sure to add some butter to help retain moisture) or just put it back in the Crockpot Express. I added my cooked turkey to the pot (on top of the trivet) and put a small pat of butter on each slice.
I set the time to 3 minutes and then did a natural pressure release for 5 minutes before releasing the rest of the steam. I tested my thickest slice with an instant read meat thermometer and made sure it was back up to 165 degrees. The best part was the reheated slices still stayed moist and tender!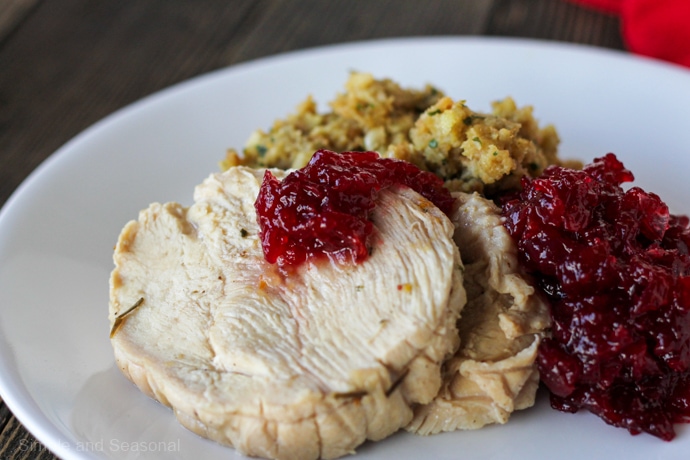 My kids thought it was fun to have a mini Thanksgiving dinner in October. Be sure to whip up a batch of Crockpot Express Cranberry Sauce to go with the turkey breast! It's easy to make and the tart flavor goes so nicely with turkey. Yum!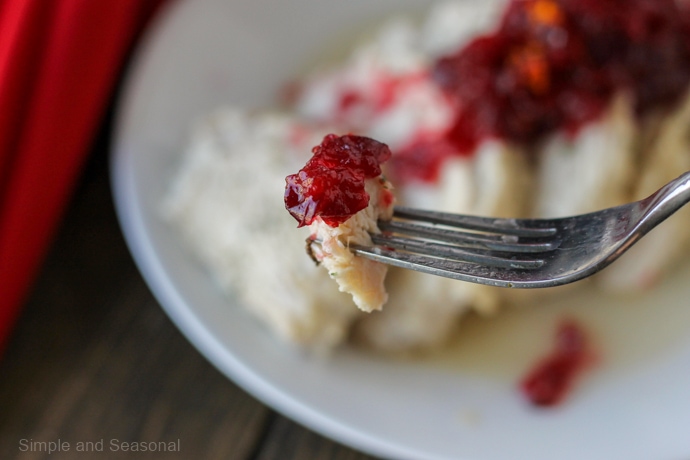 You can make a delicious gravy using the drippings from the pot! Many of the packaged turkey breasts come with a gravy pouch. Instead of using water to mix with the gravy, use the dripping. Or you can make your own.
Make a roux with butter and flour in a pan on the stove and add the drippings, stirring constantly as it thickens. Another option is to turn the pot on to Brown/Saute and cook off some of the liquid. Add a cornstarch slurry to thicken and simmer for a bit.
Crockpot Express Turkey Breast
Enjoy flavorful and moist turkey anytime of the year with this Crockpot Express Turkey Breast.
Ingredients
3

lbs

boneless turkey breast

thawed

1/4

cup

butter

softened

1

tbsp

rosemary

1

tsp

garlic powder

1

tsp

onion powder

1/2

tsp

celery salt

salt and pepper to taste
Instructions
Remove thawed turkey from wrapping. Place on cutting board.

Mix spices together in a small bowl. Rub turkey all over with the softened butter. Sprinkle the spices evenly around the turkey.

Add 1 cup of water or broth to the inner pot. Place the turkey on the trivet and lower it down into the pot.

Close and lock the lid, turning the steam release valve to closed. Press "Poultry" and adjust time to 25 minutes (high pressure.) Press Start/Stop. When cooking cycle is done, allow 15 minutes of natural pressure release and then open the valve to remove any remaining steam.

Remove the turkey from the pot and set aside to rest for at least 5 minutes before cutting.

Slice and serve with traditional Thanksgiving sides.
Notes
To reheat, place back into pot on trivet. Add a pat of butter to each slice. Set for 3 minutes on Steam (high pressure) and allow 5 minutes of NPR. Remove and check with a meat thermometer to be sure internal temperature is at least 165 degrees. 
To cook from frozen, add meat and liquid to the pot and set cook time for 50 minutes. Allow a full NPR of at least 15 minutes. Open and check internal temperature. If not at 165 degrees, close and cook for an additional 5-10 minutes as needed. 
Nutrition
Serving:
0.5
lb
|
Calories:
302
kcal
|
Carbohydrates:
1
g
|
Protein:
49
g
|
Fat:
12
g
|
Saturated Fat:
6
g
|
Cholesterol:
143
mg
|
Sodium:
729
mg
|
Potassium:
555
mg
|
Fiber:
1
g
|
Sugar:
1
g
|
Vitamin A:
299
IU
|
Vitamin C:
1
mg
|
Calcium:
41
mg
|
Iron:
1
mg
Don't forget dessert!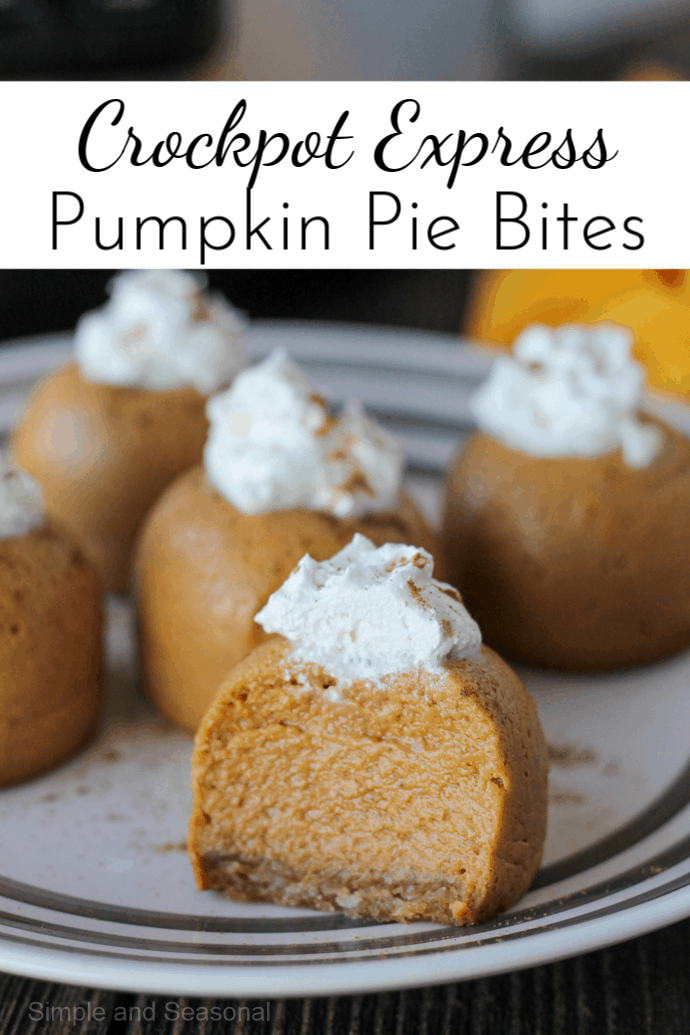 Crockpot Express Pumpkin Pie Bites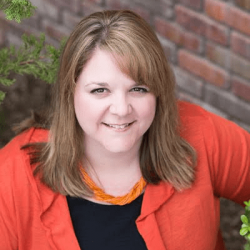 Latest posts by Nicole Burkholder
(see all)