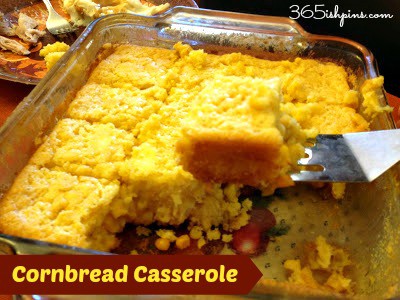 There really has to be a better name for this dish.  My brother said I should have described it as a really moist corn bread, because trying to explain it didn't sound appetizing.  He was pleasantly surprised and pronounced it "delicious" at our Thanksgiving dinner.  But I did have to convince him to try it first.  So if you come up with something better, let me know.  The pin I got this from was an invalid link, so I just went from the photo description.  I will definitely be making this as a side dish again.  It would be awesome with chili, I think.
Corn Casserole/Moist Corn Bread/Really Good Side Dish
Ingredients:
1 can cream corn
1 can corn, drained
1 box Jiffy corn muffin mix
2 eggs
1 stick butter, melted
1 cup sour cream
Mix ingredients together in casserole dish (I used a 9×9) and bake at 350° for 45 minutes or until set and slightly crispy around the edges.
PS:  It IS awesome with chili!!!  Try it with this chili recipe (award-winning, I might add) 😉 
Linking up with Saturday Dishes