This post may contain affiliate links. Please see my full Disclosure Policy for details.
In anticipation of November and a month's emphasis on thankfulness, I made a Thanksgiving tree yesterday. There are tons of pins on Pinterest with this concept.
This is the on
e that I drew inspiration from. I was probably drawn to it because I have a wall next to my kitchen exactly like the one in the photo and I thought that would be a great place for my tree. However, when it came down to actually putting up the tree, we decided on an empty wall in the hallway instead. So here's what I did:
I bought a roll of brown paper and two bags of leaves from the Dollar Tree. Gotta love that place!
I crumpled the paper to give it a more "realistic" look and then drew a basic trunk shape. Henry and I cut it out together.
I just used regular scotch tape to attach the trunk to the wall and cut and rolled strips of paper for branches, attached by tape.
We glued a few leaves along the "ground" using a glue stick.
I placed a few leaves here and there for effect. We will each
write something we are thankful for on a leaf
every day and add it to the tree.
Being thankful for each other is a given,
so I put our names on the trunk to start us off.
Because I put the tree in the hallway, there's no way to stand back far enough and get a good photo of the finished product. You'll have to use your imagination. I'm looking forward to watching the branches fill up with colorful leaves and we take time to be thankful every day in the month of November!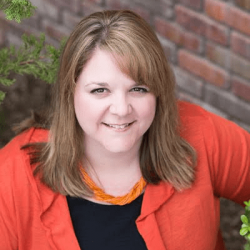 Latest posts by Nicole Burkholder
(see all)