This post may contain affiliate links. Please see my full Disclosure Policy for details.
I saw
this idea
on Pinterest months ago, and made sure to pin it to my Fall board so I would remember this year. Because Halloween is on a Wednesday night, we will be at church instead of home to greet the annual trick-or-treaters. The last time that happened, I just left a bowl outside on the porch, but this idea is way cuter. I am a little nervous, though, because I already put it together, and when I was reading the Martha Stewart page that it linked to, it said to use a foam pumpkin because a regular one is too wet and will make the lollipop sticks soggy. Oops. Oh, well, they get what they get 🙂
I just used a mini screw driver to bore holes in the pumpkin and then pushed the lollipops (dum-dum brand) into the holes. Easy! To clarify, those are Jared's hands in the photos, not mine 🙂 Oh, and I'm happy to inform you that the sucker sticks did NOT get soggy and my pumpkin was almost empty when we got home!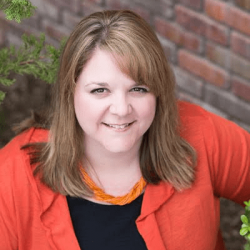 Latest posts by Nicole Burkholder
(see all)