This post may contain affiliate links. Please see my full Disclosure Policy for details.
Back when Pinterest was new and shiny, I was introduced to the wonder dessert that is "fluff." Oreo Fluff has to be the closest thing to dessert perfection I've ever experienced.
So, when I had a pantry full of leftover pudding cups after we did a finger painting craft, I decided to create a "build your own" Fluff Bar. It's a perfect birthday party dessert because everyone can make their own personalized treat!
What you'll need for a pudding fluff bar:
pudding cups-chocolate, vanilla, butterscotch, or combo cups
whipped cream (the canned kind is easiest for small pudding cups)
mini marshmallows
chopped candy bars (we used Butterfingers, Rolos, malt balls)
sprinkles
I pulled out my handy-dandy serving tray and filled it up with all sorts of goodies for making fluff. I also included an empty bowl and spoon for mixing, since it's tough to get all that goodness into a pudding cup without making a mess.
When it was time for dessert, the boys chose which flavor pudding they wanted and scooped it out into the mixing bowl. Then I added the whipped cream. It should be a ratio of 1:1 pudding and whipped topping.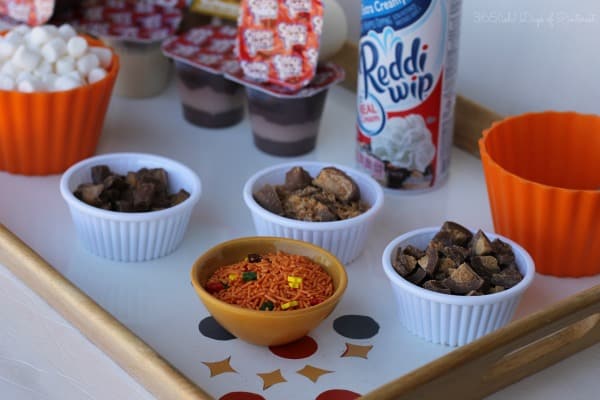 Then they added a healthy handful of marshmallows and chose which candy to stir in. I gave it a good stir in the mixing bowl until it was combined well and scooped it back into the pudding cups. I love this idea because it doesn't create any additional dishes for me to wash!
I topped them off with a little more whipped cream and some sprinkles and that was it! You get individual Pudding Fluff Cups, customized to everyone's tastes.
I think the next birthday party we will just have a bunch of pudding packs on hand and a Fluff bar! It's cleaner than cupcakes and SO much easier for me!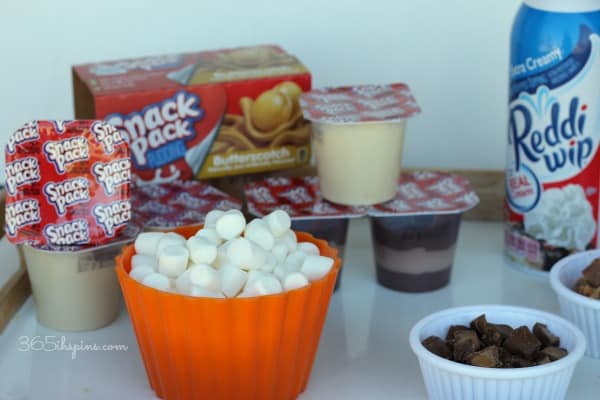 I chose butterscotch pudding with Butterfinger candy bars. This is a great way to use up all the candy in your house after Halloween!
The more crunchy and brittle candy works best. It adds a nice texture. Crunchy chocolate chip cookies would also be awesome. And, of course, the original Fluff creation with Oreo cookies is probably my favorite.
Remember the finger painting I mentioned earlier? Check out what we made!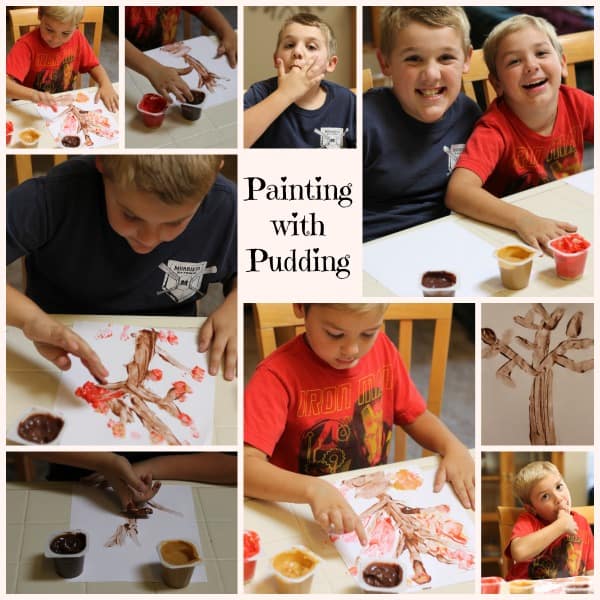 Yep! You can finger paint with PUDDING! And the best part? The kids can lick their fingers clean instead of worrying about paint getting all over their hands. 🙂
We used chocolate pudding to draw a tree trunk and limbs, and butterscotch and vanilla pudding colored red with food coloring to make yellow and red leaves!
The boys used their thumb prints to make the leaves. Our trees turned out so cute and they are now hanging up on the bulletin board in honor of the arrival of Autumn. (And yes, I say "our" trees because I made one, too!)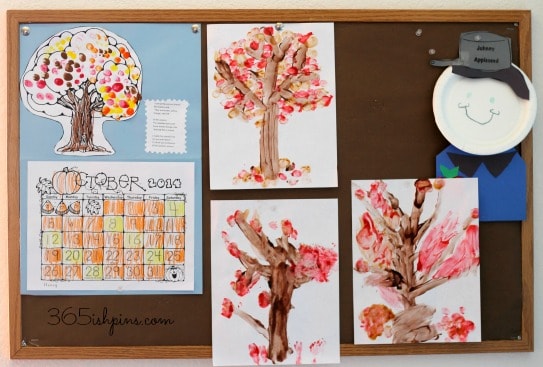 This post was originally sponsored by Snack Packs.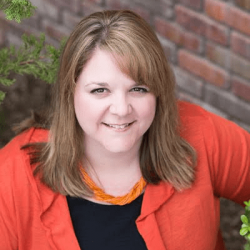 Latest posts by Nicole Burkholder
(see all)