This post may contain affiliate links. Please see my full Disclosure Policy for details.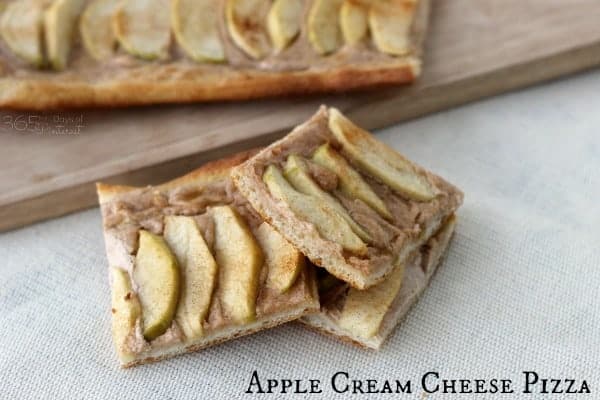 So, tell me if this sounds familiar: you wake up and roll over and grab your phone to start checking messages. There are about 50 emails in your inbox waiting for your attention. Most of them are for department stores, discount ticket sales, blogs you follow and "membership" emails. But even though you NEVER open the emails, you also never unsubscribe from them. It's just easier to swipe and delete than go through the steps to get off the list. But every once in a while, there's a gem in one of those emails that grabs your attention. That's the only reason I still get daily emails from Pillsbury. Because once in a while, I see a recipe that says, MAKE ME! So I do. And this Apple Cream Cheese Pizza was one of those special recipes that caught my attention!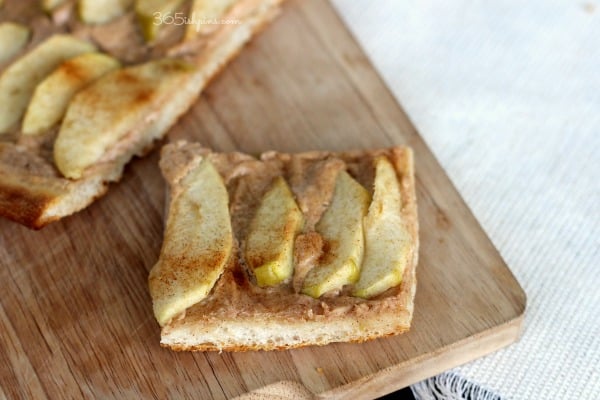 When I first read the recipe, I thought that this should have been made with crescent dough instead of pizza dough. But I tried a mini version using the crescent dough and it's not sturdy enough. You really need a base that's solid enough to spread cream cheese on and will hold up to the apples. Turns out, Pillsbury actually does know what they are talking about. 🙂 But I also think this would be pretty good made on sugar cookie dough. I'll have to try that next time!
Apple Cream Cheese Pizza
Ingredients
Sauce

1

package

8 oz cream cheese, softened

1

tbsp

brown sugar

1/2

tsp

cinnamon

Pizza

1

can refrigerated pizza crust

2

large Granny Smith apples

1

tbsp

brown sugar

1/4

tsp

cinnamon
Instructions
Heat oven to 400°

In large bowl, beat cream cheese with whisk or electric mixer on medium speed until smooth. Add remaining Sauce ingredients; beat until creamy and soft.

Unroll pizza dough onto cookie sheet. Bake 5 minutes.While it's baking, peel and core apples; cut into thin slices. Place slices in medium bowl. Add remaining Pizza ingredients; toss gently to coat.

Spread cream cheese mixture evenly over partially baked crust. Arrange apple slices over cream cheese mixture, overlapping if needed.

Bake 10 minutes longer or until sides of crust are light golden brown. Cool 5 minutes.

Optional: mix a little cinnamon and sugar together to dust the pizza with before serving. It adds a little shimmer and crunch on top.
One other quick note: it seems like it would be easier to use whipped cream cheese, but there's no need to pay extra for that. You need to use a mixer to incorporate the brown sugar and cinnamon fully into the cream cheese anyway, so just buy a regular old block of cream cheese and bring it to room temperature before mixing.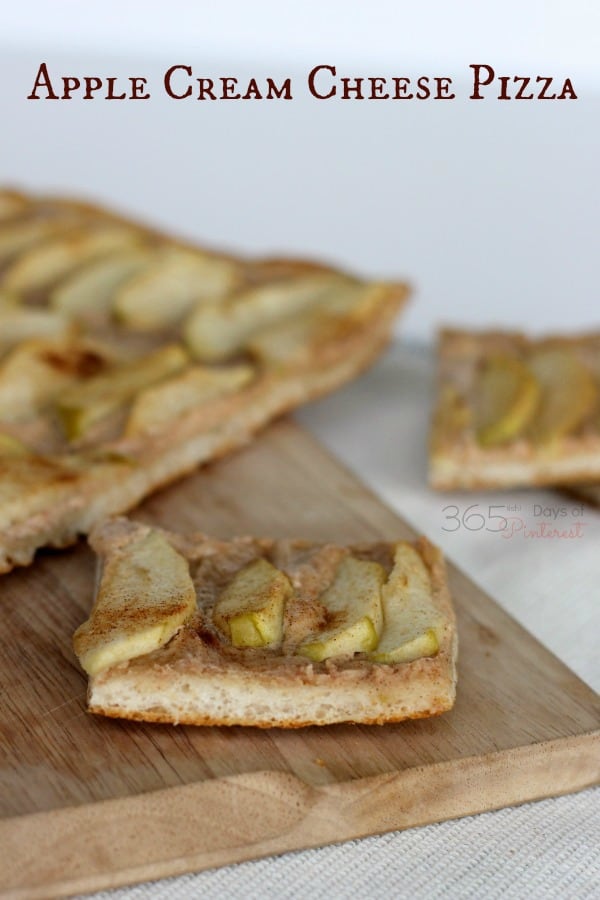 If you like this Apple Cream Cheese Pizza, you might also like: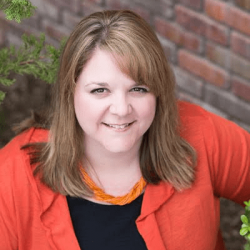 Latest posts by Nicole Burkholder
(see all)