This post may contain affiliate links. Please see my full Disclosure Policy for details.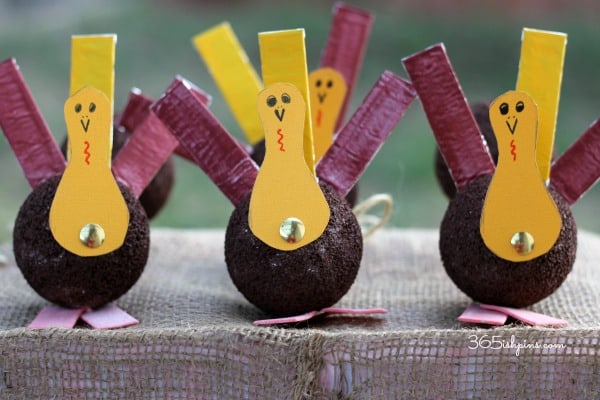 Did you know a group of turkeys is called a rafter? It's also called a gang. I'm not sure what the difference is between the two. Maybe it has to do with wild turkeys vs. domestic ones? Anyway, I made this rafter of turkeys in anticipation of Thanksgiving this year. I am hoping to carry on the title of "Favorite Aunt." 🙂 You know, the aunt that does the extra little things and gives presents to all the kids just for fun? Like turkeys made with bubble gum.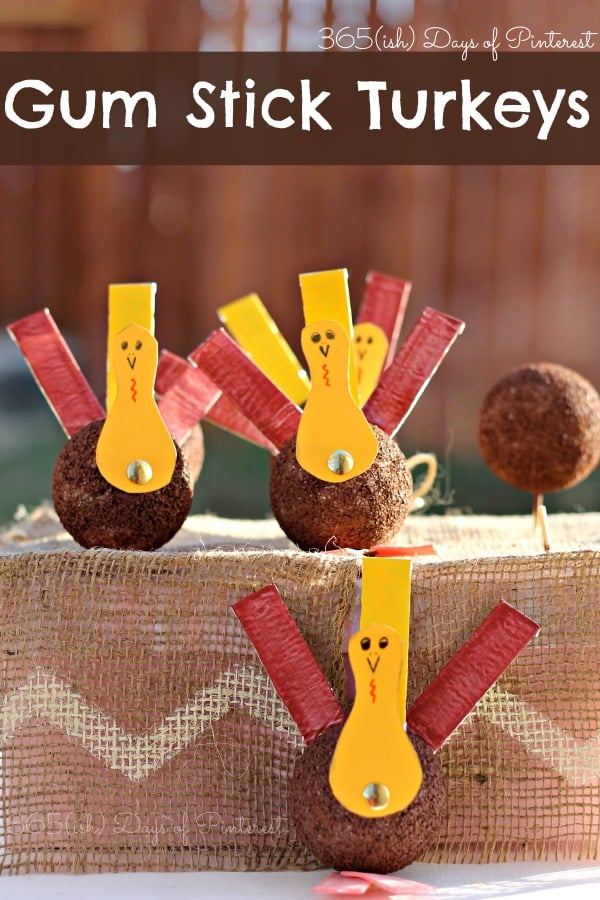 One of my favorite memories of Thanksgiving is the year we went to Disneyland. Yes. Disneyland on Thanksgiving Day. NEVER go to Disneyland on Thanksgiving! It was insane. I have never seen so many people in one place in my life! But even though we spent most of the day in lines, it is one of my favorite family memories. My dad's entire family is from Tucson, and one year all the aunts and uncles and cousins came over to California to stay with us and celebrate Thanksgiving. My Uncle Dean and Aunt Sherry took ALL of us to Disneyland. There had to be almost twenty of us. And at the end of an exhausting and fun day, they took us into the Emporium on the corner of Main Street and told all the nieces and nephews to get anything we wanted for a souvenir. Seriously. How cool is that?!? Now, I'll probably never be THAT cool, but I can still give a little extra to my kids and nephews this Thanksgiving. Maybe they will grow up calling me the cool aunt. 🙂
Thanksgiving Turkey Craft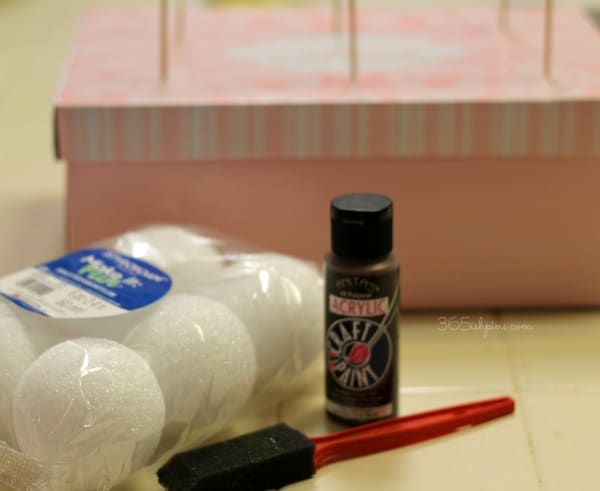 What you'll need
Gum in any flavor (I used bubble gum)
2″ styrofoam balls
brown, red and yellow craft paint
paintbrush or sponge
wooden skewers for holding the painted balls
scissors
cardstock
markers
hot glue or thumbtacks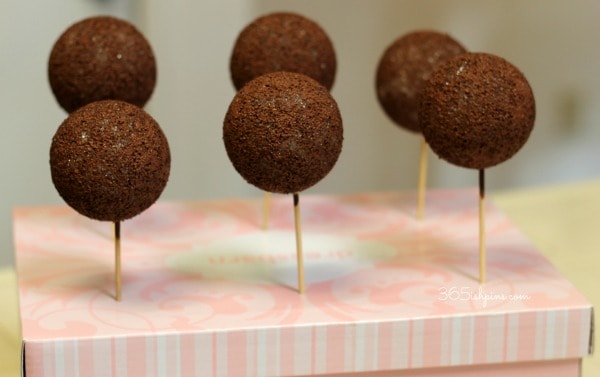 Use a dabbing motion to paint the foam balls with brown paint. This will be the turkey's body. I poked holes in a shoe box and let the balls dry there for an hour or so. While the balls are drying, paint sticks of gum red and yellow. Plan for at least three sticks of gum per turkey. I only painted the front side of the gum stick wrappers. I didn't want any paint to leak onto the actual gum. Even so, I was sure to use non-toxic paint, just in case!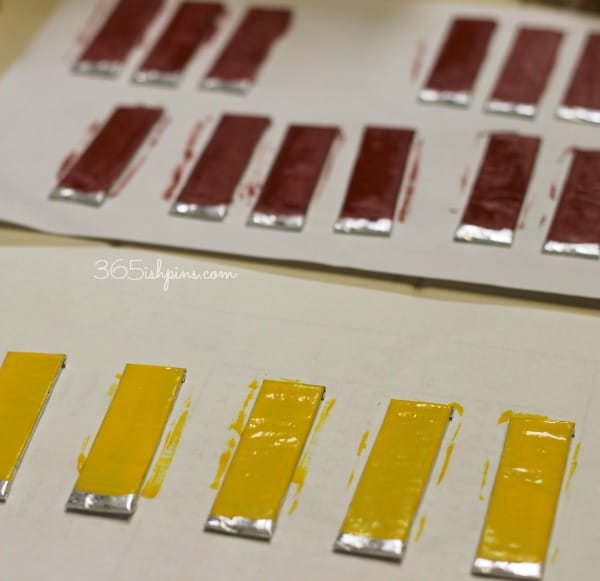 After the paint has dried, use scissors to cut a slices into the top of the "body" and insert gum stick tail feathers. You don't need any glue for this step. They stay upright very nicely. Cut turkey heads out of card stock (I just free-handed mine and I'm NOT any artist) and use markers to add eyes, beaks and a waddle to the face. Then attach using hot glue if you have it. I bought new glue sticks and then couldn't find my glue gun anywhere! So I grabbed some thumbtacks and they worked just as well. For feet, use an unwrapped slice of gum cut in half. Glue to the bottom of the ball and let dry. The turkeys will stand up, but it's a delicate balancing act. You want to make sure your "feathers" aren't back too far on the body of the turkey. I left my finished turkeys on the skewers because they are easier to transport that way, and I like the way they look for presentation.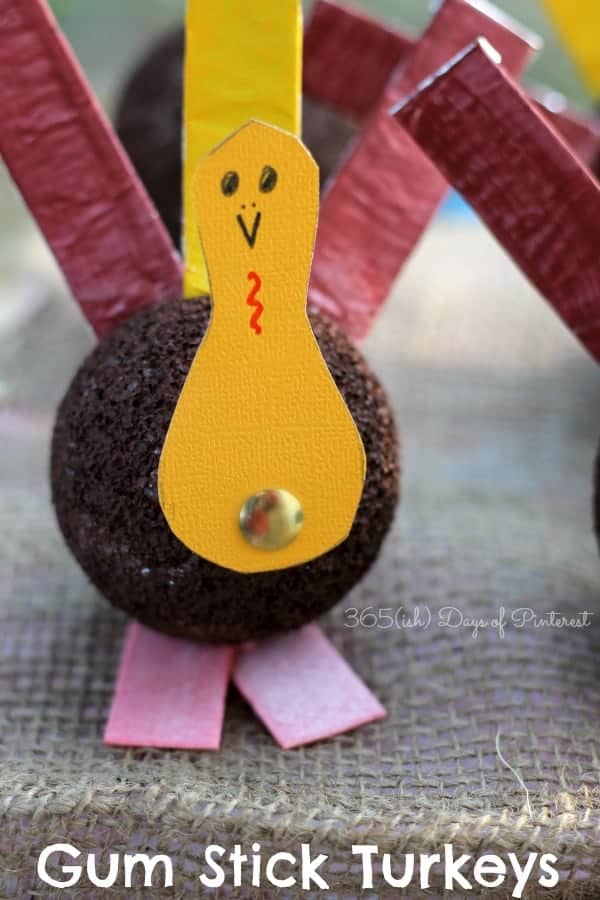 Seriously, how cute is this guy?!? I think I'm guaranteed some extra brownie points in the "coolest aunt ever" category. (Just don't tell them about Disneyland!)
This post was originally sponsored by Extra Gum.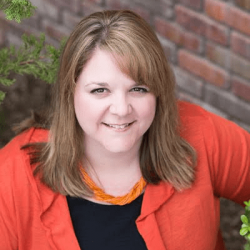 Latest posts by Nicole Burkholder
(see all)